Isla returns and poisons Ruby against Elena, just as Elena begins healing her relationship with Javier.
Aired (FOX)
4/24/2023
Director(s)
Milan Cheylov
Writer(s)
Adam Fierro
Newly Noted Characters
Arthur
Chuck McCollum
Melanie
Judy Kain
Brad
Nick Augusta Thompson
Laura Turner
Jessy Schram
Peaches
Kyla Pratt
Previously Noted Characters
Isla
María Gabriela González
Ruby
Kiara Barnes
Elena
Roselyn Sanchez
Javier
John Gabriel Rodriquez
Segundo
Daniel Lugo
This content contains pertinent spoilers. Also, images and text in this post may contain affiliate links which, if a purchase is made from those sites, we may earn money or products from the company.
Recap
Isla's return comes with a bit of controversy. Not in her revealing to Ruby she is a mermaid, but in her revealing it is Elena that led to her staying away and Ruby's reaction to it. Lest we forget, Ruby's body is a 20-something, but her mind is that of someone potentially twice Elena's age. So Elena trying to control Ruby's life like she is a guest and Ruby is experiencing a fantasy isn't appreciated.
However, Elena knows what Isla and the mermaids are capable of. Their song is a seduction, and the closer you get to them, it appears the more you forget about your life outside of what the Island provides. Case in point, as Ruby contemplates joining Isla away from the Island, since Isla claims she can't stay in her pseudo-human form for too much longer, Ruby begins to forget Mel.
But, ultimately, with a half-apology, Elena and Ruby make peace. This comes around the time Javier and Elena not only make peace but seemingly sleep together, thus complicating the idea of trying to just be friends. Though, like Ruby, Javier thinks the main reason Elena handles their relationship as she does is to exert control which, with Javier being grown, just like Ruby, he doesn't like the idea of being managed.
This leads us to this week's guest, who has spent her life managing other people's emotions, primarily her parents, at the cost of her own happiness. Since her parents' divorce, Laura has been trying to appease them both so it wouldn't appear she was playing favorites or pitting them against each other. To appease her mom, she even changed her wedding song, which resulted in her husband-to-be, Brad, leaving her at the altar.
Enter Peaches, Laura's imaginary friend from her tween years, who gives herself the task of making it so what Laura has held back for decades is finally spoken, and when it comes to Laura's parents, their bubble gets popped. Thus leading to Arthur and Melanie, Laura's parents, apologizing to her and Brad and arranging for Brad to come to the Island so that he and Laura can talk about how they will move forward.
Other Noteworthy Information
Segundo does pop up in the episode, but with him seeing Elena and Javier talking, he walks away and isn't seen again in the episode.
Things To Note
Question(s) Left Unanswered
How long are they going to delay talking about what is in that room Segundo is monitoring?
What Could Happen Next
Isla and Elena having another standoff
Javier and Elena getting back together
Potentially, the season ending with addressing what's behind that door Segundo is keeping secure
Review
---
Community Rating:
---
Highlights
Elena V. Ruby and/or Isla
While things simmered down by the end of the episode, you can see Elena getting in between her growth and exploration is going to lead to issues. She understands Elena is her friend and that she may now only make her feelings known and, otherwise, stay out of Ruby's affairs. But even making a comment could become an issue if Isla can make Ruby forget Mel, on purpose or through her continued presence, Imagine what can and will happen if Isla tries to take Ruby.
Will this trigger the Island to do something, since it chose Ruby, or will it leave it up to Elena to respond? Heck, what can Elena do that won't disturb the Island, never mind potentially lead to more mermaids showing up and causing havoc?
Peaches, Laura, and The Importance Of An Imaginary Friend
Having an imaginary friend is something not dove into much, and the way "Fantasy Island" handled it, even if they should have had Kyla Pratt reel it in a bit, allowed for there to be an emotional punch. Trauma comes in many forms, and often we think of the physical aspect. However, being put between the two people you love, and later a third with Brad, is a lot for a person to handle. Also, imagine how many relationships and friendships were lost in Laura's pursuit to keep both parents happy?
Hence the need for Peaches. Someone who won't abandon her, who will take her side, seek understanding rather than put up boundaries and maybe force her to choose. Peaches is a trauma response, and while Laura likely has the responsibilities of an adult, because of what her parents put her through, she was as stunted as Peaches seemed to be in many ways.
On The Fence
Short Segundo Sighting
I genuinely miss Segundo. Mind you, I don't remember what we know about him, beyond he tends to the plant life on the Island, but his relationship with Elena was a highlight. And when you consider how she has been handling Javier and now Ruby, some sage advice from Segundo seems overdue.
Elena and Javier
Make-up to break up storylines aren't really what "Fantasy Island" needs, and as much as I want Elena to grow and Javier to have a storyline, this seems almost like a lazy way to do things for both characters. Elena has control issues to address, then Isla, and while the show resolved her past regarding her ex, what about everything else that led to her accepting her position as host?
Then with Javier, losing Helene was his ticket to developing outside a romantic relationship. Yet, almost like the show did course correction mid-way, it got rid of her, and it is questionable if she may ever be brought back. Which, unfortunately, has seemingly put Javier back at square one, and with how the show operates, it appears the only thing they believe he can do is to be a love interest to poke and prod Elena, no pun intended.
[ninja_tables id="60009″]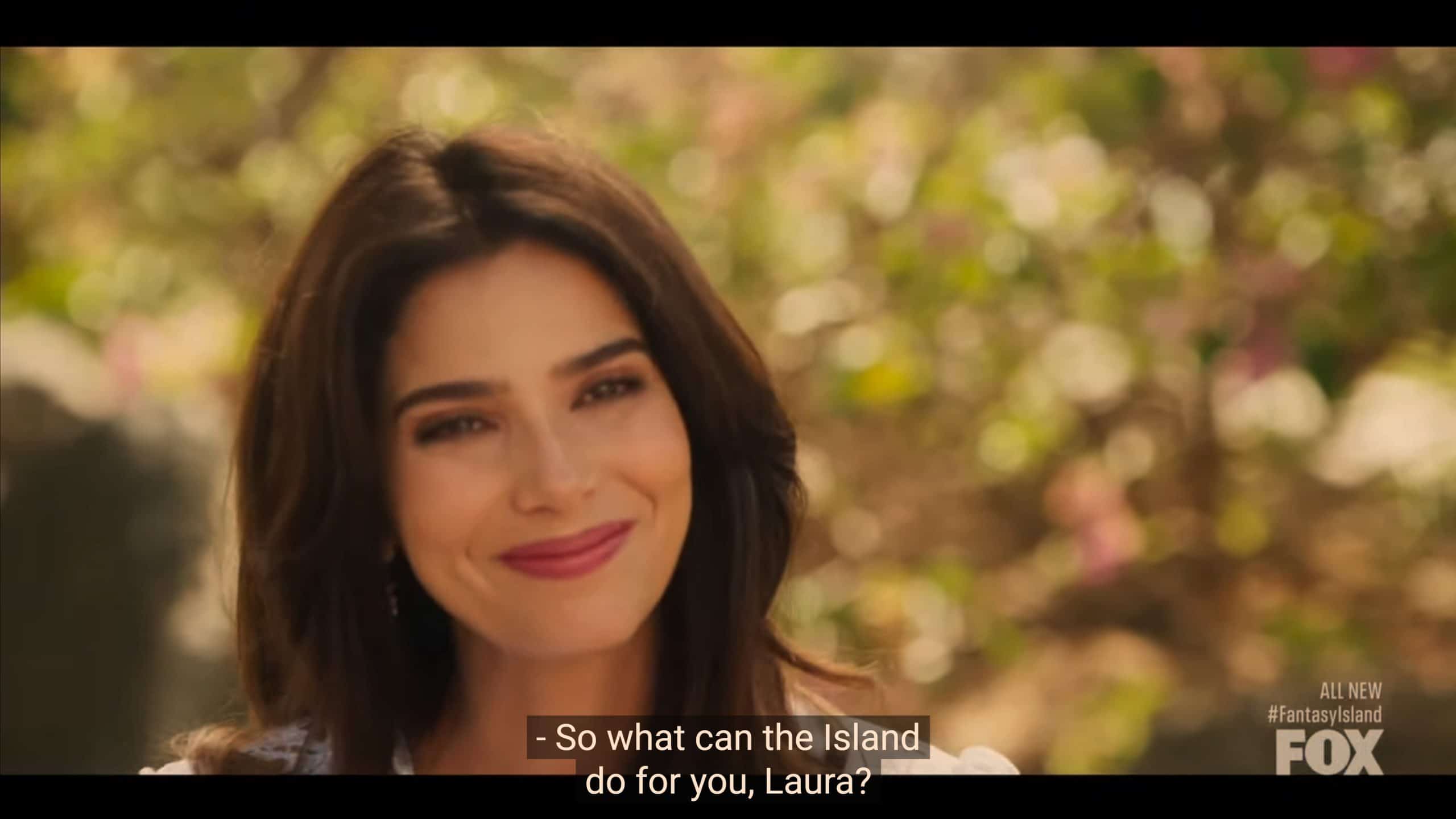 Fantasy Island: Season 2/ Episode 11 "Peaches & The Jilted Bride" – Recap/ Review (with Spoilers)
Overall
While Isla gives much-needed complications to Elena's life, the unfortunate retread of her and Javier does put a damper on things.
Highlights
Elena V. Ruby and/or Isla
Peaches, Laura, and The Importance Of An Imaginary Friend
Disputable
Short Segundo Sighting
Elena and Javier