As Josh faces off with Baron Triump, the different clans join together to honor Turbo Bro Jock, and there is an assassination attempt.
---
Network
Netflix
Director(s)
Brad Peyton
Writer(s)
Aron Eli Coleite, Brad Peyton
Air Date
10/25/2019
Introduced This Episode
Ms. Crumble
Krysta Rodriguez
Hoyles (Baron Triumph)
Rob H. Roy
Wesley
Austin Crute
Angelica
Alyvia Alyn Lind
Eli
Gregory Kasyan
Mona
Jeanté Godlock
Images and text in this post may contain affiliate links. If you make a purchase, we may earn a commission or products from the company.
Recap
The Way Things Were: Sam, Josh, Ms. Crumble, Hoyles, Turbo, Wesley
Before the apocalypse, Sam invited Josh to the mall, and he thought it was a date. However, it wasn't something serious for her, and they end up just vlogging Sam complimenting people. Well, at least until Hoyles, followed by Turbo and Wesley, decide to ruin the day, and Josh finds himself running from a beat down.
Luckily for him though, Ms. Crumble, his biology teacher, finds him and provides him with snacks and some encouragement. She doesn't stop Hoyles but at least doesn't rat Josh out. Someone who, ultimately, just has to deal with being punched, kicked, and spat on. Luckily for him, Sam doesn't see his running as cowardly or a reason to be less attracted to him, so the day ends with a kiss.
Question(s) Left Unanswered
What is Ms. Crumble's real name, and who keeps changing it? Also, why are they changing it?
The Way Things Became: Josh, Angelica, Eli, Wesley, Hoyles (Baron Triumph), Ms. Crumble
What we thought was Baron Triumph was actually Eli, an Armenian kid who was known mostly for wearing knockoff clothes, who somehow took over the entire mall. However, now Josh, Angelica, and his arch-nemesis Wesley, are in his humble abode. A place where the lights are still on, water runs, and there is seemingly even air conditioning. All of which Eli fiercely protects with a multitude of booby traps, which includes bombs, that he has gotten from who knows where. All that is clear is that masquerading as Baron Triumph has done him good.
Well, at least until the real Baron, who Wesley reveals is Hoyles, shows up. With that, Eli's defenses are put to the test. But, alongside that, like Josh, he is forced to rely on others. For, originally, Eli traps Josh and Angelica in part of the mall with a "witch." Which we find out is just a disheveled Ms. Crumble. Someone who, surprisingly, can communicate far more than most ghoulies and has even found a way around the whole eating people thing.
How? Well, it seems ghoulies just need iron in order to regain some of their senses. Ms. Crumble isn't so coherent she can walk and talk like a normal person, but she can at least carry a conversation. At least, as long as she doesn't get riled up.
But to really show how she is in control, when Baron finds a way in, she attacks him on the kids' behalf to protect them. Leading to Angelica wanting to study her for if Ms. Crumble is semi-normal, she has hope that maybe her mom is. Though Josh is quick to squash that idea.
Oh, and speaking of Josh, he experiences his first bite and thinks that means he has to cut a limb off. However, Angelica reveals ghoulies don't have some sort of transfer ability to turn people into ghoulies. She has been bitten many times and is still her sarcastic and vulgar self. But, unfortunately for Josh, he cut off his finger before she told him that.
Question(s) Left Unanswered
Where is the principal? Also, is it because Ms. Crumble isn't eating people she is sort of sane or because she is in her 20s?
Is Mavis, who Eli refers to, a real person or a mannequin? If not an animal, like a dog?
Meanwhile, On The Outside: Mona, Turbo
Turbo, before the apocalypse, could be seen as Hoyles' lackey. The same could be said for Mona. However, with Hoyles now on his own, and Wesley a wannabe samurai, both have risen to the top of the social echelon. Making Josh foiling them, after defeating around 18 tribes, devastating.
After all, who is Josh? No one knows who he is, he lacks a tribe, and yet Josh not only embarrassed them but gave them the slip. So, to reassert their dominance, Mona and Turbo arrange for the tribes to offer something for protecting. Kardashia offers alcohol, the 4-H club offers meat, and the STEM club tries to assassinate Turbo.
Luckily for Turbo, whether it was him or Mona, this was expected, and thus another member of the golf team dies. But, at least he won't be alone since the STEM club members are likely going to die. Partly due to the assassination attempt, but mostly for creating a gun. A weapon that has become outlawed. So while they are the ones who helped build the society, and allowed for the creation of the vehicles that the jocks use, it seems their place is no more.
Question(s) Left Unanswered
What happened to Turbo's face, and considering how he, Wesley, and Hoyles were tight, why did they separate?
Why did Mona choose to follow Turbo instead of Wesley or Hoyles?
Collected Quote(s) & .Gifs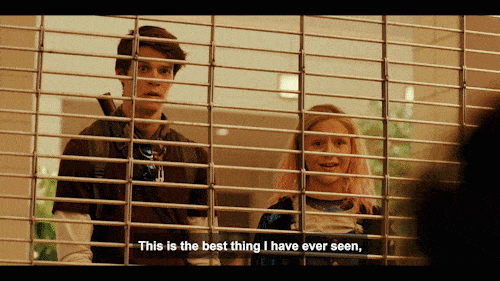 Review
Highlights
I Badly Want To Know What Happened To Sam Now
I don't know how, but they'd found a way to make Sam so lovable that she somehow avoids being boring. It doesn't make sense that the show has found a way to do this, but I guess part of the reason this works is because she is a girl. Because, if she was a boy, I can't say for sure they couldn't get away with the only way to describe her being nice.
But we're also only on episode two. If this remains too long, Sam being the nice blonde girl, who probably has blue eyes, may make her feel terribly genetic. Especially since she exists in a dream girl capacity.
Seeing The Major Clans
While we don't get to learn much about the clans, and how their territories are, it was nice to see some of their leaders and get a sense of what they contribute. Be it the Kardashian inspired clan giving alcohol, the 4-H tribe handling animal husbandry, or learning the STEM club helped fortify and revitalize Glendale.
Though with that said, it does leave you to wonder what nearby cities and towns are doing, and if they are a threat?
Getting The Vibe Most Characters Might Be Given A Backstory
As of this episode, beyond Sam and Josh, we know Wesley, who is apparently gay, Hoyles, Eli, Turbo, Mona, Ms. Crumble, and Angelica. Each one, besides perhaps Sam, feels like real people with their own specific interests, personalities, and even goals – in the post-apocalyptic world. For some reason, having this many characters, in two episodes, feel like there is at least a foundation setup seems weird. I am not sure why, but I think after the first episode being iffy in some areas, there was an expectation that this would be the kind of show which can't be put under a microscope too much.
Yet, from what it seems, things might get better from here.
Not Following Zombie Rules
One of the reasons I say that is due to ghoulies not following zombie rules, and, thanks to Ms. Crumble, the idea is put out there that normalcy, in some form, can come. Maybe not the ways of the old world, but sanity is a real possibility. Now, how will this be achieved? That is a bit harder to say. But between the hope of Sam being alive and the hope Angelica has that the people she loves could be saved, it brings a bit of warmth to your heart that is unexpected.
Daybreak Directory
Creator

Aron Eli Coleite, Brad Peyton

Character Guide

Collected Quotes

Not Created

Current Status

Active

Where To Buy, Rent, or Stream?
Netflix

Season Reviews

Season 1 Not Finished Yet
Check Out The TV Series & Specials Page
Season/ Episode
Synopsis
Episode Information
Topics & Focused Characters
Season 1, Episode 4 "MMMMMMM-HMMMMMM"

The true identity of Baron Triumph is revealed, as well as what Eli knows that Wesley is trying to keep secret.

Director(s)
Michael Patrick Jann
Writer(s)
Andy Black
Air Date
10/25/2019
Introduced This Episode
Principal Burr
Matthew Broderick

22 Years With Little To Show For It:

 

Principal Burr, Hoyles, Sam
Who Is Baron Triumph:

 

Hoyles, Principal Burr, Wesley, Turbo, Josh
Let's Be Monsters:

 

Ms. Crumble, Eli, Angelica, Wesley, Turbo, Josh

Season 1, Episode 3 "The Slime Queenpin of Glendale, CA"

As Josh deals with gangrene and the possibility of death, we get to know his ten-year-old tormentor and shed a few tears.

Director(s)
Michael Patrick Jann
Writer(s)
Calaya Michelle Stallworth
Air Date
10/25/2019
Introduced This Episode
Demi
Jade Payton
Jordan
Tim Johnson

My Life With My Ghoulie:

 

Ms. Crumble, Josh
The Rise & Fall of Angelica:

 

Demi, Wesley, Josh, Sam, Angelica
Sometimes You Have To Lie To Those You Love:

 

Angelica, Josh, Wesley

Season 1, Episode 5 "Homecoming Redux or My So Called Stunt Double Life"
The reason Wesley has taken to the ways of the samurai and seeks redemption are revealed. As well as some insight into his relationship with Turbo.

Director(s)
Sherwin Shilati
Writer(s)
Ira Madison III
Air Date
10/25/2019
Introduced This Episode
Emmett
Frederick Williams
KJ
Chelsea Zhang

In The Beginning: Turbo, Wesley, Emmett
The Middle: Turbo, Wesley, Josh, Eli, Angelica, KJ, Josh
This Is Our End: Wesley, Turbo, Mona, Josh

Season 1, Episode 1 "Josh vs. the Apocalypse: Part 1"

Combine 

Scott Pilgrim vs. The World

, a lead who reminds you of Ferris Bueller and your generic YA dystopian novel, and you get 

Daybreak

.

Director(s)
Brad Peyton
Writer(s)
Aron Eli Coleite, Brad Peyton
Air Date
10/24/2019
Genre(s)
Young Adult, Comedy, Action
Good If You Like

Shows Strictly Starring Teenagers
Outcast Lead
Post-Apocalyptic Worlds

Introduced This Episode
Josh
Colin Ford
Sam
Sophie Simnett
Turbo Bro Jock
Cody Kearsley

Season 1, Episode 2 "Schmuck Bait!"
As Josh faces off with Baron Triump, the different clans join together to honor Turbo Bro Jock, and there is an assassination attempt.

Director(s)
Brad Peyton
Writer(s)
Aron Eli Coleite, Brad Peyton
Air Date
10/25/2019
Introduced This Episode
Ms. Crumble
Krysta Rodriguez
Hoyles (Baron Triumph)
Rob H. Roy
Wesley
Austin Crute
Angelica
Alyvia Alyn Lind
Eli
Gregory Kasyan
Mona
Jeanté Godlock

The Way Things Were: Sam, Josh, Ms. Crumble, Hoyles, Turbo, Wesley
The Way Things Became: Josh, Angelica, Eli, Wesley, Hoyles (Baron Triumph), Ms. Crumble
Meanwhile, On The Outside: Mona, Turbo
I Badly Want To Know What Happened To Sam Now - 84%
Seeing The Major Clans - 83%
Getting The Vibe Most Characters Might Be Given A Backstory - 85%
Not Following Zombie Rules - 82%