Claws: Season 3, Episode 8 "What Is Happening to America" – Recap, Review (with Spoilers)
For years now, Desna has dealt with different world-renowned gangs to make it out of poverty. Has she finally reached the end of her rope?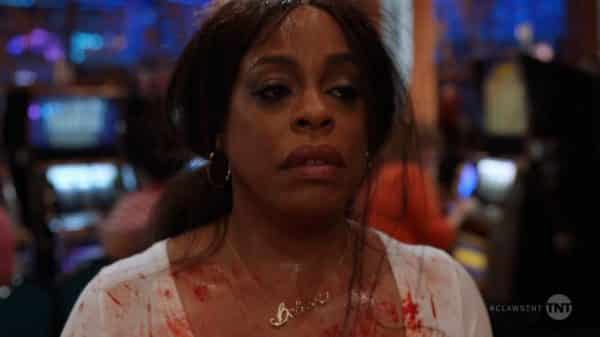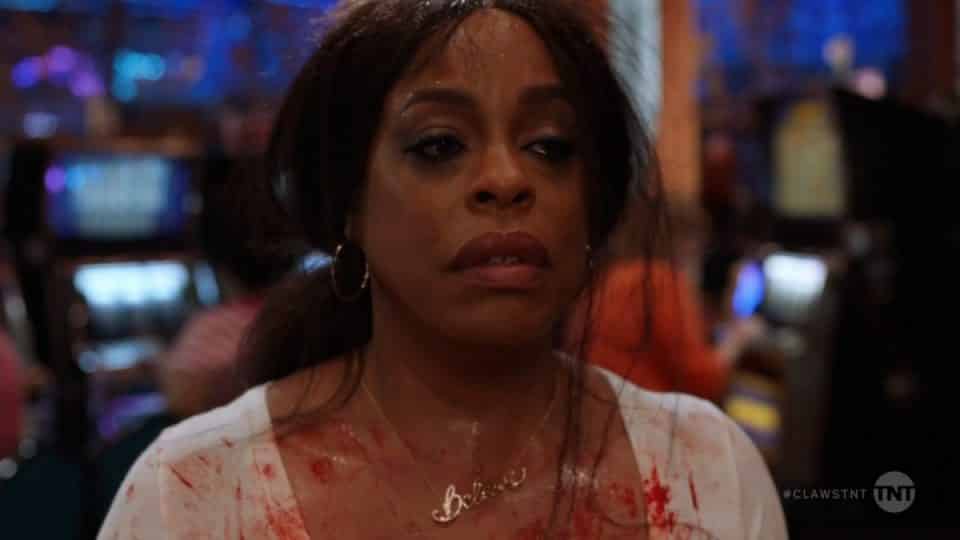 For years now, Desna has dealt with different world-renowned gangs to make it out of poverty. Has she finally reached the end of her rope?
---
Network
TNT
Director(s)
Carrie Preston
Writer(s)
Doug Stockstill
Air Date
7/28/2019
Images and text in this post may contain affiliate links which, if a purchase is made, we'll earn money or products from the company. Affiliate links and external links have an upward facing, superscript, arrow.
Recap
24 Hours: Benedict, Melba, Mac, Desna, Dean
Benedict, aka The Professor, decides as restitution that Desna, Mac, and Melba have 24 hours to get him 3 million dollars. Otherwise, they'd all die and to encourage Desna, he makes it clear Dean will join them too. Since, you know, Triads believe in wiping out a whole family tree and not just pruning a branch.
Embrace The Darkness: Polly, Joe, Governor Patel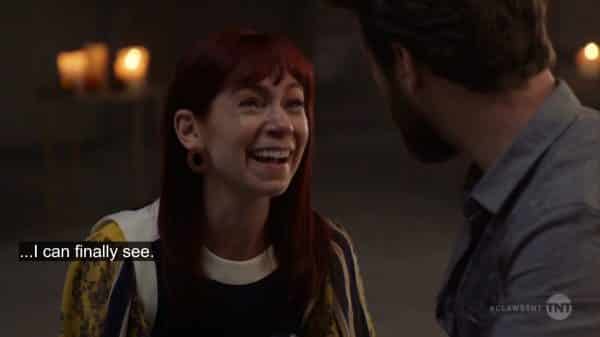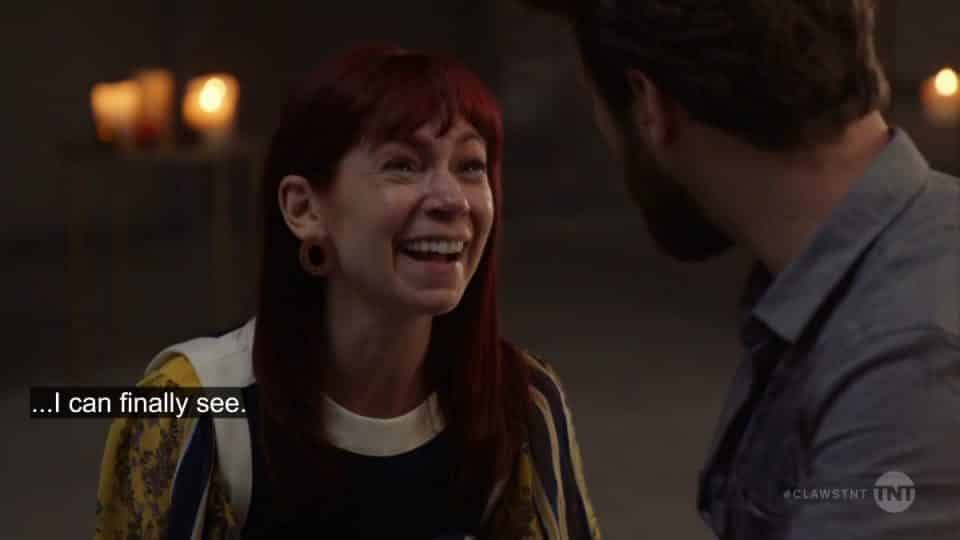 While Desna is worried about making money, Joe is worried about loose ends. Specifically, Governor Patel since he is part of what has the Triads feeling exposed. So, Polly, per Desna, is tasked to go with Joe and she ends up crossing a line. Not with Joe, but a mental line. One in which, as Joe strangely struggles to kill the governor, Polly assists and with that, she has either snapped – period – or maybe snapped back into place.
It's hard to explain, but it seems Polly used to operate in fear, but in keeping Joe from dying, the issues stemming from not saving her twin were lifted. Thus she may not have returned to a sense of normal, for herself or the viewer, but definitely has reached a new chapter in her life.
Paying The Cost To Be Middle Management: Mac, Melba, Desna, Benedict, Quiet Ann, Chad, Bryce
Despite all the property Ruval left, which I assume the government must have seized, Desna is freaking out about that money. Luckily for her, Mac and Melba know Chad. You know, Chad who gave Bryce a book deal which he was excited about until he learned Chad was a white nationalist. That Chad.
Someone who happens to hold not only confederate memorabilia in his home but gold bars. Which the team steals but they lose Mac in the process. But, at the very least, Benedict is happy. Granted, he tasks Desna with killing Melba since he can already see her becoming a liability, but who is Melba compared to Ann, who is getting sick with worry?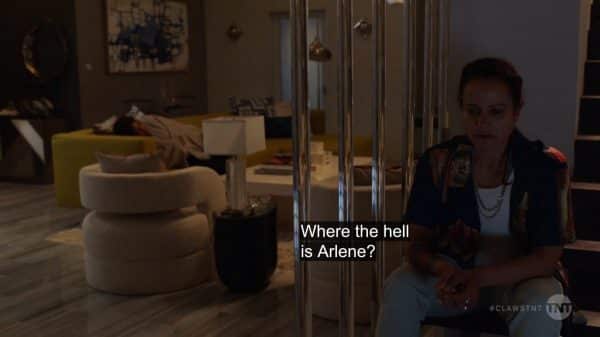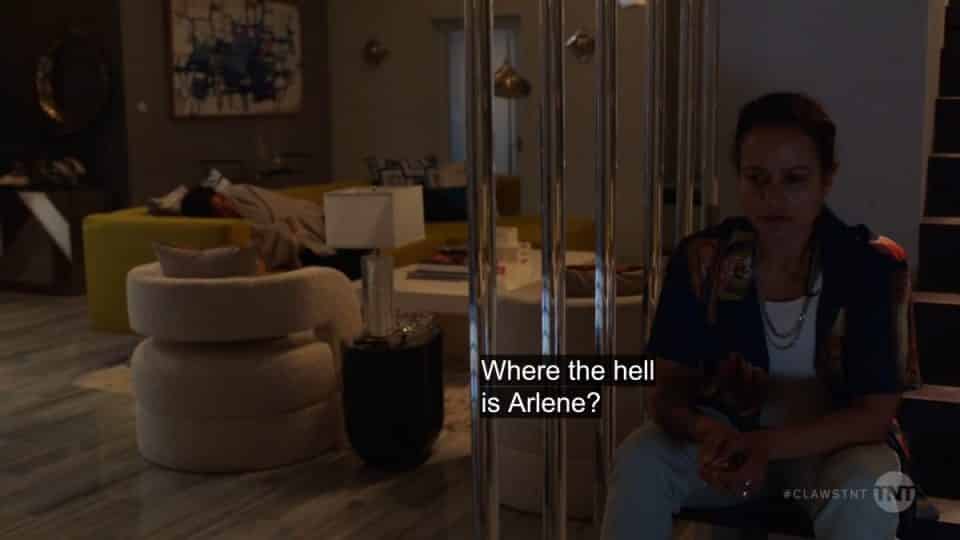 Luckily for Desna, despite the trying few days she has had, she has just enough left in her tank to lie to Ann and end the drama.
Collected Quote(s) & .Gifs
It's like after looking into all that darkness, I can finally see.
— Polly
Review
---
Community Rating:
---
Highlights
Polly Embracing The Darkness
On Claws, character development leans more towards things happening to characters and them adapting than us really exploring their psyche and watching them grow. For example, with Jen and Bryce, because of Desna and the whole Dixie Mafia stuff, their development has been all about outside forces testing their marriage and them adapting. On the flip side, with Desna and Polly, we got their history, and see them not just knowing better, when it comes to how to act in certain environments, but have a sense of their mental and emotional state.
Like, when it comes to Desna, you can see when she is at that line before she is going to start hallucinating, we're seeing dance numbers or people from her past. With Polly? While she is more tell than show lately, who needs subtly to be the only driving force of a narrative right? Sometimes you need a character to just lay it out, as Polly does.
Thanks to not saving her sister, Polly has lived with a sense of guilt which contributed to the negative state of her mental health. For at that moment she could have saved her sister, she froze, and it seems the world went dark. Luckily for her, however, Desna became a lightbulb that kept the shadows of past regrets away, but with Desna pushing Polly towards Joe, who doesn't have a glow to him, it forced her to walk into the darkness and realize her eyes can adjust. That maybe she isn't as mentally or emotionally weak as she thought. It's just between her grifting and coddling by Desna, she didn't get to know her full potential.
And that ladies in gentlemen is development. Scared Polly, the odd white girl who tries to be down and often times is struggling to find her place, to one ready to serve, now maybe even kill, for the mental block in her mind could be gone.
Clay Is A Big Boy Now
Let's not discount Clay's development, just because Desna and Polly's is a bit more noticeable. While his seemed random, particularly due to it being part of Virginia's off and on awakening storyline, it has stuck since earlier this season. So we must note how nice it is that with Toby clearly in his feelings, missing his sugar daddy, Clay honors his feelings over this longing for someone to step into the place Juanita used to inhabit. Maybe even embraces the idea Toby could possibly step up and give him that emotional support?
That is, rather than keep seeing Brenda, lie to Toby, and then Toby popping a cap in Brenda and maybe Clay too.
On The Fence
Benedict, Like Every Other Villain, Seems Like A Reem In A Giant A** Ladder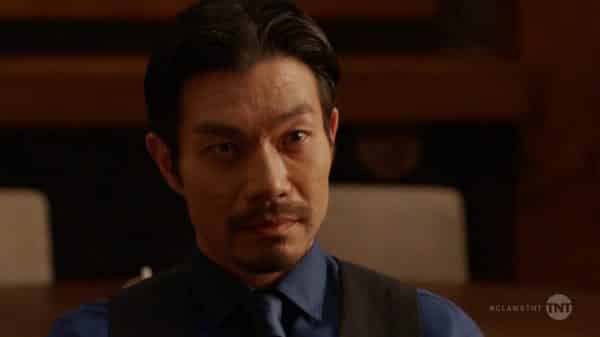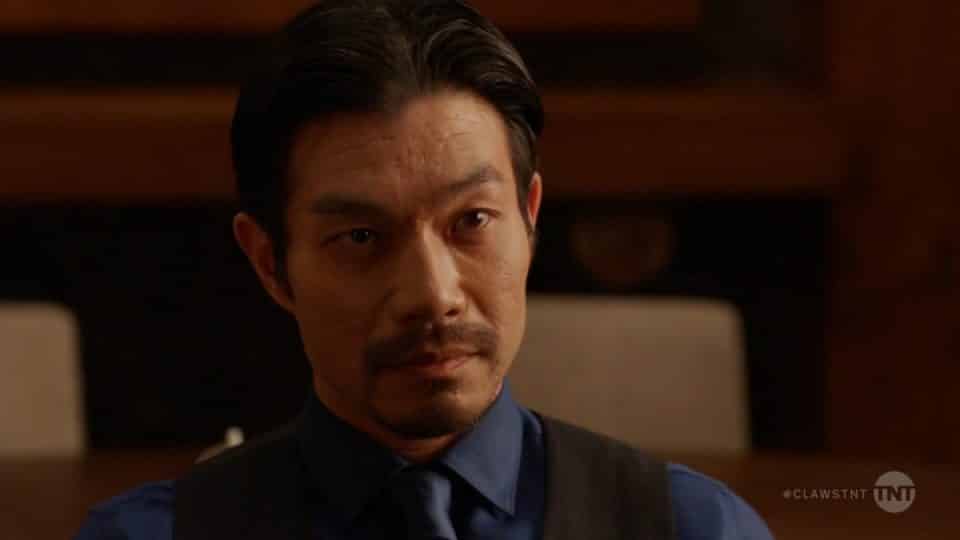 Point blank: Escalation is one of Claws' biggest issues. There always has to be this new gang, this new threat, one bigger than the last, and it is at a point where it has found a routine it is likely going to stick to. Which sucks since it shows the program doesn't really have much of a desire to coerce us to take its villains seriously.
Take Zlata. With her we could have had a multi-season villain, perhaps a frenemy, who taught Desna the ropes, helped her expand under her, and maybe once Desna got too good, and was threatening, we could have transitioned to showing Zlata trying to backstab Desna. However, Claws is mid-key like fast food. It's more about the quick fix than really taking its time to deliver something that gives you long term satisfaction. But, let's be real, and never forget, Claws is a comedy with dramatic elements and a satirical tone. So it is a bit unfair to expect the world from a show which doesn't want you taking it too seriously.
Chad
A great example, and I know this review has way too many of them, is Chad. Between the cops showing up to break up his protest, and him being friends with the cop, to the stuff he says on his porch, Chad is the epitome of a Claws character. Someone based off a stereotype amped up a bit to maybe not be fully three dimensional but can present the ruse of being human. Which makes the idea, as Mac and Melba exit, him playing the B-story villain, as the Triads take over for being "Big Evil," worth hunching over a bit. Even if he fits the times we're in and what Florida is known for, to a point.
Follow Wherever I Look on Twitter, Like us on Facebook and Subscribe to the YouTube Channel.
[ninja_tables id="36843″]
Chad - 70%
Benedict, Like Every Other Villain, Seems Like A Reem In A Giant A** Ladder - 75%
Clay Is A Big Boy Now - 80%
Polly Embracing The Darkness - 85%
---
Follow, Like, and Subscribe
Community Rating: 0.00% (0) - No Community Ratings Submitted (Add Yours Below)