The dead come back to life, and with many reunions comes a handful of emotional moments. So, if you are prone to tears, get your tissues ready.
---
Director(s)
Catriona McKenzie
Writer(s)
Oanh Ly, Ross Maxwell
Aired (Netflix)
12/31/2020
Introduced This Episode
Lazarus
Oliver Rice
Elaine
Christine Willes
This content contains pertinent spoilers. Also, images and text may contain affiliate links, which, if a purchase is made, we'll earn money or products from the company.
Recap
Welcomed Reunions – Zelda, Hilda, Edward, Sabrina, Dr. Cee, Elaine, Dorcas, Agatha
Despite Sabrina M being in the same universe as 90s Zelda and Hilda, and the idea Hell and Earth were merging, all of that is put on the back burner for the dead have come back to life! Mind you, not as zombies, but perhaps in the form they were before their unfortunate deaths. For example, Dorcas returns, covered in blood but without stab wounds, and plays with Agatha. Edward returns and goes straight to work, and Elaine, Dr. Cee's mother, is already fawning over him and making Hilda know she isn't good enough.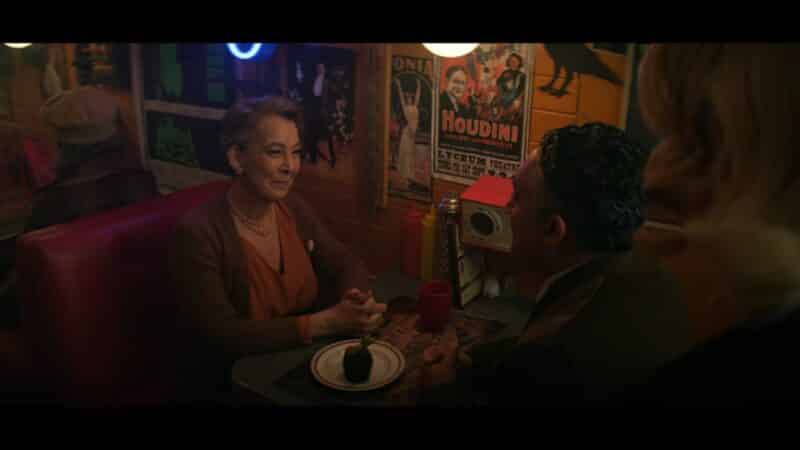 Now, usually, Zelda is the party pooper here but with her dog, Vinegar Tom back, and her brother? Oh, she is in BLISS! Unfortunately, though, it doesn't have the same effect on Sabrina, whose father, who died when she was 2 months, doesn't seem keen to acknowledge her.
The Price To Pay For Disturbing The Dead – Lazarus, Marie, Zelda, Sabrina, Edward, Agatha, Dorcas, Prudence, Elaine, Dr. Cee
Unlike The Cosmos, it seems the key to this Eldritch Terror is Lazarus – yes, that Lazarus. Someone Marie plays a game of Senet with in hopes that, if she wins, the dead will go to their graves, and that would be the end of it. However, if Lazarus wins, people will suffer. So, a whole lot of pressure is put on her shoulders.
Meanwhile, Sabrina tries to connect with her father, and with being disowned and nearly attacked, it reminds her she is an orphan. Which affects her deeply. Though she isn't alone. While Prudence does love having the OG Weird Sisters back together again, Dorcas remembering Agatha killed her nearly led to her killing Agatha. Thus, like Dr. Cee had to do with his mom and Zelda with Edward, an effort had to be made so the dead don't rage against the living.
Hello, Goodbye – Robin, Theo, Agatha, Prudence, Dorcas, Marie, Zelda, Lilith, Lazarus, Lucifer, Harvey, Roz, Mr. Kinkle
So, while there are a lot of emotions flared up thanks to the witches seeing familiar faces, the mortals are dealing with something different. Specifically, Harvey is dealing with a band known as "Satanic Panic," kidnapping his father for snitching on them and being the reason they died. Now, originally, Sabrina tried to end things early by talking to Lucifer, but with a reminder he doesn't see her version as his daughter, once more, Sabrina is reminded how she doesn't have a father.
Yet, alongside Prudence and their crew, they compete in a Battle of the Bands, as well as Fright Club, to win Mr. Kinkle's freedom. Which they do, and on top of winning Mr. Kinkle's freedom, Theo also gets a chance to reunite with Robin and convince him to stay – which he gladly does.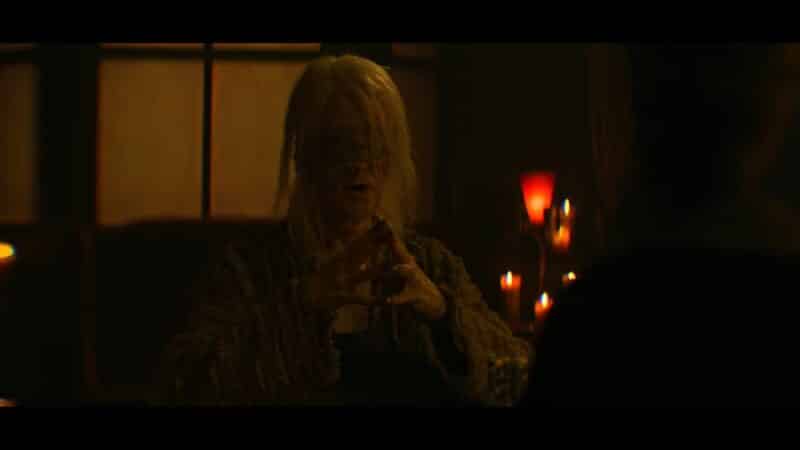 But with all the fun and drama coming to an end, so comes a slew of goodbyes. Despite Prudence's love for her, Dorcas has to leave, and with her forgiving Agatha, it seems Agatha is sane once more. Also, thanks to Lilith, this Eldritch Terror ends with her using the Spear of Longinus to kills Lazarus. A weapon initially obtained for the purpose of suicide.
Leaving one last thing: Mambo Marie returning to the world of the dead. You see, Mambo Marie is actually Baron Samedi, an Ioa of Haitian Vodou. This is revealed to Zelda before Mambo Marie leaves and, being that Zelda feels lied to, she seems to disregard her and Marie's relationship and doesn't make a big deal of them leaving.
Review
---
Community Rating:
---
Highlights
It Was A Strangely Emotional Episode
Chilling Adventures of Sabrina isn't necessarily a show you'd expect to get emotional over. Yes, as shown in this episode, characters have died, and many have not dealt best with such trauma. However, it was never really written or performed to make any weight the characters were under to be taken on. Yet, watching Sabrina deal with rejection twice, seeing Zelda sentimental, and Prudence being reunited with her sisters, that got me in my feelings.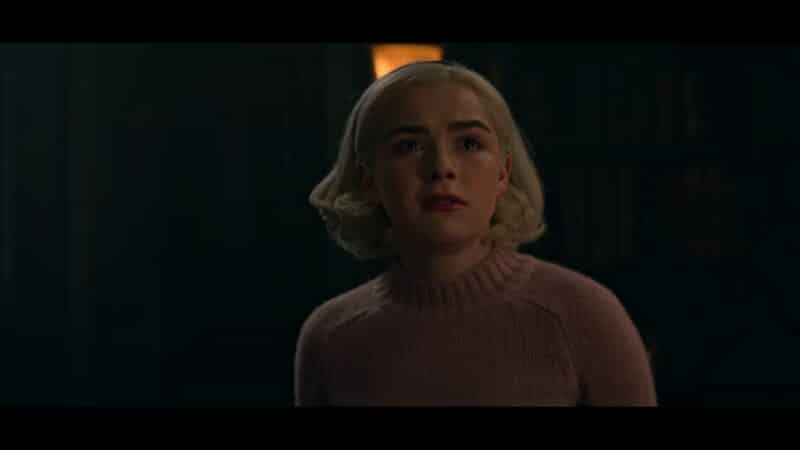 Mind you, not for long, even with them focusing a bit more on Sabrina's lack of parentage. However, it does make you wonder, with them tapping into this lane and the actors showing themselves capable, if we could have gotten more of this? This isn't to downplay all we've seen Prudence go through over multiple seasons and what others have, but this just hit differently.
Most Of The Musical Numbers
Let's be real here – Dark Mother had the worst performance of Battle of the Bands, and while we loved "The Time Warp" by Fright Club, it was a cover. So, "Satanic Panic" really should have won, but honestly, viewers were the winners because, even at its worst, i.e., Dark Mother, it was high energy and entertaining.
Mr. Kinkle's Story
While the Battle of the Bands parts made for an odd end, the explanation of why "Satanic Panic" was around, what they did, and Mr. Kinkle's part in it was perhaps one of the best stories Mr. Kinkle has ever been in. Heck, the story was so good it almost seemed like it could have been an episode of a different show focused on strange occurrences in Greendale history.
On The Fence
The End of Mambo Marie?
Did we enjoy Mambo Marie? Yes. However, like Theo, her potential for this season felt drastically reduced. She didn't really play that maternal figure we were expecting for Prudence, her relationship with Zelda was put on the backburner, so her exiting perhaps isn't the worst thing. If it allows Theo, or another supporting character, that time to live up to what this show built up for them.
[ninja_tables id="54332″]
Summary
---
Community Rating:
---
The End of Mambo Marie? - 75%
Mr. Kinkle's Story - 84%
Most Of The Musical Numbers - 82%
It Was A Strangely Emotional Episode - 86%
With the dead returning, life comes to Chilling Adventures of Sabrina as familiar faces lead to some teary-eyed ones – including yours.