Caught Up: Season 1/ Episode 4 "Complicated" – Recap/ Review (with Spoilers)
---
Community Rating: 0.00% (0) - No Community Ratings Submitted (Add Yours Below)
---
This post may contain affiliate links and spoilers. Please read our disclosure policy.
---
General Information
This section Includes information about the Director, Writer, and Cast.
Release Date (BET Plus)
August 24, 2023
Director(s)
Mark E. Swinton
Writer(s)
Mark E. Swinton
Newly Noted Characters and Cast
Lil Smoke
Deron Cash
Previously Noted Characters and Cast
Jazzy
Jasmin Brown
Wayne
Duby Maduegbunam
Plot Recap
This content contains pertinent spoilers. Also, images and text in this post may contain affiliate links. If a purchase is made from those sites, we may earn money or products from the company.
The Universe Is Trying To Look Out For You – Jazzy, Lil Smoke, Wayne
Like Wayne, Lil Smoke, government name Terrence, meets Jazzy at the club, is taken by her outfit, and pushes one of his minions to ensure he gets her number. Which he ultimately does, and then the pressure is on for a date. Jazzy humors him because he comes off a bit dangerous, but he might be anything but.
From what she learns, Terrence was very much a nerd when raised by his mom as a kid, but then she sent him off to live with his dad in high school and that was in Baltimore. The streets turned that studious kid into someone else, and while he knows how to code switch, his public persona is that of a vulgar rapper.
As for how Wayne is taking all of this? He doesn't know until he realizes he might very well be in love with Jazzy, who, with having taken that Plan B pill, makes it seem she has released Wayne. The problem is that he still wants Jazzy, even with him learning he is about to have a second child with his wife.
In fact, it gets so bad for him that, despite how happy his wife is and loving, on top of his friends' advice? While she is with Lil Smoke, Wayne goes to Jazzy's house and starts acting like he lost his damn mind.
New Character Description(s)
Lil' Smoke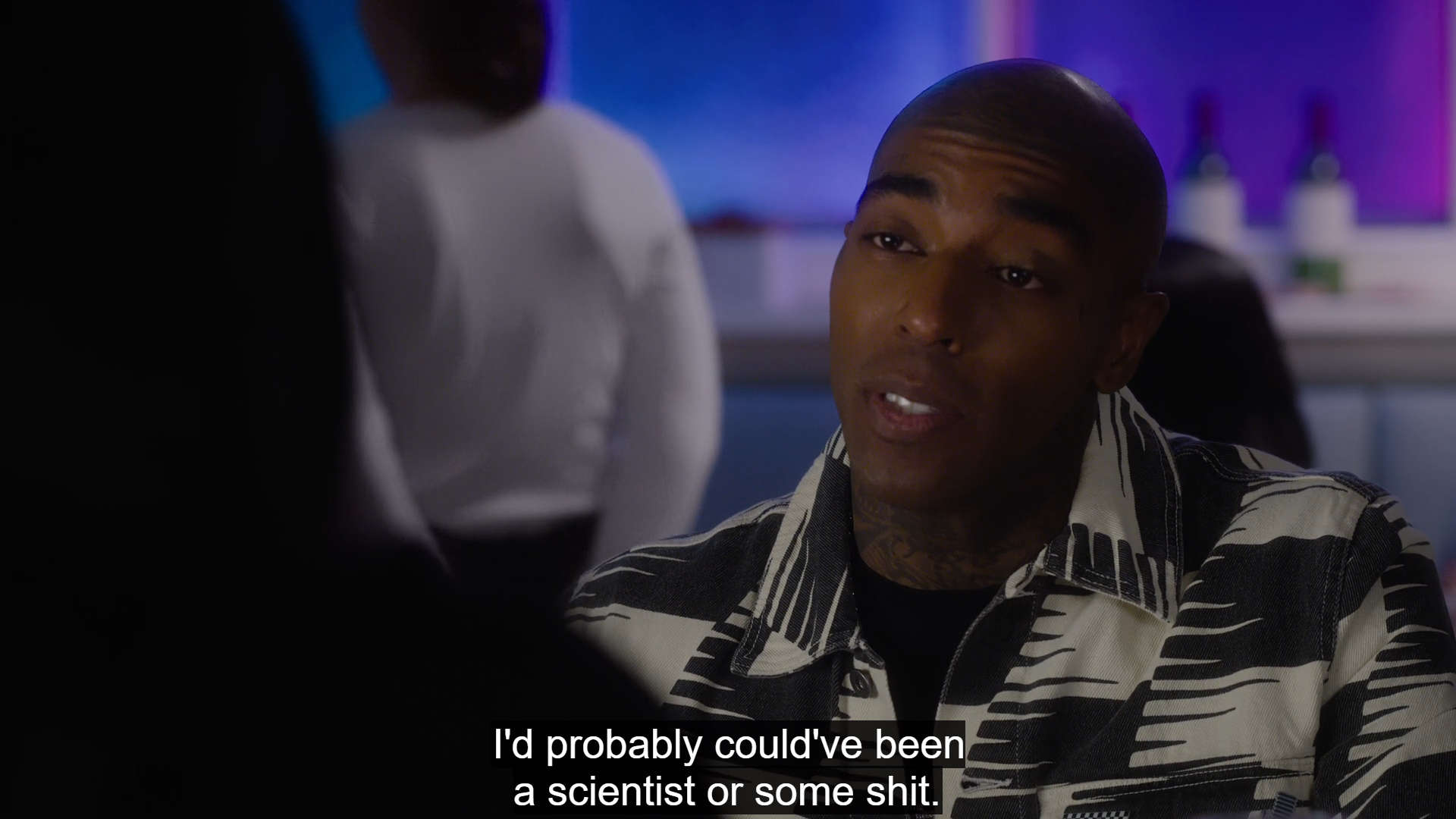 Lil' Smoke is a popular, vulgar rapper who, back when he was Terrence, was a studious little nerd. However, things changed as he approached high school and was sent to live with his dad in Baltimore. His focus became less on school and more on the streets, and while still educated and capable of holding a conversation, he also gained street cred and a reputation.
Review
Highlights
A New Love Interest
Is Lil' Smoke the best a girl can ask for? Maybe. He has an edge, an education, and can be a smooth talker. However, Jazzy is showing signs she may very well be a bird since she is still hooked on Wayne, despite every last sign many would need to know he isn't the one to mess around with.
So one can only hope that, if this season continues or another is produced, Jazzy somehow breaks the spell, or curse, that Wayne has on her and moves on.
Low Points
So, They Are Ending Things Here?
Like "Angel," "Caught Up" ends abruptly and leaves you without any sign or tale of whether or not this will continue. Granted, are we tired of Wayne? Absolutely. However, with Lil' Smoke's introduction, there was hope for a turnaround. Granted, like most shows, Lil' Smoke would probably be a rebound more than a permanent replacement, but there was still hope.
However, considering the Actors' and Writer's strike, who knows if, when all is said and done, if "Caught Up" will still be a priority, never mind still of interest to BET or Tyler Perry to continue.
Episode Directory
Caught Up: Season 1/ Episode 4 "Complicated" – Overview
Summary
We're still very torn about how to feel about "Caught Up." While we like that it is an urban comedy, with its entire focus being on Wayne and Jazzy's relationship, there is no denying it is missing out on exploring its supporting characters and even the depth Jazzy could have.
A New Love Interest -

81%

So, They Are Ending Things Here? -

64%
Disputable
So, They Are Ending Things Here?