Bridgerton: Season 1/ Episode 7 "Oceans Apart" – Recap/ Review (with Spoilers)
Whether or not there can be reconciliation between Simon and Daphne is anyone's guess, as Eloise may have discovered Lady Whistledown – thanks to Benedict.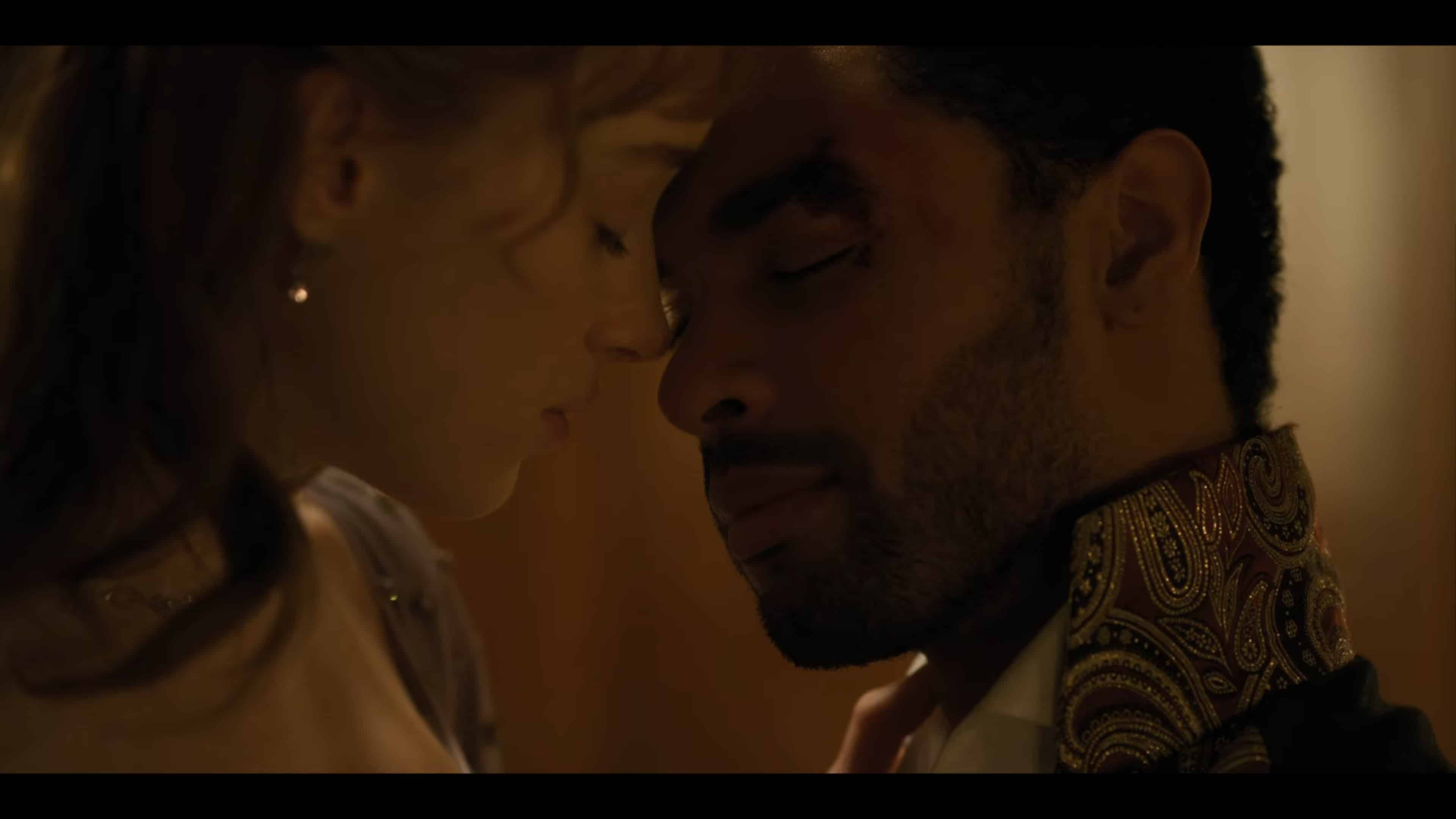 Whether or not there can be reconciliation between Simon and Daphne is anyone's guess, as Eloise may have discovered Lady Whistledown – thanks to Benedict.
---
Director(s)
Alrick Riley
Writer(s)
Jay Ross, Abby McDonald
Aired (Netflix)
12/25/2020
Introduced This Episode
Genevieve
Kathryn Drysdale
This content contains pertinent spoilers. Also, images and text may contain affiliate links, which, if a purchase is made, we'll earn money or products from the company.
Recap
Separate But Married – Daphne, Simon, Violet
Simon's issues with Daphne have reached a point where the two are just petty towards one another. Yet, when they don't have an audience, you can see this pull. One that has Simon eating Daphne out, in her family home, on a staircase. For when they return to aide with Colin's scandal, you can see there is this desire to be a united front, it is just the conditions and desires of both don't match.
Thus leading to Daphne, when pulled aside by Violet, taking out some anger on her mom for not preparing her for marriage. She taught her how to court, pretend, and be attractive, but not of sex, marriage woes, and dealing with a person, a man, who is sometimes disagreeable to madness. This conversation is a gift for Eloise since it leads Violet to back off her a bit.
After all, lest we forget, Daphne is the oldest girl, so she was Violet's learning curve.
Desperation Doesn't Look Good On Anyone – Will, Archibald, Portia, Marina, Daphne, Colin
With Daphne back in Mayfair and seeing the fall of the Featherington family, there is a part of her who desires to fix things. The issue is, even as a duchess, she can only do so much. Plus, with Colin done with Marina, for being lied to hurt him extensively, since he would have gone along with the plan, anything that could be done for Marina would be a solo effort.
Yet, Daphne is a woman of means and initiative, so she tries to help Marina using her network. But with Marina learning Simon isn't involved, she questions how naïve Daphne is and may have attempted to take her own life. Just to avoid further embarrassment and pain since that seems all that she will get or bring. I mean, Portia even finds herself, and her family, told to leave from a party for goodness sakes!
But, speaking of the Featheringtons, Archibald, the notorious gambler, approaches Will about throwing a boxing match so that both could make some money. The idea doesn't sit right with Will, especially after Archibald brings up Will's father, but money is money, and Will has a family to take care of. For beating up Simon only leads to but so much.
Sometimes Reveals Aren't Happy Occasions – Genevieve, Benedict, Eloise, Queen Charlotte, Simon, Daphne
When it comes to Simon, he is willing and firm on providing for Daphne if she has a child and, if not, abstaining to hold his vow to his father that he will not sire an heir and continue the Hastings line. Daphne finally catches wind of Simon's reasoning and is rightfully upset since his petty vow towards his father, borne out of hatred, is getting in the way of their happiness. Heck, Simon is essentially punishing himself to spite a dead man.
So, with Daphne having her period, it leads to the realization that maybe she may have to learn to accept her marriage will be miserable. Yet, like the other wives she met at Lady Danbury's party, she can still find freedom in separation. And who knows? Simon clearly still desires Daphne, so what he vowed to a dying man may be buried with his father's corpse one day.
Leaving one last thing: Who is Lady Whistledown? Well, the Queen has grown tired of waiting on Eloise and, frankly, wants Lady Whistledown shut down immediately. Especially after not mentioning one of her parties. But, what Eloise didn't realize is Lady Whistledown has long been under her nose. Which she only realizes upon Benedict revealing he is with Genevieve, who makes it clear she is the best suspect.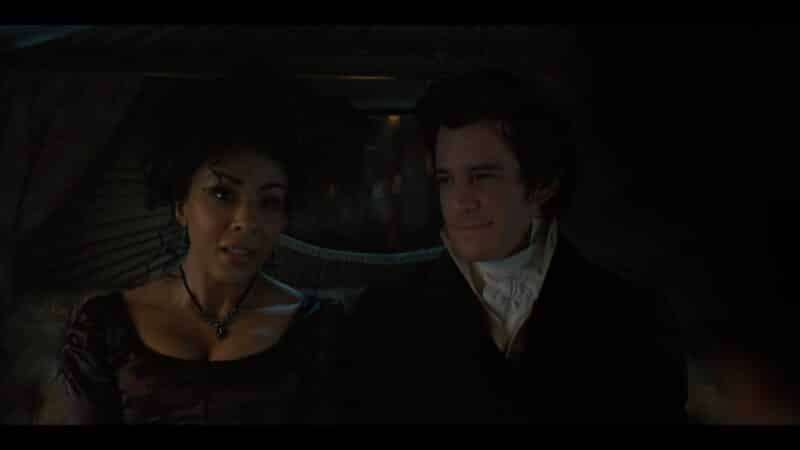 Take note, she is aware of almost all social occasions, people whisper to and around her nearly everything, and in terms of Marina, with Marina revealing her secret, that she is not French, who better to ruin? Now, the question is, how long until Eloise confronts her and, if she is right, will she get Lady Whistledown to write something to recover the Featherington reputation?
Things To Note | Question(s) Left Unanswered
Three weeks have passed since Simon and Daphne got married
Simon can really take a punch but can't fight worth a damn, huh? Unless they are a sniveling coward like Nigel.
Collected Quote(s) & .Gifs
Separate bedrooms may be tolerated. Separate households will not be suffered.
— Simon
Pretending that nothing is amiss is the perfect way to lure the ignorant into submission.
— Daphne
It takes courage to live outside the traditional expectations of society.
— Henry
Review
---
Community Rating:
---
Highlights
Henry's Conversation With Benedict
While Eloise was speaking to the Queen, Benedict was trying to understand Henry's situation with having a female wife yet a male lover. Now, the conversation itself wasn't revolutionary. If you watch media focused on or has LGBTQIA+ characters or people, you'd have heard Henry's speech before. Yet, we must admit it felt long overdue on this show.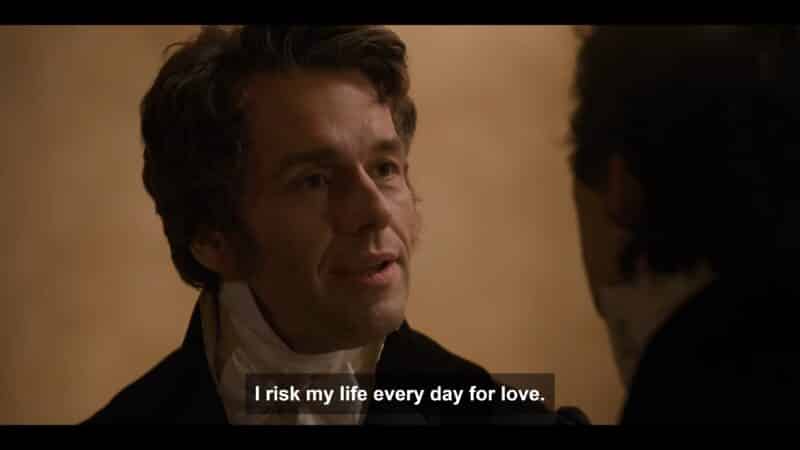 Maybe the reason it felt overdue is because the diversity of this show has almost strictly been Black and white, with the occasional shot of an Asian person. As for Brown people? Genevieve could be Spanish, though we may never know unless she and Benedict have an actual conversation. And as said many times when it comes to Penelope, when it comes to those in season, or soon to be, they may have diversity in fashion, maybe hair color, but nearly all have been relatively thin.
So Henry pushing the idea Bridgerton was more than heterosexuals, with a strong focus on white and Black relationships, shook things up slightly. For despite knowing Henry isn't going to become any sort of major player, he does remind you communities beyond what are focused on exists.
Daphne's Kindness Towards Marina
The reason we appreciate Daphne's kindness towards Marina is that she had nothing to gain. The Featheringtons are no friends of hers, just a neighbor and known by name. On top of that, associating oneself with a scandal seems of great risk, even if you have a title. So her search for George and investing in Marina, was perhaps one of the sweetest things we've seen done for Marina all season.
Especially considering Penelope goes back and forth between wanting to be Marina's friend, perhaps to have someone to talk to in her household, to being jealous of her.
Daphne Calling Out Simon's Nonsense
Having issues with one's father is understandable, especially considering how Simon's father was towards him. However, it is strange to hold hate in your heart to the point of willing to die alone for it. Which is clearly what baffles Daphne. Simon is a lovely man, when not being an ass, and could show a child the love he didn't get. Perhaps erase his father's legacy by making sure not to pass down his villainy.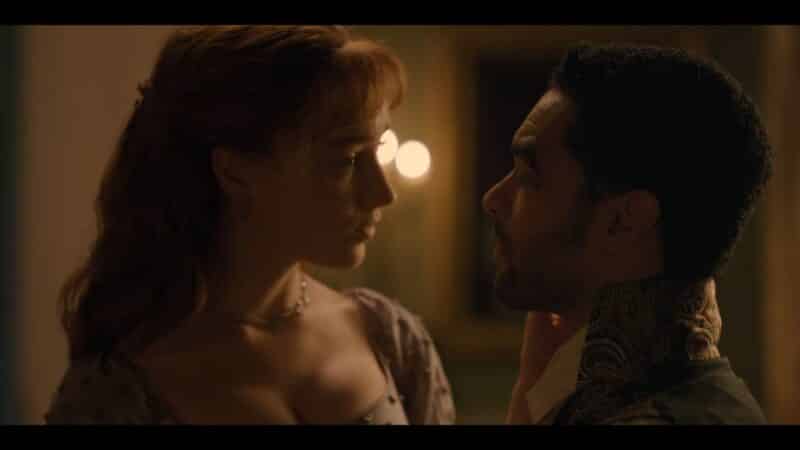 Yet, even with all Lady Danbury has done for the boy, he is a stubborn mule and perhaps an idiot in a few facets. Though it does appear Daphne's love is continuing to thaw his heart and make this silly vow a promise that may not be kept.
Low Point
That's Lady Whistledown?
When the show is talked about, Gossip Girl and Pride & Prejudice are mentioned, and the Gossip Girl element has long stemmed from Lady Whistledown. Yet, for those who watched Gossip Girl, you may remember it took until nearly the end for it to be revealed Dan was Gossip Girl. So to have, in its first season, this character revealed, and it be someone we barely know? It's disappointing.
But with Genevieve not confirming or denying it is her yet, maybe there is hope?
[ninja_tables id="54285″]
Summary
---
Community Rating:
---
That's Lady Whistledown? - 65%
Daphne's Kindness Towards Marina - 83%
Daphne Calling Out Simon's Nonsense - 84%
Henry's Conversation With Benedict - 82%
As Simon shows that Black men have needed therapy for hundreds of years, we find ourselves possibly learning who Lady Whistledown is, and while it makes sense, it is a disappointing reveal.
---
Follow, Like, and Subscribe
Community Rating: 0.00% (0) - No Community Ratings Submitted (Add Yours Below)