"Black Love" continues to step out of its norm by airing a two-part special focused on how spouses handled Covid-19, including managing their children.
---
Director(s)
Codie Elaine Oliver
Writer(s)
N/A
Aired (OWN)
10/17/2020
Introduced This Episode
Himself
Terry Bashir
Herself
Imani Bashir
Himself
Ronald
Herself
Melodie
Herself
Hilary Sledge
Himself
Lateef Sarnor
Himself
Jeff "DJ Jazzy Jeff" Townes
Herself
Lynette Jackson
Herself
Takisha
Himself
William
Herself
Vonnie
Himself
Ebbie
This content contains pertinent spoilers.
"Covid 2020: In This Together, Part 1" Recap
The Lucky Ones – Imani, Terry, Ronald, Melodie
Using the word "Lucky" is definitely a stretch, but as you hear the stories of others, you may feel that, while these two couples certainly went through a lot, they were blessed with more than simply surviving. For example, Imani and Terry were living in Wuhan, the epicenter for the Coronavirus, left for Malaysia in January 2020, just a week before Wuhan got locked down, and bounced around the globe with the virus usually trailing them by days.
Yet, even with Imani often carrying her and Terry's personal records, this didn't make things any less complicated as borders began to close, and she ended up stuck when trying to reunite with her husband and son. As for Ronald and Melodie? Their story deals with needing surgery during the COVID-19 shutdowns, for it was discovered Ronald had prostate cancer and, strangely, his surgery was considered elective.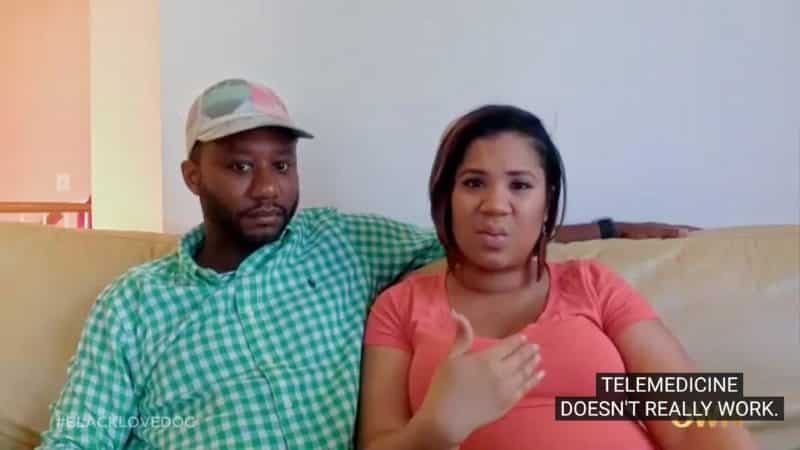 Yeah, from what the duo say, cancer existed in that weird gray area when it came to who could get surgery and who should wait until hospitals were less overwhelmed. Making you wonder, does someone need to be at a certain stage or, what were the parameters to be taken seriously?
It Went Down In A Snap – Hilary, Lateef, Lynette, Jeff, Takisha, William
For Hilary and Lateef, it started with their kids and then spread to them. With it being noted their kids experienced vomiting, runny noses, fevers, and double ear infections, it was easier to handle them getting sick than each other. Lateef, for example, lost the ability to regulate his body temperature and Hilary? While a healthy 38-year-old woman, who exercises regularly, she got hit with it worse than the rest of her household. Which, as you can imagine, isn't good when a disease can't be cured, so doctors can only treat symptoms.
This brings us to Lynette and Jeff, who talk about how dramatic the decline can be. Specifically, Jeff, who got the worst of it, and speaks on losing days of memory as time became a blur. Especially after learning he had an infection in both lungs. But he wasn't alone in COVID taking him down quickly. Takisha, a social worker, got a fever of 104 and experienced a similar frustration to Hilary in doctors focusing on symptoms to gauge when to keep you in the hospital or send you home. Which, with it being case by case, doctor by doctor, was frustrating and damn near deadly.
And with that said, you begin to see a need to advocate for oneself since Takisha had to go three times to the hospital, and on the last time she was told, if she didn't go, she could have went into cardiac arrest.
The Worst That Could Happen – Vonnie, Ebbie
Most of the stories in this episode focus on adults and how they dealt with and survived COVID-19. When it comes to Vonnie and Ebbie, it isn't about them getting the virus but rather their 5-year-old Skylar. Someone who, based on news reports, they thought would be fine. After all, we were told the virus doesn't affect these people or isn't as severe.
But what we learn throughout part one, and really in part two, is that isn't the case. Their daughter went from being given something for her fever and committing to being diagnosed with strep throat, and before the episode ends, she is getting a spinal tap. Yeah, the escalation of what was done dramatically raised. And while, in the beginning, Vonnie was trying to be cool, courteous, and wait things out, between friends, and then seeing no signs of this getting better, she eventually buck up for enough was enough.
Review
---
Community Rating:
---
Highlights
Understanding In Sickness & In Health
One of the big takeaways from the first part of the two-part special is getting a recent story of couples being there in sickness and in health. Not just in the form of taking care of your spouse, but how, over the years, you get to know them and can tell they are sick. Take Lynette and Jeff, who have been together for a decade, her thing that pushed him to get looked at was knowing how he sleeps, snores, all of that.
But, of course, it isn't just the signs, but dealing with the effects as well. Something that isn't gone into detail in part 1, which mainly focuses on getting the disease and the early effects. However, in part 2? When people were wearing diapers and had to be waited on, while children were taken care of? Oh, that's a whole other thing.