After a trying few days, Sam has a bit of a breakdown that drinking with friends won't fix.
---
Network
FX
Director(s)
Pamela Adlon
Writer(s)
Pamela Adlon, Joe Hortua
Air Date
3/28/2019
Introduced This Episode
Lala
Judy Reyes
Ida
Rose Abdoo
Dr. Babu
Usman Ally
Irrelevance: Sam, Lala, Ida
With Sam in the early stages of menopause, issues with her kids, her ex raping her in her dreams, and feeling less desirable than ever, it's messing with her. Her sleep is off, and when Lala has a birthday, she gets a bit drunk, and while she doesn't do coke with Ida, she acts up a bit. But with drinking comes sober thoughts and speaking with Lala, she notes how aging is messing with her. Mostly realizing that her body is the best it will be and it's downhill and soon she'll have a mustache and more.
All of that, and other conversations she has with her doctors, brings her down a bit but, as we've seen, Sam may have moments of weakness, but they can't last long. She is the breadwinner and while her friends complain about their husbands being boring, not as helpful as they'd like, and other criticisms, they still love them and have one. Which isn't to say Sam regrets losing hers but possibly wishes she had someone by now.
So Much For A Childhood: Sam, Frankie, Duke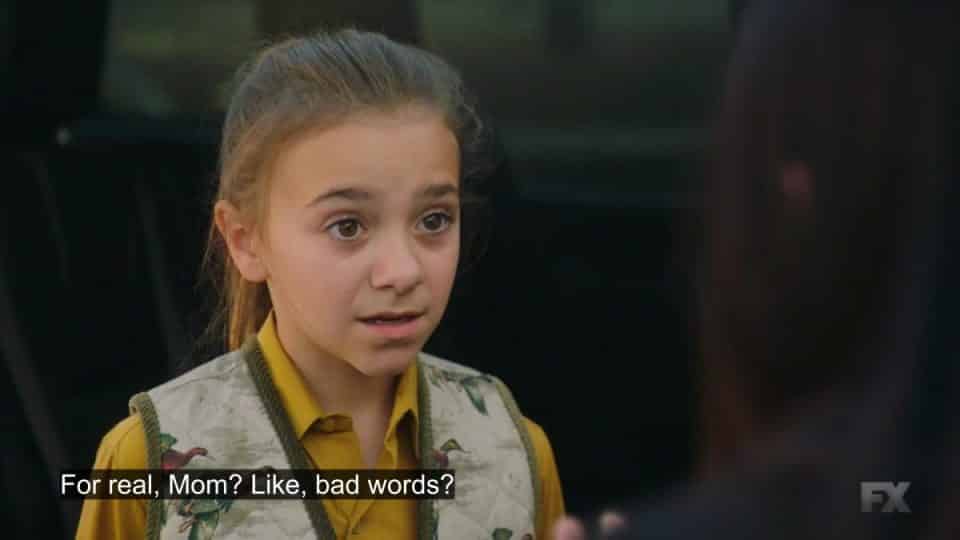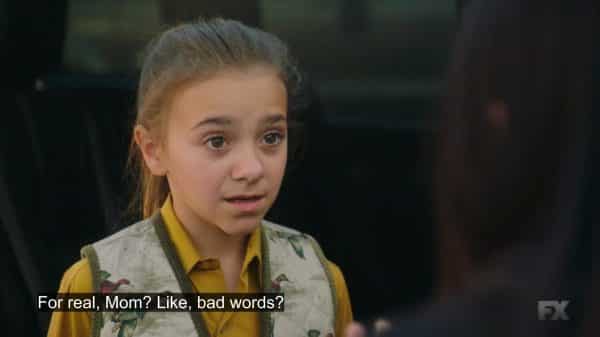 All Sam wanted to do was take her kids to a go-kart place and have some fun. Instead, she ends up with whiplash and Duke and Frankie arguing. So, in hopes that letting them go at one another for a minute instead of trying to broker peace, she learns Duke has a filthy mouth. Which, though a surprise, it makes her laugh and honestly, that is what Sam needs more of.
The Doctor Is Here To F***ing See You: Sam, Dr. Babu
Well, that and some sleep but her doctor, Dr. Babu, would rather her see a psychotherapist. For with her breaking down to him, as much as he could provide Xanax and more, he realizes that won't treat the problem and cause him to have an addict. So while Sam isn't fond of the idea, she takes the referral.
Question(s) Left Unanswered
I get Sam has been in the industry for a long time, and likely made a lot of friends due to that but, why are we just meeting these people? Not just Ida, Lala, and but her doctor?
Highlights
Getting Old Is Hard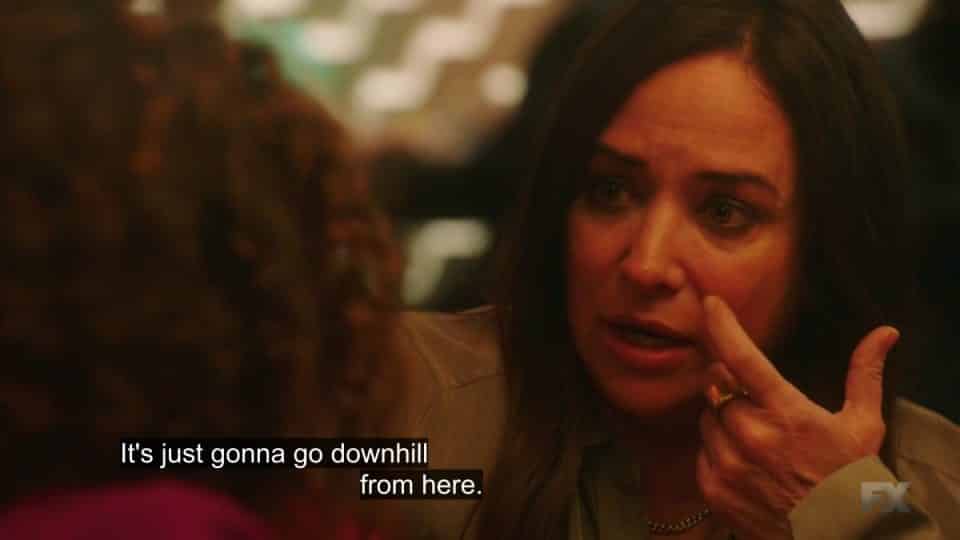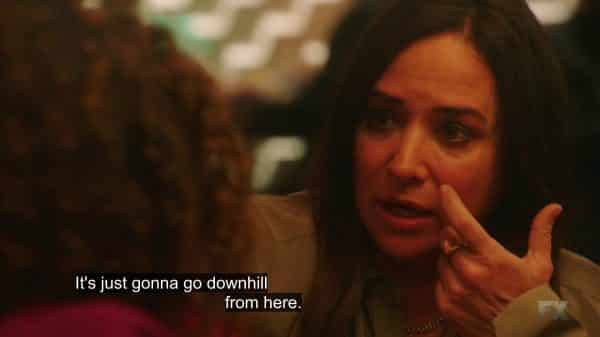 There is a reason why Better Things was recently renewed for a fourth season, and this entire episode showed it. Characters aging isn't anything new but the way Adlon writes it presents it in a way which addresses the mental, if not emotional, pain of doing so, but also the attempts to lightening it up. On top of that, I've heard in my life that when women reach a certain age, and know themselves, they are their purest self.
Now, yes, Sam being honest to herself and others sometimes leads to trouble, misinterpretation, and results she didn't think she'd reach. However, us seeing that from the lead character and not someone supporting or part of an ensemble I want to say isn't seen enough. Especially since Sam doesn't fit any archetypes. While a mom, who is suffering because of her middle child's mouth and older child trying to be a free spirit on her dime, it isn't like she takes all that suffering and says nothing. Then as a friend, she says and much as she takes in, and isn't this person who absorbs all people's problems and just blows up in time.
Also, as strong as Sam is shown, she has that perfect balance of the positive traits associated with masculinity and femininity. Which perhaps makes her life even harder since, as she said, she's a girl's girl and a guy's girl and even at her age, it seems, there are moments she can't quickly switch up to fit the persona which that person may need. Mind you, most of her friends are cool with vulgarity and being a bit wild, but there are also moments when they are just women talking about their kids and husband and, like Lala, questioning if they were duped.
But I'd be remiss not to add not just her strength to endure all this but also the strength to admit she is faltering too. While a little bit of a shock when she broke down to Dr. Babu, her allowing herself to speak on it, to multiple people, reminds you that as tough and flexible as Sam is, she still has feelings. The kind which aren't always solved with flipping out for a moment and then reeling it back in.
Sam In Therapy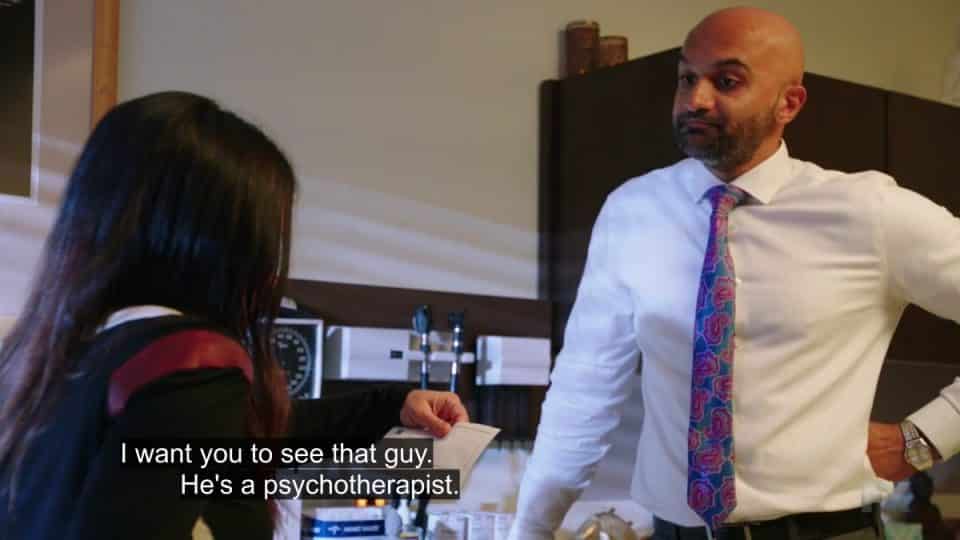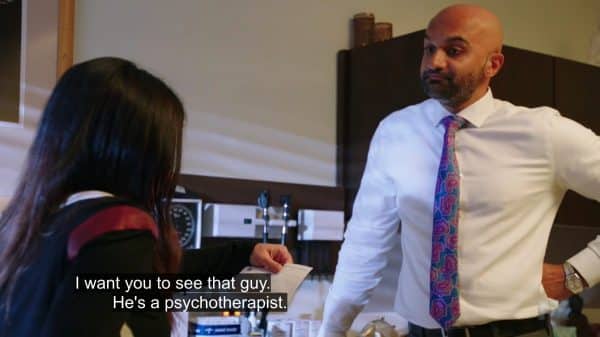 Making the idea of her doing therapy another positive piece of representation. For if you run down Sam's list of why she is stressed out, it is all normal things. It has nothing to do with being an actress or work-related stuff. It's the things every parent goes through, what women go through at a certain age, and what people with aging parents deal with. So being pushed to deal with it instead of popping a pill for a distraction should lead to interesting results.
Follow Wherever I Look on Twitter, Like us on Facebook and Subscribe to the YouTube Channel.
---
---
Season/ Episode
Synopsis
Episode Information
Topics & Focused Characters
Season 3, Episode 8 "Easter"

It's Easter and while Max does a photo shoot, and Sam cooks up a storm, Phil causes a bigger scene than usual with Duke and Marion.

Director(s)
Pamela Adlon
Writer(s)
Sarah Gubbins, Robin Ruzan
Air Date
4/18/2019
Introduced This Episode
Esther
Margaret Avery
Olivier
Shak Ghacha
Walter
Harrison Page

Max's Photoshoot:

 

Sam, Olivier, Max
Phil Is Shameless:

 

Walter, Esther, Phil, Duke, Marion
The Truth About Your Mother & Father:

 

Marion, Duke

Season 3, Episode 9 "The Unknown"

It's a slice of life episode which largely seems to be self-contained until we realized how integral Mer was for everything that happens.

| | |
| --- | --- |
| Director(s) | Pamela Adlon |
| Writer(s) | Sarah Gubbins |
| Air Date | 4/25/2019 |

The Troubles Of Not Feeling Appreciated:

 

Tressa, Mer, Sam

Season 3, Episode 10 "Show Me the Magic"

With Sam complaining about not being seen, you may think it is due to lack of intimacy but could it be just wishing she could talk to her dad?

Director(s)
Pamela Adlon
Writer(s)
Pamela Adlon, Ira Parker
Air Date
5/2/2019
Introduced This Episode
Murray
Adam Kulbersh
Pascal
Rachel True
Lenny
Cree Summer

A Ladies Night Ruined By Men:

 

Lala, Lenny, Pascal, Tressa, Sam
I See Grandpa:

 

David, Sam, Duke, Frankie, Murray
Daddy Isn't Here:

 

Sam, Murray, Duke

Season 3, Episode 7 "Toilet"




It's Mother's Day and the eve of Sam's colonoscopy, and it seems she needs to let some s*** go.

| | |
| --- | --- |
| Director(s) | Pamela Adlon |
| Writer(s) | Pamela Adlon, Joe Hortua |
| Air Date | 4/11/2019 |

My Middle Child:

 

Frankie, Sam
The Only One Who Cares:

 

Duke, Max, Sam
Physically Fine, Mentally/Emotionally Worn Down:

 

Sam, Dr. Miller

Season 3, Episode 6 "What is Jeopardy"




As Sam revisits her past, far more than she'd like to, Phil finds herself part of one life-changing event and admitting that, for her personal life, things aren't the same.

Director(s)
Pamela Adlon
Writer(s)
Pamela Adlon, Ira Parker
Air Date
4/4/2019
Introduced This Episode
Deezy Miller
Matthew Broderick

It's Time: Phil, Frankie, Duke, Marion
The Doctor Who Used To Make Out With You: Dr. Miller, Sam
One Last Time: Xander, Sam

Season 3, Episode 3 "Nesting"

What begins as a nice family dinner becomes what all do – a bit of bickering, regret, and then a thankful calm.

Director(s)
Pamela Adlon
Writer(s)
Joe Hortua, Sarah Gubbins
Air Date
3/14/2019
Introduced This Episode
Murray
Adam Kulbersh
Reiki
Sharon Stone
Mer
Marsha Thomason

Exes and New Beaus:

 

Sam, Jeff, Sunny, Reiki
We Need To Talk About Phil:

 

Marion, Sam, Phil
Papa Can You Hear Me:

 

Murray, Sam

Season 3, Episode 4 "Monsters in the Moonlight"

At this point in her life, Sam wishes things would get easier and it wasn't always on her. Yet, who does she know willing to step up?

| | |
| --- | --- |
| Director(s) | Pamela Adlon |
| Writer(s) | Pamela Adlon, Sarah Gubbins |
| Air Date | 3/21/2019 |

The Kids:

 

Sam, Duke, Max, Frankie
Work:

 

Sam
The Seduction:

 

Mer, Sam

Season 3, Episode 5 "No Limit"

After a trying few days, Sam has a bit of a breakdown that drinking with friends won't fix.

Director(s)
Pamela Adlon
Writer(s)
Pamela Adlon, Joe Hortua
Air Date
3/28/2019
Introduced This Episode
Lala
Judy Reyes
Ida
Rose Abdoo
Dr. Babu
Usman Ally

Irrelevance:

 

Sam, Lala, Ida
So Much For A Childhood:

 

Sam, Frankie, Duke
The Doctor Is Here To F***ing See You:

 

Sam, Dr. Babu

Season 3, Episode 2 "Holding"

Between dealing with ass****s on set, and then at Duke's school, Sam tries to pick her battles and one leads to someone getting smacked.

Director(s)
Pamela Adlon
Writer(s)
Pamela Adlon, Ira Parker
Air Date
3/7/2019
Introduced This Episode
Sylvester
Charlie Robinson

All This Money & Nothing But Hot Air:

 

Sam
A Push To Move On:

 

Duke, Xander, Sam

Season 1/ Episode 1 "Sam/Pilot"

In a way, the show is like a female version of Louie with the exception that Pamela Adlon is less socially awkward and she has three daughters instead of two.

Season 2/ Episode 1 "September"
Better Things

 returns and Sam's house is in a bit of disarray. Though, as I'm sure Sam would say, "What else is new?"

Duke
Frankie: Frankie, Jason, Sam
Max: Max, Arturo, Sam

Season 2/ Episode 2 "Rising"

In this episode of 

Better Things

, it seems the idea is: Sam is only a mean person if you give her reason to be a mean person.

Rodney: Sam, Rodney
You Made Your Bed: Jeff, Sam, Duke
Mom-Cation: Sam, Frankie, Sunny

Season 2/ Episode 3 "Robin"

Could Sam have really found love? May the title of this show, 

Better Things

, no longer be wishful thinking but actually here?

Robin: Robin (Henry Thomas), Sam
Get Me Away From These Children: Sam, Max, Frankie, Robin
Sometimes It's Not Just The Thought But Effort That Counts: Robin, Sam

Season 2/ Episode 4 "Sick"

As Sam is trying to talk herself into breaking up with Robin, Xander shows up and reminds her why she fears love.

Two For One Special: Phyllis, Sam
Too Good To Be True: Sam, Rich (Diedrich Bader)
Xander: Max, Sam, Frankie, Duke, Xander (Matthew Glave)

Season 2/ Episode 5 "Phil"

While Phil has always been mean-spirited and quirky, something is seriously wrong now. To the point, Sam isn't sure if she can handle her anymore.

It's Not as Glamorous as It Seems: Phyllis
Prepping For End Game: Phyllis, Sam, Marion (Kevin Pollak)
The Girls Meet Robin: Robin, Duke, Sam, Max, Frankie

Season 2/ Episode 6 "Eulogy"

In a change of pace episode, we're shown what it is like to be in acting alongside a reminder of how much Sam means to her kids. Sam and Frankie anyway.

Season 2/ Episode 7 "Blackout"

After a blackout, Jeff and Sam head on down to the store to buy a generator. Which leads to her running into Robin.

Director(s)
Pamela Adlon
Writer(s)
Pamela Adlon, Louis C.K.
Introduced Characters
Mia
Bunnyann Riley-Holmes

Season 2/ Episode 8 "Arnold Hall"

Pray for Sam everybody. For between Xander's dad Arnold and Frankie, she may actually lose her mind – if she didn't already lose it.

Director(s)
Pamela Adlon
Writer(s)
Pamela Adlon, Louis C.K.
Characters Introduced
Arnold
Rade Serbedzija

Crazy Grandpa Arnold: Sam
You Made Me Wear A Dress: Frankie, Sam

Season 2/ Episode 9 "White Rock"
During a trip to Canada with her kids, a family secret is learned about from Sam's uncle Lester.

Director(s)
Pamela Adlon
Writer(s)
Pamela Adlon and

 

Louis C.K.
Characters Introduced
Jarita
Jane Carr
Lester
Nigel Havers
Sad Lady
Megs Calleja
First Nations Man
Ray Thunderchild

Those Ghost of White Rock: Duke
Aunt Marion: Max, Duke, Sam, Frankie

Season 2/ Episode 10 "Graduation"

It's Max's graduation and perhaps the parting lesson Sam gives her is about consistency and a reminder of what love is.

| | |
| --- | --- |
| Director(s) | Pamela Adlon |
| Writer(s) | Pamela Adlon & Louis C.K. |

Daddy Wasn't There: Max, Sam
Yet, You Are Worthy: Sam, Max

Season 3, Episode 1 "Chicago"

It has been more than a year since we were gifted with a new episode of 

Better Things

, and this feels like an appetizer for what's to come.

| | |
| --- | --- |
| Director(s) | Pamela Adlon |
| Writer(s) | Pamela Adlon |
| Air Date | 2/28/2019 |

It's Hard To Say Goodbye My Love:

 

Max, Sam

Mom, What You Do?:

 

Phyllis, Sam
One Down, Two To Go:

 

Frankie, Sam, Duke

Getting Old Is Hard - 90%
Sam In Therapy - 89%