Atlanta: Season 2/ Episode 6 "Teddy Perkins" – Recap/ Review (with Spoilers)
It's a Darius focused episode without commercial interruptions. What's the worse that could happen right?
---
Network
FX
Director(s)
Hiro Murai
Writer(s)
Donald Glover
Air Date
4/5/2018
Actors Introduced
Benny
Derrick Haywood
Theodore Perkins
Theodore Perkins
Introducing – Theodore Perkins: Darius
As has been long established, Darius is an eccentric fellow and he gets along with an eclectic bunch. However, he may have met his match in Theodore Perkins. Someone who, with a face that looks like a Party City Michael Jackson mask, maybe just a bit too weird for even Darius. Yet, with a piano that has multi-colored keys, what's dealing with a lonely weirdo huh?
Commentary
I have never been so creeped out in my life. This soft-spoken man, who apparently is playing himself, which makes things even creepier, I have felt like is behind him and about to choke me since he started to get aggressive. Like, I get it Donald Glover, you are multi-talented but I did not need you to premiere your horror short starring LaKeith Stanfield without warning like that.
The Legend of Benny Hope: Darius, Al
With Darius being a bit creeped out, naturally, he is going to contact Al because he is like a brother to him. And all Al has to say is either get straight to business or get the F*** out of that house and leave. But a multi-colored keyed piano is just too good to pass up so, he sticks around and learns more about Theodore's brother Benny. Someone who, like many of the greats, had an abusive father and that is what made him talented.
And with the way Theodore talks, while Benny is very much alive, thanks to some vitiligo or the disease the lead had in Midnight Sun, he can't see daylight much anymore. So, despite how much Theodore hypes who Benny is, Darius isn't allowed to see him. In fact, when he catches a glimpse of him, that is what slowly reveals Theodore isn't just an eccentric old man but something maybe worse.
Commentary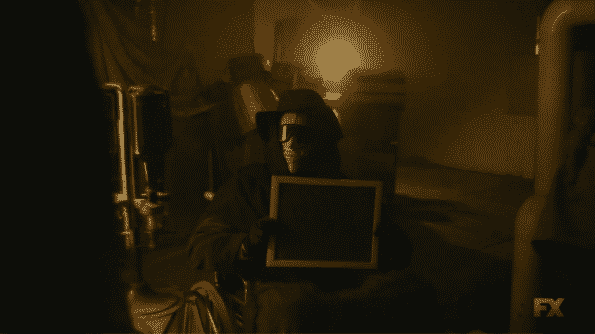 I'm going to have nightmares. You know how people have a fear of clowns? I'm going to have a fear of seeing the pale version of Michael Jackson now. For I truly do feel like there is a presence behind me, grazing over my shoulders and about to choke me. THAT IS HOW CREEPY THEODORE PERKINS IS!
That aside, I do wonder what was with the MJ nods? Between the abuse and noting MJ's dad and how to make an omelet you have to crack some eggs, or something similar, you have to wonder what inspired this story to be told?
You May Understand Me, But You Can't Save Me: Darius
So, after showing him the house, when it becomes clear Darius has met with Benny, Theodore is ready to make it seem Darius was trying to rob the house. Thus justifying why he shot him with an old-fashioned shotgun. However, Darius is able to stall long enough, revealing he too got daddy issues, for Benny to take down and kill Theodore before killing himself.
Commentary
You know what I wonder? If there will be any follow up to this? Will this be just another random day in Atlanta that is never mentioned again? Because, there are just episodes where you have to be a bit surprised that these random and crazy things happen, but never get touched on again. But, unlike some of the other moments, Darius almost died because of some crazy dude so you can only hope there is a mention of Theodore in the next episode, or the next season.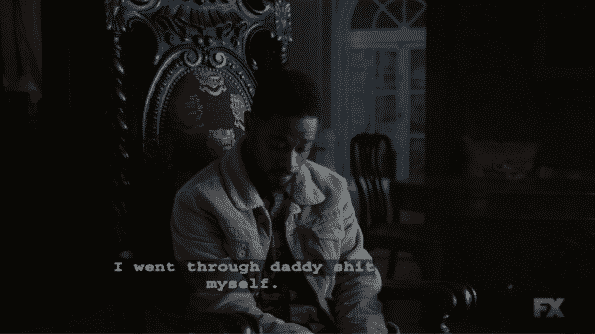 Though that isn't the only thing I'd like to see followed up on. I don't know if Darius was stalling or not, but I would love to see or hear more about his parents. Because how a person like Darius becomes, well Darius, is of such great interest to me.
Highlights
Theodore is the creepiest character I have maybe ever seen, and this includes legendary Hollywood monsters.
---
Follow Wherever I Look on Twitter or Like us on Facebook.
---
Previous Episode's Recap
[visual-link-preview encoded="eyJ0eXBlIjoiaW50ZXJuYWwiLCJwb3N0IjoxOTYzOSwicG9zdF9sYWJlbCI6IlBvc3QgMTk2MzkgLSBBdGxhbnRhOiBTZWFzb24gMi8gRXBpc29kZSA1IFwiQmFyYmVyc2hvcFwiIC0gUmVjYXAvIFJldmlldyAod2l0aCBTcG9pbGVycykiLCJ1cmwiOiIiLCJpbWFnZV9pZCI6MTk2NDEsImltYWdlX3VybCI6Imh0dHBzOi8vd2hlcmV2ZXItaS1sb29rLmNvbS93cC1jb250ZW50L3VwbG9hZHMvMjAxOC8wMy9BdGxhbnRhLVRpdGxlLURlc2lnbi1mb3ItRXBpc29kZS01LnBuZyIsInRpdGxlIjoiQXRsYW50YTogU2Vhc29uIDIvIEVwaXNvZGUgNSBcIkJhcmJlcnNob3BcIiAtIFJlY2FwLyBSZXZpZXcgKHdpdGggU3BvaWxlcnMpIiwic3VtbWFyeSI6Ikl04oCZcyBhIERhcml1cyBmb2N1c2VkIGVwaXNvZGUgd2l0aG91dCBjb21tZXJjaWFsIGludGVycnVwdGlvbnMuIFdoYXTigJlzIHRoZSB3b3JzZSB0aGF0IGNvdWxkIGhhcHBlbiByaWdodD8iLCJ0ZW1wbGF0ZSI6ImRlZmF1bHQifQ=="]