Atlanta: Season 2/ Episode 5 "Barbershop" – Recap/ Review (with Spoilers)
---
Community Rating: 0.00% (0) - No Community Ratings Submitted (Add Yours Below)
---
This post may contain affiliate links and spoilers. Please read our disclosure policy.
---
"Barbershop" is one of those random Alfred episodes which don't push the story forward but more so establish the weirdness and randomness of certain character's everyday life.
---
Network
FX
Director(s)
Donald Glover
Writer(s)
Stefani Robinson
Air Date
3/29/18
Actors Introduced
Bibby
Robert S. Powell III
Bibby If You Don't Cut My Damn Hair: Al
All Al wanted was a haircut and with how loyal many people, especially Black people, are to one particular barber, he finds himself going all around town with Bibby. They go to the house of some woman he's messing with, to some place where they steal some lumber, take a quick detour when Bibby sees his son skipping school and just one crazy moment after the next. But, Al gets his haircut.
Though, after the day he had with Bibby, he decides to start a new relationship with another barber. Something that is a little scary, since this man is asking questions Al has no idea how to answer but, Bibby's BS ain't worth his skills.
Highlights
Much To Do About Nothing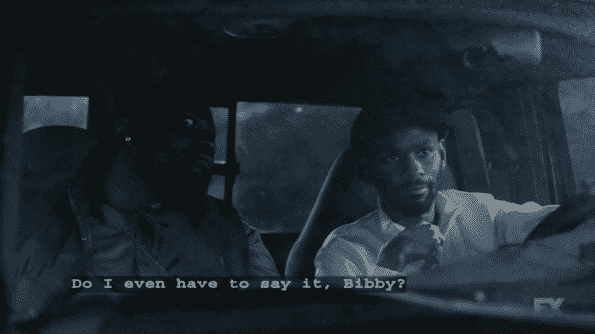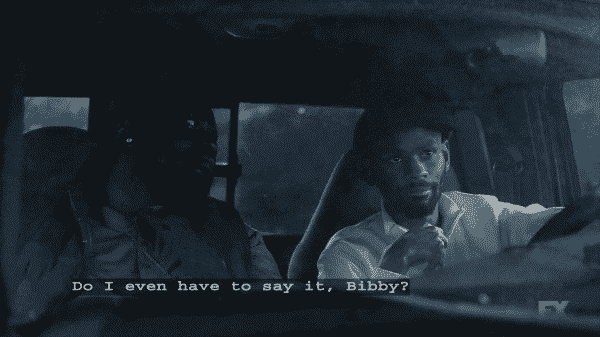 The genius of Atlanta is always going to be how it can have an entire episode dedicated to one central character and then have them play out a completely random day. One which has nothing to do with the season's arc, very little to do with their career, and honestly you want to write off as filler. I mean, all we see is Al get agitated, as he always is, over Bibby dragging him all over town.
Yet, in all of this, strangely there is this underlying meaning. A Black man's relationship with his barber is so strong that he'd put up with all of that just to get his hair cut. Much less, even after all he got put through, there would still be hesitation in terms of switching to another barber. It is a weird and roundabout way to convey this idea but this is Atlanta. Donald Glover and his team seem invested in the idea of pushing that you can make a whole lot about so little and people will still think it is the best thing out there. Almost like they are daring someone to say something bad – just so they can reply, "But when white folk do it, they get a pedestal but when I do it you call it (insert insult here."
---
Follow Wherever I Look on Twitter or Like us on Facebook.
---
Previous Episode's Recap
[visual-link-preview encoded="eyJ0eXBlIjoiaW50ZXJuYWwiLCJwb3N0IjoxOTQ2NywicG9zdF9sYWJlbCI6IlBvc3QgMTk0NjcgLSBBdGxhbnRhOiBTZWFzb24gMi8gRXBpc29kZSA0IFwiSGVsZW5cIiAtIFJlY2FwLyBSZXZpZXcgKHdpdGggU3BvaWxlcnMpIiwidXJsIjoiIiwiaW1hZ2VfaWQiOjE5NDY4LCJpbWFnZV91cmwiOiJodHRwczovL3doZXJldmVyLWktbG9vay5jb20vd3AtY29udGVudC91cGxvYWRzLzIwMTgvMDMvQXRsYW50YS1WYW4ucG5nIiwidGl0bGUiOiJBdGxhbnRhOiBTZWFzb24gMi8gRXBpc29kZSA0IFwiSGVsZW5cIiAtIFJlY2FwLyBSZXZpZXcgKHdpdGggU3BvaWxlcnMpIiwic3VtbWFyeSI6IldoaWxlIFZhbiBhbmQgRWFybiBoYXZlIGJlZW4gb24gZGF0ZXMgYW5kIHNlZW0gdG8gYmUgdHJ5aW5nIHRvIHdvcmsgdGhpbmdzIG91dCwgaXMgaXQgYWxsIG9uZS1zaWRlZD8iLCJ0ZW1wbGF0ZSI6ImRlZmF1bHQifQ=="]