Atlanta: Season 2/ Episode 1 "Alligator Man" [Season Premiere] – Recap/ Review (with Spoilers)
Atlanta returns after an extended hiatus and still has that impeccable balance of being weird as hell yet seemingly rooted in reality. Network FX Director(s) Hiro Murai Writer(s) Donald Glover Air Date 3/2/2018 Characters Introduced Willy Katt Williams Yvonne Monique Grant Tracy Khris Davis Tara Brianna Butler That Homeless & On Probation Life: Earn Earn…
Atlanta returns after an extended hiatus and still has that impeccable balance of being weird as hell yet seemingly rooted in reality.
---
Network
FX
Director(s)
Hiro Murai
Writer(s)
Donald Glover
Air Date
3/2/2018
Characters Introduced
Willy
Katt Williams
Yvonne
Monique Grant
Tracy
Khris Davis
Tara
Brianna Butler
That Homeless & On Probation Life: Earn
Earn remains in the struggle. He gets kicked out of living in his storage unit and has to pay, over time, $375 if he doesn't want a warrant for his arrest and prison time. Luckily though, there is always Al to help a negro out. But, of course, you can't get something while doing nothing.
Commentary
You got to love the extortion. If you want to stay out of jail for a minor offense, you have to pay this person and that person the kind of money the court probably knows you don't have in the first place. But, hey, you like your freedom right? Better find a way to get that money and I better not catch you doing something illegal. Otherwise, I got another few fees, and some prison time, waiting on dat ass.
Making Steak Out Of Beef: Earn, Al, Tara, Darius, Yvonne, Willy
With no place to stay, naturally the first place Earn goes to is Al's and things are a bit weird. Well, weirder than normal, considering Darius is around. For reasons not gone into, but surely dealing with Al's special friend Tara, there is beef. The kind in which, you get this vibe Darius could be jealous of the time and attention Tara is getting, or something like that. Or simply because she is in the house.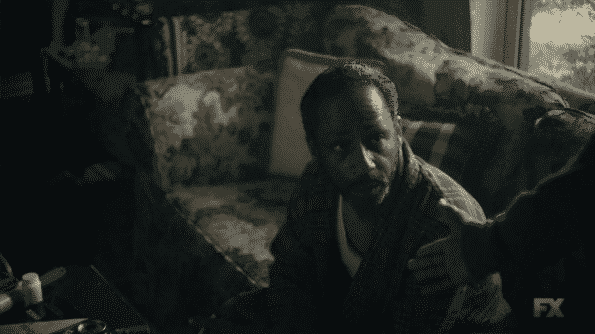 Either way, why there is beef isn't answered but with Al needing a favor, which Earn probably hoped to be paid back with a place to stay, he finds himself at his uncle Willy's house. Which, with Katt Williams playing him, you might think is to set up a few jokes, get props for having Katt on the show, and that's it. Nope, Willy means something. Not just in terms of him being a veteran, with a few screws loose, but also showing him as the ghost of Christmas future for Earn if he doesn't get his stuff together.
For while, yeah, Willy does have a home, Al paid for it. Plus, all things considered, Willy is considered a smart dude who just ended up failing in life. Which Willy contributes to having a chip on his shoulder that he sees Earn has. But, their interaction isn't all, "Don't end up like me little n****." The reason Al sent Earn over is because Willy straight up locked Aunt Yvonne in a room. Master lock and all.
Which led her to calling people and with Al already on house arrest, the last thing he needs is the police sniffing about his properties. Yet, with Yvonne calling someone who called the cops, and Willy committing to this whole "When keeping it real goes wrong" opportunity, it seems Earn may have to abandon his uncle unless he wants to end up in prison. Luckily, it doesn't come to that. Mind you, Willy doesn't meet with the cops but his alligator does buy him some time to run.
Leaving us with the unanswered question of what did Willy do to Earn's mom back in the day?
Commentary
I really hope this isn't the last we have seen of Willy. Katt Williams, as he transitions into a dark comedy, if not dramatic actor, is really showing potential. Also, what other show pretty much fits his persona better than Atlanta? It is the weirdest Black show on the air, often has the weirdest storylines and dialog, and has the type of comedy we don't see performed by Black majority cast productions – period.
With that said, let's talk about Darius real quick and his beef with Al. Is it wrong to assume that completely had to deal with Tara without making it sound like Darius may have romantic feelings for Al? Sort of like if Bert and Ernie got a female roommate who only cared about Bert and so it changed their dynamic for the worse? That was the vibe I got and I think because Al is the money man, but Darius is loyal, that is why Darius was still around but they were avoiding talking to one another.
Closed Mouths Don't Get A Warm Place To Sleep: Earn, Al, Tracy, Darius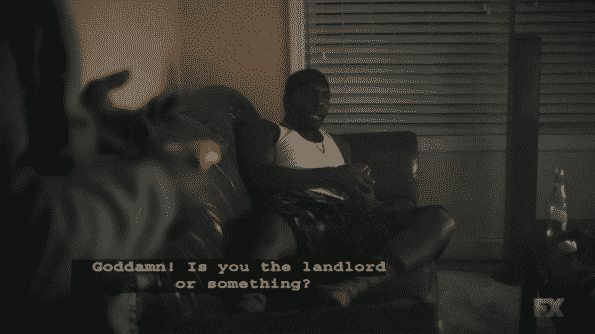 After another adventure, surely all Earn wants to do is secure a couch, relax, and sleep. Unfortunately for him, Tracy, a man just out of jail, he got the spare couch. But, one positive, with the offering of a blunt, it seems Darius and Al are cool again. Yeah, Earn is assed out but he did get a golden gun from Willy. Assuming cops don't find it on him, maybe he can sell it for money.
Commentary
I've come to realize that we never had a show with a chronically homeless character. It is seen in movies a lot, especially in terms of people with mental disorders or drug problems, but not with able-bodied and right-minded people like Earn. And you have to enjoy how much they make it a point to not make a big deal out of this because Earn hasn't fully accepted this is his life, nor his destiny, at this point. Perhaps giving a voice to the homeless, who got people whose homes they can go to for some temporary warmth, some sort of nod to what they go through for a dollar, a meal, a blunt to take their mind off things, or just someplace safe and warm to crash.
Highlights
Meeting Uncle Willy and hoping Katt Williams isn't a one-episode guest star.
A homeless character on television, just trying to make it.
The peculiarities of Al and Darius' relationship when someone doesn't enhance it but threatens it.


---
Follow Wherever I Look on Twitter or Like us on Facebook.
---
Previous Episode's Recap
[visual-link-preview encoded="eyJ0eXBlIjoiaW50ZXJuYWwiLCJwb3N0IjoxNTQxLCJwb3N0X2xhYmVsIjoiUG9zdCAxNTQxIC0gQXRsYW50YTogU2Vhc29uIDEvIEVwaXNvZGUgMTAgJnF1b3Q7VGhlIEphY2tldCZxdW90OyBbU2Vhc29uIEZpbmFsZV0gLSBPdmVydmlldy8gUmV2aWV3ICh3aXRoIFNwb2lsZXJzKSIsInVybCI6IiIsImltYWdlX2lkIjowLCJpbWFnZV91cmwiOiIiLCJ0aXRsZSI6IkF0bGFudGE6IFNlYXNvbiAxLyBFcGlzb2RlIDEwICZxdW90O1RoZSBKYWNrZXQmcXVvdDsgW1NlYXNvbiBGaW5hbGVdIC0gT3ZlcnZpZXcvIFJldmlldyAod2l0aCBTcG9pbGVycykiLCJzdW1tYXJ5IjoiVGhlIGZpcnN0IHNlYXNvbiBlbmRzIHdpdGhvdXQgbXVjaCBpbiB0aGUgd2F5IG9mIGdyYW5kIGdlc3R1cmVzIG9yIHN0b3J5bGluZXMgYW5kIGluIG1hbnkgd2F5cyB0aGF0IGlzIHdoYXQgc2VlbXMgYXBwcm9wcmlhdGUuIiwidGVtcGxhdGUiOiJkZWZhdWx0In0="]
---
Follow, Like, and Subscribe
Community Rating: 0.00% (0) - No Community Ratings Submitted (Add Yours Below)