As people confess and secrets are revealed, things only get worse for Yuichi and his friends.
---
Aired
4/13/2022
Network
Crunchyroll
Directed By
Tatsuya Sasaki
Written By
Kenta Ihara
Introduced This Episode
Tsukino
Shizuka Itou
Maria
Reina Ueda
Manabu-sensei
Chafuurin
Recap
Setting A Trap – Yuichi, Tsukino, Maria
Yuichi's outburst was all a ruse. One that the watchers, Tsukino and Maria appreciate, for they get their kicks from people doing like Yuichi and stirring up twists and drama. But, alas, no one falls for his trick, and all that happens is this round ends, and everyone is given a brief moment to breathe.
The First Confession – Yuichi, Shiho, Tenji
After his outburst in the first game, Shiho is a little shaken up. So, she checks in on Yuichi, who clarifies that while some of what he said was to stir things up, he worries that she might be the traitor, especially since she was the first to shut down there being an investigation. However, to redirect things, she reveals her crush on him, which Yuichi makes it seem like that will calm his suspicions, but it probably doesn't.
Oh, and to make this situation all the more noteworthy, Tenji overhears the confession and may have used it in the next game.
Game 2 – Manabu-sensei, Tenji, Yuichi, Shibe, Shiho, Kokorogi
So, one game down, who knows how many to go, and the next game focuses on everyone writing confessions, and the most hated person moves the furthest, based on audience reaction. But, at the same time, each block they can step towards has it where a person's debt can go up or stay the same, so it's not the easiest game to maneuver around.
What, of course, doesn't help is that Tenji knows about Shiho's confession to Yuichi and that she is his ex. Well, in his mind, he is her ex since their dads tried to set them up and for a while, Shiho went with it. However, she ended that, got a crush on Yuichi, while Shibe had feelings for her, and as all of this drama unfolds, Kokorogi is there absorbing it all, likely becoming frustrated for everyone likes Shiho, and no one likes her. Never mind, with Shiho being potentially insurmountable competition for Kokorogi, this seems to make her snap.
Things To Note
Question(s) Left Unanswered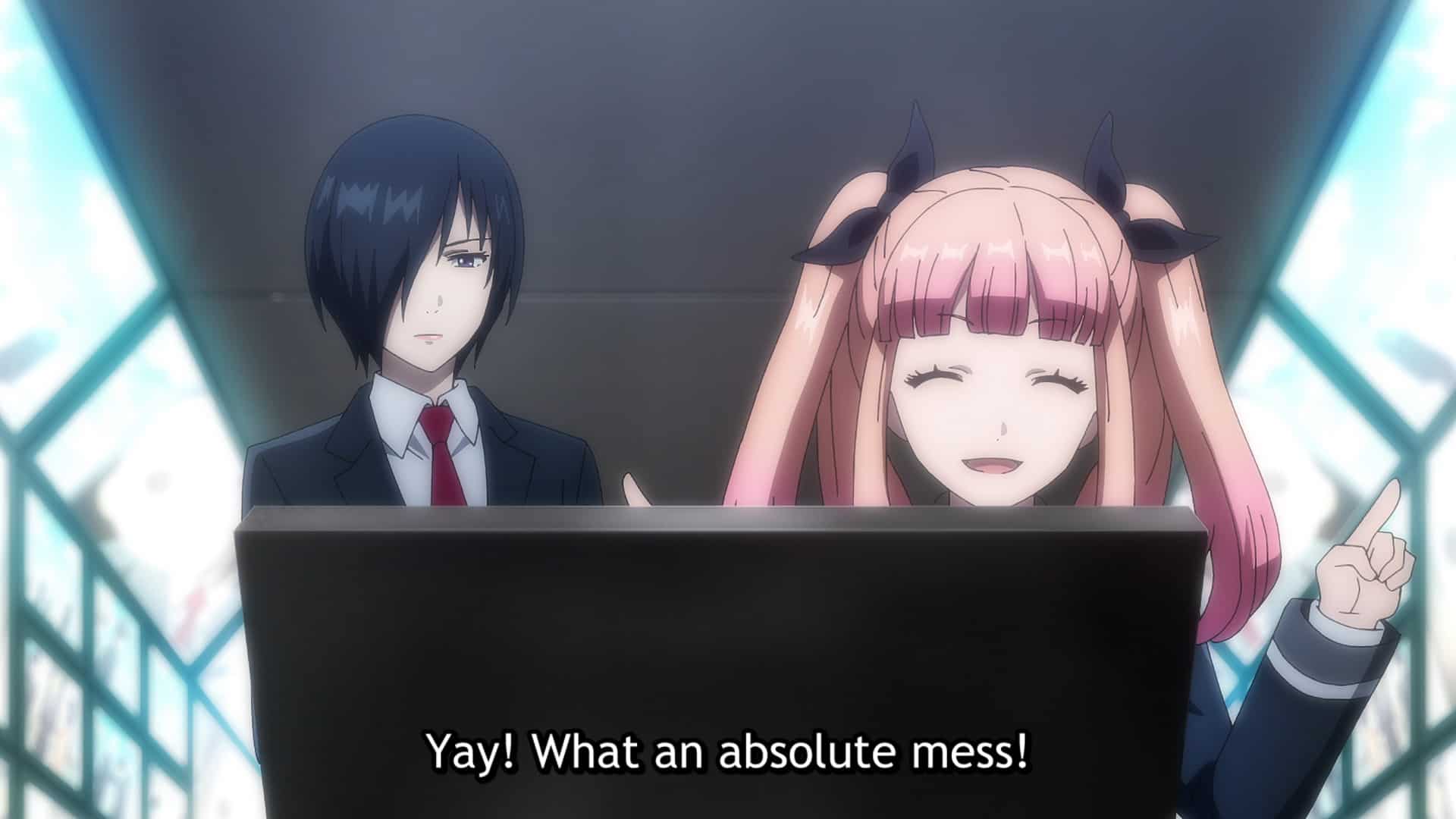 How did Maria and Tsukino get involved in all of this?
What Could Happen Next
Kokorogi revealing she likes Yuichi too and has been writing things in the second game
Collected Quote(s)
While there is unconditional love, there's no such thing as unconditional friendship.
— Tsukino
Review
On The Fence
Losing Steam Fast
With Tomodachi Game having an element to it which makes you think, "I'm watching a horror," it makes the end of the first game and how the second one has gone so far, a bit anti-climatic. Manabu, who I thought was going to have a Monokuma appeal, is just plain silly, and even with razor-sharp teeth, he doesn't have much in the way of bite. But what perhaps is really bringing the show down is that the secrets revealed thus far are your run of the mill who likes who drama.
And granted, part of the who likes who drama includes learning about Shiho and Tenji's parents, and that gives some backstory. However, after a certain point, things got petty, such as the accusation that Shiho had plastic surgery, which she might have, but seemingly for a good reason.
Tomodachi Game Directory
Network(s)
Crunchyroll
Created or Developed By
Mikoto Yamaguchi and Yuki Sato
First Aired
4/5/2022

Character Guide

Not Created

Season Reviews

Not Created

Affiliate Link(s)

Links contain affiliate links which, If you make a purchase, we'll earn a commission from the company.

N/A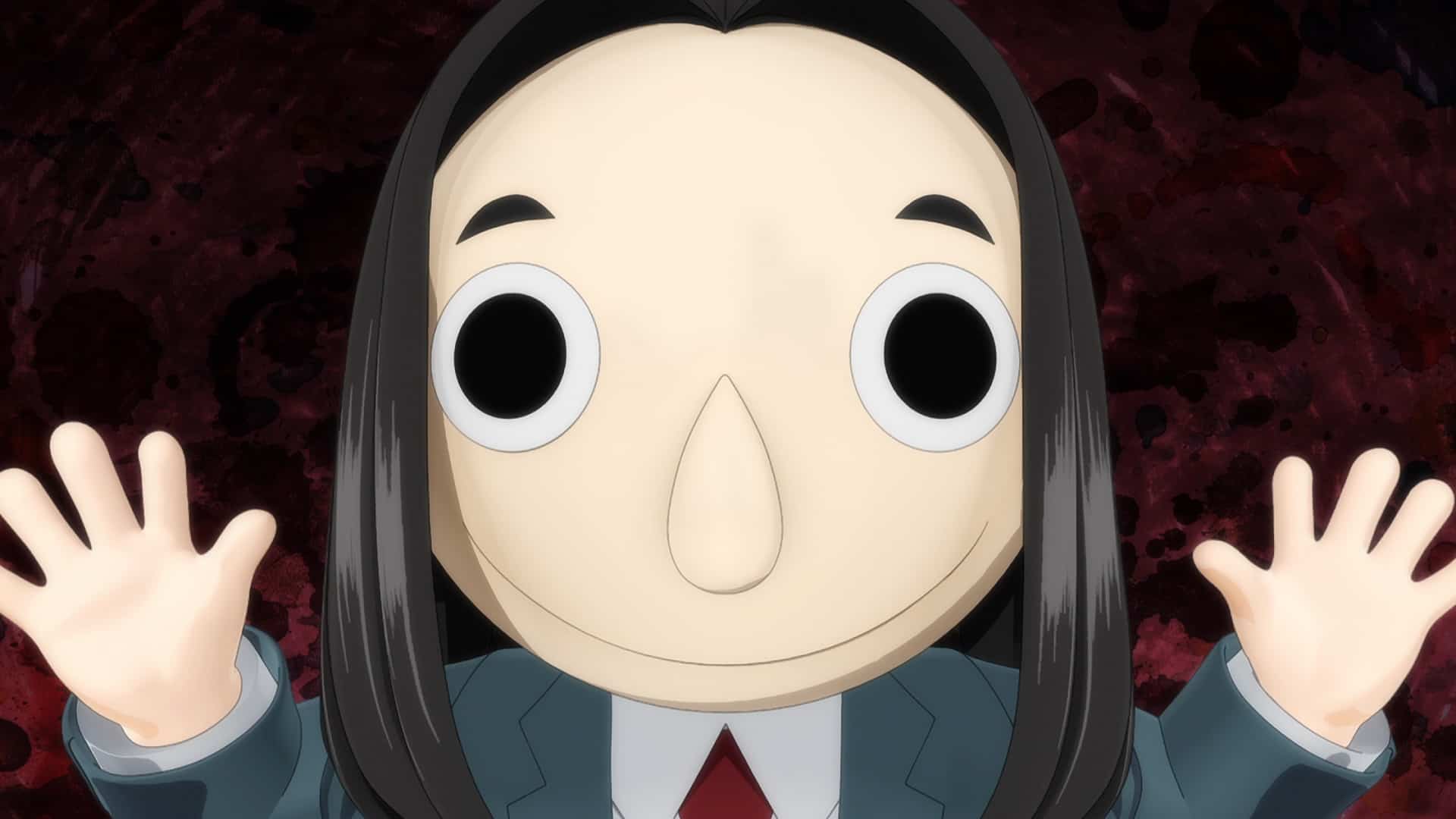 Tomodachi Game: Season 1/ Episode 2 "You Have a Lot to Say to Me, Don't You?" – Recap/ Review (with Spoilers)
Overall
High hopes are quickly tumbling down as Tomodachi Game doesn't plateau but begins to show itself potentially unable to live up to the hype created because of how the trailer and first episodes made things appear.
Disputable
Losing Steam Fast