To Your Eternity: Season 1/ Episode 9 – Recap/ Review (with Spoilers)
---
Community Rating: 0.00% (0) - No Community Ratings Submitted (Add Yours Below)
---
This post may contain affiliate links and spoilers. Please read our disclosure policy.
---
Just as it seems Fushi has obtained peace once more in his life, an old foe decides to disrupt it.
---
| | |
| --- | --- |
| Episode Name | Deep Memories |
| Aired | 6/7/2021 |
| Network | Crunchyroll |
| Directed By | Tomio Yamauchi |
| Written By | Shinzō Fujita |
This content contains pertinent spoilers. Also, images and text may contain affiliate links, which, if a purchase is made, we'll earn money or products from the company.
Recap
What Life Was Like Before – Fushi, Gugu, Shin
Despite appearances, things weren't always so hard for Gugu. At one time, his dad was around, he and his brother lived in a nice house that his father, and perhaps mother, were employed in, and life was good. Despite being the child of servants, he was treated like family.
However, something happened that led to his father leaving, and all that was left was Shin, who, well, abandoned poor Gugu. But now, Fushi is Gugu's new family, his chosen family, and while it may sound morbid, and like foreshadowing, with learning Fushi's form is one he inherited, Gugu hopes, when he dies, he left enough of an impression for Fushi to be willing to transform into him.
You Can't Be Serious? – Gugu, Rean, Fushi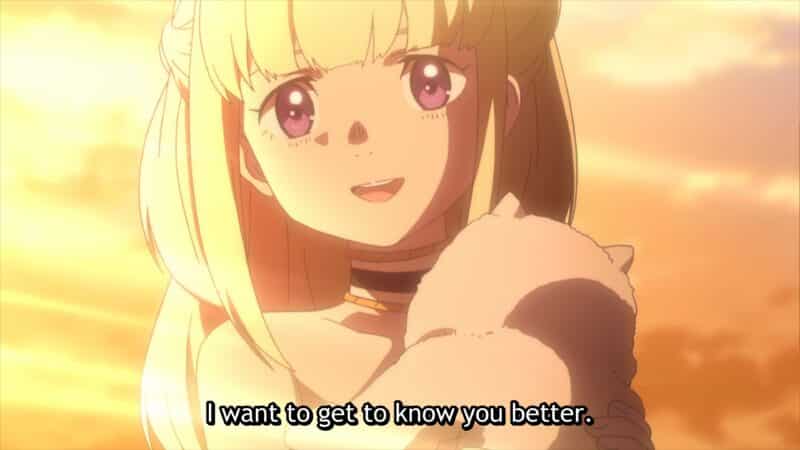 While Gugu isn't keen on returning to the Booze Man's home, Rean is trying to get him back there since she feels more at home there than with her own family. Why? Rich people's problems. You see, Rean can't even blow her nose without someone wanting to hold the tissue, cook her soup, and tend to her. Which, with her living the opposite life of Gugu, he finds her complaints stupid. Heck, even her having a tiny scar on her arm when he saved her, compared to his facial disfigurement, makes him so angry.
Though what doesn't help is Rean keeps pushing Gugu to show his face, which he is by no means comfortable with. So, to relieve this issue, Fushi looks and gets Gugu's helmet as Rean and Gugu talk. Leading to, ultimately, Gugu being willing to return to Booze Man's home under the impression he can get the spare organ out.
Guess Whose Back? Back Again. – Fushi, Rean, Gugu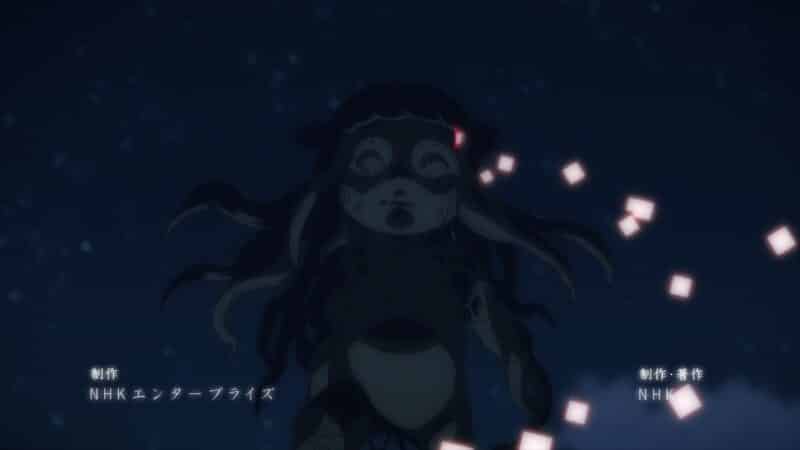 But before they reach the Booze Man's home, Rean's people try to get her back home and the monstrous being that attacked Fushi before returns. Leading to Rean being sent to run-up to the Booze Man's spot as Gugu tries to help Fushi. Which, if this is like past fights Fushi had that others got involved in, best prepare for the end of Gugu.
Collected Quote(s) & .Gifs
You count people's kindness as misfortune and brag as though you're complaining.
— Gugu
Commentary/ Review
Highlights
The Threat Returns
It isn't clear what this monster is who consistently attacks Fushi, but it appears they, alongside any foe that poses a major threat, signify the end of a chapter. However, based off how Fushi's creator makes it seem, this fight won't be like the last one and might be far more of a challenge. Now, already it seems Fushi lost March, who allowed him to defeat this adversary before, but with not being a one on one confrontation, will that matter, or is this how Gugu ends up dying?
On The Fence
The Fear That Gugu Foreshadowed His Own Death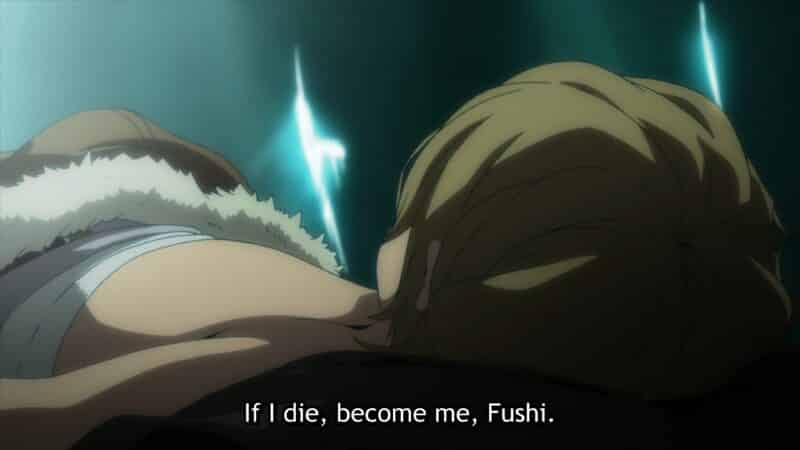 While the show could very well through a curveball in there and kill off Rean, that seems unlikely since Fushi's existence relies on stimulation, and thus far, whoever stimulates him the most, they die. So with learning Gugu's story to the furthest extent we can and him pushing the idea he is ready to die, it seems like we are being told to prep for the worst.
This, for us, really does push the idea that To Your Eternity is definitely going to fit a routine, and, like said previously, with picking up on the pattern, it means we can steel ourselves against the full emotional impact. Thus making even the sweetest story not good enough unless it escalates beyond what we've previously seen and after March? How could the show beat a little girl who dreamed of growing up sacrificing herself for her older sibling figure?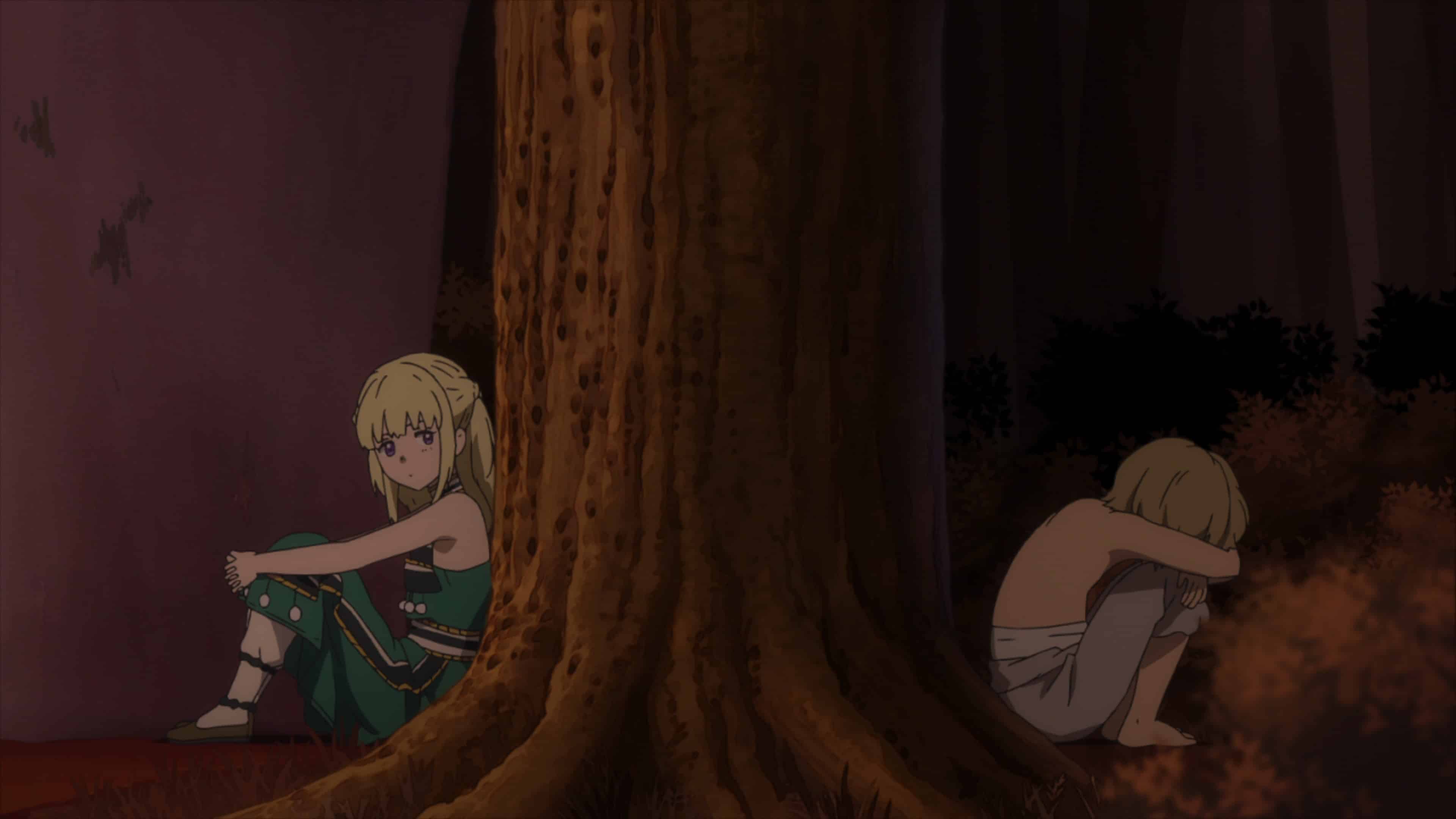 To Your Eternity: Season 1/ Episode 9 – Recap/ Review (with Spoilers)
Trajectory: Plateau
The excitement might be waning with To Your Eternity, but there is no doubt this lull can end, and it could make a roaring comeback.
Highlights
The Threat Returns
Low Points/ On The Fence
The Fear That Gugu Foreshadowed His Own Death