While Fushi is barely featured, a newly introduced character has the kind of story which will wrap you up and make you invested quickly.
---
Community Rating: 0.00% (0) - No Community Ratings Submitted.
---
---
Episode Title
A Rambunctious Girl
Director(s)
Masahiko Murata
Writer(s)
Shinzō Fujita
Aired (Crunchyroll)
4/19/2021
Newly Noted Characters
March
Rie Hikisaka
Parona
Aya Uchida
Hayase
Mitsuki Saiga
This content contains pertinent spoilers. Also, images and text may contain affiliate links, which, if a purchase is made, we'll earn money or products from the company.
Recap
I Can't Wait To Be A Grown-Up – March, Parona
To some surprise, the episode mostly focuses on a young girl named March. She is a member of the Yanome village within the Ninannah Region who can't wait to grow up, be a mommy, and be released from the limitations of childhood. Something which Parona, her closest friend, knows, and as an older sister, gives her a taste of by making her dolls to be the parent of. All the while struggling herself with meeting the expectations of adults in the village, primarily when it comes to archery.
An Honorable Sacrifice – March, Hayase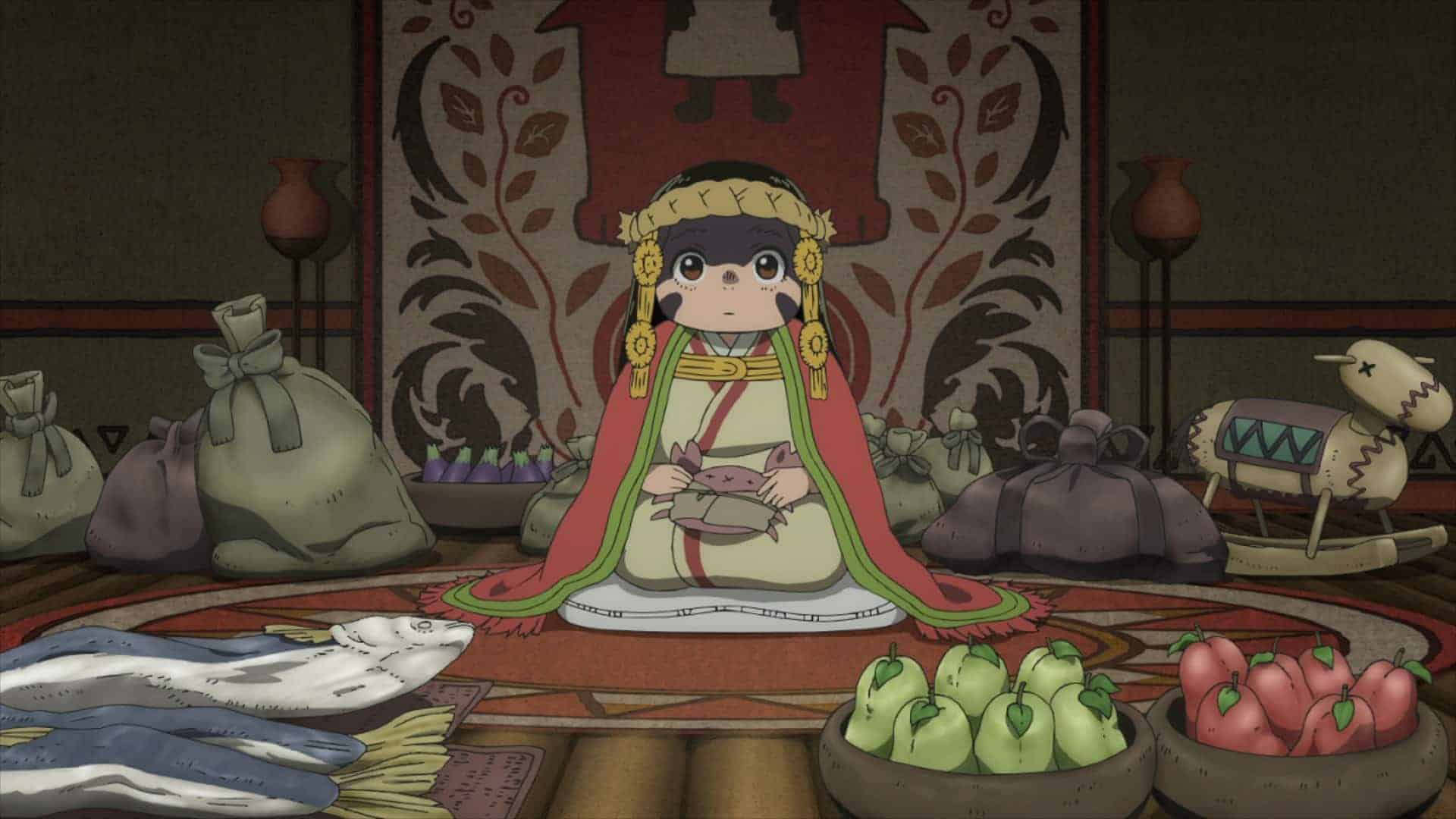 Not too long after March is properly introduced, as well as her world, we're told she is going to be sacrificed in what is called the "Ritual of Gratitude to Oniguma, God of Peace." Naturally, being that March isn't dumb, she hates the idea of losing her life and wails, kicks, screams, making everyone uncomfortable and with their head down. Yet, with the enforcer, Hayase, telling March it is either her, another girl her age, or else it will be March's baby sister, she does her best to power through the early days of a deadly fate.
Run For Your Life! – March, Hayase, Parona, Fushi
Just when it seems March is going to comply, Parona provides an opportunity to run, and she hauls ass. This is knowing others will be in line to be sacrificed, which she feels guilty about, but with no desire to die, she pushes that to the back of her mind.
But, of course, Hayase isn't trying to let some child escape her. For as much as she could go take the other two girls who were presented as options, having to get them would be a major embarrassment she is trying to avoid. However, with March encountering Fushi, who is regenerating for the 7th time, so do Hayase's men, and while they are scared off, March is not.
Thus, she watches him regenerate in awe and finds herself taking care of him. Why? Well, being that Fushi doesn't understand going to the bathroom, eating, things of that nature, while they made it south, they died multiple times on the way here. So March feeding them has led to him becoming loyal to her and her feeling like his mommy, since he follows her around like a child would. Which, considering Hayase is on the hunt for her, Fushi might come in handy.
Review
Highlights
The Sad Story That Could Have Been March's
With the first episode getting us entangled in a young man's struggle for a better life, admittedly, it seemed we were going to watch a second person die. But this time, that person is a child who actually had a reason to hope for all the things she desired. So to watch her wail and thrash at Hayase was heartbreaking.
Thankfully, however, it seems March may not have a deadly fate in her future. Mind you, Parona might, for she is interrupting something agreed upon by multiple villages. But considering what Fushi is capable of, it may end up Hayase who finds herself dying – with hopefully people thinking Fushi is a God and that ending this saga.
[ninja_tables id="56814″]
Summary
The Sad Story That Could Have Been March's - 83%
With a new character who we'll see beyond this episode, it seems like a good time to settle into what To Your Eternity is selling.
---