The Promised Neverland returns and gets right into the story – no recap, no chill period, just demons chasing down our heroes.
---
Community Rating: 0.00% (0) - No Community Ratings Submitted.
---
---
Director(s)
Takahiro Harada
Writer(s)
Toshiya Ono
Aired (Funimation)
1/6/2021
Introduced This Episode[1]
Sonju
Kamio Shin`ichirou
Mujika
Tanezaki Atsumi
This content contains pertinent spoilers. Also, images and text may contain affiliate links, which, if a purchase is made, we'll earn money or products from the company.
Recap
Mr. Minerva – Emma, Ray
In the woods, Emma and Ray have led their group in surviving, but it is questionable how much longer they can go on? There are monsters in the woods and demons hunting them. But, using a pen Norman gave them, they have a guide in William Minerva. Someone who has left codes and survival guides in books, but whether they are real and still alive, is unknown.
However, considering Emma, Ray, and the rest are the rare, if only, children to escape, any guidance they can get is welcomed.
The Hunters – Emma, Ray
As for who these hunters are? Well, just people who help run the farm, and there are at least three of them. But, while hunting the children, so are wild demons who seemingly don't have the ability to communicate. Which is what gets Emma and Ray's attention at first, but as they separate to draw the demon's attention, then the ones from the farm show up.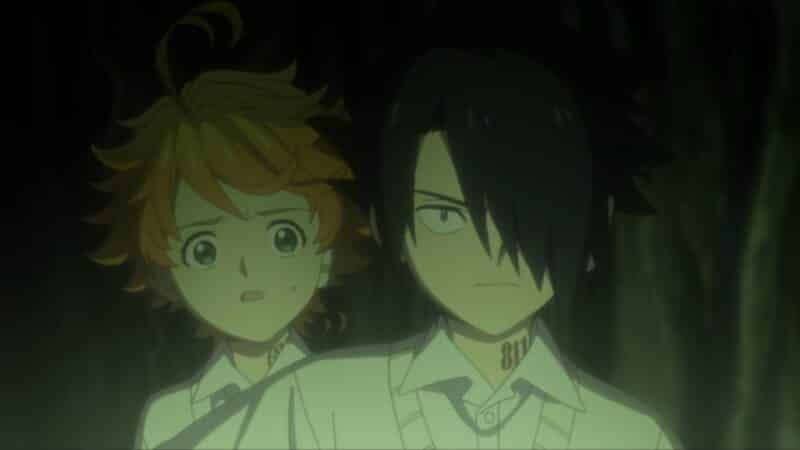 Ray tries to handle them but with just a survivable amount of food and water since the events of the Season 1 finale, running in the forest leads to him collapsing and you fearing we'll see yet another sacrifice.
Not All Demons Need To Be Feared? – Emma, Ray, Sonju, Mujika
However, that ends up not being the case. Mujika rescues Ray, and Emma and the kids are rescued by Sonju. Now, who are these two people? Well, demons. But, whether they are friendly demons or trying to cut a deal for their own human supply? That's hard to say. All we know right now is Sonju helped Emma deal with the infection from losing her ear, and Mujika, despite rescuing Ray, isn't someone he necessarily trusts.
Things To Note | Question(s) Left Unanswered
How much time has passed?
Collected Quote(s) & .Gifs
Freedom is so beautiful, yet so cruel.
— Emma
Review
Highlights
It Definitely Keeps You Attentive
I was a bit shocked that things started off with everyone running for their life. Years ago, when we left off, they just made it beyond the chasm, and it seemed maybe the world beyond the farm wasn't so bad. Yet, as shown, it might be worse. For we lived under the impression, there were the mothers, any helpers they had, and demons. Of which, the demons were monstrously looking but humanoid.
However, with seeing the Studio Ghibli looking one chasing Emma and the rest, we're shown varying kinds of demons, including Sonju and Mujika. Which does lead to the question of whether there is a caste system when it comes to demons, and maybe they aren't necessarily a monolith?
On The Fence
You May Feel The Need To Watch A Recap Beforehand
Season 1 ended in March 2019, and as you can imagine, remembering what happened in season 1, also the names of who is who is a little difficult. However, if you just need the basics, Emma and Ray's names are mentioned, as well as Gilda and Don, and Norman being dead. You are also slightly reminded about the farm, kids being left behind, and the intro reminds you why they ran.
So as long as you are good with the minimum you need, you'll be good to go. However, if you want to be reminded how Norman found the pen and the history of all the stuff the kids found of William Minerva, you'll need to watch the first season over, or you may find some answers in our recaps.
[ninja_tables id="54473″]
[1] Names and actors from https://anidb.net/anime/14801
Summary
It Definitely Keeps You Attentive - 86%
You May Feel The Need To Watch A Recap Beforehand - 78%
With learning not all demons are the same, and the forest is one of the most dangerous places around, The Promised Neverland returns and thankfully lives up to the rare honor of an anime getting a second season.
---