The Ancient Magus' Bride: Season 1/ Episode 12 "Better to ask the way than go astray" – Recap/ Review (with Spoilers)
---
Community Rating: 0.00% (0) - No Community Ratings Submitted (Add Yours Below)
---
This post may contain affiliate links and spoilers. Please read our disclosure policy.
---
It's a bit of an emotional episode as we hit the halfway point of the season. One in which Chise begins moving on from her past.
---
---
A Meeting With Nevin: Lindel, Nevin, Chise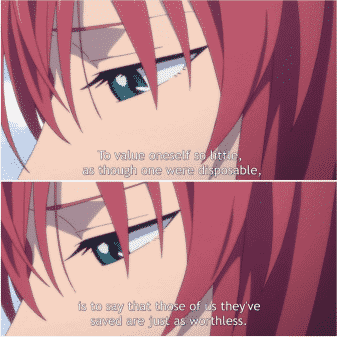 With Chise's wand nearly complete, Nevin decides to pay his dear child a visit in the between world. One in which they have a heart to heart. The kind which feels like a continuation of what we experienced with Lindel and Angelica, but this conversation hits a soft point. Reason being, Nevin finds a way to break this spell on Chise in which she feels undeserving and allows her past trauma to dictate her future. Especially in terms of her relationship with Elias.
For, even after Elias presenting her with this large community, and being quite doting on her, there are multiple fears still in play. Whether it is abandonment, thinking he may become distant, or a slew of other things, it keeps Chise from getting comfortable. It keeps her from saying Elias' home is her home and yet feeling like she could be kicked out any minute.
But, being that Nevin is much older than Lindel, Elias, and of course Chise, and probably raised a few dragons in his lifetime, it seems with noting what is quoted below, he broke through.
Moving Past The Trauma: Chise, Elias
After leaving Lindel and the land of dragons, in a very symbolic phoenix form, Chise returns home and promptly goes into a multi-day sleep. One which reveals that things with her mother and father may not have always been horrible – even when she was seeing otherworldly beings. Leading to the questions of whether it was after her younger sibling was born things went bad or if maybe, due to her age, her parents didn't take her sight seriously. That is, assuming they didn't have it as well.
But, either way, it seems that now Chise has truly become acclimated to her new life and is truly ready to move on. Leading to the question of: What is next for her young life?
Other Noteworthy Facts & Moments
It seems Silky isn't trapped in the house and can leave it!
Lindel gave Nevin his name.
Question(s) Left Unanswered
How did Elias get the nickname, or other name, Ainsworth?
Collected Quote(s)
"To value oneself so little, as thought one were disposable, is to say that those of us they've saved are just as worthless."
"Some words ripen with age, but some also lose their color."
Highlights
Nevin & Moving On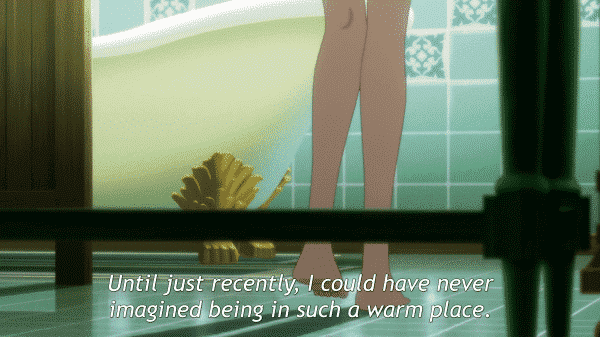 While I doubt the series of conversations we've seen, from Angelica, Lindel, to Nevin, have cleared up any and all doubt within Chise, I think it was just the push she needed. Granted, part of nearly all those conversations should of planted some seed of doubt in terms of Elias, but also part of each one dealt with Chise doing what was best for her. Making sure she put herself forward in some kind of way.
So, with her no longer holding feelings of being undeserving of love, being part of a family/community, and valuing herself perhaps, it should be interesting to see what her next obstacle may be. That is, be it something mental or a villain. Since, last I check, the sorcerers, such as Joseph, still exist and surely Elias doesn't just live in the countryside to avoid people. Much less, I'm sure after living hundreds of years, someone may come after him. Oh, and let's not forget how rare sleigh beggies are and the possibility of something trying to see Chise beyond out of curiosity.
Catch Up or Follow Along: Here [External]
Follow Wherever I Look on Twitter or Like us on Facebook.