The Ancient Magus' Bride I got the feeling is going to be the one show I'm definitely going to recommend from this season.
---
Community Rating: 73.32% (3)
---
Creator: Production I.G
The Introduction
Neglected, abandoned, and probably left feeling unloved, at this point in her life Hatori Chise just doesn't care anymore. She even signs herself over to be auctioned. Yet, luckily for her, out of all potential buys, Elias buys her. Why is she lucky? Well, because he is one of the last mages in existence and unlike the rest of the masked people who made bids, there is no implied sense that Chise is going to be a slave.
In fact, Elias makes it clear she is to be his apprentice and he even notes he'd like to make her his bride. Though, not by force. Also, despite paying 5 million pounds, he doesn't keep her locked up at all. In fact, he almost lets her get lured into the world of the Ariels (faeries). Yet, with her feeling at home, some inkling of belonging and love from Elias, she rejects their offer.
Leaving us to wonder, with Chise being a Sleigh Beggy [note] a queen bee type when it comes to otherworldly things and magic [/note], what will her journey with Elias be like?
Question(s) Left Unanswered
Is it just a general thing that redheads in anime are cursed with horrible lives?
Highlights
The Psychology Behind "My" and "Our"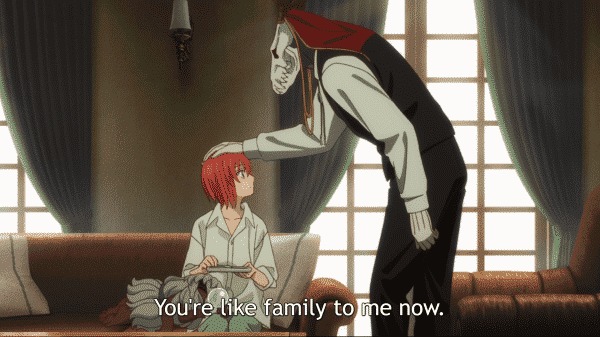 There is just something about Elias and Chise's interactions, especially since Elias defies expectations. He looks like this demonic being you can just imagine continuing the cycle of abuse and neglect Chise has experienced. However, and I say this without watching the OVA yet, he seems like the first person in a long time to show Chise kindness. And you have to admire how he and his "puppy" interact. Especially how in a short amount of time, she slowly grows comfortable around him. Perhaps believes his words of affection and belonging are true.
But what really hit me about this premiere was how we got to see how the words "My" and "Our" really mean something. In most of the anime reviewed thus far, there has been meaningful relationships which provide a foundation for our leads. However, in most of those relationships, we have come in after the bonding has happened and don't get to see the groundwork.
With The Ancient Magus' Bride, however, we get to see things from the very beginning and arguably are presented with a mutually beneficial relationship. For Chise, we see her be accepted and wanted by someone. A person, or being, which uses terms like "Our home," "my apprentice" and words which may not say "I love you" but do encompass what those sometimes three difficult words mean. Thus giving validation to Chise's existence and even though she just met Elias, he shows through his actions the meaning of his words. Thus not erasing the fact that he bought her, but definitely making it seem that perhaps the best way to put it is: He saved her.
Leaving perhaps the question of what exactly does Elias get out of this? A companion is the obvious choice, apprentice another, but I'd say a friend, perhaps a one day wife too. Which, again, has this weird foundation of him buying her for a lot of money, but I see a sort of Beauty and The Beast angle here. We don't know how old Elias is and what sacrifices have been made by him to be as illustrious as he is. From what it seems, though a bit of a loner, he'd like to find love and have more than the attention of otherworldly being perhaps trying to mess with him. So how does one do that? You have a basketball player's height and have the head of a jackal's skull. Your career is in magic and I'd suspect that makes it hard to do more than be of service to people.
So why by no means do I not acknowledge how their relationship started, I must say how it is and can evolve has me quite excited.
The Beings We May Meet
The Ariels were an interesting bunch of faeries and with these other random beings popping up, not saying much, it should be fascinating to see what else comes from Chise being a "Sleigh Beggy." Especially as Elias trains and perhaps travels with her as he does his own work.
Though Garo –Vanishing Line– had a similar beginning, in terms of a young girl and a stranger snatching her up from harm's way, there is something a bit softer here. As of now, Chise being a Sleigh Beggy isn't a threat to her life and with chibi effects added to Elias every now and then, arguably this show seeks out to focus on psychological healing more than action. If not showing the capabilities of mankind to trust again even when given every reason not to.
Which is why I'm rating this positive. For while a lot of the new anime I picked up this season are violent and a bit loony, it is the ones like The Ancient Magus' Bride which leave lasting impressions. Mostly because, as said in a recent review, it seems about more than being fascinating for your eyes and stimulating that shameful part of your brain. What The Ancient Magus' Bride seemingly wants to do is touch your heart. And while the first episode doesn't inspire any tears, it could very well go down that route to becoming something that turns on the waterworks.
---