Shadows House: Season 1/ Episode 2 – Recap/ Review (with Spoilers)
We begin to meet the other members of the Shadows House and learn not all of them are as friendly as Kate and Emilico.
---
Episode Title
Outside The Room
Director(s)
Hayato Sakai
Writer(s)
Momoka Toyoda
Aired (Funimation)
4/18/2021
Newly Noted Characters
Mia
Saori Oonishi
Rosemary
Mai Nakahara
Sarah
Saori Oonishi
This content contains pertinent spoilers. Also, images and text may contain affiliate links, which, if a purchase is made, we'll earn money or products from the company.
Recap
Your Duties Aren't Just To Me – Emilico, Kate
Despite appearances, Emilico isn't Kate's personal maid and face. Throughout the day, it appears Emilico is expected to clean the whole house while Kate… reads.
Meet The Other Girls – Mia, Rosemary, Emilico
Which leads to Emilico meeting some of the other girls. She meets the quiet Lou, one of the older dolls named Rosemary, and Mia, who shows Emilico around. Leading to Emilico awestruck to the point of fainting for everything is so overwhelming.
Little Miss Failure – Sarah, Mia, Emilico, Kate
However, what perhaps overwhelms Emilico the most is, after falling out a window, encountering Mia with her Shadow Master, Sarah. During this time, we learn Sarah is a piece of work, and Mia adheres strongly to mimicking her, despite her relationship with Emilico. Also, apparently, Kate stays in her room since she hasn't debuted yet, and that's the way Lord Grandfather wants it.
But, despite the faux pas, Sarah says she'll let it slide in the most sarcastic way imaginable. Thus allowing you to understand why, when Mia returns to her room, it is covered in soot. Likely, because of her mistress, she is the odd one out.
Things To Note | Question(s) Left Unanswered
What happens if a shadow or doll dies before the other? Do they get assigned a new one, or that's it?
Are dolls expected to also be part of the courting process?
Review
Highlights
Life Outside The Room & The People Who Exist Beyond The Walls
With episode 1 so contained, you almost are as bewildered and overwhelmed as Emilico as you experience how large the Shadows' manor is, as well as the varying personalities. Especially the idea that these dolls can be complete opposites to their masters, yet some, like Mia, can mimic hers perfectly. The skill and time to do that, the relationships these dolls may have with their masters, there is a need to question if they mirror the closeness Emilico and Kate have or, could they be abusive?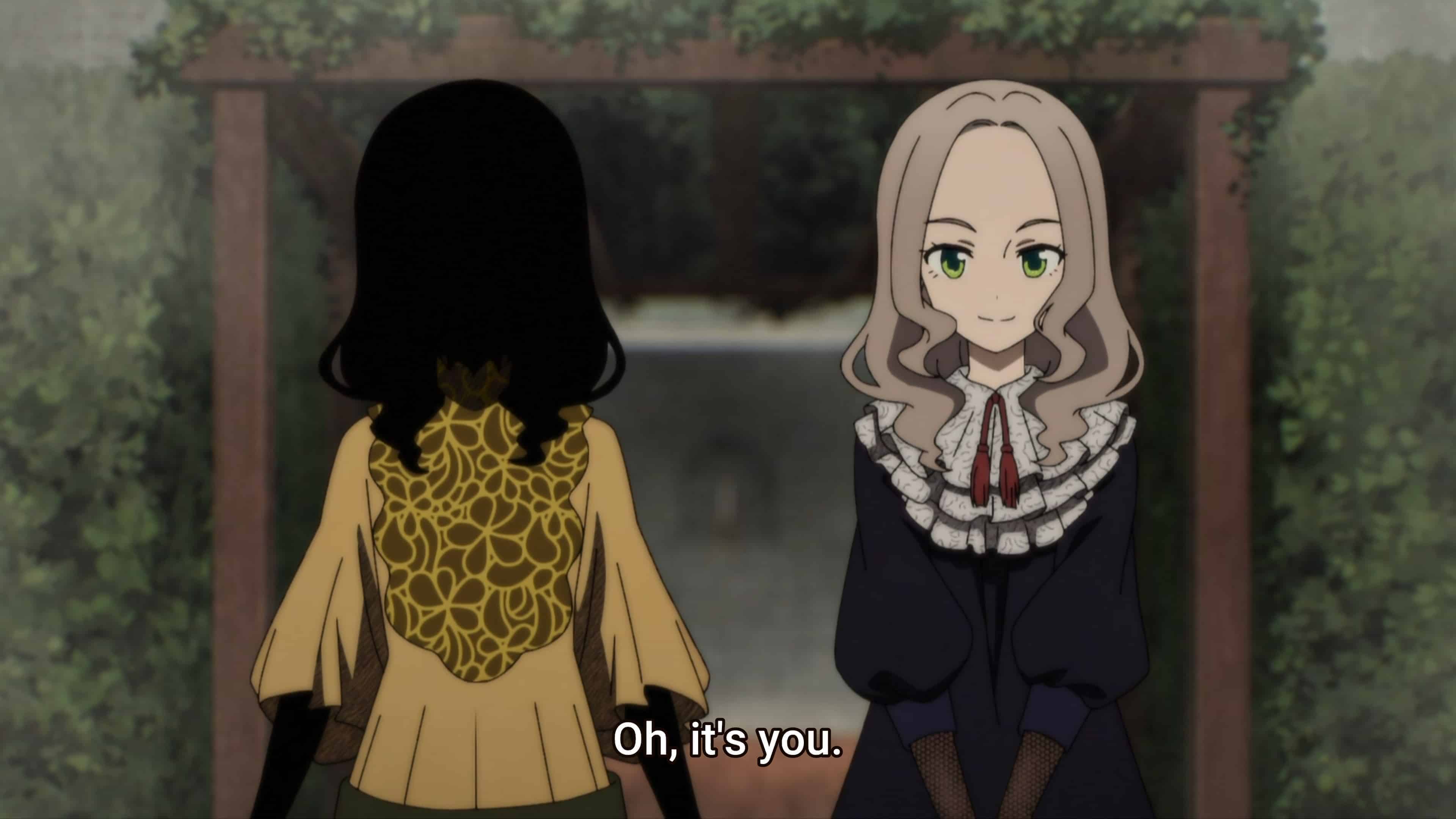 After all, the term "master" doesn't present any sort of friendliness to it, and it rolls off Mia's tongue like nothing. And considering how cruel Sarah was to a fellow shadow, imagine how she is to Mia behind closed doors.
[ninja_tables id="56546″]
Summary
Life Outside The Room & The People Who Exist Beyond The Walls - 82%
With meeting members outside of Emilico and Kate's bubble, Shadows House expands and hints a bit as to why "horror" is one of the genres listed – on some platforms. Even though we haven't seen anything scary yet, just bad personalities.