Owarimonogatari: Season 2/ Episode 3 "Ougi Dark" [Season Finale] – Recap/ Review (with Spoilers)
Ougi's true identity is revealed and… even after explaining its origins you are left between rolling your eyes or being dumbfounded. How To Make Sure Everyone Wins: Koyomi, Gaen, Hachikuji, Kiss-Shot Gaen did not become the head of a collective of specialist without knowing how to negotiate and compromise.  So, to make sure Hachikuji, Kiss-Shot,…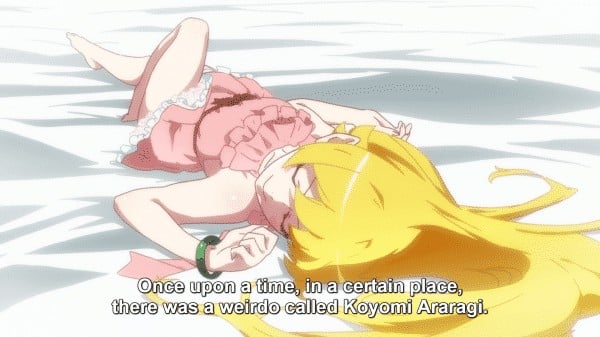 Ougi's true identity is revealed and… even after explaining its origins you are left between rolling your eyes or being dumbfounded.
How To Make Sure Everyone Wins: Koyomi, Gaen, Hachikuji, Kiss-Shot
Gaen did not become the head of a collective of specialist without knowing how to negotiate and compromise.  So, to make sure Hachikuji, Kiss-Shot, and Koyomi are on board, she breaks down what each will get if they follow her plan and what it will take.
For Hachikuji, she would become the new deity at North Shirahebi shrine. With that, she avoids her two other options of either being sent back to hell or swallowed by the darkness. So she agrees to the fate Gaen has planned. For Kiss-Shot, being turned back into her child-like state Shinobu isn't difficult at all and is an easy deal to make.
But then there is Koyomi. Generally speaking, Koyomi doesn't kill anyone. He defeats them, usually, Shinobu drains them to turn them back to some semblance of normal, but he hasn't taken a life. So with Gaen speaking about exterminating Ougi comes some difficulty – internally. Yet, for his dear friend Hachikuji to stay in the world of the living, there is no other choice. So he agrees with Gaen's plan.
Commentary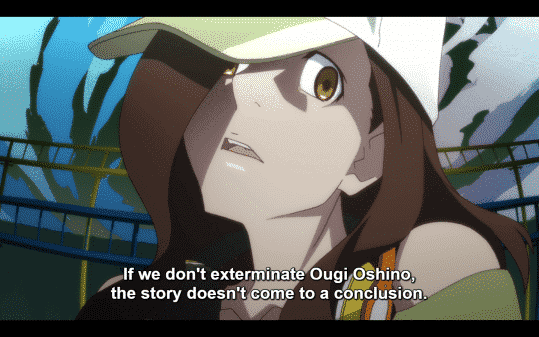 There was a mention of the "hard way" by Gaen and I do wonder if that is what we end up seeing Koyomi take in the long run. For really, can you imagine Koyomi killing anyone? As noted later on, he already is battling some kind of inferiority complex and also guilt. So imagine him "exterminating" someone just to save his friend? Wouldn't that just amplify the problem? Never mind possibly cause a new one since Koyomi then would have blood on his hands and while more than willing to die for others, I can't say he'd be willing to kill even Kaiki. Even if it was to protect Hitagi.
Dark Koyomi: Ougi, Koyomi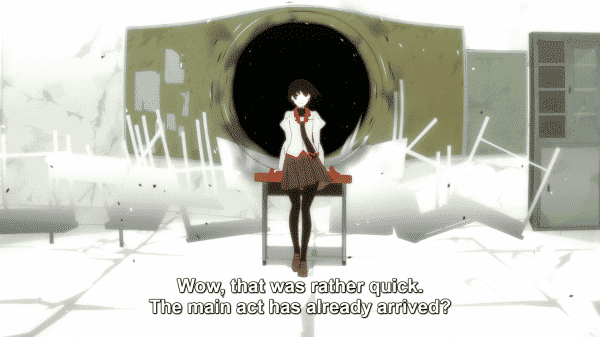 Who or what is Ougi? Well, similar to Dark Hanekawa, Ougi is a manifestation of the darkness in Koyomi. His negative feelings of inadequacy taking a physical form. Which, upon hearing this, makes the idea of exterminating her, or rather it, [note]for Ougi notes that it isn't a girl[/note], difficult. Even if it tried to kill those Koyomi knew and seemed to even have its sights set on Tsukihi this episode.
For, in the long run, Ougi is part of Koyomi and after spending the last 6+ months being saved by others, he decides to save himself. So, before Ougi lets itself be swallowed by the darkness, without a fight, Koyomi saves Ougi. Then, out of nowhere, Meme shows up with a battered Hanekawa closely following. And with Meme acknowledging Ougi as his niece, Ougi is no longer a fake pretending to be the Darkness so the Darkness disappears. Thus saving Ougi and having it evolve from a trickster to something which has some form of legitimacy.
Commentary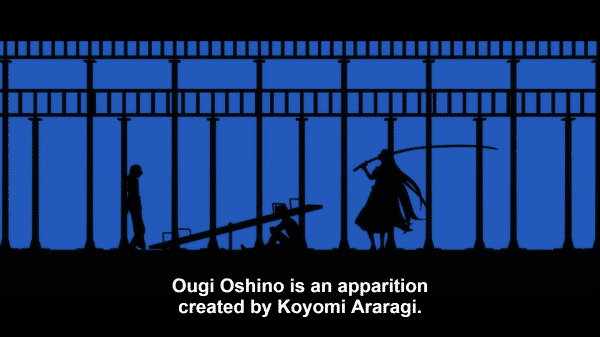 Thus far, it seems nearly every apparition was born or came into Koyomi's life feeding off of the misery of one of his friends or loved ones. So, with that, Ougi being born out of Koyomi's feelings of inadequacy makes some sense. Yet, at the same time, considering he already had Shinobu living in his shadow, and how she would tease him at times, it makes Ougi's birth a bit off. For while it is explained how and why Ougi came about, much less the meaning behind its chosen name, I still find myself rolling my eyes a bit.
Though, I guess that would explain how, in episode 2 of the season, Ougi was capable of entering Koyomi's dreams. For I don't think even Shinobu has done that before. But perhaps what has me rolling my eyes the most about Ougi is that it really does seem, at least with my recollection of the series, the explanation of who Ougi is feels pulled out just to wrap up what some may consider a plot hole rather than give a quality ending.
Which, again, I'm mostly saying because the show beats around the bush so much. To the point, eventually, it turns into sounding like the adults on a Charlie Brown cartoon. So while I'm sure the Ougi reveal makes a lot of sense or is utterly shocking to someone, I think I'm at the point where the longer someone goes on and on, the less I feel like they are giving essential information and more so are just providing filler.
Graduation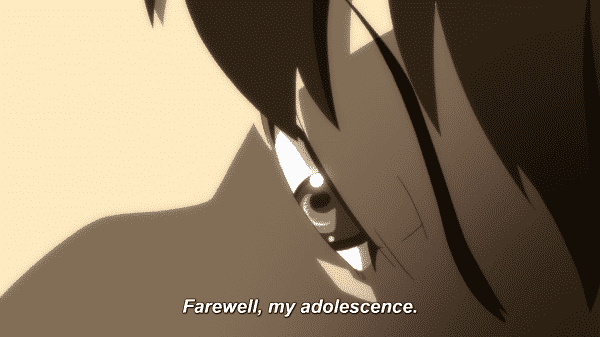 And so the season comes to an end, and while there is a gap between what we see here and the end of Hanamonogatari, we get the gist. Hanekawa and Koyomi have one last moment together, in which he proves he still has pervy feeling for her. Those two, and Hitagi, through calling each other by their first name, show how they have bonded over the years, and we are reminded how much Kanbaru loves them all.
That and Karen and Koyomi having a twisted relationship. One in which she sort of likes what her brother does to her sometimes, though she thinks, with her entering high school, it has to end.
Commentary
It was nice to see the majority of the characters we met give us some kind of closure[note]Sengoku is pursuing being an artist, Tsukihi is aimless, Karen is just excited about high school, Meme and Gaen go back to work after helping Koyomi, and Ononoki is stuck with Koyomi as Kagenui is training in the north pole by fighting polar bears.[/note]. For us to know what state they are in and get a little hint of what their future holds. Making me wonder if this may be the true end to the series.
Which, upon some investigating, seems to not be the case. So it very well may be that this series, which started back in 2009, may continue on towards its 10-year anniversary. Something that I'll look forward to, as long as the episodes aren't an hour. Between the movies and this season, I swear to you I don't think I can do anymore 40+ minute viewings of this show. I love it but its existentialism and desire to over explain or have us listen to a character over think is draining. Much less takes away from what often are solid and intriguing thoughts. As shown in the collected quotes for the series.
Question(s) Left Unanswered
So when will the gap between the end of this episode and the Koyomi we meet at the end of Hanamonogatari be filled?
Overall
Highlights
Getting closure and an answer about where everyone is and what they plan to do in the future.
Low Points
The usual monologues in which you can't be sure whether they are talking just to fill space or if what they are saying is truly noteworthy and foreshadowing something.
On The Fence
The explanation of who, or rather what, Ougi is.