Netsuzou Trap: Season 1/ Episode 1 "Trap 1: A Secret Between Girls" [Series Premiere] – Recap/ Review (with Spoilers)
Not since back when I invested time in YouTube series have I been this interested in a short. For while ecchi is what most people will see, there is also a kind of messed up story. One paired with a girl realizing she may have feelings for her best friend. Sort of like Faking It,…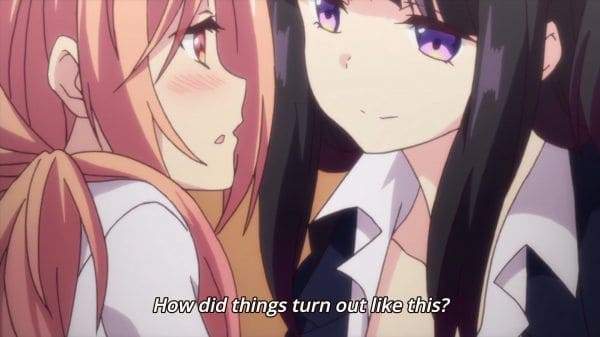 Not since back when I invested time in YouTube series have I been this interested in a short. For while ecchi is what most people will see, there is also a kind of messed up story. One paired with a girl realizing she may have feelings for her best friend. Sort of like Faking It, but without the comedic elements – to a point.
The Introduction
Yuma is just a simple girl. She wants to go on dates, have her first kiss, and just experience love. Her best friend Hotaru wants to do the same. However, Hotaru wants a trial run. Something Yuma gives into but feels uncomfortable about. Not just because she is dating this guy Takeda, but because Hotaru keeps being her first for things. She keeps setting precedents and when she compares, for example, Hotaru's kiss to Takeda's, there isn't that same tingly feeling.
Leading you to wonder, as Yuma is clearly playing with Yuma, may Yuma catch feelings? She knows she is being manipulated but does she enjoy giving in? Sadly, we are only given 6 minutes an episode to find out.
Highlights
Yuma's relationship with Hotaru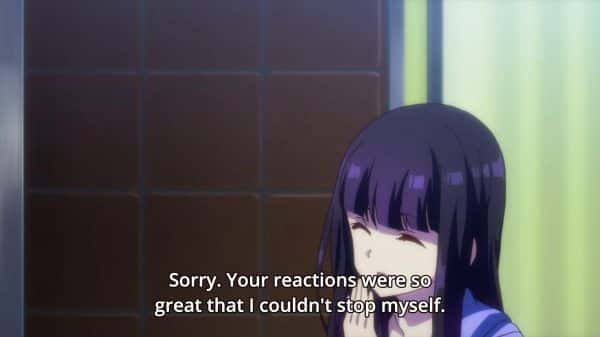 After Faking It and Scum's Wish this sort of idea that one girl could maybe turn another isn't new to me. However, with Netsuzou Trap, it is kind of hard to pin down if Hotaru is playing or not. There is something innately wicked with the way she deals with Yuma which tickles me. Like she would never go so far to hurt her friend, yet she is clearly taking advantage of what Yuma would let her do.
Then when you flip perspectives, you have to wonder why Yuma doesn't put her foot down? Naturally, the idea pops up that maybe she is bi. Yet, there is also this thought of maybe Hotaru taking so many of her firsts, and being good at what she does, is messing with her. Since Yuma is presented as very innocent, maybe even naïve. So as much as there is this desire to say maybe she is just going through the motions with Takeda, at the same time you can't ignore that innocence being taken.
Thus bringing this weird psychological element to what easily could be passed over as a dirty short anime.
On The Fence
Where Is this Going?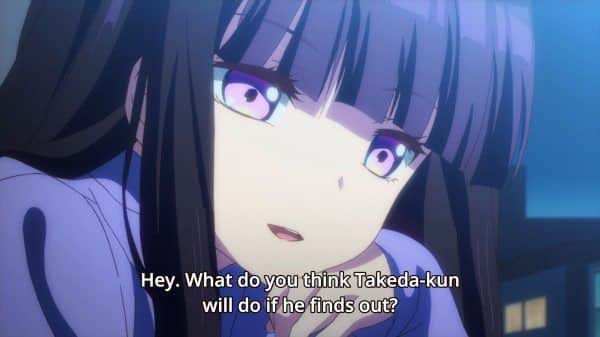 Eventually, one of a few things are going to happen. Either these girls fall for one another, it ends up one sided, or the game ends and that's that. But even with only 6 minutes, you enjoy the ride to the point you are cool with the limited outcomes. For while the hook is the sexual content, you can get more out of this if you want to.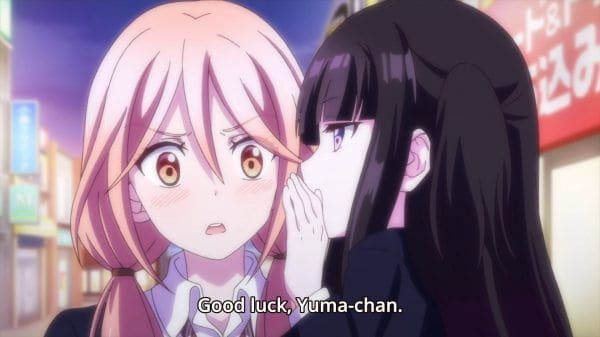 I would honestly have loved if this was a full half hour [note] nee 23 minutes more likely [/note]. Because as sort dirty as this anime is, it tickles the brain a bit. What it sells you on is the idea of two young girls, who I should note are underage, who practice intimacy with one another. Yet, in the process of that, we see one who can play it off and another who is catching feelings. Yet, it is implied that part of the reason she is catching feelings isn't perhaps some latent homosexuality but because Hotaru is setting herself as Yume's first. So there comes this whole psychological angle and how Yume, naturally, is confused because while she likes Takeda, it isn't the same with him. It isn't bad but it doesn't compare to what Hotaru does.
And the fact that this less than 6-minute show can stimulate me to write so much is why I'm labeling this as positive. For while you may want to just roll your eyes or a tissue wad, because of the expressing of young sexuality, this can be so much more than that. If only you don't think with your libido.