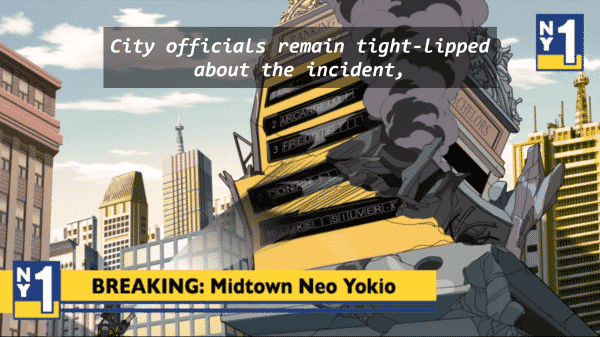 As the Grand Prix approaches, Aunt Agatha gets lucky because that terrorist strike means Kaz gets a major offer – from the Soviets.
Meet Mila: Mila, Kaz, Arcangelo, Cathy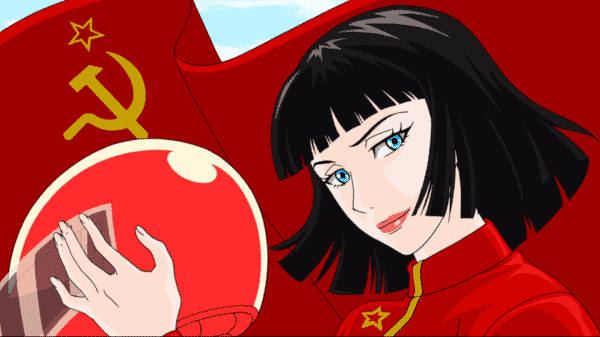 Due to the bombing, gone into more detail below, the Soviets want to make sure their representative for the Grand Prix, Mila, is well protected. Which, of course, leads Aunt Agatha to give Kaz another assignment. One which unfortunately leads him to learn that Cathy has been spreading around that Kaz is a jealous psychopath.
But, luckily for Kaz, to a point, Mila is a bit of a party girl and with that, she doesn't wish to stick to the pre-Grand Prix event long. Problem is, Arcangelo joins them since, with the Bachelor Board destroyed, he seems to feel no reason to compete with Kaz. However, considering he is in the Grand Prix, representing Neo Yokio, who knows whether or not him trying to have everyone party well into the night is to setup Mila for failure.
However, no matter what Arcangelo's plan is, it seems Mila doesn't need his help to get on Kaz's last nerve. For, you see, in this alternative world line [note]Which I say since the old World Trade Center buildings still exist.[/note] it seems that the Soviet Union didn't fall and with that, there is the question of whether Mila may defect? Especially since she runs off often. But, there is always the possibility that she is a spy. At least to me.
Helena St. Terrorist?!: Helena, The Remembrancer, Kaz
Naturally, the first suspect to any terrorist act within Neo Yokio is a demon. However, with no clear demon to point out, Helena with her anti-capitalist beliefs becomes a person of interest. Especially for the Remembrancer who protects the self-interest of the old families. In fact, going against custom, he questions Kaz about whether an incomplete exorcism could be the reason Helena might have committed the bombing. But, before the Remembrancer can get to the nitty-gritty, Aunt Agatha stops the interrogation.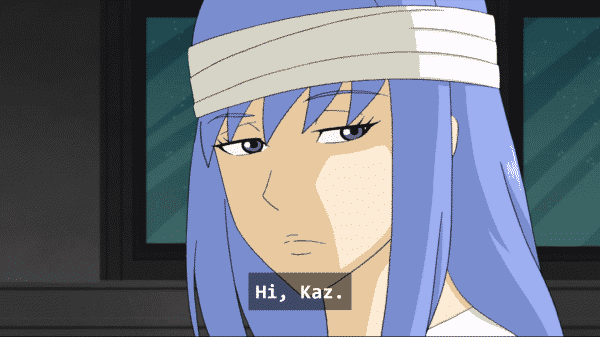 But it seems we'll get our answer in the next episode for as Kaz returns home, he finds Helena strangely in his apartment.
Question(s) Left Unanswered
How come the old World Trade Center is in the show? Is this show working on an alternative timeline?
Highlights
Helena St. Terrorist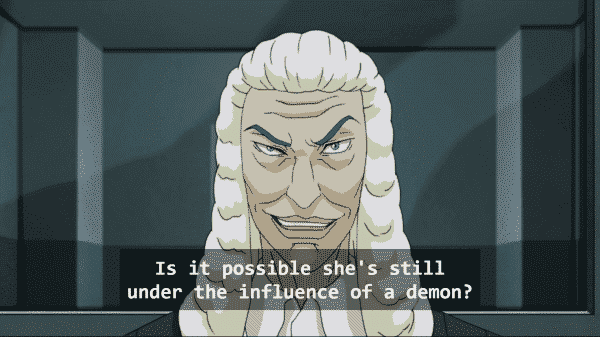 I really don't believe Helena is a terrorist. If anything, I believe that between Aunt Agatha and the government, one of the two have a leash on the demons who exist and let them off everyone in a while. The reason I say this is because there is just something fishy about how what and who gets attacked.
Now, granted, Aunt Agatha doesn't have Kaz work for free so naturally, he wouldn't help the poor. However, it seems demons only hit targets Kaz could handle and it really pushes the idea she is setting him up with easy enough jobs to raise her price for his services. Just so, now, he can just have situations like with Mila where he is a high priced guard vs. risking his life.
For while it hasn't been confirmed, one would assume Aunt Agatha is the one who is raising Kaz and so she only going to push things so far. Plus, while she seemingly doesn't care about what people say no, who is to say she herself isn't trying to keep the bourgeoisie under constant threat not just for the money, but perhaps revenge. After all, she too was young once and may have been deeply hurt by one of the old families. Maybe even Helena's father.
On The Fence
Mila
While a kind of interesting character, in the form of whether or not she is a spy or trying to defect, I am just finding the fact this show has Russian stereotypes eye-roll inducing.