---
Community Rating: 0.00% (0) - No Community Ratings Submitted.
---
Screw whatever Scum's Love comparison I made. Koi to Oso (Love & Lies) may have some similarities, but it is much lighter and can be jaw dropping without sexual content.
When Your Fiancée Is Your Wingman: Ririna, Takasaki, Yukari
Ririna really is trying to set Yukari and Takasaki up. Even to the point of, unbeknownst to the other, inviting them to her room in order to have a semi-private moment to kiss. However, Yukari can't go through it. How can he kiss the girl he likes in front of the girl he is supposed to marry?
But, that becomes slightly less of a problem when they think they're alone. However, like with the other kiss, it is Takasaki making the move and Yukari just letting it happen. Yet, with time to get over how forbidden it all feels, he then gets into it.
Commentary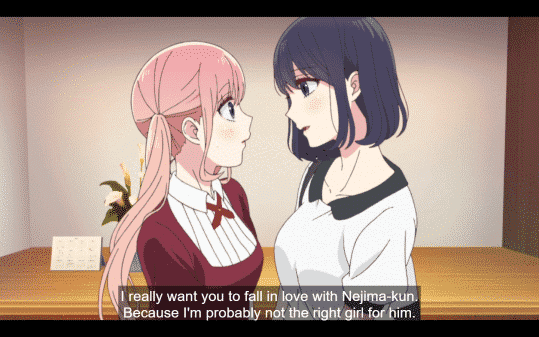 This Ririna thing has me thinking that as much as she may seem like a voyeur, it may not always or truly be that. A part of me believes, being that she has lived in a socially stunted life, she fears dealing with feelings so she is trying to push Yukari off on Takasaki so she won't have to deal with them. Then, on the other hand, I sort of get this vibe she wants both of them to get each other out of their system. Hence the kissing once a day thing so, eventually, they may not want to anymore.
Both of which I know sound juvenile and naïve, but isn't that what Ririna is? Her whole life seems to be based off magazines and shows. Living vicariously is what she is used to. Hence why, in the last episode, she questioned if she had feelings for Takasaki just because she had a good time with her. She is used to seeing people be friends and fall in love in media, but can't decipher love and friendship in reality.
Something which surely will help foster her relationship with Yukari. If only because, he is capable, and perhaps willing, to show her both. Hence why he couldn't kiss another girl in front of her. For while he has held feelings for Takasaki for a long time, it isn't like he is a butt wipe. Plus, even if he may not like her, Yukari respects the oddness of the situation. Hence why he calls him kissing Takasaki forbidden love than true love.
But What If You're Gay?: Nisaka, Yukari
This was a question brought up in episode two's commentary: What happens if you are gay? From what Nisaka says, divorce may be a possibility, but what happens if you are just not attracted to the other sex? Well, that is something we seemingly may explore with Nisaka. Someone who hasn't said he is gay, bi, or on the spectrum, but does kiss Yukari as he sleeps. Thus answering not only why is this popular heartthrob hanging around Yukari but also creates a path to answer what happens with homosexuals in this society.
Commentary
From what it seems, Yukari calling the cops when Nisaka was being bullied, not for being suspected of being gay but because someone's wife fell for him, is the reason he likes him. However, what isn't explained is why Takasaki gives him a nasty look when they see each other? Does she know something? Are we going to get an anime which addresses topics like homophobia? I mean, being that Nisaka has just become prominent, and came out to us, it isn't clear how closeted he is. So could it be maybe Takasaki saw him with another guy, in a gay club, or something like that?
Or is this just me overthinking? I mean, considering how smart Nisaka's mouth is, there is a strong chance he just pissed her off about something. Much less, maybe they were matched and he has been so rude that now she hates him? Hell, maybe he let her know the truth and she hates the fact there is this boy who loves her, she can't have, and she is stuck with one who has 0 interest in her?
In my head, that would explain this mix of guilt and aggression on Takasaki's part. She feels guilty for she is betrothed to someone, yet knows he'll never love her and be affectionate as she wants. So, though she knows Yukari and Ririna likely will fall in love, eventually, she is getting every taste of affection she can get until then. No matter how much it hurts that Yukari can't be hers forever.
---