Home
Tags
Koi to Uso: Season 1
Tag: Koi to Uso: Season 1
It's the final episode of Koi to Uso (Love and Lies) and so comes the question of: Who ends up with Yukari? I Found An Out For You: Yukari, Ririna Thanks to Yukari, then Takasaki, Ririna...
Is there any hope at all for what Ririna may be feeling or has she long succumb to the idea that she should just be happy Yukari is in her life? Dreams Deferred: Yukari, Ririna,...
Despite the intrigue Shuu seemingly was going to present, in the end, we are still waiting for Yukari to make a decision. Notice or not. Wedding Invite: Yukari, Nisaka To put it simply, Yukari, and whoever...
The gender swapped Romeo and Juliet finally gets performed but what steals the show, more so episode, is something Yajima talks about and Shuu confirms. Don't Discount Yourself: Nisaka, Yukari As Nisaka's dad noted in the...
As Ririna continues to keep her distance from Yukari, Takasaki becomes more torn between expressing her feelings and dealing with what she feels is fate. The Mystery that is Nisaka: Nisaka, Yukari Can you believe there...
After Yukari makes his move, it seems to have shaken Ririna up to the point she may be forced to acknowledge her feelings. Something Takasaki fears for she is as in love with Yukari...
And so it begins. Riri starts to realize she may be falling for Yukari but can he feel the same about her? Especially when the government isn't watching? Sex Dreams: Riri After a rather hot and...
During the camping trip, Ririna comes to the realization that, as Takasaki and Yukari's relationship progresses, there may not be room for her. On top of some other things Nisaka, quite cruelly, says to...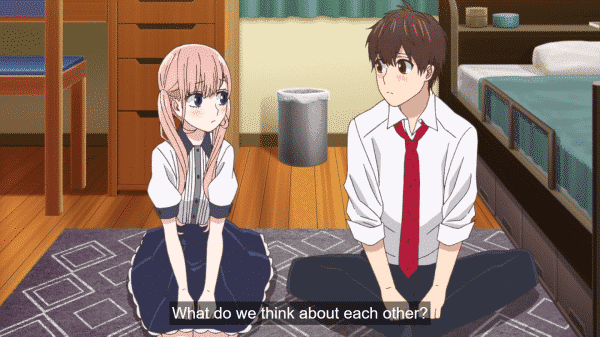 It's a lot of what we are already used to in "The Science of Love" to the point it is hard to say the story is moving forward. Inhabitations: Ririna, Yukari Inexperience with love seems to...
Screw whatever Scum's Love comparison I made. Koi to Oso (Love & Lies) may have some similarities, but it is much lighter and can be jaw dropping without sexual content. When Your Fiancée Is Your...