Haruto and his drama are put on the back burner as Izumi takes center stage and we learn he is in the center of a love triangle.
---
---
Community Rating:
---
---
A Sort of Longing: Hazuki
Despite a snowstorm, Hazuki and her younger sister go out shopping. It's mostly for the little sister but with this being the last time they'll probably easily have this time together, she comes along. Leading to her, while her sis is getting clothes, the child pulling stuff out for her older sibling. Of which, Hazuki says no but after hearing girls talk about guys and her sis mentioning her dressing modestly is why none approach her, she takes the items pulled into consideration.
The Short End of the Stick: Izumi, Natsume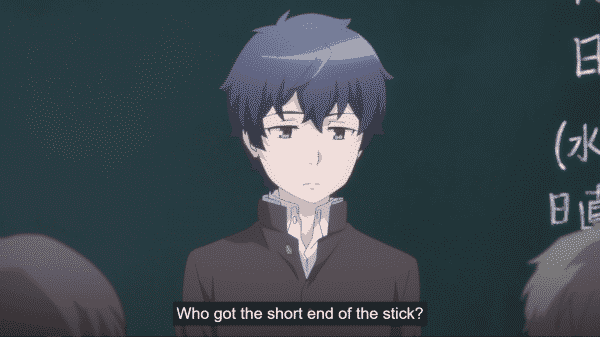 Since middle school, Izumi has seen Natsume struggle with getting the short end of the stick. If it wasn't getting sick before trips, it was people leaving her to do hard work all by herself. Such as the student council tasking her to move about all their paperwork from the school year up multiple flights of stairs. A task Izumi makes himself available for since the task needs more than one person to get done. Then, following that, he gives her his umbrella so she doesn't get wet. Really making it clear how much he cares about her.
Recognizing What's There Before It's Gone: Komiya, Izumi, Natsume
Something that doesn't change years later. With a recent snowstorm, transportation is getting shut down left and right and it happens to be the Center Test day. Knowing this, and Natsume's bad luck, Izumi hunts her down and finds her after being bumped and slipping to the floor. At this point, she is done, she figures she is too late, but Izumi takes the time to help her regain her confidence. Not just by noting how the test has been delayed, taking that off her worries, but reminding her she knows the material. He quizzes her on the way there and gives her a good luck amulet. Thus pushing Natsume to desire to ask 2 questions. One of which is what happened between him and Komiya and the other? Well, Komiya may beat her to it.
For, backtracking a bit, where we left off in the last episode, with Natsume seeing Izumi and Komiya together, came from Izumi coming to Komiya's rescue. Some guy was going off since he thought she took his picture and Izumi walked with her to help calm her down. But, on the way, she blames him for the situation and then opens up why the photography club means so much to her.
To slim down a slightly lengthy explanation, it seems to be the first community she found which gave her a reason to open up. An outlet for her love of photography. So for it to be ending, just as it begun, because of her, it hurts and pushes her toward desperation. And with that explanation, Izumi gives permission to use the photo and she runs with it.
Then, afterwards, when she sees him again, she realizes she has this queasy feeling in her stomach. One she brings up to Izumi and he blames what she has eaten. However, Komiya has come to the conclusion it stems from liking Izumi so she asks Natsume's permission to ask him out. That leads to a prompt "No."
Other Noteworthy Facts & Moments
Question(s) Left Unanswered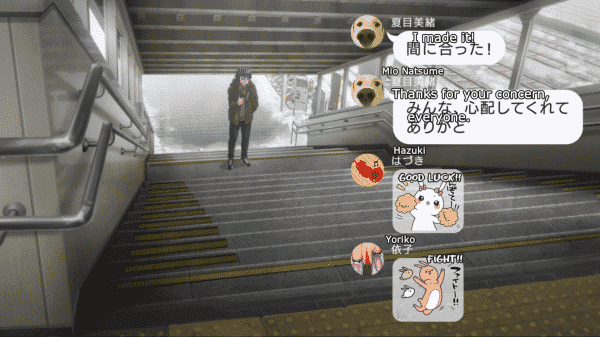 What in the hell is Yoriko's avatar?
Highlights
An Interesting Love Triangle
Though Izumi remains a grumpy guy, with an air of indifference about him, it makes him doing kind things for people all the more meaningful. If only because now it seems he just doesn't go out of his way for just anyone. You have to mean something to him in order to not only have his attention and time, but for him to help you when in need.
So with all he does when it comes to Natsume, and coming to Komiya's aid when she seemingly was out of character as well, it makes it hard to choose which girl is best for him. Yes, Natsume has some years already invested but for most of them she was into Haruto. Izumi wasn't really on her radar as anything but a friend. However, one could argue that Komiya has seen the potential for a while now. Making it so, at this point, she is just trying to be courteous to ask permission. It isn't like she made it seem her relationship with Izumi couldn't evolve into something more.
Now, granted, Izumi does sort of feel that all she wanted is his photo. Making her further interaction seem guilt based than genuine. But she was able to win his trust before so who is to say there still isn't a way for her to pick up from where he thought they'd leave off?
Catch Up or Follow Along: Here [Amazon – External]
Follow Wherever I Look on Twitter or Like us on Facebook.