Once again the villains of the show get overexposed, but at least we get one step closer to Sophie being reunited with her brother – if he is alive.
---
Network
Crunchyroll
Director(s)
Park Sunghoo
Writer(s)
Yoshimura Kiyoko
Air Date
2/23/2018
A Game of Chess: Bishop, Queen, Sword, Luke, Sophie
Despite what Alan has done, let us not forget El Dorado, the whole city, is Horror territory. Meaning, our heroes are beginning at a disadvantage. Hence why it was so easy to set up a trap so that the King could get his Sophie. Now, as for whether King is Martin or not? Well, that is increasingly hard to tell. It could very well be Martin has been so passionate about Sophie, the King simply took an interest. Who knows? All we find out is that the bare majority of the population are all but pawns and within a day, they nearly all end up dead.
Another Battle More About Consuming Time Than Actually Having Purpose: Bishop, Queen, Sword, Luke, Sophie, Dr. Stanley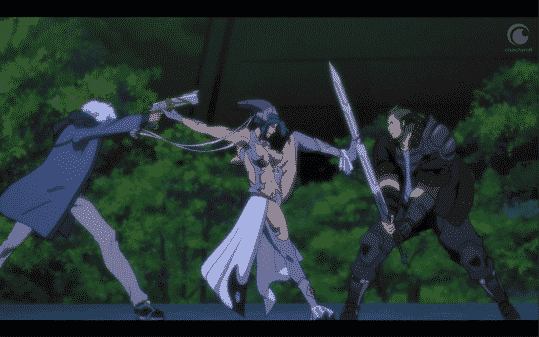 With the trap set, and feed put in place, naturally Bishop, Dr. Stanley, and Queen all launch attacks to get Sophie. Leading to some gunplay from Luke and Sword bouncing in and out of the Golden Knight as necessary. And while Queen distracts them, Dr. Stanley transports himself, as slow as possible, to another area and eventually to an elevator. One which leads them to the "Holy Land." Which seemingly is just the true El Dorado, the actual core.
Now, what exactly is this core? That isn't explained. It isn't made clear if what we see can be compared to different organs, computer parts, or simply is just an otherworldly system not easily explained. All that matters is that, after more chasing and mindless fighting, since no one noteworthy dies or is hurt, Bishop uses Dr. Stanley, who is a little man with a big head, for just enough of a distraction to toss Sophie into the true El Dorado. Of which, Sword is closely behind.
Utopia: Sword, Sophie
In the true El Dorado, where there is nothing but happiness, both Sword and Sophie have access to their siblings. In fact, Sophie looks like a kid again while Sword simply maintains his usual form. But, whether or not this could be another trick or not, who knows? The only truth we currently have is that El Dorado is more a hallucination than real and considering a portal was required to get to this utopia, neither character is in the real world anymore.
Other Noteworthy Facts & Moments
We learn the GarEden company started, roughly, ten or so years ago as just a software company. However, thanks to someone, likely a horror, they began pumping out innovative electronics and products, they grew exponentially. Eventually leading to many mergers and acquisitions, like the Cygnusram tech school, where Sword's sister was killed. I should note though, Alan's data, which is how we got the information, only presents facts and not reasons.
Low Points
The Villains Are So Devalued
At this point, Bishop has failed so many times that his devious smile isn't something to elicit giddiness but simply an eye roll. Then with Queen, similar to Christopher, being that she hasn't had a significant win against a protagonist and in her first appearance, instead of a Queen she seems like a pawn, she comes off so devalued. Really making me wonder, what will the final battle be like on this show? Could it make up for us seeing the villains repeatedly lose or match the power of our leads?
I mean, yeah, we haven't seen their full powers, but can that really compensate for the performances we've seen thus far?
On The Fence
The Utopia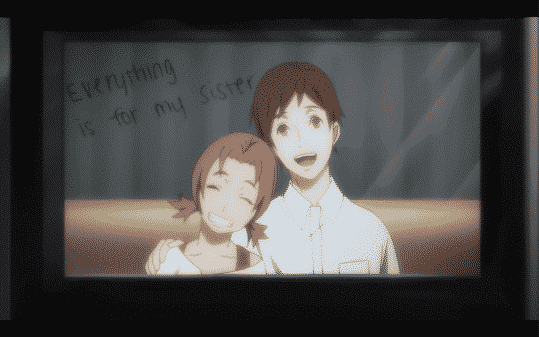 El Dorado has always been touted as something major, the land of dreams, and with Sword and Sophie just seeing their siblings there, I must admit it is kind of a letdown. Not because I don't recognize the importance of them seeing their families, but more so because their families have been treated as such an afterthought, with the full story of Sword's sister only recently being revealed, that it seems a little too late to make this seem like a momentous thing.
---
 Follow Wherever I Look on Twitter or Like us on Facebook.
---
Previous Episode's Recap
[visual-link-preview encoded="eyJ0eXBlIjoiaW50ZXJuYWwiLCJwb3N0IjoxNzYwMiwicG9zdF9sYWJlbCI6IlBvc3QgMTc2MDIgLSBHYXJvIC0gVmFuaXNoaW5nIExpbmU6IFNlYXNvbiAxLyBFcGlzb2RlIDE4IFwiSWxsdXNpb25cIiAtIFJlY2FwLyBSZXZpZXcgKHdpdGggU3BvaWxlcnMpIiwidXJsIjoiIiwiaW1hZ2VfaWQiOjE3NjA3LCJpbWFnZV91cmwiOiJodHRwczovL3doZXJldmVyLWktbG9vay5jb20vd3AtY29udGVudC91cGxvYWRzLzIwMTgvMDIvR2Fyby1WYW5pc2hpbmctTGluZS1TZWFzb24tMS1FcGlzb2RlLTE4LUlsbHVzaW9uLU1pZC1wb2ludC10aXRsZS1jYXJkLnBuZyIsInRpdGxlIjoiR2FybyAtIFZhbmlzaGluZyBMaW5lOiBTZWFzb24gMS8gRXBpc29kZSAxOCBcIklsbHVzaW9uXCIgLSBSZWNhcC8gUmV2aWV3ICh3aXRoIFNwb2lsZXJzKSIsInN1bW1hcnkiOiJZb3Uga25vdyBob3cgcGVvcGxlIHdpbGwgc3dlYXIsIOKAnEl0IGdldHMgYmV0dGVy4oCdIHdoZW4gdGFsa2luZyBhYm91dCBhIHNob3c/IEl0IHNlZW1zIEdhcm8g4oCTIFZhbmlzaGluZyBMaW5lLCBpcyB0cnlpbmcgdG8gY29udmluY2UgdXMgdGhlIGZpbGxlciBpcyBvdmVyLiIsInRlbXBsYXRlIjoiZGVmYXVsdCJ9″]