Citrus: Season 1/ Episode 8 "War of Love" – Recap/ Review (with Spoilers)
As Matsuri takes in what she is dealing with, when it comes to Mei, Yuzu tries to explain Matsuri's relationship to her. Network Crunchyroll Director(s) Takeo Takahashi Writer(s) Naoki Hayashi Air Date 2/24/2018 Three's A Crowd: Mei, Matsuri, Yuzu Remember that date Matsuri so publicly planned with Yuzu? Well, today is the day and… Mei…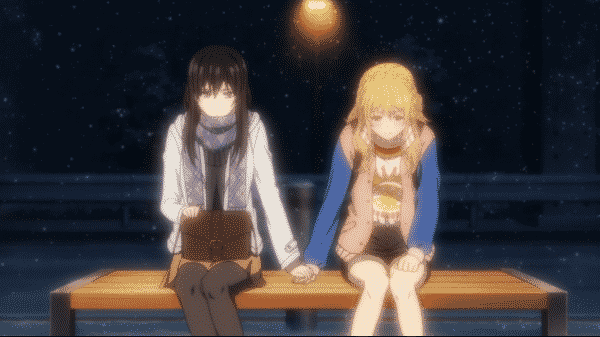 As Matsuri takes in what she is dealing with, when it comes to Mei, Yuzu tries to explain Matsuri's relationship to her.
---
Network
Crunchyroll
Director(s)
Takeo Takahashi
Writer(s)
Naoki Hayashi
Air Date
2/24/2018
Three's A Crowd: Mei, Matsuri, Yuzu
Remember that date Matsuri so publicly planned with Yuzu? Well, today is the day and… Mei came. Now, whether she came because she invited herself or Yuzu invited her, it isn't 100% clear. Mei notes she tagged along so it could be she just wanted to come. But, considering she is aware of how Matsuri is, this could have all been to just dampen Matsuri's alone time.
Which it ultimately does. Despite Matsuri asking Yuzu out, her eyes avert to Mei, who stays a respectable distance, and yet even when Matsuri is trying to get cute, or sexual with Yuzu, all she gets is a curve. Something which gets frustrating to the point Matsuri walks off. Initiating a test to see if Yuzu would eventually come looking for her.
I Declare War: Mei, Matsuri, Yuzu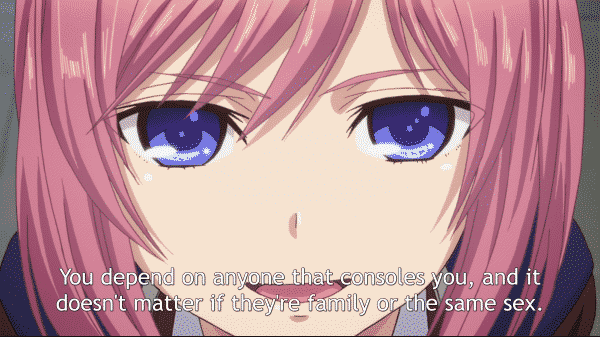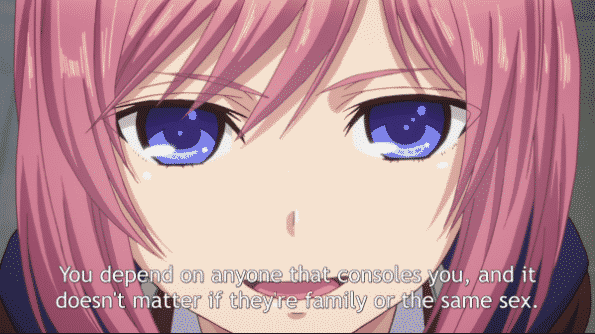 Which she does, but this seemingly only sets up what Matsuri really wanted: Some one on one time with Mei. First to try to intimidate her by calling her slutty and saying she'd take anyone who would pay attention to her. Which, Mei hunches at as if she doesn't care if that is true, and then she kisses Matsuri – passionately – just to mess with her. Something that, I should add, two kids who were trying to look up under Matsuri's skirt, who she caught, end up taking a picture of for her. Something that isn't used this episode, but expect it to pop up in the future.
Especially since Matsuri finds herself retreating, for now, and this gives Mei a huge opportunity to move forward with Yuzu. Nothing sexual, nothing aggressive, but they do get to have the quality time Matsuri was trying to get. Of which is spent talking about Yuzu's relationship with Matsuri starting when they both moved into a building at the same time, were only children, and Yuzu pushed a sister dynamic for them.
But while they talk a lot about Matsuri, they are also holding hands and talking about Christmas plans. And with Christmas apparently not being something done in Mei's former household, Yuzu is planning on making one of Mei's first Christmas' special and Mei even commits to rearranging her schedule for it.
The First Big Move: Mei, Matsuri, Yuzu
Yet, Matsuri seemingly is ready to mess that all up. For while the student council assists Mei with being all done so she doesn't have to work through Christmas, then Matsuri shows up. Leaving us to wonder, with war declared, and Matsuri having to retreat after their first skirmish, what will her first big move be?
On The Fence
The War Begins
It kind of sucks that, ultimately Matsuri will probably just be what forces Mei to step up and stop being cowardly when it comes to her feelings towards Yuzu. Since, realistically, unless this show decides to surprise us, you know Matsuri really doesn't stand a chance. She may cause drama, she might force her way onto Yuzu the way Himeko did Mei, but they aren't endgame on hindsight.
But, here is hoping that this love triangle is ultimately interesting. Since Matsuri is playing the game as we've seen many like her do before. Which is rather uninspiring.
---
Follow Wherever I Look on Twitter or Like us on Facebook.
---
Previous Episode's Recap
[visual-link-preview encoded="eyJ0eXBlIjoiaW50ZXJuYWwiLCJwb3N0IjoxNzYxMCwicG9zdF9sYWJlbCI6IlBvc3QgMTc2MTAgLSBDaXRydXM6IFNlYXNvbiAxLyBFcGlzb2RlIDcgXCJMb3ZlIG9yIExpZXMhXCIgLSBSZWNhcC8gUmV2aWV3ICh3aXRoIFNwb2lsZXJzKSIsInVybCI6IiIsImltYWdlX2lkIjoxNzYxMSwiaW1hZ2VfdXJsIjoiaHR0cHM6Ly93aGVyZXZlci1pLWxvb2suY29tL3dwLWNvbnRlbnQvdXBsb2Fkcy8yMDE4LzAyL0NpdHJ1cy1TZWFzb24tMS1FcGlzb2RlLTctTG92ZS1vci1MaWVzLUhhcnVtaW4ucG5nIiwidGl0bGUiOiJDaXRydXM6IFNlYXNvbiAxLyBFcGlzb2RlIDcgXCJMb3ZlIG9yIExpZXMhXCIgLSBSZWNhcC8gUmV2aWV3ICh3aXRoIFNwb2lsZXJzKSIsInN1bW1hcnkiOiJBcyBNZWkgY29udGludWVzIHRvIGJlIHZlcnkgaG90IGFuZCBjb2xkLCBzaGUgaXMgcHJlc2VudGVkIHdpdGggYSBjaGFsbGVuZ2VyIGluIHRoZSBmb3JtIG9mIE1hdHN1cmkuIiwidGVtcGxhdGUiOiJkZWZhdWx0In0="]