The back and forth continues as Mei deals with feeling rejected and Yuzu seeks out a new character to understand her feelings better.
---
Network
Crunchyroll
Director(s)
Takeo Takahashi
Writer(s)
Naoki Hayashi
Air Date
3/10/18
Characters Introduced
Nina
Rei Matsuzaki
Sara
Hisako Kanemoto
A New Friend: Sara, Mei, Yuzu
It's late January and after rejecting Mei's sexual advances at Christmas, she has become quite distant from Yuzu. To the point that, on the day of a class trip, Mei doesn't even wake up Yuzu. She leaves her to be late, as expected. Leaving Mei taken back and sort of questioning what is going on. Making for her chance meeting with Sara, someone whose preoccupation with buying a trinket for her sister, also made her late for her class trip.
And while their bond begins over both being bad with time, it evolves as Sara notes she is openly bi-sexual or simply attracted to people no matter what their gender identity. Now, being that Yuzu comes from a school which has homosexual relationships, but they are very hush-hush, someone being so open, not even whispering, about it is shocking. Yet, at the same time, this openness is alluring. Not in a romantic or sexual way, but it puts Sara on a sage like pedestal for her being able to reach that type of confidence to openly say she is into the same sex with someone she just met.
Leading to Yuzu pushing out the words that she likes Mei, without beating around the bush, and slowly getting comfortable with it.
Commentary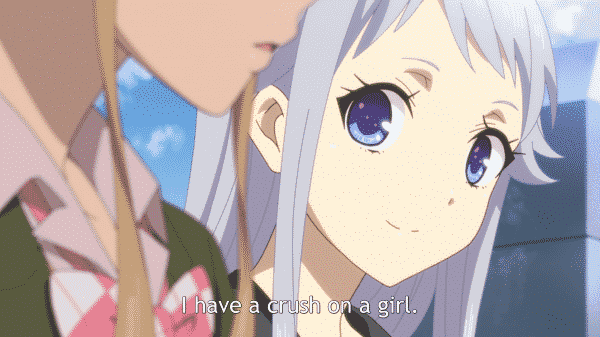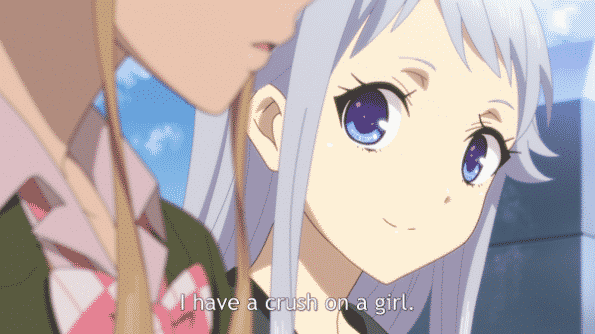 There is always talk about how much representation matters. That and finding your community. In pretty much any LGBT movie or show, the person's life doesn't truly begin until they find someone like them who has taken that journey of self-acceptance and, with some scars and perhaps bruises, made it – or is at least further ahead. I think that is where Yuzu is on her journey. When it comes to Mei, she is still navigating the idea of liking a woman and though she has feelings for her, there are is the issue that they are step sisters, women, how aggressive Mei can be, and also Mei being a bit like a light switch. Either she is on, vulnerable, and a bit aggressive, or else she is cold, closed off, and distant. There isn't a middle ground to navigate and be comfortable in. You are either all in or seen as playing games.
So while Sara may not say much, considering how excited she is about a new crush, it gives hope. She may not talk about an ex or dive into that, but it is implied with the hope she has for what could be between her and another girl, happiness is possible. Which, in a way, is what confirmation Yuzu needs.
Pre-Written Destiny vs. Paths Chosen Leading To One Fate: Sara, Mei, Yuzu, Nina, Harumin
Despite Yuzu not showing up, according to Harumin, Mei isn't asking questions or worried at all. Which is sort of troubling for Yuzu but with making a new friend out of Sara, and her tall as hell fraternal twin Nina, her mind isn't fully on this worry. Speaking of Nina and Sara, like Yuzu, they get yelled at for being late but with Sara being late she gets to set her eyes on Mei – again. Leading us to learn she figures Mei is her destiny and after meeting at the train station when she and Nina were lost, and now at the hotel, believe me when I say she isn't going to let her get away easily.
Though, later on, as Nina is looking for the present Sara got her, which she lost, she comes across Yuzu and Mei talking about that Christmas and what has happened since. And while there are no Matsuri level kind of details, it becomes clear to Nina what is going on and that Mei definitely is on the outs with Yuzu at the moment.
Commentary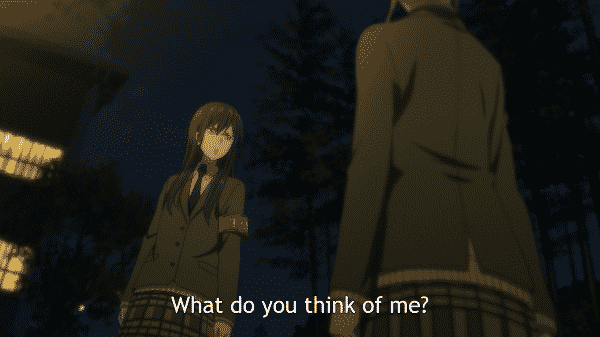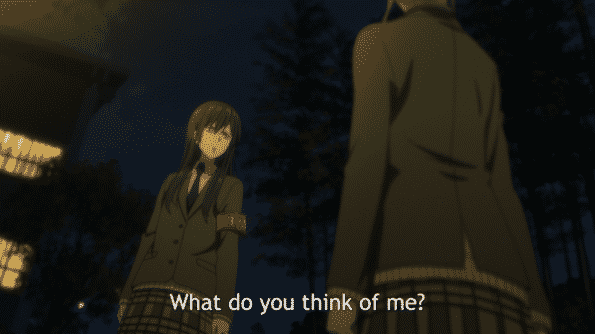 So, we go from Himeko being the third party to Matsuri and now it will be Sara to finish off the season I assume? With Himeko and Matsuri's purpose being showing the childhoods of our two leads, I wonder what Sara may bring out of one or both. The idea that a homosexual relationship doesn't have to be bound to secrets and can be an open affair? Much less, it could work between two women if they are open, communicate, and willing to adapt to each other's needs and personality?
While I generally don't enjoy love triangles, I must admit this one maybe one of the few which seems like it may push the story forward in a positive manner. Even as it causes some drama.
Highlights
Sara giving Yuzu a sense of community and representation that being queer and happy in a homosexual relationship could be possible.
---
Follow Wherever I Look on Twitter or Like us on Facebook.
---
Previous Episode's Recap
[visual-link-preview encoded="eyJ0eXBlIjoiaW50ZXJuYWwiLCJwb3N0IjoxODAwMCwicG9zdF9sYWJlbCI6IlBvc3QgMTgwMDAgLSBDaXRydXM6IFNlYXNvbiAxLyBFcGlzb2RlIDkgXCJMb3ZlIElzXCIgLSBSZWNhcC8gUmV2aWV3ICh3aXRoIFNwb2lsZXJzKSIsInVybCI6IiIsImltYWdlX2lkIjoxODAwMiwiaW1hZ2VfdXJsIjoiaHR0cHM6Ly93aGVyZXZlci1pLWxvb2suY29tL3dwLWNvbnRlbnQvdXBsb2Fkcy8yMDE4LzAzL0NpdHJ1cy1TZWFzb24tMS1FcGlzb2RlLTktTG92ZS1Jcy1DYWtlLnBuZyIsInRpdGxlIjoiQ2l0cnVzOiBTZWFzb24gMS8gRXBpc29kZSA5IFwiTG92ZSBJc1wiIC0gUmVjYXAvIFJldmlldyAod2l0aCBTcG9pbGVycykiLCJzdW1tYXJ5IjoiTWF0c3VyaSBhbmQgTWVpIGhhdmUgdGhlaXIgZmluYWwgYmF0dGxlIGFuZCBZdXp1IGVuZHMgdXAgYmVpbmcgdGhlIGRlY2lkaW5nIGZhY3Rvci4iLCJ0ZW1wbGF0ZSI6ImRlZmF1bHQifQ=="]