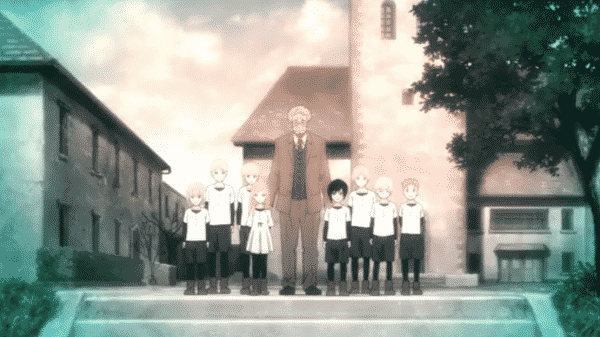 |
Kuzu finally meets the girl he has long been waiting for, and we get a background on the Market Makers.
---
Network
Netflix
Director(s)
Kazuto Nakazawa, Yoshiki Yamakawa
Writer(s)
Katsuya Ishida
Air Date
3/2/2018
The Illustrious Past & Uncertain Future of Keith Flick: Boris, Lily, Gil, Keith
It seems Keith has truly had the finger pointed at him for Jean's death, and naturally, this has led to a warrant for his arrest. However, with Boris and Gil knowing Keith for a long time, Gil since they attended boarding school, they roll their eyes at the accusations. As for Lily, she doesn't believe it just on her understanding of Keith. Which, with the way Gil talks about him, it makes her feel solid in the belief that he is innocent.
But, there is a reason to see Keith as a little bit unhinged. After all, the reasons why Keith was sent to archives, 8 – 10 years ago, depending on who asks, was because he decided to abduct and torture a murder suspect. So, while Keith may seem innocent, at the same time it isn't like those who don't know him well have no reason to suspect him.
Commentary
As the show just drops information on us, I hope this girl who Lily reminds people of becomes the next big reveal. Especially since the show outright calls Keith "exceedingly dull" and makes him live up to that. So seeing him go crazy as much as the Market Makers could be a silver lining for a, thus far, disappointing program.
Some Background on the Market Makers & Kuku: Keith, Kuku
Being that Keith holds all the information Kuku wants, he decides the rooftop isn't the place for a proper conversation. Instead, he has them meet at a fairly remote temple where he basically lays out the entire history of the Market Makers and Kuku. To sum it all up, things began with the discovery of 13 skeletons towards the end of the 16th century which supposedly were fossils of gods.
Now, with this in mind, and the kingdom kind of destitute, this was marketed as something big and they needed donations to pursue this project. Thus leading to the Jaula Blanca Institute and the birth of the "Promising Ones" who became the Market Makers. They, thanks to the corruption of the people hired, were basically abominations made in an inbreeding program and, as time went on, and the corruption became known enough where incoming donations were threatened, they went from being locked up to used. Very much so in the way they are now. They cause chaos, but only enough so that government forces can clean it up easily.
However, then came Dr. Kazama, Keith's father, who, despite the corruption and everything going on, actually led to the birth of god-like creatures. Of which Koku was one and maybe Yuna another? In total, there seemingly were 13 beings with Koku the last made and, based on Keith's journal, 6 through 12 are dead. Now, as for whether the ones before 6 are Minatsuki, the twins, Izanami, Kamui, Laica, and Yuna? That is hard to say. Though, considering the Promising Ones are shown to be Minatsuki and Kamui, perhaps the older ones of the Market Makers shouldn't be in consideration for the possibly first 5.
Commentary
There is something weird, and awful in a way, with how a show can give you such important information and yet it seems so hunch worthy. And, again, I want to say it is because this show wasn't written to be binge-watched. For, in my mind, most of Netflix's shows aren't designed to be consumed like a ridiculously long movie. This show, in particular, I think would be more likable if it was released like Violet Evergarden, since then the cliffhangers would mean something, and you wouldn't get this pestering feeling that the show is longer than it needs to be.
But, let's be honest, we just learned the background of the villains in one huge montage. This is a 12 episode show. Are you telling me there is going to be something so interesting in the next 6 episodes, that throwing away diving deep into the villains won't be necessary? Especially considering there was at least 2 – 3 episodes of possibly quality material flown through.
Reunited In Blood: Minatsuki, Koku, Yuna, Keith
No sooner than Koku's story is finished does Yuna show up and face off with Koku. Meanwhile, in the background, Minatsuki just watches and is entertained by all that is happening. As for Keith, he watches too, kind of wants to stop them, but at the same time would prefer not to be killed. Making it so Koku damn near kills Yuna, especially since she has a mask on for most of the fight, but when he sees her face he stops. But, that doesn't stop Yuna for it seems, similar to how we were told Jean's memories were altered, so were Yuna's. All she sees is a being who stole an eye, a hand, a leg, and the lives of all her friends. She doesn't see Koku.
However, once the spell breaks and Yuna realizes who she stabbed, they embrace. Leading to Minatsuki to sweep in and have a Sephiroth kind of moment, but this time it being a two for one special.
Commentary
With it being noted people's memories were changed, so comes the question of were Izanami's. For she was the only one who seemed "woke" in the sense of knowing who she was. But, could it have actually been she was given Yuna's memories to try to bring Koku in? Also, there comes the question of who brainwashed them and whether Koku is truly the one who killed the other members of the 13? We know Yuna is four and him 13, but who are the rest?
Also, how do the "Promising Ones" feel about the 13? Are they seen as younger siblings, rivals, or spare tools for them? I ask this since Yuna has seemed like she had some sort of relationship with Minatsuki yet he slayed her without prejudice.
Question(s) Left Unanswered
What was the inscription Keith deciphered at 12 about?
Highlights
The Yuna and Koku moment, when she realized who he was, was cute.
Low Points
It almost seems like they wasted a good few potential episodes by rushing through the background of the Promising Ones as well as the kids who made up the 13.
On The Fence
Minatsuki killing Yuna, and stabbing Koku, who seemingly has healing powers, could possibly bring some interest to things. But, I have said that before about other topics and have been mistaken.


---
Follow Wherever I Look on Twitter or Like us on Facebook.
---
Previous Episode's Recap
[visual-link-preview encoded="eyJ0eXBlIjoiaW50ZXJuYWwiLCJwb3N0IjoxODAzNSwicG9zdF9sYWJlbCI6IlBvc3QgMTgwMzUgLSBCIC0gVGhlIEJlZ2lubmluZzogU2Vhc29uIDEvIEVwaXNvZGUgNSAtIFJlY2FwLyBSZXZpZXcgKHdpdGggU3BvaWxlcnMpIiwidXJsIjoiIiwiaW1hZ2VfaWQiOjE4MDM5LCJpbWFnZV91cmwiOiJodHRwczovL3doZXJldmVyLWktbG9vay5jb20vd3AtY29udGVudC91cGxvYWRzLzIwMTgvMDMvQi1UaGUtQmVnaW5uaW5nLVNlYXNvbi0xLUVwaXNvZGUtNS1LZWl0aC5wbmciLCJ0aXRsZSI6IkIgLSBUaGUgQmVnaW5uaW5nOiBTZWFzb24gMS8gRXBpc29kZSA1IC0gUmVjYXAvIFJldmlldyAod2l0aCBTcG9pbGVycykiLCJzdW1tYXJ5IjoiV2hpbGUgS2FtdWkgZ29lcyBtYWQgYW5kIHdlIGxlYXJuIHRoZXJlIGlzIGEgbW9sZSBpbiB0aGUgUklTLCBLb2t1IGFuZCBLZWl0aCBmaW5hbGx5IGNvbWUgZmFjZSB0byBmYWNlLiIsInRlbXBsYXRlIjoiZGVmYXVsdCJ9″]