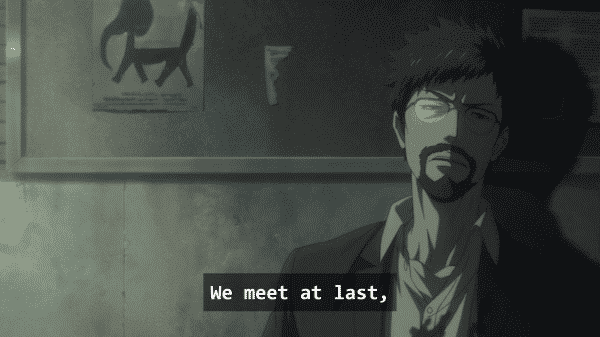 |
While Kamui goes mad and we learn there is a mole in the RIS, Koku and Keith finally come face to face.
---
Network
Netflix
Director(s)
Kazuto Nakazawa, Yoshiki Yamakawa
Writer(s)
Katsuya Ishida
Air Date
3/2/2018
Characters Introduced
Laica
Yu Kitada
Yuna
Satomi Sato
Jean
Atsushi Goto
Gil
Toshiyuki Morikawa
Can't Trust Nothing With No One: Minatsuki, Laica, Yuna, Kamui, Lily, Boris, Mario, Keith, Eric
With Bran living through his attack, RIS is on high alert but with Eric telling Mario, Boris, Keith and the rest to stand down, it raises some red flags. Especially since it is believed the attack was internal since there is a bit of a cover-up involved. Something that gets confirmed to us as Minatsuki, Laica, Yuna, Kamui, and this set of twins are in conversation.
During this, It shows that trust within the group is dwindling as Kamui needs more ampules than ever and Yuna, who seemingly has beef with Kamui, damn near gets in a fight with him over his consumption. Leading Minatsuki to step in and just ask Kamui to handle the Bran situation which he has Laica join just because Kamui seems to be unraveling.
Commentary
You know how I know this show is going to be a slight struggle to get through, I'm still trying to remember who is who and we just now got to learn the name of all but two of our villains. And honestly, this whole idea of there being a mole in the RIS, it just didn't inspire any real sort of reaction. Primarily because, outside of Boris, Lily, and Keith, I feel like I know so little about the rest that them turning out to be a villain wouldn't be shocking at all. They all seem like they could be hiding some clown makeup and madness.
Speaking of madness, what exactly does the gold ampules do and how come Koku doesn't need it? Does it keep these people in control? Thus far, only the two of the Market Makers who have died, and Kamui, seemingly have lost their damn minds or have taken things too far. What about the rest?
Liability Confirmed: Kamui, Laica
With us seeing Kamui lose it when he doesn't get a ampules dose, and then go straight up made, we see what perhaps happens to the members of Market Makers without the ampules. Now, whether it is like a drug addict without a fix or something which keeps them sane, again we don't know. All we know is Laica keeps Kamui from going too far and with the showing of the emblem on his hand, the cops who discover what Kamui and Laica did only salute and play clean-up crew.
Commentary
Kamui going notes isn't as noteworthy as the cops stopping in their tracks and cleaning up their mess. Leading to the question of whether, between the Market Makers, their boss, or maybe another party, who is paying off the cops to keep them fairly well protected? Since they clearly have a rather large network letting them get away with what they do. It's just, for whatever reason, they didn't as deeply infiltrate the RIS to let them get away with their plans as they have other departments.
A Setup: Keith, Jean, Lily, Koku, Bran, Kaela
From what it seems, Bran knew he as going to be attacked so his laptop and a watch were left behind as clues. Kaela gets the laptop and with Lily, they get to understand Bran's discovery of the program Minatsuki, or one of the members of his team, made. As for Keith, the way Bran's watch was left apparently became the code for JHR and Keith figures this out basically within hours. Leading him to discover Jean trying to finish off what he started but being stopped by Keith.
But, rather than be taken in, Jean slits his own throat and then Koku comes in behind and takes Keith to the roof for a chat. Later on, Lily discovers Jean and he seemingly tries to frame Keith, but with Lily talking a mile a minute, it seems she doesn't hear him.
Commentary
Not knowing Jean that well made him being the mole lack any real meaning. Plus, the whole JHR watch thing wasn't made to be that impressive. For while they try to make Keith sound like a curmudgeon kind of Sherlock Holmes, his lack of presence, charisma, or what have you, makes it so he is written to be more interesting than he actually is. Even when you include the death of some girl he knew, his knowledge of Koku, and his illustrious career.
Other Noteworthy Facts & Moments
Gil is the name of Keith's doctor friend.
Question(s) Left Unanswered
Why is Koku called 13 by Keith? Are there at least 13 people like him?
Did we see all the members of the Market Makers that are still alive?
Low Points
The whole mole in RIS thing seems like something which should have been made into a bigger deal but instead was made to be open and shut in one episode.
On The Fence
We know the names of more members of the Market Makers. Unfortunately, we don't really see them do much but bicker and Kamui go nuts, but at least there is some progress there.
Keith and Koku finally come face to face, so maybe Keith can reveal something about Koku we don't know. Maybe even something about himself.


---
Follow Wherever I Look on Twitter or Like us on Facebook.
---
Previous Episode's Recap
[visual-link-preview encoded="eyJ0eXBlIjoiaW50ZXJuYWwiLCJwb3N0IjoxODAyOCwicG9zdF9sYWJlbCI6IlBvc3QgMTgwMjggLSBCIC0gVGhlIEJlZ2lubmluZzogU2Vhc29uIDEvIEVwaXNvZGUgNCAtIFJlY2FwLyBSZXZpZXcgKHdpdGggU3BvaWxlcnMpIiwidXJsIjoiIiwiaW1hZ2VfaWQiOjE4MDMxLCJpbWFnZV91cmwiOiJodHRwczovL3doZXJldmVyLWktbG9vay5jb20vd3AtY29udGVudC91cGxvYWRzLzIwMTgvMDMvQi1UaGUtQmVnaW5uaW5nLVNlYXNvbi0xLUVwaXNvZGUtNC1CLXN5bWJvbC5wbmciLCJ0aXRsZSI6IkIgLSBUaGUgQmVnaW5uaW5nOiBTZWFzb24gMS8gRXBpc29kZSA0IC0gUmVjYXAvIFJldmlldyAod2l0aCBTcG9pbGVycykiLCJzdW1tYXJ5IjoiQXMgTGlseSBkcm93bnMgdXMgaW4gdGhlIHR5cGUgb2YgdGhlb3J5IHdoaWNoIHJlcXVpcmVzIHlvdSByZWFsbHkgYmVpbmcgaW50byB0aGUgc2hvdyB0byBnZXQsIEtlaXRoIGRlYWxzIHdpdGggQm9yaXMgZGVjaWRpbmcgaGUgbmVlZHMgdG8gYmUgbW9yZSBzb2NpYWwuIiwidGVtcGxhdGUiOiJkZWZhdWx0In0="]