Angels of Death is on its way to becoming a disappointment as it delivers another lackluster episode.
---
Network
Crunchyroll
Director(s)
Kentarou Suzuki
Writer(s)
Yoshinobu Fujioka
Air Date
7/20/2018
Actors Introduced
Eddie
Fujiwara Natsumi
RIP Eddie: Eddie, Zach, Rachel
Long story short, Eddie wants to kill Rachel and being that Rachel wants to die, but made a promise to Zach, she feels torn. That is, until Zach swears to God he will kill her and that seals the deal. From there, they partner up against Eddie and Rachel makes it where Eddie can't hide in the shadows anymore. Thus leading to Zach killing him with his scythe, Rachel finding the elevator, and them making their way to B3.
Commentary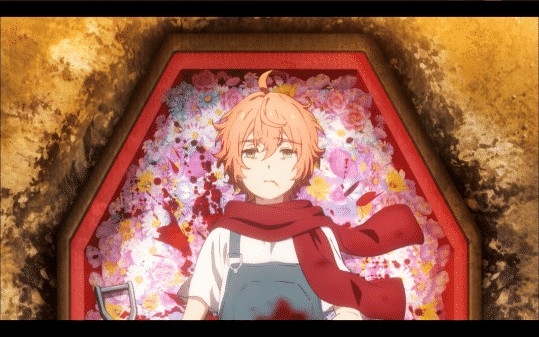 This show has replicated a problem it seems most violent anime have. It has nothing to follow up its gruesome introduction. Rachel, and why she is in this building's basement, isn't being developed in such a way to inspire interest. Zach's backstory and character are way too campy to take seriously, and it destroys any sense of fear you might have, and when it comes to the floor owners, we have three in a row which have been a bit disappointing.
Leaving me to wonder if this show could recover or is it time to close up shop now?
Question(s) Left Unanswered
There were cameras and speakers in Eddie's elevator going upstairs. Does this mean he wasn't using them to watch and speak to Rachel? Could it be the floor psychopath have access to both, or at least the video?
Low Points
Eddie, like Zach, came off very simple. He was crazy for the sake of being crazy and there weren't any layers to him.
Rachel being dead in the eyes, wishful for death, but too religious for suicide brings about the need for questioning looks. She is so religious she won't kill herself, takes someone swearing to God they'd kill her as a sacred promise and yet, despite her faith, is fine with dying by a murderer's hands?
This whole building and punishment system isn't being built upon as a backbone for the show.
Follow Wherever I Look on Twitter, Like us on Facebook and Subscribe to the YouTube Channel.
---
Previous Episode's Recap
[visual-link-preview encoded="eyJ0eXBlIjoiaW50ZXJuYWwiLCJwb3N0IjoyNDM0OSwicG9zdF9sYWJlbCI6IlBvc3QgMjQzNDkgLSBBbmdlbHMgb2YgRGVhdGg6IFNlYXNvbiAxLyBFcGlzb2RlIDIgXCJZb3VyIEdyYXZlIElzIE5vdCBIZXJlXCIgLSBSZWNhcC8gUmV2aWV3ICh3aXRoIFNwb2lsZXJzKSIsInVybCI6IiIsImltYWdlX2lkIjoyNDM1MSwiaW1hZ2VfdXJsIjoiaHR0cHM6Ly93aGVyZXZlci1pLWxvb2suY29tL3dwLWNvbnRlbnQvdXBsb2Fkcy8yMDE4LzA3L0FuZ2Vscy1vZi1EZWF0aC1TZWFzb24tMS1aYWNoLnBuZyIsInRpdGxlIjoiQW5nZWxzIG9mIERlYXRoOiBTZWFzb24gMS8gRXBpc29kZSAyIFwiWW91ciBHcmF2ZSBJcyBOb3QgSGVyZVwiIC0gUmVjYXAvIFJldmlldyAod2l0aCBTcG9pbGVycykiLCJzdW1tYXJ5IjoiQXMgWmFjaCBhbmQgUmFjaGVsIHJlYWNoIGEgbmV3IGZsb29yLCB0aGV5IGJlZ2luIHRvIGJvbmQgYW5kIHdlIGdldCB0byBsZWFybiBhYm91dCBaYWNoIChha2EgSXNhYWMpLiIsInRlbXBsYXRlIjoiZGVmYXVsdCJ9″]