Andi Mack: Season 2/ Episode 25 "The Cake That Takes The Cake" [Season Finale] – Recap/ Review (with Spoilers)
The season ends on a friggin cliffhanger and, on top of that, a situation we're all too familiar with when it comes to Cyrus.
---
Network
Disney Channel
Director(s)
Paul Hoen
Writer(s)
Terri Minsky
Air Date
8/13/2018
Why Can't We Be Friends?: TJ, Buffy, Cyrus
Being that Cyrus got Buffy and Amber to become friends, now comes the real challenge – Buffy and TJ. Which has its first hang up thanks to Buffy saying she wasn't going to rejoin the basketball team. So, because challenges are the way to Buffy's heart, Cyrus sets up a one on one – which naturally Buffy wins. Leading to the reveal that she isn't joining the team again because she made her own. A team just for girls!
But, even with this new team, and TJ not being a sore loser, friendship seems far off. That is, until TJ raps what isn't an apology but does recognize what he did and how talented Buffy is. Leading to them being cool now and seemingly both Cyrus and Buffy having a crush on TJ.
Commentary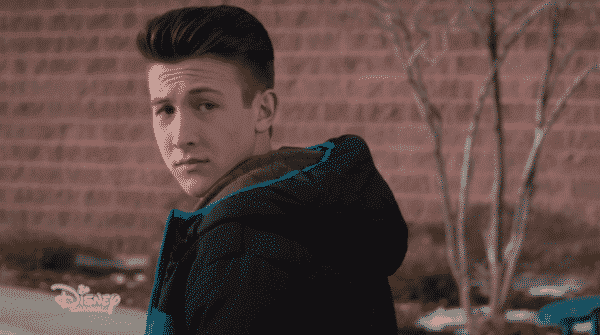 I SWEAR TO YOU I THOUGHT MARTY WAS WALKING UP BEFORE TJ WAS REVEALED! Yes, I am fine with Walker being plan b, but you better believe Walker would be sent packing if Marty would just show up. Yet, now Terri Minsky and Disney are just messing with us. Why? What is so wrong with Marty dumping his girlfriend and being with Buffy? Andi and Jonah had to deal with Jonah being with someone else, emotional immaturity, and even got the adults to intervene!
I need closure and the way they ended things was nonsense. I really would prefer to use a string of curse words but I don't know who might stumble on this post.
Can Bowie Really Have It All?: Andi, Bowie, Bex, Celia
It's time to propose and with Andi having the ring, helping Bex cook, and Celia sent to a hotel, it seems everything is in place. That is until Bowie's old band, the Renaissance Boys, ask Bowie to go on a 6-month international tour. This is before Bex gets to propose. Leading her to not wanna propose for she feels, knows, he'd not go on tour if she did. Yet, Andi says he would, if they encouraged him to, and Celia notes that he might find someone on tour.
Leaving us with Bowie finding the ring, asking what is it about, since it is found in a cake, and Bex not being able to say anything.
Commentary
There is no satisfaction in this episode. Well, Buffy starting a girls basketball team, but in terms of storylines already established – we get nothing. Jonah's song being partly, maybe mostly, crafted by Bowie? Not revealed. Bex proposing to Bowie and us getting an answer? Nope. Marty showing up? Nah. The official opening of the salon? Negative.
Instead, what we get is what feels more so like a mid-season finale. And while I get that this is a kids' show, Andi Mack broke ground for Disney. Making it hard to not wonder what standard it should be held to. Should I look at it like a G rated Freeform show? Considering all the drama and the fact this started with two people having a kid out of wedlock? Or maybe like old school Disney shows but with a looser chain on what topics will pop up? On top of there being a consistent narrative?
Either way, I feel like there should be one more episode because this barely felt like a season finale. Outside of the Bowie thing, everything else felt a bit anti-climactic. What's your say?
Question(s) Left Unanswered
Was Bowie even maintaining contact with The Renaissance boys?
Is Buffy getting to finish out the school year, or just middle school, at her old school? I assume with her being around an hour away, by car, she has to be in a new district.
Seriously, where is Marty?
On The Fence
There was no closure with this finale. It was all about setting up stuff for the next season. Be it Cyrus' next crush, whether Bowie would accept the proposal, and will this crush stick for Buffy? Because, at this point, she just seems at the early stages of becoming boy crazy.
Follow Wherever I Look on Twitter, Like us on Facebook and Subscribe to the YouTube Channel.
---
Previous Episode's Recap
[visual-link-preview encoded="eyJ0eXBlIjoiaW50ZXJuYWwiLCJwb3N0IjoyNTI0MiwicG9zdF9sYWJlbCI6IlBvc3QgMjUyNDIgLSBBbmRpIE1hY2s6IFNlYXNvbiAyLyBFcGlzb2RlIDI0IFwiV2UncmUgT24gQ2xvdWQgVGVuXCIgLSBSZWNhcC8gUmV2aWV3ICh3aXRoIFNwb2lsZXJzKSIsInVybCI6IiIsImltYWdlX2lkIjoyNTI0MywiaW1hZ2VfdXJsIjoiaHR0cHM6Ly93aGVyZXZlci1pLWxvb2suY29tL3dwLWNvbnRlbnQvdXBsb2Fkcy8yMDE4LzA4L0FuZGktTWFjay1TZWFzb24tMi1FcGlzb2RlLTI0LVdlcmUtT24tQ2xvdWQtVGVuLUJleC1hbmQtQW5kaS5wbmciLCJ0aXRsZSI6IkFuZGkgTWFjazogU2Vhc29uIDIvIEVwaXNvZGUgMjQgXCJXZSdyZSBPbiBDbG91ZCBUZW5cIiAtIFJlY2FwLyBSZXZpZXcgKHdpdGggU3BvaWxlcnMpIiwic3VtbWFyeSI6IldoaWxlIEpvbmFoIGNvbnRpbnVlcyB0byBzaG93IGhlIGhhcyBhIGNvbW11bmljYXRpb24gcHJvYmxlbSwgYW5kIEN5cnVzIG1heSBoYXZlIGEgZnV0dXJlIGFzIGEgdGhlcmFwaXN0LCBCZXggaGFzIGJpZyBuZXdzISIsInRlbXBsYXRlIjoiZGVmYXVsdCJ9″]
---
---
---