Andi Mack: Season 2/ Episode 22 "Keep a Lid On It" – Recap/ Review (with Spoilers)
---
Community Rating: 0.00% (0) - No Community Ratings Submitted (Add Yours Below)
---
This post may contain affiliate links and spoilers. Please read our disclosure policy.
---
Buffy's return doesn't come without a catch. For it seems she is going to bring to the show what Cyrus didn't.
---
Network
Disney Channel
Director(s)
Joe Menendez
Writer(s)
Joanne Lee
Air Date
7/30/2018
Guess Who's Back And Better Than Ever: Buffy, Andi, Cyrus
Long story short, because of budget cuts, rather than moving far away, now Buffy is just an hour away. However, whether that means she'll still start a new school or not, that isn't clear. Much less, maybe she won't be in the same middle but could be in the same high school.
Commentary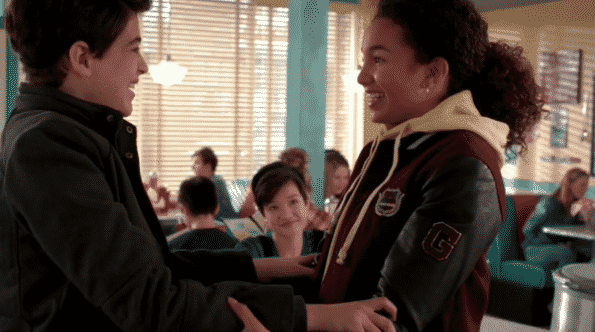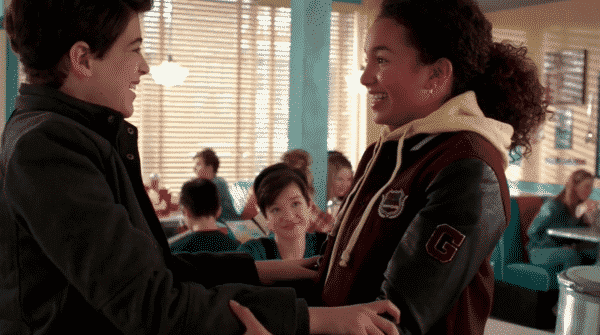 I feel a certain type of way about this tease. Between Sofia Wylie's Instagram post and Buffy just going *poof* I was in my feelings. So that all being a ruse has given me some trust issues. Because that kind of storyline seems drastic and mean.
The End of One Crush: Marty, Andi, Cyrus, Jonah, Buffy
Two crushes end this episode. The first being Cyrus' crush on Jonah for, after being there for him during his Ultimate Elite Frisbee tryouts, his heart doesn't beat as wildly. Meaning, he is done. As for Buffy? Well, it seems with Andi revealing Marty has a girlfriend (which means I'll be crying in a corner somewhere), she is over that crush.
Commentary
Cue the rain and thunderclouds for I'm crushed. Marty x Buffy never really got a chance but Andi and Jonah got to do how many rounds? Mid-key, I kind of wished Buffy would have left than this open the door for this news to come about. But let me stop being dramatic. For with one door closing another opens and I do hope with Cyrus over Jonah it means a crush on TJ. Would that be too much to ask since the real OTP was written off with a handful of lines?
The Beginning of the Next/ Becoming Official: Andi, Cyrus, Jonah, Buffy, Bex
So, Andi, with Bex's help, finds the bracelet Jonah returned when Andi was getting too serious. Which he now accepts and thus seals the fact they are now dating. Problem is with that, Buffy confides to Cyrus that now she likes Jonah… Can you hear me yell "WHY?!" from where you are reading this?
Commentary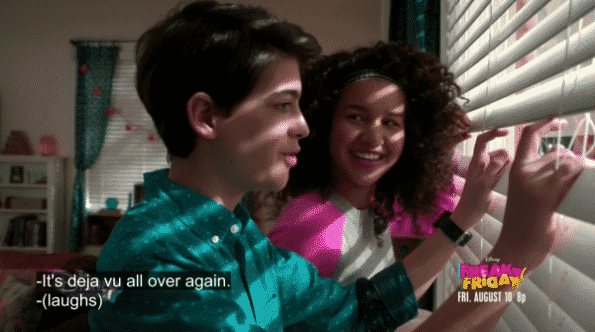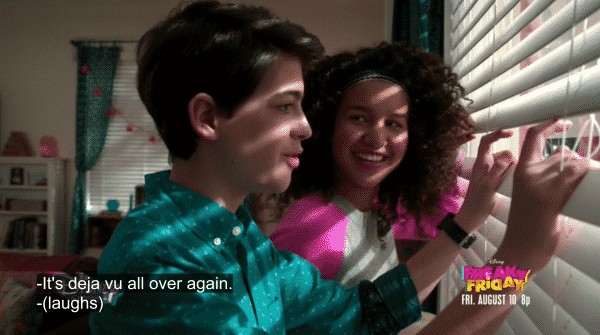 Now I'm serious. They could have kept Buffy wherever she was supposed to go. Her having a crush on Jonah? Really? Granted, they could downplay this like they did Cyrus' crush but let's be real – they were not going to push Cyrus' feelings for Jonah that strong. They already took a leap having a character with homosexual feelings. Him actually experiencing reciprocity would have been the biggest shock in Disney history.
But Buffy, why Buffy?! I'm starting to think the guy who played Marty must not be available anymore and thus we get slapped with this storyline. How else can you explain this? Not to pretend friends don't fall for friend's crushes or boyfriends. It happens all the time. It's just, urgh. I just wish it didn't happen to Andi Mack. I don't really know if that drama can be compelling or just be something new for Buffy to do.
Miscellaneous Commentary
Goodbye Ham?
Remember how Ham talked about traveling but thanks to Andi promising to come around more, the house didn't get sold? Well, it seems with Cece having her thing and the house quieting down, Ham is ready to kick rocks. He wants to go on a retreat and seemingly be away for a while. Which, in my mind, kind of says, "We have no idea what to do with this character so we are going to put him on ice and come back with something in season 3."
I can't say Ham will be missed, since he didn't really say or do much, but hopefully he doesn't come back talking about divorce. Though, with this Buffy x Cyrus thing, you never know. But hey, maybe Buffy may like more than Cyrus and may crush on Walker?
Hold up… See how much I care about Ham? This topic was supposed to be about him but went to being about Buffy. Bowie really took that man's relevance and left him without a paddle.
Highlights
Andi and Jonah are official and the show, with that hashtag, poked fun at the journey they had.
Cyrus has gotten over Jonah which means he can move onto someone else (TJ).
Ham being written off in a nice way. At least, at minimum, for the rest of the season.
Low Points
Buffy liking Jonah, likely getting to fully explore her jealousy, since it is a heterosexual relationship, and getting over Marty just because he has a girlfriend.
On The Fence
So, when it comes to Natalie, Walker, and the rest, do they purely exist to test Andi and Jonah's relationship? Has this show devolved into whether Andi and Jonah will last more than a week? Alongside, will Bowie and Bex ever get together?
Follow Wherever I Look on Twitter, Like us on Facebook and Subscribe to the YouTube Channel.
---
Previous Episode's Recap
[visual-link-preview encoded="eyJ0eXBlIjoiaW50ZXJuYWwiLCJwb3N0IjoyNDU2OSwicG9zdF9sYWJlbCI6IlBvc3QgMjQ1NjkgLSBBbmRpIE1hY2s6IFNlYXNvbiAyLyBFcGlzb2RlIDIxIFwiQnVmZnkgaW4gYSBCb3R0bGVcIiAtIFJlY2FwLyBSZXZpZXcgKHdpdGggU3BvaWxlcnMpIiwidXJsIjoiIiwiaW1hZ2VfaWQiOjI0NTcxLCJpbWFnZV91cmwiOiJodHRwczovL3doZXJldmVyLWktbG9vay5jb20vd3AtY29udGVudC91cGxvYWRzLzIwMTgvMDcvQW5kaS1NYWNrLVNlYXNvbi0yLUVwaXNvZGUtMjEtQW5kaXMtU25lYWtlcnMucG5nIiwidGl0bGUiOiJBbmRpIE1hY2s6IFNlYXNvbiAyLyBFcGlzb2RlIDIxIFwiQnVmZnkgaW4gYSBCb3R0bGVcIiAtIFJlY2FwLyBSZXZpZXcgKHdpdGggU3BvaWxlcnMpIiwic3VtbWFyeSI6IkFuZCB0aGUgY3ljbGUgY29udGludWVzIGFzIGNvbW11bmljYXRpb24gYmV0d2VlbiBKb25haCBhbmQgQW5kaSBsZWFkcyB0byBkcmFtYS4gTWF5YmUgZXZlbiBKb25haCBiZWluZyBhIGJpdCBwZXR0eS4iLCJ0ZW1wbGF0ZSI6ImRlZmF1bHQifQ=="]