Andi Mack: Season 2/ Episode 20 "For The Last Time" – Recap/ Review (with Spoilers)
---
Community Rating: 0.00% (0) - No Community Ratings Submitted (Add Yours Below)
---
This post may contain affiliate links and spoilers. Please read our disclosure policy.
---
We have reached it, Buffy's last day. One which she tries have sans downtrodden looks and clichés. Which Andi and Cyrus have trouble agreeing to.
---
Network
Disney Channel
Director(s)
Michelle Manning
Writer(s)
Jonathan S. Hurwitz
Air Date
7/16/2018
The Boy Trouble Isn't Completely Over: Andi, Buffy, Jonah
Despite Andi kissing Jonah, things aren't 100% sealed for them. Yes, he has made quite a bit of progress and even is quite helpful when dealing with Buffy leaving. However, just to get in one last jab, Buffy notes how it took Walker coming around for Jonah to step up. Plus, there is one major thing that could blow this whole thing up: Bowie.
Commentary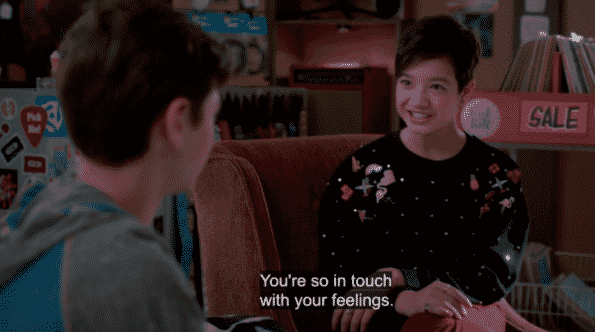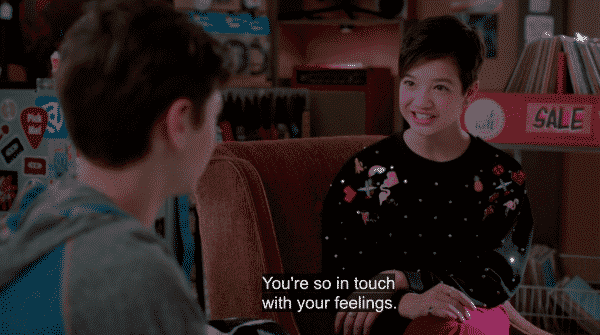 Think about it. Andi got a lot of flack from trying to meddle in her parents' relationship and look what they did. While Bowie didn't write Jonah's song word for word, I'm sure he shaped enough to make sure Andi would fall for him again. So who knows whether she may thank them for helping him express himself or maybe be upset that she can't push them together but apparently they can push her to be with someone. Even if it is complicated.
A Family Decision: Ham, Celia, Bex
Celia's decision to buy The Fringe seemingly was not impetuous – it was premeditated. You see, her idea was to turn it into a more high-class place, with Bex at the center, and this is an idea Bex can get behind. Problem is, Ham wasn't told and this is upsetting. To the point he avoids them but, thanks to them using Andi, they are able to sit him down and, being that he can't say no, he gives in.
Commentary
What did Celia do for a living again? Also, what did Ham do for a living? We see he is good with tools so was he something blue collar or is he just an old school kind of guy? On top of that, I wonder, with one of Ham's dreams being to travel more previously, how will he feel about not only the house tying them down, but now a business? For you know Celia, no matter how much she is investing in Bex, is going to let her handle the books. It's just not going to happen. So what does that mean for the things he wants or will he sacrifice that for his wife and daughter's happiness?
For The Last Time: Buffy, Andi, Cyrus, Pat
It's a hard day for the good hair crew. One Buffy really doesn't want to be as sad as Andi and Cyrus are making it, to the point she gets kind of frustrated. But how can Andi and Cyrus help it? As noted, she is the knot that binds them. She is Cyrus' best friend and Andi's as well. She brings balance to their life for while Andi and Cyrus are optimist, Buffy is a realist. Without her keeping them grounded, they'll float off into the world of naivety.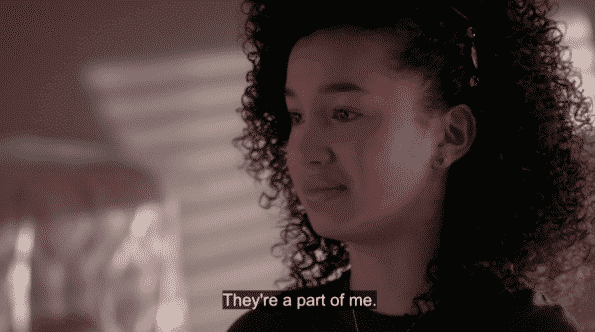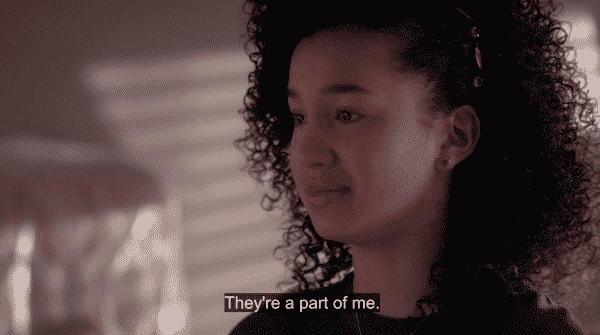 Which is why there seemingly is a decision for a quick exit. For, as Pat and Buffy talk about it, it becomes clear this is way too hard for Buffy, saying goodbye, even to the point of not telling Marty. Someone who gives Cyrus something, for a going away present, when he learns his virtual girlfriend is leaving. And while Pat tries to show it is okay to cry for she does every time she gets deployed, it seemingly is agreed she won't put her daughter through that. So be it Buffy lied when they were supposed to leave or Pat moved it up, by the time Andi and Cyrus finish arranging the perfect going away gift, the house is empty and Buffy is gone.
Commentary
My only focus is Marty saying he was her virtual boyfriend and Buffy talking about him to her mom. That wasn't closure. If anything, that was almost as disrespectful as him not being mentioned at all. But that's just my feelings because Marty x Buffy will always, even with the song, be cuter than Andi x Jonah. Plus they had less issues and were at the point Andi and Jonah are now way back in season 1.
That aside, I loved Pat and Buffy having a moment and also major props to Sofia Wylie and the writers giving her a good send off. I don't know if she is leaving the show or not but these emotional scenes make me believe she won't get stuck in a bunch of direct to the abyss movies. She has range and honestly, seems like she maybe ready to be the lead in something. With the word "maybe" only being used since while she is a quality actress, it isn't clear if she is a Meryl Streep type who can elevate writing not on her level.
Highlights
Buffy and Pat's scene dealing with crying and just Pat trying to handle not being around and it hitting like a thousand blows to the gut.
Low Points
Ham being a pushover and not pushing his frustration of not being considered further. On top of his desire to travel with his wife really seeming up and smoke now.
On The Fence
There was a Marty mention but no Marty. Which, after Andi's kiss with Jonah, is frustrating as hell.
Follow Wherever I Look on Twitter, Like us on Facebook and Subscribe to the YouTube Channel.
---
Previous Episode's Recap
[visual-link-preview encoded="eyJ0eXBlIjoiaW50ZXJuYWwiLCJwb3N0IjoyNDIzOCwicG9zdF9sYWJlbCI6IlBvc3QgMjQyMzggLSBBbmRpIE1hY2s6IFNlYXNvbiAyLyBFcGlzb2RlIDE5IFwiQW5kaSdzIENob2ljZVwiIC0gUmVjYXAvIFJldmlldyAod2l0aCBTcG9pbGVycykiLCJ1cmwiOiIiLCJpbWFnZV9pZCI6MjQyMzksImltYWdlX3VybCI6Imh0dHBzOi8vd2hlcmV2ZXItaS1sb29rLmNvbS93cC1jb250ZW50L3VwbG9hZHMvMjAxOC8wNy9BbmRpLU1hY2stU2Vhc29uLTItQnVmZnktQW5kaS1hbmQtQ3lydXMucG5nIiwidGl0bGUiOiJBbmRpIE1hY2s6IFNlYXNvbiAyLyBFcGlzb2RlIDE5IFwiQW5kaSdzIENob2ljZVwiIC0gUmVjYXAvIFJldmlldyAod2l0aCBTcG9pbGVycykiLCJzdW1tYXJ5IjoiQW5kaSBtYWtlcyBoZXIgZGVjaXNpb24gd2hlbiBpdCBjb21lcyB0byBKb25haCBhbmQgV2Fsa2VyLCBhcyBDZWxpYSB0YWtlcyB0aGUgaW5pdGlhdGl2ZSBmb3IgdGhlIHNha2Ugb2YgQmV44oCZcyBjYXJlZXIuIiwidGVtcGxhdGUiOiJkZWZhdWx0In0="]