Andi Mack: Season 2/ Episode 18 "Crime Scene: Andi Shack!" – Recap/ Reviews (with Spoilers)
While there is a short live battle between Buffy and Cyrus, a war between Bowie's past and potential future has only just begun.
---
Network
Disney Channel
Director(s)
Charles Minsky
Writer(s)
Phil Baker
Air Date
7/2/2018
Jonah's Confession: Buffy, Cyrus, Jonah
Despite Cyrus quickly announcing he'd choose his friend since 2nd grade over TJ, Buffy still decides a silent treatment is in order. Something which couldn't have come at a worse time since Jonah finds himself needing both Buffy and Cyrus for a Space Otters fundraiser. So them bickering, the fundraiser kind of not going right, and him freaking it, it gives him a panic attack scare. Thus leading him to reveal he gets them to those two.
But, in true Cyrus fashion, his support in normalizing it, by referring to when he did that school video and was sweating buckets, makes Jonah feel a bit better. Also, him revealing TJ helped with that pushes Buffy to cut her pettiness and forgive Cyrus. Especially considering TJ helped him when she wasn't there and, very soon, she will hardly be around at all.
Commentary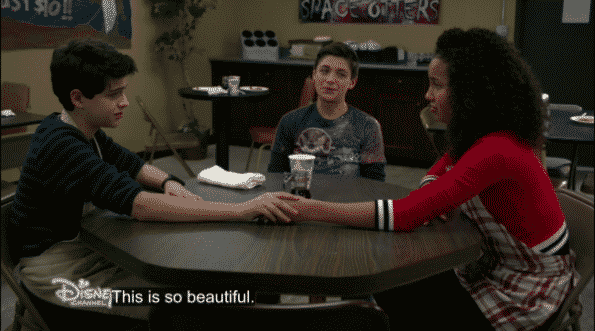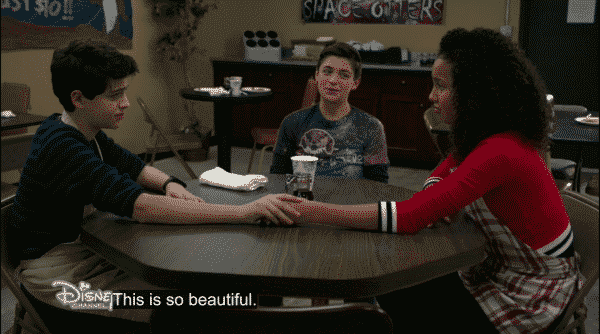 It's nice that Jonah is finally letting his secret out and that Cyrus, showing the positive effects of all his parents being therapist, helps him work through his self-imposed shame. Even brings up an example of how he too had a panic attack. But, I gotta admit, I was a tad bit surprised at Buffy.
Now, on one hand, it makes sense for her to find reasons to distance herself from Cyrus since it would make leaving easier. Yet, on the other hand, being that she has known Cyrus since the 2nd grade, and this might be his first mess up, the fact she was so hard on him surprised me. If anything, you'd think she would blame TJ for manipulating Cyrus. Maybe thinking, because Cyrus has a crush on TJ, in an act of desperation he let something slip and TJ took advantage of it. But maybe I give Buffy a bit too much credit? If just because, often she seems like the mature one.
However, as shown by her relationship with Marty, while she is a certain level of mature she is still getting a hold on her emotions. Both in terms of expressing them and learning how to decipher them. Something much more difficult than pointing out Andi and Jonah not being ready date and trying to be to Cyrus what he often is for her.
The Miranda/Morgan Problem: Morgan, Miranda, Bowie, Bex, Andi
Being that Bowie is seeing Miranda, naturally, he wants his ex, Andi, Miranda, and Morgan to get along. They, collectively, are his girls. The problem is, Andi hasn't necessarily wrapped her head around Bowie dating someone other than Bex, much less having to share him with another kid. Making Bowie coercing Andi to hang out with Morgan, who is 7, beyond awkward.
First and foremost, what teenager wants to hang out with a 7-year-old? Babysit for money? Cool! Hangout like friends, kind of weird. But, showing she is Bowie's daughter, she tries to keep things cool and friendly. Problem is, Morgan isn't that impressed with Andi Shack and might have taken the bracelets from when Andi was born and this Tibetan prayer box. Something Andi was saving for Bex's birthday.
Now, the sole reason the word "might" is used is because, after accusations are thrown around, the box and its contents are found in a box of cranes. However, there is a need to question if maybe Miranda placed it there to save face.
Commentary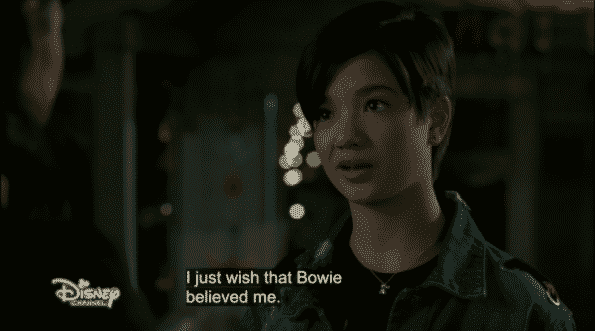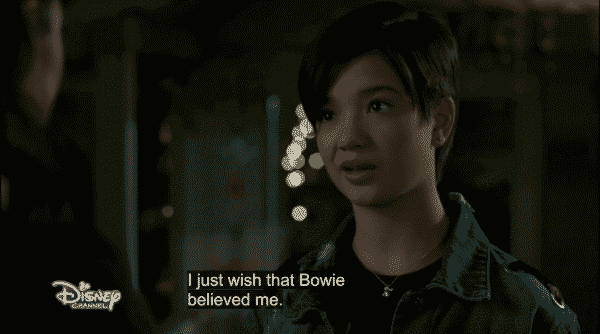 Who knew Andi Mack would feature some adult drama as much as it does for the teens. For, as of this moment, I'm 85% sure Morgan took the box and Miranda snuck it back in. Why? Well, because the relationship between her, Miranda, and Bowie is still new and with him having a kid and being rather close to his ex, that's a threat. Add on who knows how hard it is to date in that town when you have a kid, and you can kind of get why she wanted to protect Morgan and her relationship.
Yet, at the same time, there is the slightest possibility maybe Andi was wrong right? The only issue with that idea is that box falling into a bunch of cranes would mean the cranes being crushed a bit. Something Andi would have surely noticed. So all signs point towards Miranda being sneaky and considering Celia is very team #BowieXBex, Miranda better watch her back.
Question(s) Left Unanswered
I'm going to ask this every episode: Where is Marty and will he reconcile with Buffy before she leaves?
Collected Quote(s) & .Gifs
I can explain it to you, but I can't understand it for you.
Highlights
Jonah sharing he has anxiety attacks.
Buffy relinquishing this idea she has exclusive rights to Cyrus and her taking note that once she is gone, while she won't be replaced the time she took up has to be. And considering, as we often see, it is usually her and Cyrus, sans Andi, he needs to make someone his new friend. Which, while it could be Jonah, that old crush complicates that. Alongside Jonah's feelings for Andi.
On The Fence
This Miranda/Morgan drama I'm quite iffy about since it is kind of out of step with what we've seen on Andi Mack thus far. It's the adults having drama, it is kind of petty, and also complicated in ways which could make it ridiculous. Especially if Miranda really did cover for Morgan.
Follow Wherever I Look on Twitter, Like us on Facebook and Subscribe to the YouTube Channel.
Previous Episode's Recap
[visual-link-preview encoded="eyJ0eXBlIjoiaW50ZXJuYWwiLCJwb3N0IjoyMzgxNywicG9zdF9sYWJlbCI6IlBvc3QgMjM4MTcgLSBBbmRpIE1hY2s6IFNlYXNvbiAyLyBFcGlzb2RlIDE3IFwiQSBXYWxrZXIgdG8gUmVtZW1iZXJcIiAtIFJlY2FwLyBSZXZpZXcgKHdpdGggU3BvaWxlcnMpIiwidXJsIjoiIiwiaW1hZ2VfaWQiOjIzODE5LCJpbWFnZV91cmwiOiJodHRwczovL3doZXJldmVyLWktbG9vay5jb20vd3AtY29udGVudC91cGxvYWRzLzIwMTgvMDYvQW5kaS1NYWNrLVdhbGtlcnMtQXJ0LnBuZyIsInRpdGxlIjoiQW5kaSBNYWNrOiBTZWFzb24gMi8gRXBpc29kZSAxNyBcIkEgV2Fsa2VyIHRvIFJlbWVtYmVyXCIgLSBSZWNhcC8gUmV2aWV3ICh3aXRoIFNwb2lsZXJzKSIsInN1bW1hcnkiOiJXYWxrZXIgcmV0dXJucyB0byB0aGUgc2hvdyBhbmQgdGhpcyBicmluZ3MgdG8gcXVlc3Rpb24gd2hhdCBtYXkgYmVjb21lIG9mIEFuZGkgYW5kIEpvbmFoPyBBbG9uZ3NpZGUgdGhhdCwgd2UgaGF2ZSBCdWZmeSBnaXZpbmcgQ3lydXMgYW4gdWx0aW1hdHVtIHdoZW4gaXQgY29tZXMgdG8gYmVpbmcgZnJpZW5kcyB3aXRoIFRKLiIsInRlbXBsYXRlIjoiZGVmYXVsdCJ9″]