With Buffy's days numbered, Andi tries to recreate the perfect day. Which is a bit more difficult than she thought it would be.
---
Network
Disney Channel
Director(s)
Paul Hoen
Writer(s)
Erin Dunlap
Air Date
6/11/2018
The Plan Was Good, But Then The Execution: Bex, Andi, Buffy, Cyrus
With less than 10 days to go before Buffy leaves, rather than focus on making new memories, the idea here is to recreate old ones. Such as going to drink hot cider and eat pumpkin donuts. Something the group hasn't done in 5 years. As for why? Well, there isn't really an answer to that.
But, while they make it okay, afterwards they deal with their bikes being stolen, leaving their stuff in a police truck, and being lucky that Bex, based off a phone conversation, knew they were in trouble. Thus leading to more so an eventful, maybe crazy day, than the perfect day they were hoping for.
Commentary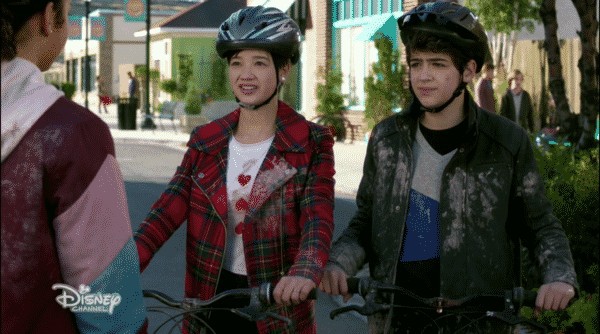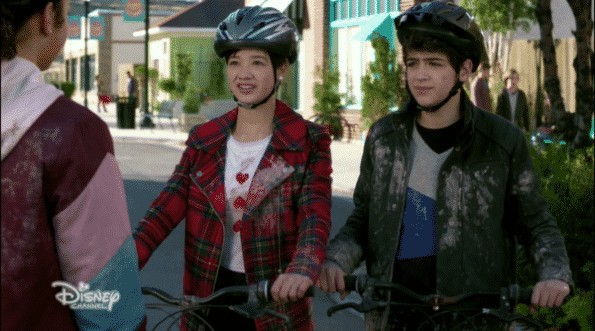 What can I say? Even Andi Mack isn't immune to filler. While this could have been a more touching walk down memory lane, it was just a sort of comical journey. Nothing wrong with that. Plus, in the long run, while the idea may have been recreating a memory, what they did was make a new one. Which hopefully doesn't just become an anecdote shared to talk about a person they all used to know.
The Healing Powers of Music: Jonah, Bowie
Jonah runs into a music store, that Bowie happens to be at, while having another panic attack. As for what triggered this one? That isn't gone into. What is though is that music, playing guitar specifically, maybe what could help Jonah deal with them. For with it being clear he isn't much for talking about it, or seeking help, he needs some sort of outlet or means of dealing with it.
Which is why Bowie offers guitar lessons. It may not solve the issue at hand but it brings Jonah peace and as an adult, Bowie likes doing that for the kid.
Commentary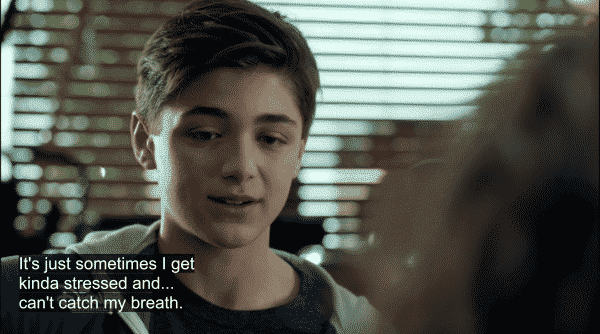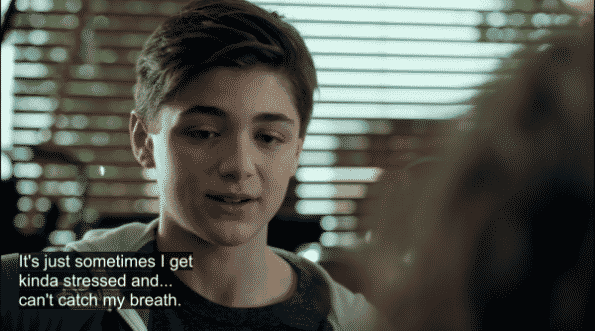 So we've met Buffy's parents, Cyrus', and now we need to meet Jonah's. Because it may not be clear how often these panic attacks are happening, but they seem to be becoming overwhelming for the dude. To the point that, sooner or later, it is going to happen at school and his desire to keep it all secret is going to fall apart. Making the possibility his parents don't know a bit of a red flag. One which hopefully Bowie fixes for while he said he won't tell Andi, between him and Cyrus' dad, hopefully, someone communicated and gave a heads up.
Question(s) Left Unanswered
Do they live in some kind of steel town? The background we see, while the kids leave the spoon, after stealing random kids' bikes, has some type of factory in the back.
On The Fence
It's Kind of An Uneventful Episode
Here is the thing about Andi Mack, most episodes have pushed the storyline forward or developed one which got put on the back burner. When it comes to "Perfect Day 2.0" though, you get the rare feeling of this program stalling. Not in the form of something like the "Shhh!" episode, but more so like it needed to burn off an episode.
Hence why the Cyrus panic attack thing takes baby steps forward and Andi and co., just go on a random adventure. One which doesn't include much nostalgia or anything like that. It's just an adventure into a park, eating, and a bit of hijinks. Above what a lot of Disney Channel shows have yet a bit below the standard Andi Mack has built up.
Here is hoping this is just a blip and not a sign of what's to come.
Follow Wherever I Look on Twitter, Like us on Facebook and Subscribe to the YouTube Channel.
---
Previous Episode's Recap
[visual-link-preview encoded="eyJ0eXBlIjoiaW50ZXJuYWwiLCJwb3N0IjoyMTQwNywicG9zdF9sYWJlbCI6IlBvc3QgMjE0MDcgLSBBbmRpIE1hY2s6IFNlYXNvbiAyLyBFcGlzb2RlIDE0IFwiQmV0dGVyIFRvIEhhdmUgV3V2dmVkIGFuZCBXb3N0XCIgLSBSZWNhcC8gUmV2aWV3ICh3aXRoIFNwb2lsZXJzKSIsInVybCI6IiIsImltYWdlX2lkIjoyMTQxMSwiaW1hZ2VfdXJsIjoiaHR0cHM6Ly93aGVyZXZlci1pLWxvb2suY29tL3dwLWNvbnRlbnQvdXBsb2Fkcy8yMDE4LzA2L0FuZGktTWFjay1Kb25haHMtR2lmdC5wbmciLCJ0aXRsZSI6IkFuZGkgTWFjazogU2Vhc29uIDIvIEVwaXNvZGUgMTQgXCJCZXR0ZXIgVG8gSGF2ZSBXdXZ2ZWQgYW5kIFdvc3RcIiAtIFJlY2FwLyBSZXZpZXcgKHdpdGggU3BvaWxlcnMpIiwic3VtbWFyeSI6IkFzIEFuZGkgbXVsbHMgb3ZlciB3aGV0aGVyIG9yIG5vdCBzaGUgd2FudHMgdG8gZGF0ZSBKb25haCBhZ2FpbiwgQnVmZnkgaGFzIGEgZGVjaXNpb24gdG8gbWFrZSB3aGljaCBjb3VsZCBjaGFuZ2UgZXZlcnl0aGluZy4iLCJ0ZW1wbGF0ZSI6ImRlZmF1bHQifQ=="]