Alone Together's future really will rest on whether or not FreeForm's audience will love, or learn to love, the character Esther.

---
Community Rating: 50.46% (2)
---
---
Network
FreeForm
Creator
Benji Aflalo, Esther Povitsky, and Eben Russell
Director(s)
Daniel Gray Longino
Writer(s)
Benji Aflalo, Esther Povitsky, and Eben Russell
Noted Cast
Esther
Esther Povitsky
Benji
Benji Aflalo
Alia
Ginger Gonzaga
Dean
Chris D'Elia
Jeff
Edgar Blackmon
---
The Introduction
Two young adults, hovering somewhere below 27, live in East Hollywood and are trying to figure out their place. Well, at least Esther is. She is a girl from Illinois who came to Hollywood seemingly to be a standup comedian. However, all that has happened thus far is her latching onto this rich kid named Benji who she low-key mooches off of. Yet, to others, like Benji's older siblings Alia and Dean, they don't see her as a mooch. In fact, they think Esther is Benji's girlfriend because of their banter and chemistry. Which is perhaps the sole reason neither one really bother her about sleeping on the couch and sort of moving in.
Yet, the truth is, Benji and Esther are just friends. In fact, Esther prefers fat guys – they make her feel pretty. Then with Benji, he likes the model types because, well him being well off is the easiest way to attempt to get in their pants. Though, with little to no game, at best he gets to first base and then strikes out.
Other Noteworthy Facts & Moments
Benji is under 5'10.
Esther is Jewish
Alia owns a major fashion company, Vindication, and found She even, because she loves her brother, lets him pretend to be the VP to get girls.
Esther apparently has student loans but it isn't confirmed if she graduated college.
This has already been renewed for a second season, per Deadline.
Question(s) Left Unanswered
How does Esther and Benji know Jeff? Is it just from the place they like to eat at or was it from school or something else?
Collected Quote(s) or .Gifs
On The Fence
The Leads Balance Each Other Out, But Esther Can Still Overpower Benji
Let me tell you off the bat, Esther seems like one the type of characters you'll either love and think is so funny or relatable, or you will absolutely hate her. Maybe even to the point of thinking this show is not at all worth your time. Which, let me say, Benji kind of balances out since he does take the occasional dig at her and their banter is rather cute. I'm talking cute enough to possibly salvage the show and make it something you may not watch during its original run, but you may DVR it on weekends or just binge it when it comes to Netflix.
So, About Benji, His Family, and Information About Them
One of the issues with the pilot, for me, is that it is very Esther heavy. Despite her living at Benji's house, trying to impress his sister, and everything seemingly revolving around what she gets out of her friendship with Benji, we barely learn about him. All we get to learn is that his family has money. His brother buys foreclosed homes and likely resells them at a mint. His sister runs a major fashion company and him? Well, all we learn is that he is waiting on a trust fund and seemingly lives off of gift cards.
We don't learn what he aspires to be, how he met Esther, or anything which could make him a true co-lead of this show. If anything, the pilot has Benji looking like the male love interest who is as thinly written as female love interest formerly were. Something which, of course, could change over time but with the show being only a half hour, though sometimes feeling like a full hour, who knows how long it may take for that change to come into effect.
First Impression: Mixed (Stick Around)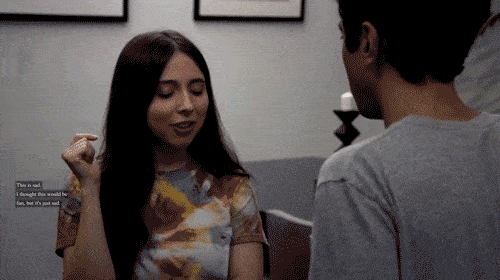 I could get into this show but I feel that me being a fan, a committed one who watches this live, really depends on if they can dial back Esther and make that character on equal footing with Benji. For on her own, she comes off annoying in the way a lot of people find certain female comics like Amy Schumer or Sarah Silverman. Which is to say, does she have an audience, a voice, and persona worth seeing on television? Yeah. It's just the audience may dwindle if it isn't figured out how to balance the nails on a chalkboard parts of her personality with the human being who we're repeatedly told has daddy issues and a whole lot of insecurities.
Watch: Here [External]
Follow Wherever I Look on Twitter or Like us on Facebook.
---