"Peek-A-Boob, Your Titty's Out"
Aired (HBOMAX)
May 12, 2023
Director(s)
Bridget Stokes
Creator/Executive Producer
Robin Thede
Head Writer(s)
Chloé Hilliard
Monique Moses
Cast
Robin Thede
Gabrielle Dennis
Skye Townsend
DaMya Gurley
Tamara Jade
Angel Laketa Moore
Recap
This content contains pertinent spoilers. Also, images and text in this post may contain affiliate links which, if a purchase is made from those sites, we may earn money or products from the company.

A Black Lady Sketch Show can be surprisingly nerdy.
Robin Thede and her merry troupe relish in over-the-top accents (like in "Rock of Shit") and scream and laugh like children on a playground (like in "Why You Ain't Say Nothing?"). Their jokes and references come so fast that sometimes you need subtitles, and sometimes those subtitles can't keep up the pace (i.e., "Front Desk Mess").
All of this is to say that one of the best aspects of "A Black Lady Sketch Show" is its unapologetic silliness. It calls back to silent comedies, and traveling theater shows while also honoring the theater geek in anyone who took a drama class. This season's penultimate episode, "Peek-A-Boob, Your Titty's Out," may be the silliest of the season, and I admire the commitment to grunting like a cavewoman.
Sketch 1: Why You Ain't Say Nothing?
"Our couple's tiktok just started poppin' off. We reached a dozen followers!"

No one is comfortable telling someone the truth, but they have no problem saying what's on their mind when that person is just in the other room. Sam Richardson stops by as a friend to a couple that really shouldn't be a couple. This man is not the man, but no one's saying anything. The sketch takes place in a sitcom format, and while the premise is solid, the sitcom's fake audience laughter can distract from the jokes.
Sketch 2: Rock of Shit
"The man I'm with would love me for who I am and allow me to read."
Is Shein quality? The comedy is put on the shoulders of a new cast that continues to grow and become more comfortable improvising. DaMya Gurley and Tamara Jade play two women in medieval times who get lured by Skye Townsend, who tries to sell them dresses that make their "pussy pop." The sketch ends abruptly, but Townsend's cockney accent will continue to live in my head for an eternity.
Sketch 3: Front Desk Mess
"Like Michael Strahan's two front teeth, we have never met before."
Cousin Curtis is our introduction, but the sketch takes a more exciting shift, focusing on the chemistry between Gabrielle Dennis and Robin Thede's fast-talking hijinks. The two perform on another level as they develop their own language. Front Desk Mess is more impressive than funny, but Dennis and Thede cement why they're professionals.
Sketch 4: What You 'Bout to Do?
"Wand-kanda forever!"
Thede screams this line as she's about to masturbate. Her terrific performance is matched by the sketch mimicking great cinematic horror tropes. Thede plays a young woman trying to use her vibrator at home but is interrupted by being shamed by inanimate objects. The canted camera angles, dark lighting, and phone call in the dark feel like a horror movie, heightening the fear and comedy of being caught "red-handed."
Sketch 5: Mind Ya Bidness
"No pegging!"
In my favorite sketch of the night, what are we willing to sacrifice for a dream? Will you give up your career for a family, or vice versa? It's a dilemma that's relatable, but to put it in an auction setting with people more than willing to sell their souls is a dark delight. At the same time, Townsend and Thede chew up the scenery as cartoons commenting on everyone's desperate desires.
Sketch 6: Real Housewives of B.C.
*Grunt*
The most effective sketch is one you can explain in a sentence or, better yet, with just a title. While there's no real "game" to the sketch, the premise is fun enough to explore and so short that it takes its concept to all the needed extremes within one minute. The cherry on top is that it's filmed like a reality show. Dennis trying to flip over a stone table is the perfect marriage between a comedy premise and the subject it's parodying.
[ninja_tables id="75085″]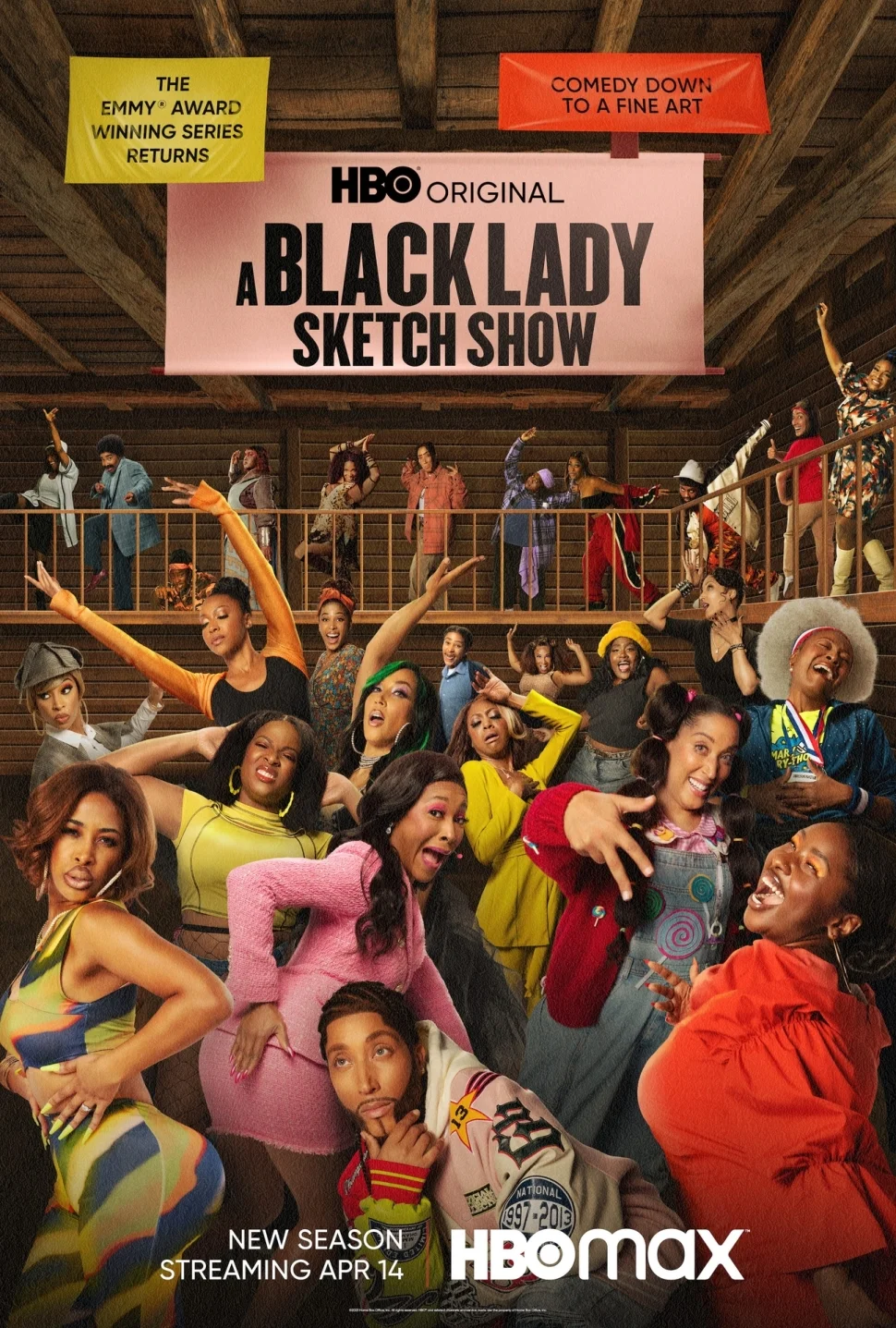 A Black Lady Sketch Show: Season 4/ Episode 5 "Peek-A-Boob, Your Titty's Out" – Review
Overall
The sketches get stronger and stronger within "Peek-A-Boob, Your Titty's Out" and is rewarding to watch from start to end.
Highlights
Hilarious performances in each sketch
Many theater-nerd premises