9-1-1: Season 5/ Episode 15 "FOMO" – Recap/ Review (with Spoilers)
9-1-1 tones down the drama a bit and trades it in for mid-life crises and FOMO.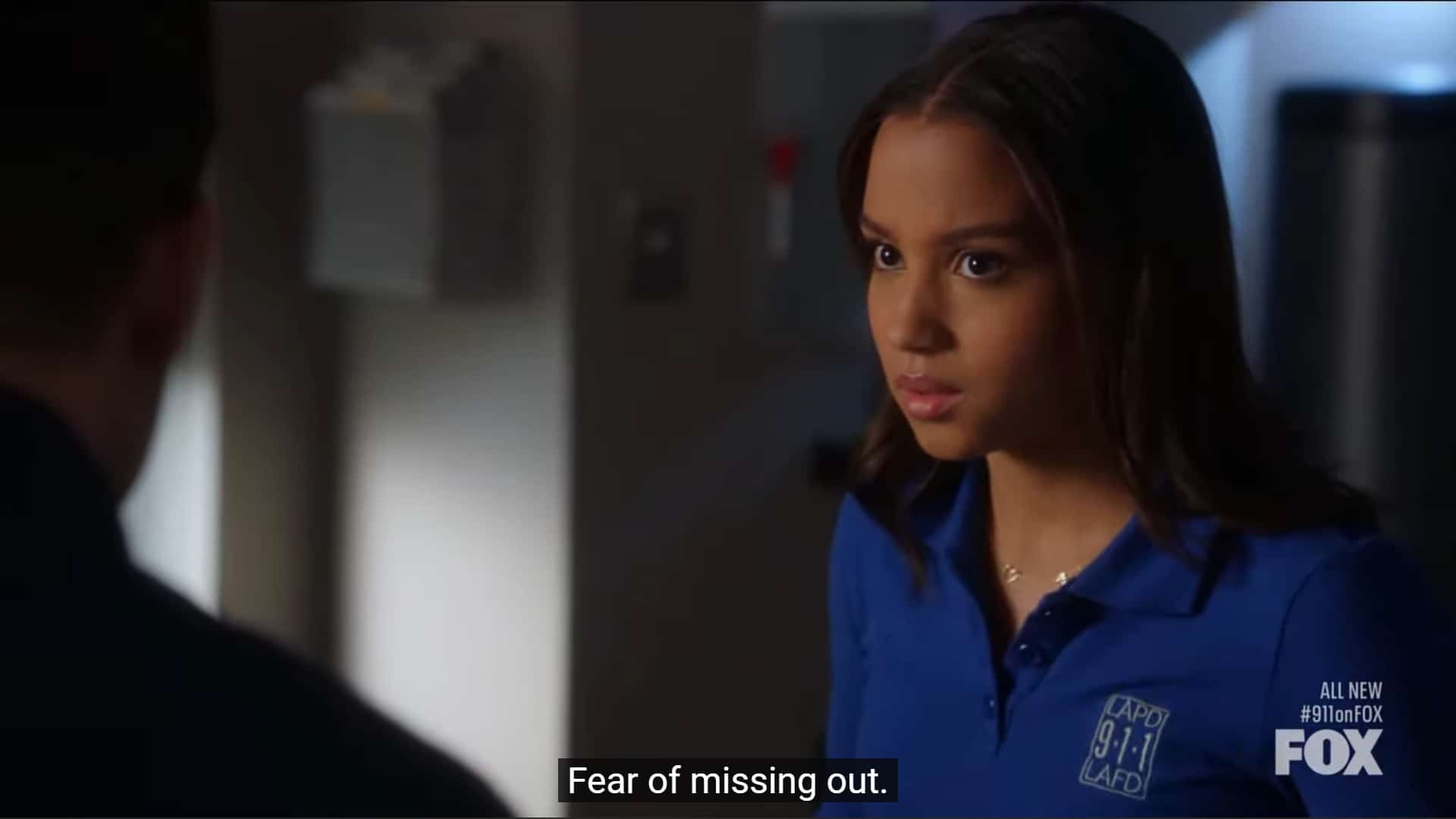 9-1-1 tones down the drama a bit and trades it in for mid-life crises and FOMO.
---
| | |
| --- | --- |
| Aired | 4/25/2022 |
| Network | FOX |
| Directed By | Marita Grabiak |
| Written By | Nicole Baraza Keim |
Recap
Between Karen getting older, Maddie missing milestones in her daughter's life, and May having to decide what's next in her life and potentially her career, many are in a weird place. For Karen, she sacrificed so much of her 20s to get to where she is, that seeing members of her team who are ten, if not twenty, years younger than her living it up, gives her FOMO. So rather than live vicariously, she tries to do as they do with Hen, but in chasing her youth, she finds herself still a bit unfulfilled. At least until her purse is stolen, and with Hen, she tracks the person down and damn near makes a citizen's arrest, thus putting some pep into her step.
As for Maddie? After seeing pictures of Chim taking their daughter across the country, she realizes how much she has missed and won't get back. Buck tries to help with these feelings by noting this is her second time raising a kid, but it's different this time. She isn't raising her brother but her own kid. So when she sees Jee-Yun feeding herself, it is a joyous moment that she relishes.
Which leaves us with May. After deferring and extending her deferment to USC, it is time to decide whether she'll stay a 9-1-1 dispatcher or go to college. Thinking of her mom, she wonders whether she is happy with her path of becoming a cop rather than a lawyer and wonders if she, herself, could make this detour something permanent and be happy? May even confides in Eddie about this, but with him on his own journey, he isn't able to provide sage advice. Thus leaving May to continue to ponder what is her next move and could she potentially live with it?
Things To Note
Question(s) Left Unanswered
How much time has passed since May started to defer going to college?
Where has Harry been?
What Could Happen Next
May likely going to college
Review
---
Community Rating:
---
Highlights
Some Karen Backstory
Karen is one of those characters who, while around since the beginning, sadly got pushed aside as Eddie, Maddie, and others became prominent. But, it was nice to see her again, learn about her losing her 20s to become the accomplished woman she is today, and getting some spotlight. It's sad she'll probably go back into the shadows after this, but every episode we're reminded she exists is nice.
Sweet Moments, Even If Tear Inducing
Whether it was the kids losing their mother, or Maddie getting to see her daughter feed herself for the first time, there were cute moments this episode that may not stay with you beyond a few days but could get you in your feelings.
[ninja_tables id="46830″]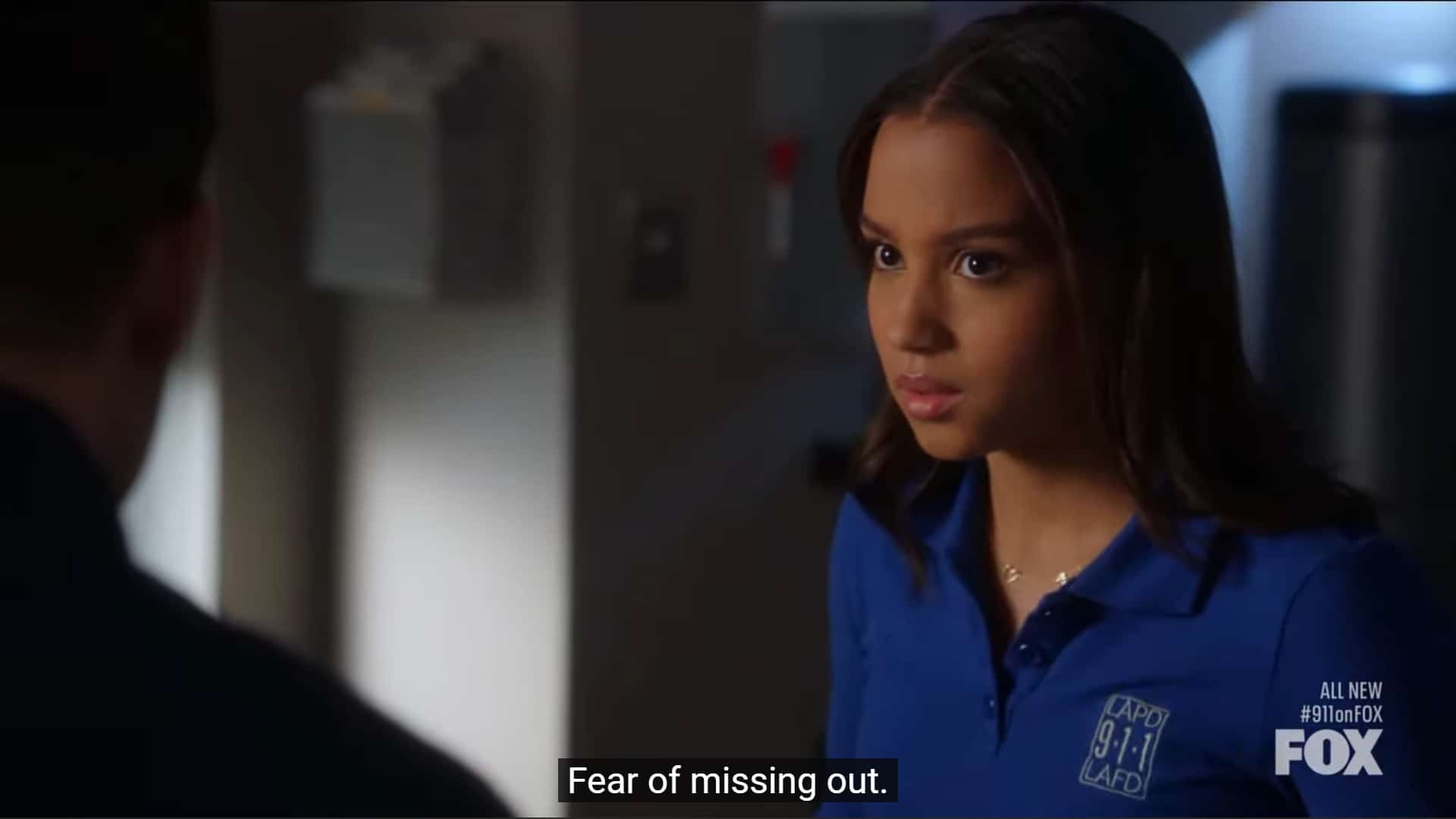 9-1-1: Season 5/ Episode 15 "FOMO" – Recap/ Review (with Spoilers)
Overall
Considering how much we've seen characters deal with in their personal lives, "FOMO" is a nice break from heavier topics and a nice reprieve for those who wanted 9-1-1 to keep things going rather than take a week or two off to get a break.
Highlights
Sweet Moments, Even If Tear Inducing
Some Karen Backstory
---
Follow, Like, and Subscribe
Community Rating: 0.00% (0) - No Community Ratings Submitted (Add Yours Below)