In the finale, after a bombing spree, many characters find their lives changed forever. One for the worse, many for the better.
---
Network
FOX
Director(s)
Bradley Buecker
Writer(s)
Tim Minear
Air Date
5/13/2019
Introduced This Episode
Freddie
Anthony Turpel
Images and text in this post may contain affiliate links which, if a purchase is made, we'll earn money or products from the company. Affiliate links and external links have an upward facing, superscript, arrow.
Making Plans: Bobby, Athena, Buck,  Hen, Karen
While there is a bit of a bomb scare going on, and even after, the members of the 118 are just living their lives. Bobby and Athena are planning their wedding, listening to Harry negotiate his role since he doesn't want to wear a tux or be a ring bearer. As that's going on, Buck is getting a bachelor pad which makes it seem that while the budget for the fire department is strained, Buck's paycheck is not. Also, Hen and Karen, after the bombing, are talking about having another kid. Especially since Karen has a remote job which may pay less than her last one, but gives her the ability to work from home.
The Best Laid Plans Of Mice And Men: Buck, Maddie, Carla, Ali, Eddie, Freddie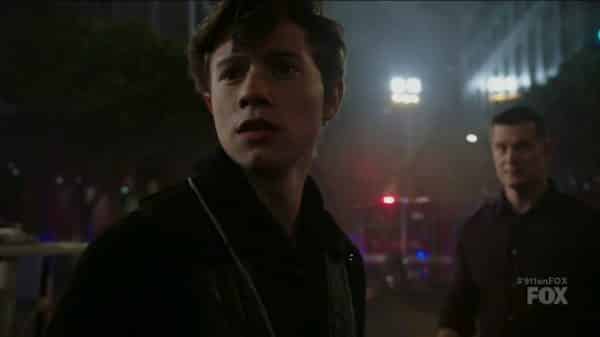 However, for Buck, his plans change. Thanks to Freddie, who we met in  Episode 16 "Bobby Begins Again," the son of the man who committed arson, Buck's calf gets crushed. I'm talking needing rods and screws, your bone is dust, kind of crushed. Which does lead to Carla showing up, and Maddie, also the girl from the earthquake Ali, who seemingly is his girlfriend. However, while Maddie and Carla are supportive and what Buck needs, Ali is only until it becomes clear Buck wants to get back to work. Leaving him, and us, unsure what may happen with this relationship that has long since been forgotten.
But before we move on, we see Eddie post-wake of his ex-wife and his family making it clear they are worried. With the job he has, and the needs of Christopher, his father's side seems to question if his mother's side can handle it. Lest we forget, his mom got a few health issues and keeping up with Christopher isn't easy. Yet, it seems Eddie, with him almost being off probation, doesn't want to go nowhere.
Not All Shoulders Are Ready To Bear Another's Weight: Athena, Bobby, Eddie, Buck, Ali, Chim, Maddie
And for good reason too. For after Bobby dealt with Freddie, being the kind of hero who wants to get himself killed, he is reinstated and that gives him the honor of promoting Eddie. Which is a sweet moment for all, and maybe a bit bittersweet for Buck. If only because Eddie was in the same accident yet, he can go back to work.
Meanwhile, Buck's girlfriend seems to be the one significant other who may not be able to handle his job. Though, to be fair, even Maddie is kind of questioning Buck wanting to get back to work as soon as he can – if not being a firefighter period. However, as Buck made clear in season 1, there isn't a lot he is good at or which makes him feel useful. So being a firefighter is it for him.
Setting Buck aside though, we do get some fan service. Chim and Maddie seemingly are going to pick up where they left off, and Athena and Bobby decide to elope. Making it so, outside of Buck's injury, things end on a rather happy note.
Other Noteworthy Facts & Moments
It has been a year since the season premiere.
Highlights
A Lot Of Fan Pleasing – In The Best Way
Between slapping Bobby and Athena's wedding at the end, Maddie and Chim being cozy, and Bobby reinstated, there was a lot delivered that I'm sure people wanted to see. Which, for many shows would be eye-roll inducing, but with how 911 does show how dangerous each cast members' job is, it makes it so you not only forgive characters getting what you want but think they deserve it. Especially Chim since that man hasn't known happiness in who knows how long.
A Karen & Hen Moment
Frankly, there aren't a whole lot of Black lesbian couples, so seeing them happy, Karen getting a new job, and talking about having another kid, that was cute to me. Also, it's nice to see Hen off work and not trying to bolster a co-worker up sometimes. While I love seeing her save people, what makes her one of the best characters on the show is her personal life is as enjoyable as her work life. To the point that, as said when she had her solo episode, she could run a spin-off with no problem.
Sidebar: Rob Lowe has one in the planning stages which I guess means this is going to be franchised – with Lowe's taking place in Texas. Meaning Eddie, who is from Texas, might be asking for a transfer like his father recommended he does.
Appreciating How Dangerous It Is To Be A First Responder
While we saw earthquakes, mudslides, bombings and more, what I don't think we're pushed to appreciate enough is how scary for someone's significant other the job is. Ali really pushed that to the forefront since Bobby and Athena, both are in the first responder field so doing crazy stuff, and dealing with crazy people, is normal. Karen and Hen have been together so long Karen is probably desensitized to it, beyond when Hen could have died in the earthquake episode. And as seen with Buck in season 1, if you are not serious with someone, being a hero, a daredevil, could be a major turn on for some people.
Yet, with Ali, we're reminded how hard it must be to really date and get to know someone if they are willing to risk their life on a regular basis. Much less, with Buck, we are getting to see what was touched upon with Chim – the idea of being able to do nothing else. For unlike the rest, Buck is a young guy and I don't think he has worked in another industry or had a job he liked, never mind loved, previous to working as a firefighter. So seeing him injured, with it being clear him going back may not be likely, it's almost like watching a wrestler who can't perform anymore. They only know one thing, see themselves good at one thing, believed they can only be employed doing one thing, and without that, there is the need to question what else can they do? Not just for a rush but a living?
On The Fence
Um, Where Has Ali & Carla Been All This Time?
Being that Ali seemingly travels a lot, I get why we may not have seen her much. Yet, considering how long Buck was talking about Ali, pretending he was talking to her, they couldn't have had him speak to Ali every now and then? Also, considering how much Carla did for Eddie and Christopher, you telling me she is just now popping up? Heck, considering Carla is also Buck's only friend who isn't a co-worker, you'd think when Maddie got attacked she would have been there for support. But I guess, like Ali, she was too busy to make her presence known.
So Will Buck Bounce Back Like Chim Or Struggle Like Chim Has Yet To Do?
This is a really good question, isn't it? Since Chim's multiple injuries feel downplayed don't they? A rebar through the skull yet we don't see any motor issues or anything like that. Multiple stab wounds, which took him out of commission for months, yet we still see him, with a handful of other people, trying to lift a fire truck off of Buck's leg. So will Buck superman through these injuries and they just become a fun story like Chim's?
Follow Wherever I Look on Twitter, Like us on Facebook and Subscribe to the YouTube Channel.
Season/ Episode
Synopsis
Episode Information
Topics & Focused Characters
Season 3, Episode 5 "Rage"
As Michael experiences DWB, and his kids get the race talk, Buck learns the consequences of his lawsuit.

| | |
| --- | --- |
| Director(s) | Jann Turner |
| Writer(s) | Lyndsey Beaulieu |
| Air Date | 10/21/2019 |

IVF, IUI, IM-DONE: Hen, Karen
DWB (Driving While Black): Athena, Harry, May, Michael
Be Careful What You Wish For: Bobby, Buck, Chase

Season 3, Episode 3 "Searchers"

The tsunami arc comes to an end, with an explosion, someone losing an arm, and the fate of Christopher.

Director(s)
Chad Lowe
Writer(s)
David Fury
Air Date
10/7/2019
Introduced This Episode
Captain Cooper
Leonard Roberts

Too Stubborn To Die:

 

Captain Cooper, Lena, Athena, Eddie
Not All Victims Were Physically Touched By Water:

 

Bobby, Maddie, Hen
It's Not A Fail If You Still Try:

 

Christopher, Eddie, Buck

Season 3, Episode 4 "Triggers"

From Maddie triggered by a domestic call to Chim and Hen taking note of kids they save, and Buck hearing the worst thing imaginable, this episode isn't called "Triggers" for nothing.

Director(s)
Joaquin Sedillo
Writer(s)
David Fury, Christopher Monfette, Tonya Kong
Air Date
10/14/2019
Introduced This Episode
Jesse
Jonny Berryman
Camden
Aiden Berryman
Judith
Paula Jai Parker
Chase Mackey
Jordan Belfi
Vincent
Scott Speiser
Terra
Ellen Hollman

Childhood Trauma:

 

Eddie, Lena, Christopher, Hen, Karen, Jesse, Camden, Judith, Danny, Athena
You Move Forward But Never Fully Move On:

 

Maddie, Chim, Vincent, Terra
Bite The Hand That Fed You:

 

Buck, Bobby, Chase, Lena

Season 3, Episode 1 "Kids Today" [Seaon Premiere]

Surprisingly, despite being crushed by a fire truck, Buck seems like he may return to work. However, isn't there always a catch?

| | |
| --- | --- |
| Director(s) | Jennifer Lynch |
| Writer(s) | Kristen Reidel |
| Air Date | 9/23/2019 |

Baby Fever:

 

Maddie, Chim, Athena, Bobby
A Dream Deferred or Ended?:

 

Buck, Bobby, Hen, Maddie
The Least Of Your Worries:

 

Buck, Christopher, Eddie

Season 3, Episode 2 "Sink or Swim"

A tidal wave hits and between the initial wave and the surges which come after, we see more people die this episode than the entire series.

Director(s)
Bradley Buecker
Writer(s)
Juan Carlos Coto
Air Date
9/30/2019
Introduced This Episode
Jason
Conor Romero
Adele
Deborah Strang
Chuck
William Russ
Vicky
Alla Korot
Lena
Ronda Rousey

A Wedding Day Ruined:

 

Jason, Adele, Chuck, Hen, Eddie
Something For Your College Essay:

 

May, Athena, Vicky
Heroes Never Die:

 

Christopher, Buck, Lena, Maddie, Chim

Season 2, Episode 17 "Careful What You Wish For"
In the penultimate episode of the season, Eddie returns to prominence as he reevaluates his relationship with Shannon.


| | |
| --- | --- |
| Director(s) | Bradley Buecker |
| Writer(s) | Matthew Hodgson |
| Air Date | 5/6/2019 |

Season 2, Episode 18 "This Life We Choose" [Season Finale]
In the finale, after a bombing spree, many characters find their lives changed forever. One for the worse, many for the better.


Director(s)
Bradley Buecker
Writer(s)
Tim Minear
Air Date
5/13/2019
Introduced This Episode
Freddie
Anthony Turpel

Season 2, Episode 14 "Broken"

Of course, with 

9-1-1 taking some time off it means they have to come back with you on the verge of crying to the point being unable to watch.


Director(s)
Bradley Buecker
Writer(s)
Juan Carlos Coto
Air Date
4/15/2019
Introduced This Episode
Sonia
Skye P. Marshall

Season 2, Episode 16 "Bobby Begins Again"
In order to move forward, you have to the past, and in this episode, we learn what happened between the fire Bobby started and Buck being hired.


| | |
| --- | --- |
| Director(s) | Jennifer Lynch |
| Writer(s) | Christopher Monfette |
| Air Date | 4/29/2019 |

Season 2/ Episode 8 "Buck, Actually"

Love is in the air in such a way this episode that it almost makes you forget that it isn't February in real life or in the show.

Season 2, Episode 15 "Ocean's 9-1-1"

The team gets framed for a robbery and it leads to not only some of the best writing in a while, but one person's job on the line.

Season 2, Episode 13 "Fight or Flight"

We journey a bit into Doug and Maddie's history and are left with an ending which ends a chapter in both of their lives.

Season 2, Episode 12 "Chimney Begins"

As Hen did earlier this season, Howard Han aka Chimney, gets his due by having an episode dedicated to his backstory.

Season 2, Episode 11 "New Beginnings"
9-1-1

 

returns, and it is like we never left as the drama picks up and kicks things into the next gear.

While this is a Christmas episode, love is in the air like it is Valentine's day. Though, unfortunately, one person with unreciprocated love comes around to ruin things.

Director(s)
Bradley Buecker
Writer(s)
Christopher Monfette
Air Date
11/26/2018
Introduced This Episode
Doug
Matthew Clark

The show decides to hand the reigns to Aisha Hinds and gives us something which almost makes you wonder, "Why wasn't this the show's pilot?"

Director(s)
Jennifer Lynch
Writer(s)
Aristotle Kousakis
Air Date
11/19/2018
Introduced This Episode
Gerrard
Brian Thompson

In this episode, we're reminded that ghost aren't always entities of another world but also could be the living.

---

Director(s)
Loni Peristere
Writer(s)
Erica L. Anderson
Air Date
10.29.2018
Introduced This Episode
Shannon
Devin Kelley
Alana
Vanessa Martinez
Bryan
Myles Cranford

---

Featuring: Carla, Buck, Shannon, Eddie, Athen, Hen, Bryan

A few characters find themselves pushed to reminisce about the past and take note of how it led them to the current path they're on.

Some familiar faces return, as does the possibility of 911 making it so each episode has a theme to it.

The show doubles down on newcomer Eddie as it has two characters question what do they want for their future. One personally, the other professionally.

We come to the conclusion of the earthquake arc and are left wondering will everyone make it alive and in one piece?

With a 7.1 earthquake, everyone is put into a position of danger. However, for Bobby's team, it is a building on the verge of collapse.

9-1-1 starts off strong but loses its luster as you get used to the sometimes outlandish 911 calls and the drama of the cast seems to lose its importance.

The season finale of 9-1-1 ends with a bit of a shocker, but not the kind the show is known for.

Patricia returns and it is questioned if Buck can handle her place in Abby's life alongside if Athena is ready for a new relationship yet.

9-1-1 shows full commitment to doing themed episodes for awhile and for this one, it is all about karma being a bitch. Meaning, it is time for many characters to deal with their demons.

As it seems 9-1-1 digs into the idea of doing themed episodes, we witness the strange calls which happen the night of a full moon.

It's Valentine's Day! That means the 911 calls are laced with the themes of love or a woman scorned.

Hen's personal life is finally revealed to us, alongside what happened to Bobby's family.

Bobby's truth gets revealed, Athena crosses the line, and we get another episode with increasingly better guest performances.

With a season 2 renewal, it seems 9-1-1 isn't going to just skate through the rest of season 1 but prove itself to naysayers.

9-1-1 keeps the drama high but can it find some heart amongst the sensationalism?

9-1-1 starts off strong, in terms of the 911 calls, but as for the characters? Well… lets just hope they develop over time.

9-1-1 returns with a new member of Bobby's team, Buck's sister, and Athena struggling to accept love in her life.
So Will Buck Bounce Back Like Chim Or Struggle Like Chim Has Yet To Do? - 75%
Um, Where Has Ali & Carla Been All This Time? - 74%
Appreciating How Dangerous It Is To Be A First Responder - 84%
A Karen & Hen Moment - 85%
A Lot Of Fan Pleasing – In The Best Way - 86%
9-1-1 ends with a satisfying conclusion and many happy endings. As well as the need to question, when it comes to Buck, will he find himself healed by the time season 3 premieres in the fall or will his injury be an ongoing storyline?