Of course, with 9-1-1 taking some time off it means they have to come back with you on the verge of crying to the point being unable to watch.
---
Network
FOX
Director(s)
Bradley Buecker
Writer(s)
Juan Carlos Coto
Air Date
4/15/2019
Introduced This Episode
Sonia
Skye P. Marshall
Images and text in this post may contain affiliate links which, if a purchase is made, we'll earn money or products from the company. Affiliate links and external links have an upward facing, superscript, arrow.
The Systems Are Down: Hen, Bobby, Chimney, Maddie, Buck, Sonia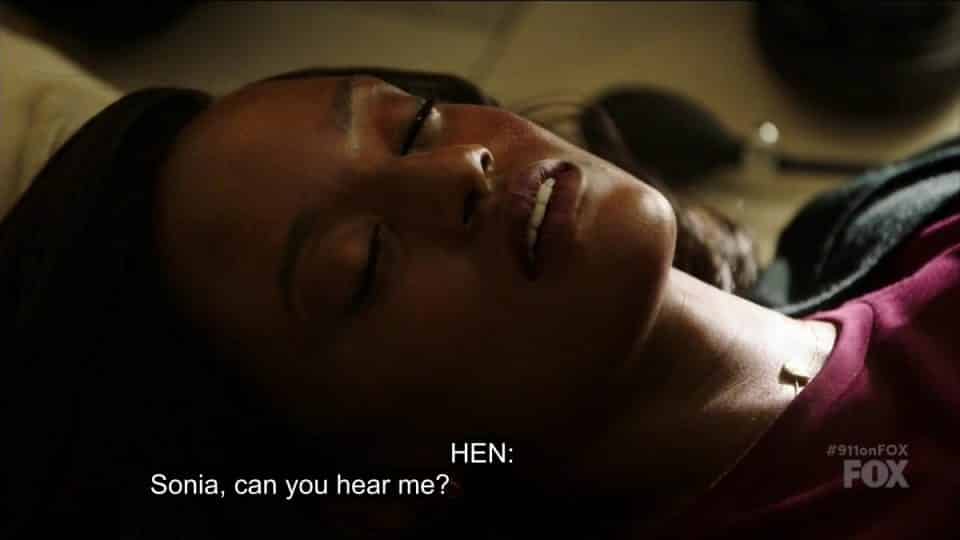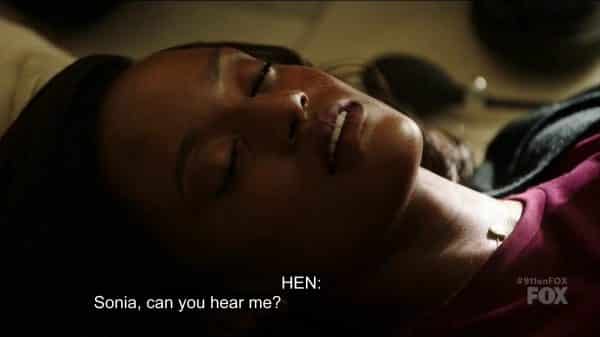 The major drama of the episode is one overheated generator kills the 911 servers – which means kicking it old school. Leading to a few things: The first being the opinion pushed by Hen, followed up when Buck nearly breaks his neck on a truck ladder, the city doesn't give first responders no kind of budget. Following that is how life-saving technology is because, just the minor mistakes we see happen as Maddie returns to work, just imagine what would happen if that happened in a city like New York or LA on a regular basis. Especially if it was a coordinated attack.
Leaving one last thing. Though what I'm speaking on below isn't noted in the episode, I have to bring up Black mothers are over 3x more likely to die giving birth than white mothers. The reason why I bring this up is a 38-year-old Black woman, Sonia, has a baby amongst this chaos and immediately goes into shock. Hen, being a Black woman, is set on keeping this woman alive and when the doctor, who happens to be Black, pronounces her dead on arrival, honestly Hen seems more devastated than Sonia's husband.
And while all this belongs more so in the highlights section, I do hope that what could easily just be a cultural nod is followed up on. For the statistics above aren't talked about so if you don't know, it is just the usual drama 911 produces versus a very serious issue in the Black community.
We Weren't Meant To Be: Chimney, Maddie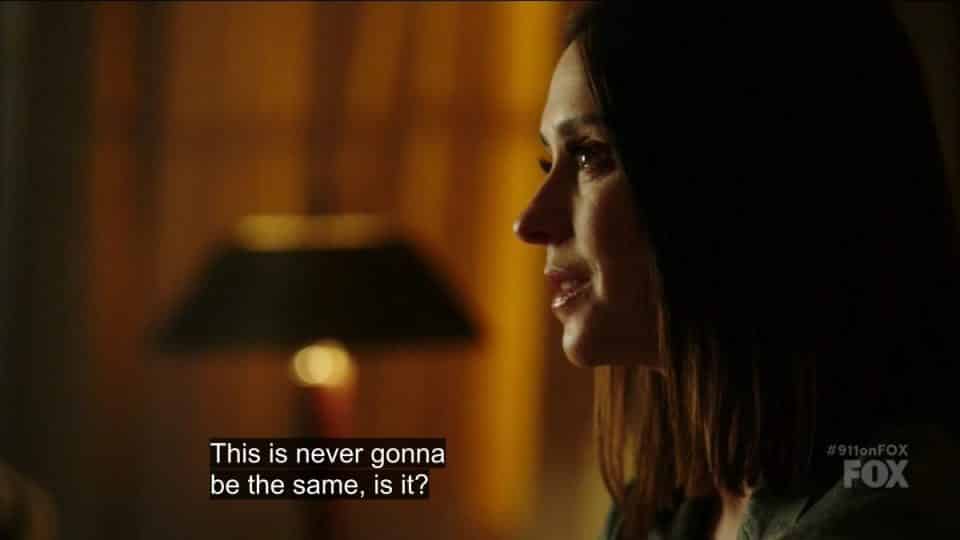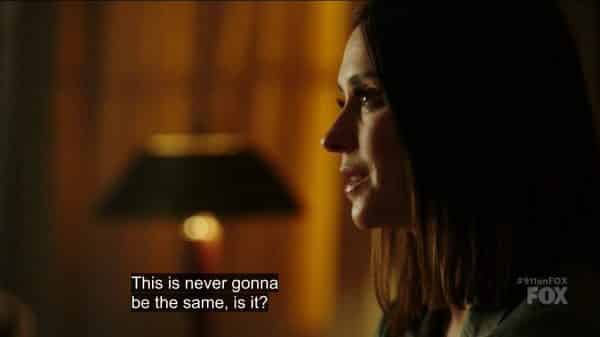 It has roughly been three weeks, and despite their injuries, Maddie and Chimney are out of the hospital. Chimney isn't back at work, though he is a major help this episode, but Maddie is right back and trying to adjust to her routine. Yet, while she can get back into the rhythm at work, with Chimney, it's hard.
Maybe because her ex set her back to square one with trying to be ready to date again? Could it be a sense of guilt for nearly getting a man killed? Either way, she kisses him goodbye, and while that doesn't mean Maddie is going anywhere, it may mean their relationship will be on pause for quite some time.
I Have Nothing: Harry, Michael, Bobby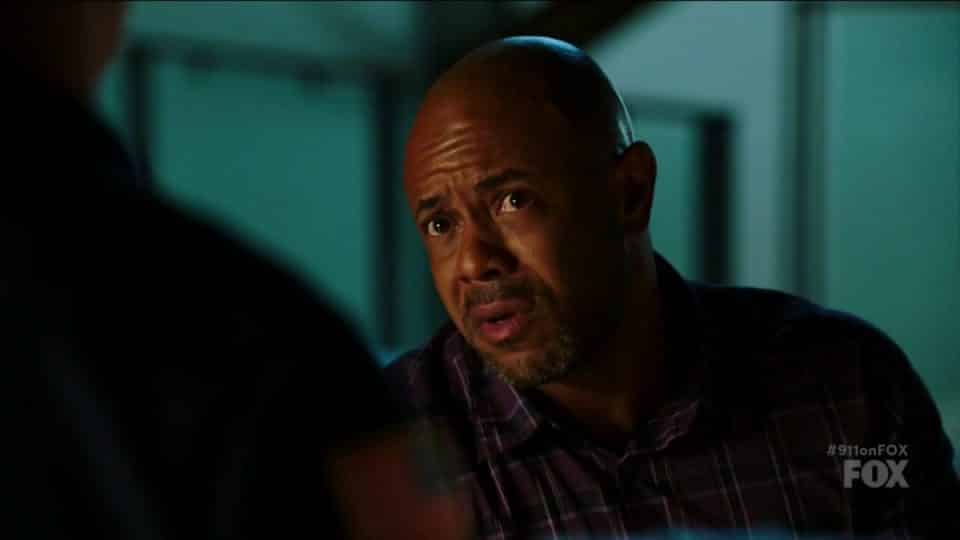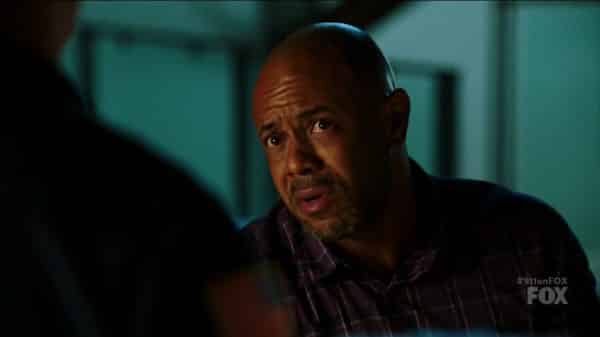 With Glenn breaking up with Michael, supposedly because he is boring, it makes Harry gravitating to Bobby triggering. For while construction is cool, Bobby being a fireman is hot right now. To the point Harry and a friend set a fire on someone's lawn to put it out. Leading to Michael getting a bit angrier than he usually is with Harry and sending him off to the fire station.
And of course, with Bobby trying to be Harry's friend, he approaches the situation on Harry's defense, and that leads to Michael to flip out. Which, you understand to a point, since he and Bobby need to be on the same page. However, with Michael bringing up Bobby doesn't have kids, he takes it too far. But, later on, Michael explains himself, they both apologize, and are now cool.
Other Noteworthy Facts & Moments
Going by Maddie's co-worker asking if she would like 3 more weeks off, let's estimate that is the gap between the last episode and this one.
Collected Quote(s) & .Gifs
Pretending you're not hurt is not the same as healing.
Highlights
The Black Maternal Rate Nod
Again, love the fact that, even if not directly addressed, it does push others, like me for example, to bring up the information and note this isn't just a dramatic storyline but a real issue.
Low Point
Can Bobby's Dead Kids Not Be Used Anytime Someone Wants To Slight Him?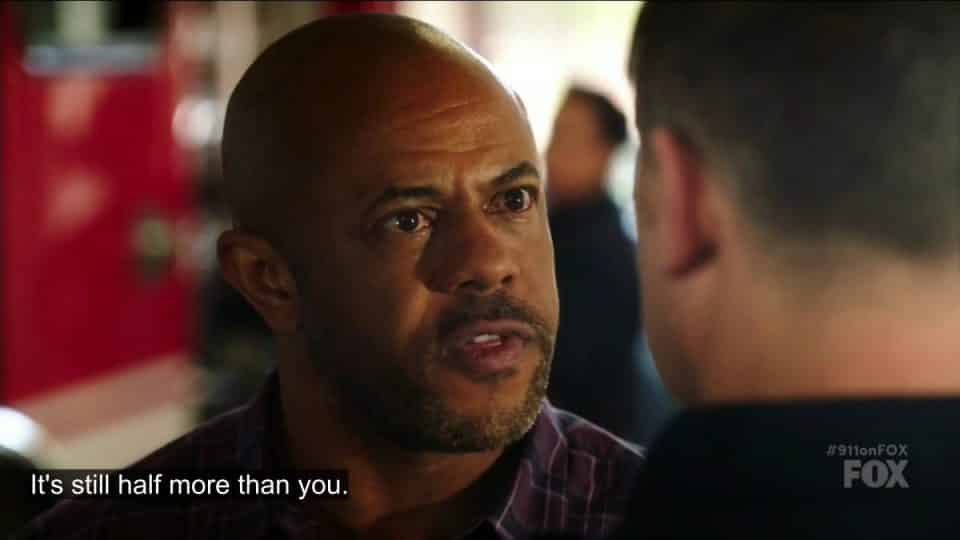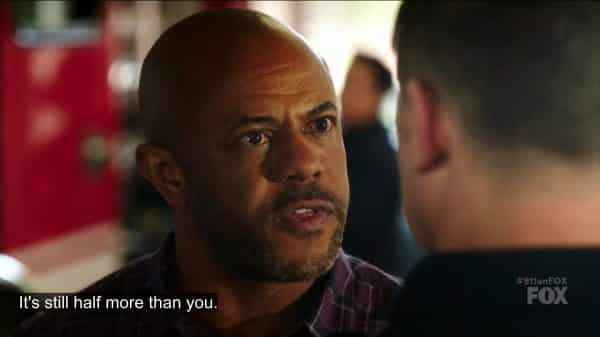 Honestly, I get Michael was mad, but since he knows Bobby's kids are dead, he likely knows how they died and may even know Bobby was suicidal over it. So even if he was lonely and all that, I think his apology wasn't enough. Also, if I was Bobby, I'd ask for Athena to keep that information from circulating further because way too many people connected to her are using it as ammunition against him. First her momma, now Michael, next thing you know the kids may bring it up since now he may play bad cop.
On The Fence
Are Maddie & Chimney Really Over?
My issue with Maddie and Chimney perhaps being over, or on pause, is that this show has an ensemble problem that is usually handled by making couples. A method most shows do for when a character isn't part of a major arc, and thus relationship drama is being used as their lifeline. So if Maddie isn't in a relationship, what are they going to do with her? Also, if Chimney isn't in a relationship, what does that mean for him? Will he be relegated to the back again as Eddie, who has been more so playing hero than getting story time, moves back to the forefront?
Time will tell.
Follow Wherever I Look on Twitter, Like us on Facebook and Subscribe to the YouTube Channel.
Season/ Episode
Synopsis
Episode Information
Topics & Focused Characters
Season 3, Episode 5 "Rage"
As Michael experiences DWB, and his kids get the race talk, Buck learns the consequences of his lawsuit.

| | |
| --- | --- |
| Director(s) | Jann Turner |
| Writer(s) | Lyndsey Beaulieu |
| Air Date | 10/21/2019 |

IVF, IUI, IM-DONE: Hen, Karen
DWB (Driving While Black): Athena, Harry, May, Michael
Be Careful What You Wish For: Bobby, Buck, Chase

Season 3, Episode 3 "Searchers"

The tsunami arc comes to an end, with an explosion, someone losing an arm, and the fate of Christopher.

Director(s)
Chad Lowe
Writer(s)
David Fury
Air Date
10/7/2019
Introduced This Episode
Captain Cooper
Leonard Roberts

Too Stubborn To Die:

 

Captain Cooper, Lena, Athena, Eddie
Not All Victims Were Physically Touched By Water:

 

Bobby, Maddie, Hen
It's Not A Fail If You Still Try:

 

Christopher, Eddie, Buck

Season 3, Episode 4 "Triggers"

From Maddie triggered by a domestic call to Chim and Hen taking note of kids they save, and Buck hearing the worst thing imaginable, this episode isn't called "Triggers" for nothing.

Director(s)
Joaquin Sedillo
Writer(s)
David Fury, Christopher Monfette, Tonya Kong
Air Date
10/14/2019
Introduced This Episode
Jesse
Jonny Berryman
Camden
Aiden Berryman
Judith
Paula Jai Parker
Chase Mackey
Jordan Belfi
Vincent
Scott Speiser
Terra
Ellen Hollman

Childhood Trauma:

 

Eddie, Lena, Christopher, Hen, Karen, Jesse, Camden, Judith, Danny, Athena
You Move Forward But Never Fully Move On:

 

Maddie, Chim, Vincent, Terra
Bite The Hand That Fed You:

 

Buck, Bobby, Chase, Lena

Season 3, Episode 1 "Kids Today" [Seaon Premiere]

Surprisingly, despite being crushed by a fire truck, Buck seems like he may return to work. However, isn't there always a catch?

| | |
| --- | --- |
| Director(s) | Jennifer Lynch |
| Writer(s) | Kristen Reidel |
| Air Date | 9/23/2019 |

Baby Fever:

 

Maddie, Chim, Athena, Bobby
A Dream Deferred or Ended?:

 

Buck, Bobby, Hen, Maddie
The Least Of Your Worries:

 

Buck, Christopher, Eddie

Season 3, Episode 2 "Sink or Swim"

A tidal wave hits and between the initial wave and the surges which come after, we see more people die this episode than the entire series.

Director(s)
Bradley Buecker
Writer(s)
Juan Carlos Coto
Air Date
9/30/2019
Introduced This Episode
Jason
Conor Romero
Adele
Deborah Strang
Chuck
William Russ
Vicky
Alla Korot
Lena
Ronda Rousey

A Wedding Day Ruined:

 

Jason, Adele, Chuck, Hen, Eddie
Something For Your College Essay:

 

May, Athena, Vicky
Heroes Never Die:

 

Christopher, Buck, Lena, Maddie, Chim

Season 2, Episode 17 "Careful What You Wish For"
In the penultimate episode of the season, Eddie returns to prominence as he reevaluates his relationship with Shannon.


| | |
| --- | --- |
| Director(s) | Bradley Buecker |
| Writer(s) | Matthew Hodgson |
| Air Date | 5/6/2019 |

Season 2, Episode 18 "This Life We Choose" [Season Finale]
In the finale, after a bombing spree, many characters find their lives changed forever. One for the worse, many for the better.


Director(s)
Bradley Buecker
Writer(s)
Tim Minear
Air Date
5/13/2019
Introduced This Episode
Freddie
Anthony Turpel

Season 2, Episode 14 "Broken"

Of course, with 

9-1-1 taking some time off it means they have to come back with you on the verge of crying to the point being unable to watch.


Director(s)
Bradley Buecker
Writer(s)
Juan Carlos Coto
Air Date
4/15/2019
Introduced This Episode
Sonia
Skye P. Marshall

Season 2, Episode 16 "Bobby Begins Again"
In order to move forward, you have to the past, and in this episode, we learn what happened between the fire Bobby started and Buck being hired.


| | |
| --- | --- |
| Director(s) | Jennifer Lynch |
| Writer(s) | Christopher Monfette |
| Air Date | 4/29/2019 |

Season 2/ Episode 8 "Buck, Actually"

Love is in the air in such a way this episode that it almost makes you forget that it isn't February in real life or in the show.

Season 2, Episode 15 "Ocean's 9-1-1"

The team gets framed for a robbery and it leads to not only some of the best writing in a while, but one person's job on the line.

Season 2, Episode 13 "Fight or Flight"

We journey a bit into Doug and Maddie's history and are left with an ending which ends a chapter in both of their lives.

Season 2, Episode 12 "Chimney Begins"

As Hen did earlier this season, Howard Han aka Chimney, gets his due by having an episode dedicated to his backstory.

Season 2, Episode 11 "New Beginnings"
9-1-1

 

returns, and it is like we never left as the drama picks up and kicks things into the next gear.

While this is a Christmas episode, love is in the air like it is Valentine's day. Though, unfortunately, one person with unreciprocated love comes around to ruin things.

Director(s)
Bradley Buecker
Writer(s)
Christopher Monfette
Air Date
11/26/2018
Introduced This Episode
Doug
Matthew Clark

The show decides to hand the reigns to Aisha Hinds and gives us something which almost makes you wonder, "Why wasn't this the show's pilot?"

Director(s)
Jennifer Lynch
Writer(s)
Aristotle Kousakis
Air Date
11/19/2018
Introduced This Episode
Gerrard
Brian Thompson

In this episode, we're reminded that ghost aren't always entities of another world but also could be the living.

---

Director(s)
Loni Peristere
Writer(s)
Erica L. Anderson
Air Date
10.29.2018
Introduced This Episode
Shannon
Devin Kelley
Alana
Vanessa Martinez
Bryan
Myles Cranford

---

Featuring: Carla, Buck, Shannon, Eddie, Athen, Hen, Bryan

A few characters find themselves pushed to reminisce about the past and take note of how it led them to the current path they're on.

Some familiar faces return, as does the possibility of 911 making it so each episode has a theme to it.

The show doubles down on newcomer Eddie as it has two characters question what do they want for their future. One personally, the other professionally.

We come to the conclusion of the earthquake arc and are left wondering will everyone make it alive and in one piece?

With a 7.1 earthquake, everyone is put into a position of danger. However, for Bobby's team, it is a building on the verge of collapse.

9-1-1 starts off strong but loses its luster as you get used to the sometimes outlandish 911 calls and the drama of the cast seems to lose its importance.

The season finale of 9-1-1 ends with a bit of a shocker, but not the kind the show is known for.

Patricia returns and it is questioned if Buck can handle her place in Abby's life alongside if Athena is ready for a new relationship yet.

9-1-1 shows full commitment to doing themed episodes for awhile and for this one, it is all about karma being a bitch. Meaning, it is time for many characters to deal with their demons.

As it seems 9-1-1 digs into the idea of doing themed episodes, we witness the strange calls which happen the night of a full moon.

It's Valentine's Day! That means the 911 calls are laced with the themes of love or a woman scorned.

Hen's personal life is finally revealed to us, alongside what happened to Bobby's family.

Bobby's truth gets revealed, Athena crosses the line, and we get another episode with increasingly better guest performances.

With a season 2 renewal, it seems 9-1-1 isn't going to just skate through the rest of season 1 but prove itself to naysayers.

9-1-1 keeps the drama high but can it find some heart amongst the sensationalism?

9-1-1 starts off strong, in terms of the 911 calls, but as for the characters? Well… lets just hope they develop over time.

9-1-1 returns with a new member of Bobby's team, Buck's sister, and Athena struggling to accept love in her life.