9-1-1: Season 2, Episode 11 "New Beginnings" [Mid-Season Premiere] – Recap, Review (with Spoilers)
9-1-1 returns, and it is like we never left as the drama picks up and kicks things into the next gear.
---
Network
FOX
Director(s)
John J. Gray
Writer(s)
Tim Minear, Kristen Reidel
Air Date
3/18/2019
Introduced This Episode
Beatrice
Beverly Todd
Eric
Michael Graziadei
Noah (Brian)
Kellan Bold
Jacob (Stevie)
Bryce Gheisar
You Are Not The Father: Eric, Brian, Jacob, Athena, Maddie
While Athena is dealing with her mother at home, with the assistance of Maddie, she is reminded why she became a cop. For with a man named Eric kidnapping a child for 7 years, to the point he forgot his parents, to recently acquiring a new one, stopping him was a great accomplishment. Perhaps far more satisfying than becoming a lawyer waiting on the case when Eric ended up killing a child like Jacob or 6 year old Brian.
Mommie Dearest: Beatrice, Athena, Bobby, Hen
Beatrice, Athena's mom, comes to visit and boy does she ruffle some feathers. Why? Well, the way Hen explains it, Athena was more of a project than daughter and Athena didn't reach any of Beatrice's goals. She didn't become a lawyer, she married a gay man and while she had children, May almost died and who knows what is going on with Harry. And, as you can imagine, bad enough being personally criticized but talking about who she is as a parent? Even Bobby, who is trying to make a good impression, feels the need to step in.
But, from what it seems, the issue has long been these two just not having a real conversation. One which brought up Tanya Kingston going missing and what a profound effect that had on Athena. Though, from what it appears, after decades of probably snide comments that Athena just let go, the two may see eye to eye now. At least in terms of why Athena became a cop. As for getting with a white man, her parenting, and other things? Well, one day at a time.
The Shadow Of The Past: Maddie, Doug, Chimney
As we saw in the season finale, Doug has made his way across the country and has planted himself in Chimney's life. Unfortunately, this leads to, just as Maddie is ready to open her heart to Chimney, him getting stabbed by Doug. Which is immediately followed by him hooking Maddie and us being left to question what happened.
Other Noteworthy Facts & Moments
It's around March 11th at this point in the show.
Collected Quote(s) & .Gifs
Lately, [it] feels like you and I are rushing, racing to some finish line. Will I die and leave you first or will I live long enough to discover you've completely turned away from me?
— Beatrice
Highlights
An Emotional Episodic Story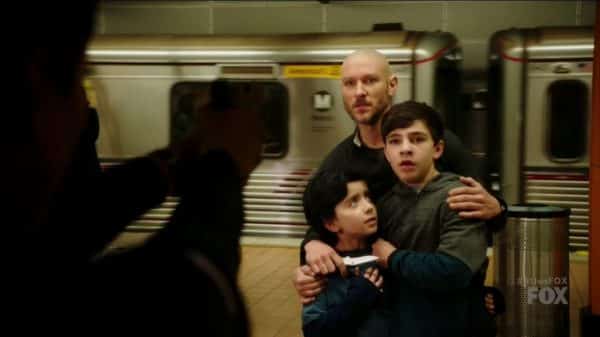 Guest stars often come and go with very little need to note their story since it is either too short, doesn't have an impact, or is just made to boost the main cast. The story of Jacob and Brian, on the other hand, you gotta admit it left you a tad emotional. Especially the end when they were reunited with their parents.
Beatrice & Athena – Featuring Hen
One thing what has increasingly been done this season has been establishing why each character is who they are. If it isn't Hen's epic episode, which seemed like a show pilot, it is Athena touching on why she became a cop. Something that got followed up on this episode and fleshed out a bit. But what makes Beatrice and Athena's scenes together a highlight is because you recognize there are layers to their relationship and we've only touched the surface.
Heck, taking note Hen got issues with her mom, you can imagine her having a Beatrice of her own. Be it dealing with her being lesbian, her partner at the time, or so many other things. Probably including the way she dresses. All of which I hope we see since Hen and Athena are the best parts of this show.
On The Fence
Doug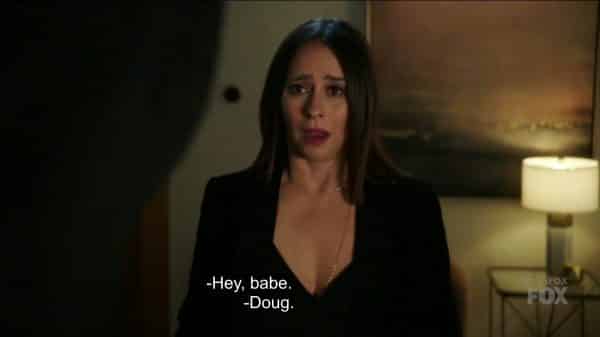 Domestic violence is a serious topic, especially since the percentage of women it is likely to happen to is ridiculously high. Yet, I must admit I fear how this story will be handled. By now you'd think I'd mellow out since it has been a long season and a half, but I still get anxious when this show takes on serious topics like this, May attempting suicide, and Bobby's depression. Not because the show doesn't know how to set up the situations but more so because they don't necessarily end in a way which makes sense or is satisfying.
Not to imply I don't understand people move on, eventually, but considering what a big deal those stories, among others, were and now they are casually mentioned, I'm a bit on the fence about this. Even though Doug seems very sinister. However, him stabbing Chimney like that, it makes me think they want that man to go through anything and everything before we really get to know him or see him happy.
Follow Wherever I Look on Twitter, Like us on Facebook and Subscribe to the YouTube Channel.
---
---
[ninja_tables id="26657″]
An Emotional Episodic Story - 85%
Beatrice & Athena – Featuring Hen - 86%
Doug - 75%