With some new blood to the series you'll want to invest in, "Toaster" expels any question whether you'll find interest in season 2.
---
Network
Netflix
Director(s)
Daina Giannecchini
Writer(s)
Ivan Nakamura
Air Date
4/27/2018
Actors Introduced
Gloria
Cynthia Senek
Elisa
Thais Lago
Changing Loyalties: Joana, Michele, Rafael, Silas
Within days of being Offshore, Michele decides she doesn't want to help The Cause anymore. They lied about her brother being dead, for she can clearly see he is alive, and she doesn't want to jeopardize that. So, she pretty much tells Rafael he is on his own with that and that puts him in an odd predicament. One that he doesn't necessarily know what to do with because, one of the reasons he sought out Michele, despite her being in a facility, was because he couldn't figure out how to make a radio from offshore tech.
Which becomes a huge problem for with offshore having a frequency blocker, even when he figures a way, it doesn't get to Silas and that is what pushes him to go for the Old Man's bomb. Something Joana really does not want to support so she seeks out an old friend for some ideas.
The Love I Found: Rafael, Marcella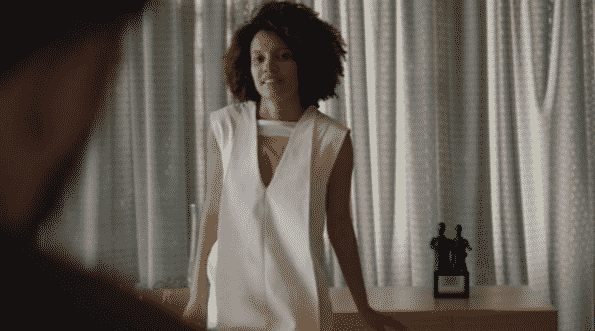 While you can't have children offshore, love and sex is permitted. The question is though, in a land of paradise, where socio-economic factors don't push you towards someone, or kids, how do you meet? Well, one way is through these social events where they take note of what you want consciously and subconsciously and by matching with rings, you'll learn your percentage.
Something that isn't foolproof for Rafael has an 87% match he doesn't like but then meets Dr. Elisa, who is a 1.7% match who he gets along with greatly. To the point they are together for over a year. But, problems arise as Rafael, still committed to the cause, gets caught trying to use a radio by Elisa and fails Marcella's test to go inland.
But, with second chances being his thing, he passes the initial exam of catching someone of The Cause. Though, ends up in a second one, unbeknownst to him, in which Marcella tests his loyalty to her. For with her really believing Ezequiel would send someone to infiltrate her ranks, she can never be too careful. For it seems the issues between those two are that serious.
Commentary
Elisa feels so necessary on this show. In combination with Gloria, she presents new blood as well as some sort of threat. Not in terms of a threat to season 1 characters, but someone who could possibly die which is worrisome. Because, with Silas clearly stuck in his ways, it means those like Gloria, who will be part of the process, their life is on the line.
Which makes you root for Rafael stopping Silas' plan, or maybe finding a way to assist Joana to craft a new one. Thus making you reinvest in old favorites thanks to newly introduced characters.
The Purpose I Found: Fernando, Joana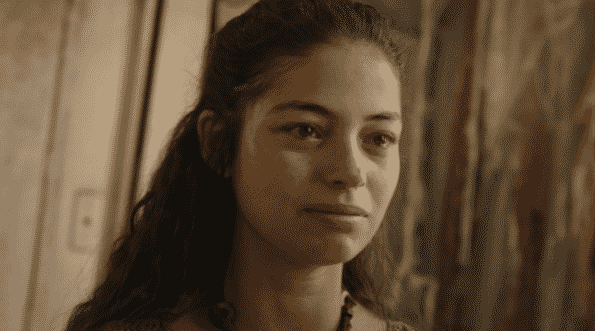 Sometime over the year that passed, Fernando no longer existed within the sewers and rejoined the church. He now handles broadcasting but thanks to a young woman named Gloria, he finds himself prepping people for the process. But, with a keen focus on her since she keeps pestering him about it.
However, as she gets questioned about her parents, her loaf of a dad and mom who tried to kill her, she slowly begins to realize the process isn't all about the best and the brightest. This especially becomes clear when a friend sabotages her during a makeshift block test, similar to what we saw in the series premiere. With that, she feels as if Fernando is trying to discourage her but, in truth, he just doesn't want her to go in as naïve as he did.
Leading to his reasoning behind joining forces with Joana. With knowing The Cause wishes to blow up the Process, that means the possibility of this sweet girl possibly dying due to someone else's desires. Something that Fernando doesn't want to live with so it seems he may help Joana give Silas an alternative to stopping the process.
Commentary
Gloria is the type of character I wish got introduced episode 1. This sweet, violin playing girl, is the type who, if they did like Skins and had a whole new cast go through the process, I wouldn't mind her being the new Fernando. She is cute, sweet, has a sad backstory, and seemingly a good heart. But, with this show keeping up with the old cast, she, alongside the aforementioned Elisa, gives you a reason to care. She makes it so the people who may die aren't a bunch of random extras but characters you want to see more of and whose deaths won't just be devastating to other characters but you as well.
But you also have to give Gloria props for bringing Fernando out of his rut. When we saw Joana's flashback, it seemed if Fernando had the guts, he'd probably kill himself. However, somehow, someway, she gave his life meaning. Not in a love interest way, so it seems, but maybe like a little sister or old friend who reminded him of his place in the community. Even if it is a community she is sort of unhappy to be part of.
Question(s) Left Unanswered
What's divorce like offshore? Much less, how is infidelity handled, considering what happened with the founding couple?
Highlights
The inclusion of Gloria and Elisa give you something new to invest in and renews interest in the established characters attached to their stories.
Marcella showing how twisted she is, and making it seems she may push Rafael to make some hard decisions. If not seduce him. After all, him beating her score the way he did, you have to figure, with her not overreacting, it was probably a bit of a turn on. Plus, with her laughing when seeing Elisa, it seems like she was sizing up her competition and wasn't impressed.
Low Points
There isn't much of a reason to reinvest in Michele yet. Her trying to protect her brother doesn't inspire much reason to not speed through her parts. Besides, maybe something of interest eventually being said.
Follow Wherever I Look on Twitter or Like us on Facebook.
---
Previous Episode's Recap
[visual-link-preview encoded="eyJ0eXBlIjoiaW50ZXJuYWwiLCJwb3N0IjoyMDM1NSwicG9zdF9sYWJlbCI6IlBvc3QgMjAzNTUgLSAzJTogU2Vhc29uIDIvIEVwaXNvZGUgMSBcIkNoYXB0ZXIgMTogTWlycm9yXCIgW1NlYXNvbiBQcmVtaWVyZV0gLSBSZWNhcC8gUmV2aWV3ICh3aXRoIFNwb2lsZXJzKSIsInVybCI6IiIsImltYWdlX2lkIjoyMDM1OSwiaW1hZ2VfdXJsIjoiaHR0cHM6Ly93aGVyZXZlci1pLWxvb2suY29tL3dwLWNvbnRlbnQvdXBsb2Fkcy8yMDE4LzA0LzMtU2Vhc29uLTItRXBpc29kZS0xLUNoYXB0ZXItMS1NaXJyb3ItU2Vhc29uLVByZW1pZXJlLVRpdGxlLUNhcmQucG5nIiwidGl0bGUiOiIzJTogU2Vhc29uIDIvIEVwaXNvZGUgMSBcIkNoYXB0ZXIgMTogTWlycm9yXCIgW1NlYXNvbiBQcmVtaWVyZV0gLSBSZWNhcC8gUmV2aWV3ICh3aXRoIFNwb2lsZXJzKSIsInN1bW1hcnkiOiJJdCBoYXMgYmVlbiBhIHllYXIgYW5kIGEgbmV3IHByb2Nlc3MgaXMgYWJvdXQgdG8gYmVnaW4gd2l0aCBvdXIgb2xkIGZhdm9yaXRlcyBvZiBzZWFzb24gMSBzY2hlZHVsZWQgdG8gZWl0aGVyIHN1cHBvcnQgaXQgb3IgYnJpbmcgaXQgZG93bi4iLCJ0ZW1wbGF0ZSI6ImRlZmF1bHQifQ=="]