It has been a year and a new process is about to begin with our old favorites of season 1 scheduled to either support it or bring it down.
---
Network
Netflix
Director(s)
Philippe Barcinski
Writer(s)
Denis Nielsen, Pedro Aguilera
Air Date
4/27/2018
Actors Introduced
Marcella
Laila Garin
Silas
Samuel de Assis
Andre
Gabriel Calamari
OffShore: Michele, Ezequiel, Rafael, Nair
After a year of living offshore, Michele seemingly hasn't made much in the way of friends or close connections. Rafael is a friendly face but she doesn't desire to be too close to him. All it seems she has wanted to do is visit her brother Andre. Someone touted often as the first killer offshore and a major blemish on Ezequiel's record as Process leader. Something a woman named Marcella really would love to put an end to. For with him being the reason, in her mind, of Julia's death, seeing him taken down several notches would be a blessing.
Though what Marcella really wants is to put a serious clamp down on The Cause. For with Process 105 in a matter of days, one noted as quite a big one, she doesn't want anything going wrong. Something Nair agrees with so she expands her powers for preventive reasons.
Inland: Joana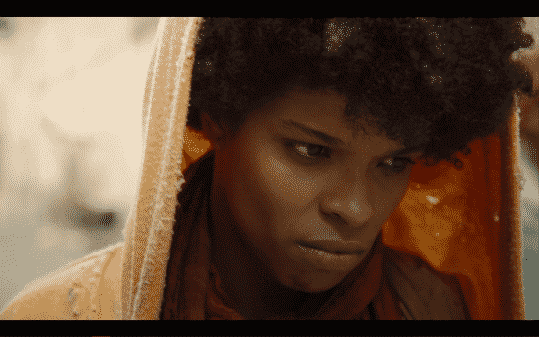 With experiencing the process first hand, and not thinking highly of it, now Joana wishes to join the cause so she hunted down Silas and will seemingly help them possibly end the process. All with the help of some explosive fertilizer.
Process Preparation: Ezequiel, Joana, Michele
Though life is supposed to be better Offshore, as shown by the founding couple being a threesome, not everything is what it seems. For whether it is this Black Mirror styled likability score, or how politics seem to make some people's lives miserable, certain parts of paradise are less than ideal. Of course the sterile thing as well.
But, despite Michele really just wanting to stay out of it, with Ezequiel making it seem that working with him means not only her staying but getting to see her brother beyond a one-way mirror, what choice does she have? So she makes a challenge for the next process and also is tasked with re-integrating into The Cause to sabotage what Joana is doing.
For with her and Silas not being careful of cameras as they stole fertilizer for a bomb, members of the Offshore know what they are up to.
Commentary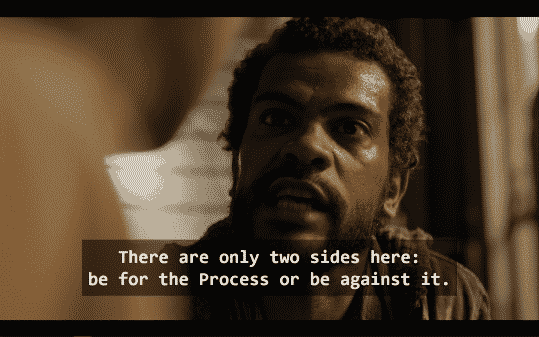 It has been more than a year and a half since the first season and, while you recognize they have to catch us up and establish what this season will be about, the hype has kind of died down. Especially since one of the most interesting parts of season 1 were the trials. So knowing that, likely, the leads won't participate takes out one major selling point. Also, while there is talk of betrayals and life or death situations, the stakes don't feel as high anymore. Paradise has been seen and though it has nice amenities, it isn't without issues. On top of that, fighting for the preservation or destruction of the process doesn't have the same pop as fighting for a better life.
So the second season definitely is started with a bit of an uphill battle.
Other Noteworthy Facts & Moments
Fernando is around but has one sole scene and he, needless to say, seems like he can barely be of much help to himself. Never mind other people.
Question(s) Left Unanswered
What exactly does the old man letter's say and why, in particular, both sides find process 105 so important?
Considering the montage we saw, what led to the Founding Couple losing their 3rd?
Collected Quote(s) & .Gifs
"I'm not depressed! I'm in a depressing position. It's different!"
On The Fence
Whether the season can create a reason to re-invest in the characters now that they aren't pursuing a better life for themselves but focused on the preservation or destruction of the process.
---
Follow Wherever I Look on Twitter or Like us on Facebook.
---
Previous Episode's Recap
[visual-link-preview encoded="eyJ0eXBlIjoiaW50ZXJuYWwiLCJwb3N0IjoxOTkyLCJwb3N0X2xhYmVsIjoiUG9zdCAxOTkyIC0gMyU6IFNlYXNvbiAxLyBFcGlzb2RlIDggJnF1b3Q7Q2hhcHRlciA4LyBCdXR0b24mcXVvdDsgW1NlYXNvbiBGaW5hbGVdIC0gT3ZlcnZpZXcvIFJldmlldyAod2l0aCBTcG9pbGVycykiLCJ1cmwiOiIiLCJpbWFnZV9pZCI6MCwiaW1hZ2VfdXJsIjoiIiwidGl0bGUiOiIzJTogU2Vhc29uIDEvIEVwaXNvZGUgOCAmcXVvdDtDaGFwdGVyIDgvIEJ1dHRvbiZxdW90OyBbU2Vhc29uIEZpbmFsZV0gLSBPdmVydmlldy8gUmV2aWV3ICh3aXRoIFNwb2lsZXJzKSIsInN1bW1hcnkiOiJBbmQgc28gdGhlIGZpcnN0IHNlYXNvbiBlbmRzIHdpdGggb25lIGxhc3QsIGFuZCBmaW5hbCB0ZXN0LCB3ZWxsIGF0IGxlYXN0IGZvciBzb21lLiIsInRlbXBsYXRlIjoiZGVmYXVsdCJ9″]