It's Mr. Porter's turn to take the stand and with him being guilt-racked, he runs through what he wished he did.
---
Network
Netflix
Director(s)
Kat Candler
Writer(s)
Rohit Kumar
Air Date
5/18/2018
Actors Introduced
Maureen
Jeanette Pavini
Sarah
Makenzie Vega
Damon
Indar Smith
I Could Of Done More: Mr. Porter, Olivia, Hannah
For a good portion of the episode, Mr. Porter tries to think of how he could have done things different with Hannah. Especially their final meeting. For while it is clear he followed protocol, being that a young person's life was lost, clearly protocol doesn't work as it should. Which he admits in court and apologizes for.
But, while Mr. Porter saying those words may have helped Olivia's case, the appearance of a Maureen and Sarah likely won't. Especially since they are probably connected to Hannah's old school.
Commentary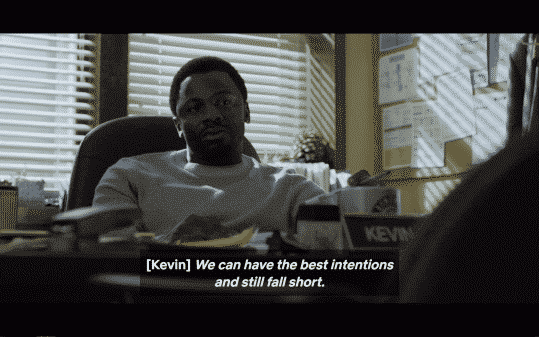 While the recap is tiny, Derek Luke's performance helped bring a fresh perspective to the situation. Because, it is one thing seeing all these teenagers and what they did, but with us switching to the adults in this and the last episode, it pushed how helpless they are as well. There are certain protocols and laws Mr. Porter has to follow doing his job. Especially considering he is dealing with minors, young girls, and there is the constant struggle between getting them to trust you and knowing when you've come to the point of needing to violate the trust.
Making me wonder, considering Nina makes it seem she might of spoken to Mr. Porter in the past, I wonder if his reaction to Hannah came from not following protocol? You know, trying to not jump to conclusions, making things big, and that scaring her off. Because Nina's assault and why she doesn't see Porter highly are two things never really gone into.
With that said, neither way Hannah's life at her old school so this should be interesting.
Welcome to ASS: Tyler, Clay, Bryce, Mr. Bolan, Cyrus, Mackenzie
With Mr. Bolan pretty sure Clay released the tapes, and Bryce feeling the pressure coming down, both present a form of punishment. Mr. Bolan puts Clay in ASS and Bryce has Clay jumped. However, with getting into ASS comes a few good things. For one, Cyrus, Tyler's friend, even after he ditched Mackenzie, because making out and heavy petting made him ejaculate, admires Clay. The tape of the confession makes him see Clay as a bad ass so, after Clay gets jumped, he is invited into their team.
Leading to, the night they desecrate the new baseball field, Clay thinking he found the clubhouse.
Commentary
A part of me strongly desires Mr. Bolan's point of view in this. Because, while he is not only an adult, he has to also manager these many adults who question his leadership. That is, alongside raise money, like he got from the Walkers, so the school can be modern, attractive, and compete. Yet, also take note there are certain things he has to do to appease folks like the Walkers while preventing situations like Hannah's or Olivia suing the school from happening. What I am saying is, seeing that tightrope walk would be cool.
Moving on, I hope that really isn't the end of Tyler and Mackenzie. I get what happened is embarrassing, but they were so cute together. But, while they were cute, I gotta admit Cyrus forgiving so quickly seemed a tad bit strange. Especially since it seems he has a decent relationship with his sister and he seemed upset with Tyler. After all, he trusted him.
But, I guess what matters to Cyrus is maintaining his partner in crime for pulling stunts like they did with Marcus and the baseball field, that takes a team. And while Cyrus has other friends, it seems they only hang out at school and after that, they go their separate ways.
Things Could Be Looking Up: Justin, Jessica, Clay, Nina, Matt
With Clay finding what very well might be the clubhouse, he hunts Justin down to get him to help. Which, after Justin stole more from Seth and abandoned his mom again, with $200 out of maybe a few thousand to escape herself, being welcomed back into the Jensen household might just be a blessing. After all, he was getting comfortable and the only issue was Matt and Clay. However, with Matt, the next morning, acting like he was letting off steam and wondering where Justin was, it seems he is over his social services idea. Then, with Clay, since it seems Tyler and Cyrus have opened him up to the idea of being on a team, he wants Justin's help.
Leading to Jessica. Who knew that maybe all she needed was some Black friends in her life. For Nina gives her a new sense of normalcy, points her in the direction of this Black guy named Damon and unlike when she kissed Alex, Jessica gets into it. Without a trigger mind you.
Unfortunately, though, no sooner than she is getting into a groove does her dad show up a bit perplexed. But, after a laugh about him being upset her new friends are Black, it seems he gets over his caution.
Commentary
Justin was cold-blooded for that. Your mom outright says Seth will probably kill her for stealing the money and you give her $200 to get away while you pocket a few thousand? DAMN! Much less, the fact he is likely to bring that drama with Seth to Clay's household is going to suck for the Jensen family. Because, bad enough he took $1000, I believe, the first time. Now he has taken a few thousand? Seth is going to go on a rampage.
Which leads us to switch to Jessica. I feel like there is so much to be said about her now getting Black majority friends. Especially since Liberty pretty much is white dominated. For whether you are talking about Jessica growing up with a white mom, who liked her hair straight, probably because it was easier to deal with; not having anyone really who got her, and part of her culture, outside maybe Sheri; alongside just knowing someone like Nina who went through what she did and is happy, you can see Jessica's smile is genuine. For visibility and representation isn't always about celebrities and public figures. Sometimes it is just about people you know, who look like you, came from a similar background or went through a similar thing, seeing them happy could mean the world.
Particularly if they are your friends for then that means they can introduce you to their community and their people so that you can have something similar to what they have. But, with that said, I must admit Jessica getting this kind of story, the awkwardness of being Black (even if bi-racial) in a school like Liberty, I wish was something Sheri got as well, if not instead. Since she is probably suffering as much, if not worse at this point, from the isolation of being one of the few Black girls at the school.
Other Noteworthy Facts & Moments
Chloe verbally says she believes Bryce's innocence, but her body language makes it look like she is saying that to Bryce and Zach strictly for her safety.
Someone trashes Tony's car and Caleb, despite Tony lashing out, calms him down.
Porter met Hannah in his office October 9th, 2017.
Alex is now working in Olivia's store and seemingly is starting to get memory bits and pieces.
Question(s) Left Unanswered
So, should we expect Mr. Porter to be fired as soon as the trial is over? For between making the school sound guilty to naming Bryce, whose father is a big donor, it seems his career there is over.
Miscellaneous Commentary
Tony and Caleb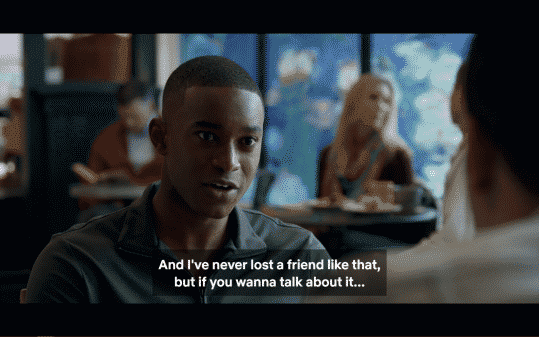 How often do you see two queer people of color dating? Especially on a show with a budget and marketing like this? Never mind them being intimate, beyond sex, like when Tony was flipping out and Caleb was trying to console him, understand the situation, and let him know it would be alright. It was so cute.
Collected Quote(s) & .Gifs
That's not talking, that's telling.
[…] you can run as far as you want, you will never get away from who you are.
[…] are you right with you? Are you at peace in your own heart?
Highlights
Tony and Caleb.
Clay making friends and realizing he can't do a lot of things alone.
Porter's guilt trip, alongside the other teacher.
Chloe recognizing she is caught between a rock and a hard place. Thus meaning she has to be smart about what she says to who and when.
Jessica finding her people, in more ways than one.
Mr. Bolan seemingly using many of the show's criticisms when speaking to Clay about Hannah and her suicide.
Low Points
Justin taking thousands of dollars and leaving his mom with $200.
On The Fence
Tyler ejaculating in his pants and that ruining his date with Mackenzie and their possible future.
Follow Wherever I Look on Twitter, Like us on Facebook and Subscribe to the YouTube Channel.
---
Previous Episode's Recap
[visual-link-preview encoded="eyJ0eXBlIjoiaW50ZXJuYWwiLCJwb3N0IjoyMTA2NywicG9zdF9sYWJlbCI6IlBvc3QgMjEwNjcgLSAxMyBSZWFzb25zIFdoeSAoVGhpcnRlZW4gUmVhc29ucyBXaHkpOiBTZWFzb24gMi8gRXBpc29kZSA4IFwiVGhlIExpdHRsZSBHaXJsXCIgLSBSZWNhcC8gUmV2aWV3ICh3aXRoIFNwb2lsZXJzKSIsInVybCI6IiIsImltYWdlX2lkIjoyMTA3MCwiaW1hZ2VfdXJsIjoiaHR0cHM6Ly93aGVyZXZlci1pLWxvb2suY29tL3dwLWNvbnRlbnQvdXBsb2Fkcy8yMDE4LzA1LzEzLVJlYXNvbnMtV2h5LVRoaXJ0ZWVuLVJlYXNvbnMtV2h5LVNlYXNvbi0yLUVwaXNvZGUtOC1UaGUtTGl0dGxlLUdpcmwtRGVhZC1SYXZlbi5wbmciLCJ0aXRsZSI6IjEzIFJlYXNvbnMgV2h5IChUaGlydGVlbiBSZWFzb25zIFdoeSk6IFNlYXNvbiAyLyBFcGlzb2RlIDggXCJUaGUgTGl0dGxlIEdpcmxcIiAtIFJlY2FwLyBSZXZpZXcgKHdpdGggU3BvaWxlcnMpIiwic3VtbWFyeSI6IkFzIE9saXZpYSBhbmQgQW5keSB0YWtlIHRoZSBzdGFuZCwgYW5kIGV2ZXJ5b25lIGRlYWxzIHdpdGggdGhlIHRhcGVzIGNvbWluZyBvdXQsIHdlIGdldCBhbiB1cGRhdGUgb24gU2t5ZS4iLCJ0ZW1wbGF0ZSI6ImRlZmF1bHQifQ=="]