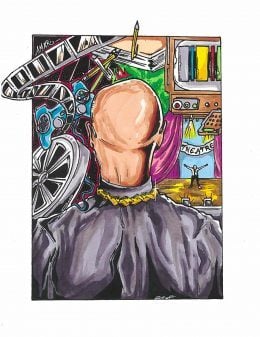 |
Overview
In the pursuit of success in entertainment, two friends go to what they believe will be a nice quiet house to write a script. Unfortunately for them, all that happens is a lot of drama.
Review (with Spoilers) – Below
Characters & Story
Dominic (Michael Godere) and Raphael (Ivan Martin) are two friends trying to get into the acting business, but unfortunately, they have yet to be discovered. So, when friend Kaplan (Natasha Lyonne) mentions she may have 300k for an indie movie, if they can provide a script, they go to Dominic's sister's house, Gigi (Marisa Tomei) in order to work on it. Issue is, between Gigi's past with Raphael, her current situation with Wayne (Sam Rockwell), and then Gigi's guest Ava (Isabelle McNally), Dominic becomes increasingly unsure if they may get the script done with all the distractions.
Praise
I must admit, at first, I did have an interest in this film for the relationship between Raphael and Dominic seemed potentially interesting, as well as the brother/ sister relationship between Dominic and Gigi. Add in Ava who was this weird bohemian type, who flirted with Dominic, and while I wasn't glued to the screen, the film did seem decent.
Criticism
However, once Rockwell came in, with his character's friend Devon (Brian Geraghty), the film became boring fast. If just because Raphael lost this sort of 40-year-old weirdo who was just trying to have fun, Rockwell's character not having some sort of comical edge like most of his characters, and then there just being too much romantic drama. Add on Dominic, by the end, pretty much got on my nerves to the point of being unlikable, and I felt by the end of the middle of the movie there wasn't much to not make me want to play on my phone or surf the internet while hoping something interesting would happen.
Overall: Skip It
The issue with Loitering with Intent is that despite it not being the usual 90 minutes, when it comes to movies, it feels like a blessing it is only 70 some odd minutes. Mostly because it loses its ability to keep you entertained fairly quickly. For while Raphael, arguably, is the most entertaining character in the film, once he starts reminding himself of how much he loved Gigi, he loses that bit of his personality which helps the film chug along. Add in Rockwell not being his usual entertaining self, and you get a film which starts off on a decent road, but then goes somewhere which leads me to say that you shouldn't put your money anywhere near this film.