Come True is one of those polarizing art house films that have this special something about it, but it can easily be lost if you get distracted.
---
Community Rating: 0.00% (0) - No Community Ratings Submitted.
---
---
Director(s)
Anthony Scott Burns
Screenplay By
Anthony Scott Burns
Date Released (Digital)
3/12/2021
Genre(s)
Drama, Horror, Mystery, Sci-Fi, Thriller, Young Adult
Duration
1 Hour and 45 Minutes
Rating
Not Rated
Noted Cast
Sarah
Julia Sarah Stone
Dr. Meyer
Christopher Heatherington
Jeremy
Landon Liboiron
Anita
Carlee Ryski
This content contains pertinent spoilers. Also, images and text may contain affiliate links, which, if a purchase is made, we'll earn money or products from the company.
Film Summary
18-year-old Sarah is homeless and has serious sleeping issues. So, she joins this sleep study under a man named Dr. Meyer but primarily ran by Jeremy and a young woman named Anita. But, with Dr. Meyer's team secretive about what the study is for and not explaining why they use the methods they do, Sarah increasingly becomes apprehensive about continuing the study. Especially as Jeremy becomes a bit of a creeper and these haunting visions come when Sarah sleeps.
But, with her time already invested and interest piqued, Sarah continues the study, despite it only getting stranger each time she closes her eyes.
Things To Note | Question(s) Left Unanswered
Reason(s) for Film Rating: There is blood, meant to be scary images, sexual situations, and brief/implied nudity.
Jump Scares/ Laughs/ Tear-Jerking Moments: What is known as "The Shadow" might freak you out just a tad.
Review
Highlights
Because of How Weird It All Is, You Can't Take Your Eyes Off It
Throughout the entirety of Come True, you'll have an eyebrow raised as you wonder what the hell is going on? For if it isn't the strange-looking doorways or the thing known as "The Shadow," there is wondering what is going on in Sarah's personal life? On top of that, there is the question of whether "The Shadow" is dangerous or not, and as the dreams, or rather nightmares, progress, we get more and more perplexing imagery and moments that make you wonder how this film will end?
Julia Sarah Stone's Star Power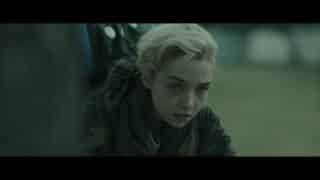 This makes Julia Sarah Stone as the lead a blessing since she holds your attention. For when it comes to damn near polarizing films like these, it takes the right lead to keep viewers from walking away. JSS does this by presenting what can't be defined as innocence or vulnerability, for those words seem too simple. Yet, there is no denying she does more than become a medium to the madness as she makes you feel like you are joining her on this journey, without ever breaking the fourth wall.
For with every shock and moment of confusion, you feel like someone understands why you feel lost. And as you become not just invested in the story but Sarah as well, it pushed you to also want to invest in JSS because you are ultimately left wanting more.
On The Fence
The Ending Makes You Feel Like You Missed Something
Let's take note the film doesn't answer a lot of simple questions. Come True doesn't answer why is Sarah homeless, or at the very least avoiding who you assume is her mom? Also, considering we see Sarah does still go to school, assumingly high school, did she drop out once the sleep study began? Never mind, what happened to the friend of hers we met?
That's just the surface-level questions unanswered because, when it comes to the sleep study, the ending doesn't necessarily explain all that happened before it. If anything, it pushes you to rewatch the film since you're left feeling that you must have missed something.
Which isn't to imply Come True is cerebral and really makes you think. More so, it's the kind of mystery that doesn't wish to present grand ideas throughout the movie and then simplify them in the end. Rather, it wants you to be as lost as its lead rather than, as the viewer, thinking you have all the answers.
Overall
Rating: Mixed (Divisive)
What may mess up the experience of watching Come True for you is feeling like you didn't get a definitive answer to what was going on when it ends. You understand there is a sleep study, that everyone involved is seeing this bizarre-looking shadow, and that part of the study's goals deals with understanding what people see while they are asleep, amongst other things. However, as you reach the final scene and feel like you were thrown way off base, so comes a level of confusion you may find frustrating.
Hence the mixed label. Come True is intriguing, and you can definitely imagine Julia Sarah Stone becoming a notable lead in her career, but with so many unanswered questions and an ending that potentially furthers confusion, Come True, like most art house films, makes it clear it isn't for everyone.
[amazon box=" B08YCZTLRR "]
Movie Directory
Ratings
---
Streaming Tags
---
Special Categories/ Tags
Indie: By our definition, independent films are films you have to seek to find due to limited availability or lack of a marketing push.
Film Festival: Featured in this tag are films and shorts which were discovered thanks to various film festivals, so some of the productions may not have wide availability but still may deserve to be on your watch.
Shorts: Be it ten or fifteen minutes, or a half-hour, these quick teases or films get right to the point, often show the potential of filmmakers and the actors who have joined them in their journey.
| Title | Excerpt | Category | Tags |
| --- | --- | --- | --- |
| The Boy Behind The Door (2021) Cast and Character Guide (with Ending Spoilers) | A guide for the film "The Boy Behind The Door." Noted are cast members, information about their character(s), and additional details about the film's story and characters. | Character Guides, Films (Character Guides) | David Charbonier, Ezra Dewey, Justin Powell, Kristin Bauer Van Straten, Lonnie Chavis, Shudder |
| The Boy Behind The Door (2021) - Review/Summary (with Spoilers) | While immensely frustrating sometimes, it is because The Boy Behind The Door gets you so invested that you hope for the best but expect the worst. | Indie, Movies, Positive (Worth Seeing), Recommended (Movies) | Action, Crime, David Charbonier, Drama, Ezra Dewey, Horror, Justin Powell, Lonnie Chavis, Shudder, Young Adult |
| Resort To Love (2021) - Review/Summary (with Spoilers) | Resort To Love approaches the line towards being messy, as unresolved feelings nearly destroy a wedding. | Movies, Positive (Worth Seeing) | Christiani Pitts, Christina Milian, Comedy, Dana Schmalenberg, Jay Pharoah, Jeryl Prescott Gallien, Netflix Original, Rated PG, Romance, Sinqua Walls, Steven Tsuchida, Sylvaine Strike, Tabi McCartney, Tymberlee Hill |
| Pink Opaque (2020) - Review/Summary (with Spoilers) | In Pink Opaque, we watch as its lead confronts an unstable present, a covered up past, and an uncertain future, as they deal with homelessness. | Indie, Movies, Positive (Worth Seeing) | Chaim Dunbar, Daniel C., Dave Huber, Drama, Elijah Boothe, LGBT, Not Rated, Romance, Ruby Park, Video On Demand, Young Adult |
| Here After (2021) - Review/Summary (with Spoilers) | While Here After fka Faraway Eyes takes a bit to warm up to, it's all smooth sailing once the focus becomes the lead couple. | Mixed (Divisive), Movies | Alex Hurt, Andy Karl, Christina Ricci, Comedy, Harry Greenberger, Michael Rispoli, Nora Arnezeder, Not Rated, Romance, Video On Demand |
| Words Bubble Up Like Soda Pop (2021) - Review/Summary (with Spoilers) | Words Bubble Up Like Soda Pop may not have the best pacing, but when at its best, it'll make you swoon and potentially have you teary-eyed. | Movies | Animation, Comedy, Dai Satô, Hana Sugisaki, Kikuko Inoue, Kyōhei Ishiguro, Megumi Han, Natsuki Hanae, Netflix Original, Non-English, Romance, Somegorô Ichikawa, TV-G, Young Adult |
| Gunpowder Milkshake (2021) - Summary/ Review (wth Spoilers) | Gunpowder Milkshake is a simplistic shoot-em-up featuring Russian mobsters, leads recovering quickly, and issues caused by absent parents. | Mixed (Divisive), Movies | Action, Angela Bassett, Chloe Coleman, Crime, Ehud Lavski, Karen Gillian, Lena Headey, Navot Papushado, Netflix Original, Paul Giamatti, Ralph Inseson, Rated R |
| How I Became A Superhero (2021) - Review/Summary (with Spoilers) | How I Became A Superhero reminds you that superpowers have long lost their luster as a hook, and you need good characters and a story. | Movies, Negative (Acquired Taste) | Action, Benoît Poelvoorde, Cédric Anger, Charlotte Sanson, Crime, Douglas Attal, Fantasy, Gérald Bronner, Melisa Godet, Non-English, Pio Marmaï, Swann Arlaud, TV-MA, Vimala Pons |
| Escape Room Franchise Cast and Character Guide (with Ending Spoilers) | A guide for the Escape Room Franchise. Noted are cast members, information about their character(s), and additional details about the film's story and characters. | Character Guides, Films (Character Guides) | Action, Adam Robitel, Bragi F. Schut, Carlito Olivero, Daniel Touch, Deborah Ann Woll, Drama, Escape Room, Holland Roden, Horror, Indya Moore, Jay Ellis, Logan Miller, Maria Melnik, Mystery, Nik Dodani, Oren Uziel, PG-13, Taylor Russell, Thomas Cocquerel, Tyler Labine, Will Honley, Young Adult |
| Escape Room: Tournament of Champions (2021) - Review/Summary (with Spoilers) | Escape Room: Tournament of Champions may make you think the rooms would be more elaborate and attendees savvier, but that is not the case. | Mixed (Divisive), Movies | Action, Adam Robitel, Carlito Olivero, Daniel Touch, Drama, Escape Room, Holland Roden, Horror, Indya Moore, Logan Miller, Maria Melnik, Mystery, Oren Uziel, PG-13, Taylor Russell, Thomas Cocquerel, Will Honley, Young Adult |
| Fear Street (Part 3) – 1666 - Review/Summary (with Spoilers) | Fear Street: Part 3 (1666) is the perfect ending to the horror trilogy and will make you hope more trilogies resolve as quickly as this one did. | Movies, Positive (Worth Seeing) | Action, Benjamin Flores Jr., Crime, Darrell Britt-Gibson, Drama, Elizabeth Scopel, Emily Rudd, Fantasy, Fear Street, Fred Hechinger, Gillian Jacobs, Horror, Julia Rehwald, Kate Trefry, Kiana Madeira, Leigh Janiak, LGBT, Netflix Original, Olivia Scott Welch, Phil Graziadei, Randy Havens, Rated R, Romance, Sadie Sink, Young Adult |
| Fear Street: 1978 - Review/Summary (with Spoilers) | While the sequel to Fear Street: 1994 loses some of the luster of the first entry, at the very least, it ends strong. | Movies, Positive (Worth Seeing) | Action, Benjamin Flores Jr., Brandon Spink, Drama, Emily Rudd, Fear Street, Gillian Jacobs, Horror, Kiana Madeira, Leigh Janiak, LGBT, McCabe Slye, Netflix Original, Rated R, Romance, Ryan Simpkins, Sadie Sink, Sam Brooks, Ted Sutherland, Thriller, Young Adult, Zak Olkewicz |
| Fear Street Trilogy Cast and Character Guide (with Ending Spoilers) | A guide for the film trilogy "Fear Street." Noted are cast members, information about their character(s), and additional details about the film's story and characters. | Character Guides, Films (Character Guides) | Ashley Zuckerman, Benjamin Flores Jr., Brandon Spink, David W. Thompson, Elizabeth Scopel, Emily Rudd, Fear Street, Fred Hechinger, Gillian Jacobs, Julia Rehwald, Kiana Madeira, Kyle Killen, Leigh Janiak, Matthew Zuk, Maya Hawke, McCabe Slye, Netflix Original, Olivia Scott Welch, Phil Graziadei, Ryan Simpkins, Sadie Sink, Sam Brooks, Ted Sutherland, Zak Olkewicz |
| Externo (2021) - Review/Summary (with Spoilers) | Externo, while at times tapping on that line of being too art-house, presents a compelling journey as one man vies to take over the world. | Indie, Mixed (Divisive), Movies | Christian Bargados, Crime, Drama, Elizabeth Ehrlich, Film Festival, Jonathan Taub, Leandro Taub, Non-English, Not Rated, Queens World Film Festival, Romance, War |
| Batman: The Long Halloween – Part 1 (2021) - Review/Summary (with Spoilers) | For what is one of Batman's legendary stories, Batman: The Long Halloween seemed rather run of the mill. | Mixed (Divisive), Movies | Action, Animation, Billy Burke, Chris Palmer, Crime, Drama, Fantasy, Jensen Ackles, Josh Duhamel, Naya Rivera, PG-13, Romance, Tim Sheridan, Titus Welliver, Troy Baker |
| Zola (2021) - Review/Summary (with Spoilers) | Zola's thrill seems a bit lost in translation from a viral Twitter feed to a motion picture. | Mixed (Divisive), Movies | Action, Adventure, Biopic, Colman Domingo, Comedy, Crime, Drama, Janicza Bravo, Jeremy O. Harris, Nicholas Braun, Rated R, Riley Keough, Taylour Paige |
| FEAR STREET PART 1: 1994 - Review/Summary (with Spoilers) | Usually, it takes years for a trilogy to be built, but with Fear Street, Netflix is giving you the full story in three weeks, and 1994 sets a positive tone. | Movies, Positive (Worth Seeing), Recommended (Movies) | Action, Ashley Zuckerman, Benjamin Flores Jr., Elizabeth Scopel, Fantasy, Fear Street, Fred Hechinger, Historical, Horror, Jordyn DiNatale, Julia Rehwald, Kiana Madeira, Kyle Killen, Leigh Janiak, LGBT, Matthew Zuk, Netflix Original, Olivia Scott Welch, Phil Graziadei, Rated R, Romance, Thriller, Young Adult |
| Do You Also Feel A Tingle? - Review/Summary (with Spoilers) | Your first anything is always a magical moment, but only if with the right person. | Indie, Movies, Positive (Worth Seeing), Short | Calixte Broisin-Doutaz, César Rozan, Comedy, Film Festival, Lucía Valverde, Malonn Lévana, Milla Kuentz, Non-English, Not Rated, Queens World Film Festival, Romance, Young Adult |
| The One and Only Dick Gregory (2021) - Review/Summary (with Spoilers) | The One and Only Dick Gregory feels very much like a highlight reel that pushes the idea it wanted to either minimalize faults or that there weren't any. | Indie, Mixed (Divisive), Movies | Andre Gaines, Comedy, Documentary, Film Festival, Historical, Not Rated, Stand Up Comedy, Tribeca Film Festival |
| She Dreams At Sunrise (2021) - Review/Summary (with Spoilers) | I hope you've been drinking enough water for She Dreams At Sunrise will not only make you cry but ugly cry. | Indie, Movies, Positive (Worth Seeing), Recommended (Movies), Short | Animation, Azie Tesfai, Camrus Johnson, Candice Patton, Comedy, Drama, Family, Film Festival, Not Rated, Tribeca Film Festival |
| Girl With A Thermal Gun (2021) - Review/Summary (with Spoilers) | Is it real life, or was it all a fantasy? That is the question you're left with after watching Girl With A Thermal Gun | Indie, Movies, Positive (Worth Seeing), Short | Comedy, Film Festival, Hu Jie, Li Chao, Musical, Non-English, Not Rated, Romance, Rongfei Guo, Tribeca Film Festival, Young Adult |
| Cupids (2021) - Review/Summary (with Spoilers) | 3 children, worried about bus driver over the summer, contemplate who they know to pair them up within an adorable 10 minute short. | Indie, Movies, Positive (Worth Seeing), Recommended (Movies), Short | Comedy, Film Festival, Julie Sharbutt, Julius Sampson, Melanie Nicholls-King, Not Rated, Romance, Scarlett London Diviney, Susanna Guzman, Toryn Isabella Coote, Tribeca Film Festival, Zoey Martinson |
| Settlers (2021) - Review/Summary (with Spoilers) | In this sometimes slow-moving sci-fi drama, you're reminded of what the cost for survival can be in a post-apocalyptic world – and it often is more than you're willing to give. | Indie, Mixed (Divisive), Movies | Action, Brooklynn Prince, Drama, Family, Film Festival, Ismael Cruz Cordova, Jonny Lee Miller, Nell Tiger Free, Not Rated, Sci-Fi, Sofia Boutella, Tribeca Film Festival, Wyatt Rockefeller, Young Adult |
| Beautiful They (2021) - Review/Summary (with Spoilers) | Beautiful They gives you the soft LGBT+ love story so many ask for but so rarely see. | Indie, Movies, Positive (Worth Seeing), Recommended (Movies) | Cloudy Rhodes, Film Festival, LGBT, Morgan Davies, Not Rated, Romance, Sariah Saibu, Tribeca Film Festival, Young Adult |
| Magnolia Bloom (2021) - Review/Summary (with Spoilers) | In what appears to be one of the final moments of a long movie, we watch as a young woman integrates a room to share a highlight of her life with her people. | Indie, Movies, Positive (Worth Seeing), Recommended (Movies), Short | Drama, Film Festival, Historical, Joi Elaine, Joseph Lopez, Lex Scott Davis, Matt Mitchell, Not Rated, Tayo Amos, Tribeca Film Festival, Wes McGee |
| BITCHIN': The Sound and Fury of Rick James (2021) - Review/Summary (with Spoilers) | BITCHIN': The Sound and Fury of Rick James shall be known as the definitive documentary when it comes to Rick James, for it leaves very little left to question or answer. | Indie, Movies, Positive (Worth Seeing), Recommended (Movies) | Animation, Documentary, Film Festival, Historical, Jason Pollard, Musical, Sascha Jenkins, Steve Rivo, Tribeca Film Festival |
| Esther In Wonderland (2021) - Review/Summary (with Spoilers) | Esther In Wonderland is a reminder that Hip-Hop has fans across all cultures and worlds, and they will find what they need one way or another. | Indie, Movies, Positive (Worth Seeing), Recommended (Movies), Short | Film Festival, Lily Lyor Askenazi, Martha Bernabel, Naian Gonzalez Norvind, Not Rated, Pesach Eisen, Sawandi Wilson, Stephanie Bollag, Tribeca Film Festival, Young Adult |
| Blush (2021) - Review/Summary (with Spoilers) | In 11 minutes, you get one of the cutest animated sci-fi love stories since Wall-E. | Indie, Movies, Positive (Worth Seeing), Short | Animation, Comedy, Family, Film Festival, Joe Mateo, Not Rated, Romance, Sci-Fi, Tribeca Film Festival |
| Asking For It (2021) - Review/Summary (with Spoilers) | Asking For It has a B-Movie vibe as it has a group of radical feminists take on incels and the patriarchy. | Indie, Mixed (Divisive), Movies | Action, Adventure, Alexandra Shipp, Casey Camp Horninek, Crime, David Patrick Kelly, Drama, Eamon O'Rourke, Ezra Miller, Film Festival, Kiersey Clemons, Not Rated, Radha Mitchell, Tribeca Film Festival, Vanessa Hudgens, Young Adult |
| Dating and New York (2021) - Review/Summary (with Spoilers) | Is this a romantic comedy? Yes. However, that doesn't mean Dating and New York may not make you cry – which it did for us. | Indie, Movies, Positive (Worth Seeing) | Brian Muller, Catherine Cohen, Comedy, Film Festival, Francesca Reale, Jaboukie Young-White, Jerry Ferrara, Jonah Feingold, Not Rated, Romance, Sohina Sidhu, Tribeca Film Festival, Young Adult |
| 7 Days (2021) - Review/Summary (with Spoilers) | On top of 7 Days being an opposites attract story, it also taps into stereotypes then expands them to remind you they are ignorant viewpoints of a much more complicated culture. | Indie, Movies, Positive (Worth Seeing) | Comedy, Drama, Film Festival, Geraldine Viswanathan, Karan Soni, Mark Duplass, Not Rated, Romance, Roshan Sethi, Tribeca Film Festival, Young Adult |
| Poser (2021) - Review/Summary (with Spoilers) | Poser operates much like an action movie. The only difference is, rather than sitting through the story to get to the action sequences, in Poser you are awaiting the next musical performance. | Indie, Mixed (Divisive), Movies | Bobbi Kitten, Drama, Film Festival, Musical, Noah Dixon, Not Rated, Ori Segev, Sylvie Mix, Tribeca Film Festival, Young Adult |
| Mark, Mary and Some Other People (2021) - Review/Summary (with Spoilers) | As open relationships and marriages push for more societal acceptance, the question becomes, if purely in a sexual context, can it work? | Indie, Movies, Positive (Worth Seeing) | Ben Rosenfield, Comedy, Film Festival, Hannah Marks, Hayley Law, LGBT, Matt Shively, Nik Dodani, Not Rated, Odessa A'zion, Romance, Sofia Bryant, Tribeca Film Festival, Young Adult |
| Tiny Cow (2021) - Review/Summary (with Spoilers) | Boredom can lead to the most inane activities, but it leads to a shocking discovery for Adam. | Indie, Mixed (Divisive), Movies | Brklyn Film Festival, Caroline Quentin, Comedy, Ewan Taylor, Film Festival, Nicky Waltham, Olive Maltman, Patricia Allison |
| Beau (2021) - Review/Summary (with Spoilers) | On the brink of a major success, two women disagree on the best path forward for one's career and their shared relationship. | Indie, Movies, Positive (Worth Seeing) | Brklyn Film Festival, Chase Sui Wonders, Constance Tsang, Drama, Film Festival, LGBT, Not Rated, Spencer Grammer, Tony Yang, Young Adult |
| The Hitman's Wife's Bodyguard (2021) - Review/Summary (with Spoilers) | The Hitman's Wife's Bodyguard is just what you need if you've felt laughter, guns, and things blowing up, have been in short supply. | Movies, Positive (Worth Seeing) | Action, Adventure, Antonio Banderas, Brandon Murphy, Comedy, Crime, Frank Grillo, Morgan Freeman, Patrick Hughes, Phillip Murphy, Rated R, Romance, Ryan Reynolds, Salma Hayek, Samuel L. Jackson, Tim O'Connor |
| The Orange Child - Review/Summary (with Spoilers) | The evolution of self-image is explored as a Black child growing up in France finds a way to be empowered by his Blackness. | Indie, Movies, Positive (Worth Seeing), Recommended (Movies) | Adriel Jean-Simon, Alexandre Desane, Anaïs Volpé, Animation, Brklyn Film Festival, Drama, Film Festival, Marlon Da Veiga-Plutus, Non-English, Not Rated, Young Adult |
| Queen Bees (2021) - Review/Summary (with Spoilers) | Queen Bees is a reminder that no matter how old you get, you can still find love, new friends, and can't escape cliques. | Indie, Movies, Positive (Worth Seeing) | Ann-Margret, Christopher Lloyd, Comedy, Donald Martin, Drama, Elizabeth Mitchell, Ellen Burstyn, French Stewart, James Caan, Jane Curtin, Loretta Devine, Matthew Barnes, Michael Lembeck, PG-13, Romance |
| Cherry Lemonade (2021 Tribeca Film Festival) - Review/Summary (with Spoilers) | After a certain point, you get tired of having to ask someone to take you to the store, so a young girl decides it is time to go on her own. | Indie, Movies, Positive (Worth Seeing), Short | Aisha Ford, Eris Baker, Film Festival, Skylan Brooks, Tribeca Film Festival, Young Adult |
| Waves (2021 - Tribeca Film Festival) - Review/Summary (with Spoilers) | With the opportunity to go to prom, a young man wants to look nice, but with an afro and a desire for waves, he can't just go anywhere, so to an unfamiliar barbershop he goes. | Indie, Movies, Recommended (Movies), Short | Agazi Desta, Film Festival, Jason Dalhouse, Omete Anassi, Tribeca Film Festival, Young Adult |
| Awake (2021) - Review/Summary (with Spoilers) | Awake could put you to sleep if it wasn't for the much-needed screams and sounds of bullets being fired. | Mixed (Divisive), Movies | Action, Adventure, Ariana Greenblatt, Drama, Family, Frances Fisher, Gina Rodriguez, Gregory Poirier, Horror, Joseph Raso, Lucius Hoyos, Mark Raso, Netflix Original, Sci-Fi, Thriller, TV-MA, Young Adult |
| Flashback Cast and Character Guide (with Ending Spoilers) | A guide for the film "Flashback." Noted are cast members, information about their character(s), and additional details about the film's story and characters. | Character Guides, Films (Character Guides) | Christopher Macbride, Dylan O'Brien, Emory Cohen, Hannah Gross, Keir Gilchrist, Liisa Repo-Martell, Maika Monroe |
| Flashback (2021) - Review/Summary (with Spoilers) | How far would you go to remember someone from 15 years ago who disappeared? Especially if under the circumstances most would happily choose to forget? | Mixed (Divisive), Movies | Christopher Macbride, Drama, Dylan O'Brien, Emory Cohen, Fantasy, Hannah Gross, Keir Gilchrist, Liisa Repo-Martell, Maika Monroe, Mystery, Not Rated, Romance, Young Adult |
| Carnaval Cast and Character Guide (with Ending Spoilers) | A guide for the film "Carnaval." Noted are cast members, information about their character(s), and additional details about the film's story and characters. | Character Guides, Films (Character Guides) | Audemir Leuzinger, Bruna Inocencio, Flavia Pavanelli, Giovana Cordeiro, Gkay, Jean Pedro, Leandro Neri, Luisa Mascarenhas, Micael Borges, Nikolas Antunes, Rafael Medrado, Samya Pascotto |
| Port Authority Cast and Character Guide (with Ending Spoilers) | A guide for the film "Port Authority." Noted are cast members, information about their character(s), and additional details about the film's story and characters. | Character Guides, Films (Character Guides) | Danielle Lessovitz, Fionn Whitehead, Leyna Bloom, Louisa Krause, McCaul Lombardi |
| Carnaval (2021) - Review/Summary (with Spoilers) | Despite seeming like a generic party film/ girls trip, there is more to Carnaval than meets the eye. | Indie, Movies, Positive (Worth Seeing) | Audemir Leuzinger, Bruna Inocencio, Comedy, Flavia Pavanelli, Giovana Cordeiro, Gkay, Jean Pedro, Leandro Neri, LGBT, Luisa Mascarenhas, Micael Borges, Musical, Netflix Original, Non-English, Romance, Samya Pascotto, TV-MA, Young Adult |
| Port Authortiy (2021) - Review/ Summary (with Spoilers) | In the heart of New York, a Pittsburgh transplant hopes to start a new life living with his half-sister, but when that doesn't come to pass, he develops a chosen family. | Indie, Movies, Positive (Worth Seeing), Recommended (Movies) | Danielle Lessovitz, Drama, Fionn Whitehead, Leyna Bloom, LGBT, Louisa Krause, McCaul Lombardi, Rated R, Romance, Young Adult |
| LOVE, DEATH & ROBOTS: All Through The House - Review/Summary (with Spoilers) | All Through the House presents the idea Santa's Little Helpers may not be cuddly and friendly reindeer, and naughty kids may not just deal with coal. | Movies, Positive (Worth Seeing), Short | Animation, Divi Mittal, Elliot Dear, Fantasy, Fred Tatasciore, Holiday, Horror, Joachim Heijndermans, LOVE DEATH + ROBOTS, Netflix, Philip Gelatt, Sami Amber, TV-MA |
| Love, Death + Robots: The Tall Grass - Review/Summary (with Spoilers) | You may feel like you're getting flashbacks from In The Tall Grass, while watching The Tall Grass, but it's not the same and gets out before it can get bad. | Mixed (Divisive), Short | Action, Animation, Fantasy, Horror, Joe Dempsie, Joe Lansdale, Netflix, Philip Gelatt, Simon Otto, Steven Pacey, Thriller, TV-MA |
| Love, Death + Robots: Snow In The Desert - Review/Summary (with Spoilers) | So, what video game were these cut scenes from, when is it out, and for what platforms? | Positive (Worth Seeing), Short | Action, Adventure, Animation, Crime, Dominique Boidin, Leon Berelle, Maxime  Luere, Neal Asher, Netflix, Peter Franzen, Philip Gelatt, Remi Kozyra, Romance, Sci-Fi, TV-MA, Zita Hanrot |
| Love, Death & Robots: Pop Squad - Review/Summary (with Spoilers) | Imagine living in a world where you could live forever if you forego having children. Is this a tradeoff you could accept? Especially knowing the price to pay if you had kids? | Movies, Positive (Worth Seeing), Recommended (Movies), Short | Action, Animation, Drama, Elodie Yung, Jennifer Yuh Nelson, LOVE DEATH + ROBOTS, Michelle C. Bonilla, Netflix, Nolan North, Paolo Bacigalupi, Philip Gelatt, Sci-Fi, TV-MA |
| Love, Death and Robots: Ice - Review/Summary (with Spoilers) | Two brothers, separated by one having modifications and the other not, have a night out where they bond and could potentially lose their lives. | Positive (Worth Seeing), Short | Action, Animation, Archie Madekwe, Family, LOVE DEATH + ROBOTS, Netflix, Philip Gelatt, Robert Valley, Sci-Fi, Sebastian Croft, TV-MA, Young Adult |
| Love, Death & Robots: Automated Customer Service - Review/Summary (with Spoilers) | While buying robots makes almost all of your daily chores easier, can you imagine if the company behind them installed some special features to kill you? | Positive (Worth Seeing), Short | Action, Animation, Ben Giroux, Brian Keane, Comedy, Horror, John Scalzi, LOVE DEATH + ROBOTS, Meat Dept, Nanci Linari, Netflix, Sci-Fi, TV-MA |
| Spiral Cast and Character Guide (with Ending Spoilers) | A guide for the film "Spiral." Noted are cast members, information about their character(s), and additional details about the film's story and characters. | Character Guides, Films (Character Guides) | Chris Rock, Darren Lynn Bousman, Josh Stolberg, Max Minghella, Pete Goldfinger, Samuel L. Jackson |
| Spiral (2021) - Review/Summary (with Spoilers) | Spiral: From The Book of SaW is not only one of Chris Rock's best performances but the best entry into the SaW franchise for quite some time. | Movies | Action, Chris Rock, Crime, Darren Lynn Bousman, Drama, Horror, Josh Stolberg, Mystery, Pete Goldfinger, Rated R, Samuel L. Jackson, Thriller |
| The Water Man - Review/Summary (with Spoilers) | The Water Man is wonderfully cast, but the story doesn't match up to their talent after a certain point. | Movies, Positive (Worth Seeing) | Adventure, Amiah Miller, David Oyelowo, Drama, Emma Needell, Family, Fantasy, Lonnie Chavis, PG, Rosario Dawson, Young Adult |
| Separation Cast and Character Guide (with Ending Spoilers) | A guide for the film "Separation." Noted are cast members, information about their character(s), and additional details about the film's story and characters. | Character Guides, Films (Character Guides) | Brian Cox, Josh Braun, Madeline Brewer, Mamie Gummer, Nick Amadeus, Rupert Friend, Violet McGraw, William Brent Bell |
| Separation - Review/Summary (with Spoilers) | Separation tones down the jump scares and rather focus on a creepy set of monsters and its story of revenge. | Movies, Positive (Worth Seeing) | Brian Cox, Crime, Drama, Horror, Josh Braun, Mamie Gummer, Mystery, Nick Amadeus, Rated R, Rupert Friend, Violet McGraw, William Brent Bell |
| Two Distant Strangers Cast and Character Guide (with Ending Spoilers) | A guide for the film "Two Distant Strangers." Noted are cast members, information about their character(s), and additional details about the film's story and characters. | Character Guides, Films (Character Guides) | Andrew Howard, Joey Badass, Martin Desmond Roe, Netflix Original, Travon Free, Zaria |
| Two Distant Strangers - Review/Summary (with Spoilers) | In this 30-minute horror story, a young man is caught in the loop of a cop killing him in a multitude of ways. | Indie, Movies, Positive (Worth Seeing), Recommended (Movies), Short | Action, Andrew Howard, Crime, Drama, Horror, Joey Badass, Martin Desmond Roe, Netflix Original, Travon Free, TV-MA, Young Adult, Zaria |
| Taking The Fall (2021) - Review/Summary (with Spoilers) | After a 6 year bid, a young man comes home to a party featuring all the people he took a fall for. | Movies, Positive (Worth Seeing) | Avalon Penrose, Chris Sturgeon, Drama, Jonathan D. King, Josh Marble, Katie Gill, Munro Chambers, Not Rated, Roland Buck III, Steve K. Hellmann, Young Adult |
| Voyagers (2021) - Review/Summary (with Spoilers) | At times, Voyagers is the teen romantic drama you didn't know you needed. Yet, with not always being scientifically sound and not using some characters to their fullest – it does falter. | Mixed (Divisive), Movies | Action, Archie Madekwe, Chanté Adams, Colin Farrell, Crime, Drama, Fionn Whitehead, Isaac Hempstead-Wright, Lily-Rose Depp, Neil Burger, PG-13, Quintessa Swindell, Romance, Sci-Fi, Tye Sheridan, Young Adult |
| Violet Evergarden: The Movie (2020) - Review/ Summary (with Spoilers) | Closing out the franchise, Violet Evergarden: The Movie gives Violet the closure she has desperately needed and the tears you expect. | Movies | Adventure, Animation, Chihara Minori, Drama, Ishikawa Yui, Kiuchi Hidenobu, Koyasu Takehito, Mizuhashi Kaori, Morohoshi Sumire, Namikawa Daisuke, Non-English, Not Rated, Reiko Yoshida, Sci-Fi, Taichi Ishidate, War, Young Adult |
| The Vault (2021) Cast and Character Guide (with Ending Spoilers) | A guide for the film "The Vault." Noted are cast members, information about their character(s), and details about the film's story. | Character Guides, Films (Character Guides) | Adres Koppel, Astrid Berges-Frisbey, Axel Stein, Borja Glez. Santaolalla, Famke Janssen, Freddie Highmore, Jaume Balaguero, Jose Coronado, Liam Cunnigham, Luis Tosar, Michel Gaztambide, Rafa Martinez, Rowan Athale, Sam Riley |
| The Vault (2021) - Review/Summary (with Spoilers) | The Vault may not be competitive in the heist genre, but It does work as something to watch when nothing else is new or on. | Indie, Movies, Positive (Worth Seeing) | Action, Adres Koppel, Astrid Berges-Frisbey, Axel Stein, Borja Glez. Santaolalla, Crime, Freddie Highmore, Jaume Balaguero, Liam Cunnigham, Luis Tosar, Michel Gaztambide, Rafa Martinez, Rated R, Rowan Athale, Sam Riley, Young Adult |
| Tina (2021) - Review/Summary (with Spoilers) | In Tina, we get one last goodbye from the legend who, with books, movies, and a musical about her life, wishes to move on from the past and enjoy the present and future. | Movies, Positive (Worth Seeing), Recommended (Movies) | Dan Lindsay, Documentary, Film Festival, HBO Max, Tina Turner, TJ Martin, TV-MA |
| Caught By A Wave Cast and Character Guide (with Ending Spoilers) | A guide for the film "Caught By A Wave." Noted are cast members, information about their character(s), and additional details about the film's story and characters. | Character Guides, Films (Character Guides) | Claudia Bottino, Elvira Camarrone, Massimiliano Camaiti, Netflix Original, Roberto Christian |
| Nobody Cast and Character Guide (with Ending Spoilers) | A guide for the film "Nobody." Noted are cast members, information about their character(s), and additional details about the film's story and characters. | Character Guides, Films (Character Guides) | Alexey Serebryakov, Araya Mengesha, Billy MacLellan, Bob Odenkirk, Christopher Lloyd, Connie Nielsen, Derek Kolstad, Gage Munroe, Ilya Naishuller, Michael Ironside, Paisley Cadorath, RZA |
| Nobody (2021) - Review/Summary (with Spoilers) | Nobody makes for a fun fantasy revenge tale with the type of violence which may make you flinch a little bit. | Movies, Positive (Worth Seeing) | Action, Aleksey Serebryakov, Araya Mengesha, Billy MacLellan, Bob Odenkirk, Christopher Lloyd, Comedy, Connie Nielsen, Crime, Derek Kolstad, Gage Munroe, Ilya Naishuller, Michael Ironside, Paisley Cadorath, Rated R, RZA |
| Caught By A Wave (2021) - Review/Summary (with Spoilers) | Caught By A Wave is a simple romance with enough drama to keep it from getting dull, but never enough to make you take situations mentioned too serious. | Mixed (Divisive), Movies | Claudia Bottino, Elvira Camarrone, Massimiliano Camaiti, Netflix Original, Non-English, Roberto Christian, Romance, TV-14, Young Adult |
| Cherry (2021) Cast and Character Guide (with Ending Spoilers) | A guide for the film "Cherry." Noted are cast members, information about their character(s), and additional details about the film's story and characters. | Character Guides, Films (Character Guides) | Angela Russo-Otstot, Anthony Russo, Apple TV Plus, Ciara Bravo, Jessica Goldberg, Joe Russo, Tom Holland |
| Cherry (2021) - Review/Summary (with Spoilers) | While Cherry is too damn long, Tom Holland, and especially Ciara Bravo, present the most beautiful, f***ed up love story you might watch for a while. | Mixed (Divisive), Movies | Action, Adventure, Angela Russo-Otstot, Anthony Russo, Apple TV Plus, Ciara Bravo, Crime, Drama, Jessica Goldberg, Joe Russo, Rated R, Romance, Tom Holland, War, Young Adult |
| Come True (2021) Cast and Character Guide (with Ending Spoilers) | A guide for the film "Come True." Noted are cast members, information about their character(s), and additional details about the film's story and characters. | Character Guides, Films (Character Guides) | Anthony Scott Burns, Carlee Ryski, Christopher Heatherington, Julia Sarah Stone, Landon Liboiron |
| Come True (2021) - Review/Summary (with Spoilers) | Come True is one of those polarizing art house films that have this special something about it, but it can easily be lost if you get distracted. | Indie, Mixed (Divisive), Movies | Anthony Scott Burns, Carlee Ryski, Christopher Heatherington, Julia Sarah Stone, Landon Liboiron, Not Rated |
| Trust (2021) Cast and Character Guide (with Ending Spoilers) | A guide for the film "Trust." Noted are cast members, information about their character(s), and additional details about the film's story and characters. | Character Guides, Films (Character Guides) | Brian Decubellis, K.S. Bruce, Katherine McNamara, Kristen Lazarian, Lindsey Broad, Lucien Laviscount, Matthew Daddario, Ronny Chieng, Victoria Justice |
| Trust (2021) - Review/Summary (with Spoilers) | In this "Did they or didn't they" movie, Trust pushes you to wonder who is a liar and whether the circumstances absolve one from the result? | Mixed (Divisive), Movies | Brian Decubellis, Drama, K.S. Bruce, Kristen Lazarian, Lindsey Broad, Lucien Laviscount, Matthew Daddario, Not Rated, Romance, Ronny Chieng, Victoria Justice, Young Adult |
| Yes Day (2021) Cast and Character Guide (with Ending Spoilers) | A guide for the film "Yes Day." Noted are cast members, information about their character(s), and additional details about the film's story and characters. | Character Guides, Films (Character Guides) | Edgar Ramirez, Everly Carganilla, H.E.R., Jenna Ortega, Jennifer Garner, Julian Lerner, Justin Malen, Miguel Arteta, Netflix Original |
| Yes Day (2021) - Review/Summary (with Spoilers) | | Movies, Positive (Worth Seeing), Recommended (Movies) | Comedy, Edgar Ramirez, Everly Carganilla, Family, Jenna Ortega, Jennifer Garner, Julian Lerner, Justin Malen, Miguel Arteta, Netflix Original, Rated PG |
| Long Weekend Cast and Character Guide (with Ending Spoilers) | A guide for the film "Long Weekend." Noted are cast members, information about their character(s), and additional details about the film's story and characters. | Character Guides, Films (Character Guides) | Damon Wayans Jr., Finn Wittrock, Stephen Basilone, Zoe Chao |
| Long Weekend (2021) - Review/Summary (with Spoilers) | Despite being a theatrical release, something about Long Weekend feels very much like a VoD release that somehow snuck into theaters. | Movies, Positive (Worth Seeing) | Comedy, Damon Wayans Jr., Finn Wittrock, Rated R, Romance, Sci-Fi, Stephen Basilone, Zoe Chao |
| Coming 2 America (2021) - Review/Summary (with Spoilers) | Coming 2 America has its moments, but as it hints itself, like many sequels, it was unnecessary. | Mixed (Divisive), Movies | Amazon Prime – Movies, Barry W. Blaustein, Comedy, Craig Brewer, David Sheffield, Eddie Murphy, James Earl Jones, Jermaine Fowler, Kenya Barris, KiKi Layne, Leslie Jones, Lisa Shari Headley, PG-13, Romance, Wesley Snipes, Young Adult |
| Boogie (2021) - Review/Summary (with Spoilers) | Boogie tries to be a coming of age tale, romance, drama, and feature its leads heritage to varying degrees of success. | Movies | Drama, Eddie Huang, Family, Non-English, Pamelyn Chee, Perry Yung, Rated R, Romance, Taylor Takahashi, Taylour Paige, Young Adult |
| Chaos Walking (2021) - Review/ Summary (with Spoilers) | Chaos Walking doesn't necessarily utilize Daisy Ridley to its best, but Tom Holland, Mads Mikkelsen, and David Oyelowo compensate for that. | Mixed (Divisive), Movies | Action, Adventure, Christopher Ford, Comedy, Daisy Ridley, David Oyelowo, Doug Liman, Mads Mikkelsen, Patrick Ness, PG-13, Sci-Fi, Tom Holland, Young Adult |
| Raya and the Last Dragon (2021) - Review/ Summary (with Spoilers) | Raya and the Last Dragon acts as a reminder Disney can still make impactful original productions that will not only make you cry but be added to their collection of classics. | Movies, Positive (Worth Seeing), Recommended (Movies) | Action, Adele Lim, Adventure, Animation, Awkwafina, Benedict Wong, Carlos López Estrada, Comedy, Daniel Dae Kim, Don Hall, Family, Fantasy, Gemma Chan, Izaac Wang, John Ripa, Kelly Marie Tran, Paul Briggs, Qui Nguyen, Rated PG, Thalia Tran, Young Adult |
| The United States vs. Billie Holiday - Summary, Review (with Spoilers) | The United States vs. Billie Holiday all boils down to Andra Day as Billie Holiday, and playing on the hatred of the FBI you surely have by now watching these stories. | Movies, Positive (Worth Seeing) | Andra Day, Biopic, Drama, Historical, Hulu, Lee Daniels, Musical, Rated R, Romance, Suzan-Lori Parks, Trevante Rhodes |
| Stealing School (2021) - Review/ Summary (with Spoilers) | Stealing School may make you fearful of computer science majors as you watch one do whatever it takes to graduate. | Movies, Positive (Worth Seeing) | Celine Tsai, Drama, Jonathan Keltz, Li Dong, Matthew Edison, Not Rated, Young Adult |
| Billie Eilish: The World's A Little Blurry - Review/ Summary (with Spoilers) | Billie Eilish: The World's A Little Blurry acts as a reminder of not only the brilliance of Eilish, but of her age, frailty, and how a small team made a world-renowned artist. | Movies, Positive (Worth Seeing) | Adventure, Apple TV Plus, Billie Eilish, Comedy, Documentary, Drama, Family, Musical, R.J. Cutler, Rated R, Romance, Young Adult |
| A Writer's Odyssey (2021) - Review/Summary (with Spoilers) | If you're missing the big-budget productions Hollywood is too scared to release theatrically, A Writer's Odyssey can help you with your fix. | Movies, Positive (Worth Seeing) | Action, Adventure, Crime, Dong Zijiang, Drama, Fantasy, Haiyan Qin, Lei Jiayin, Lu Yang, Non-English, Not Rated, Shu Chen, Thriller, Wang Shengdi, Xiaocao Liu, Yang Lu, Yang Mi, Yang Yu, Yu Hewei |
| The Map of Tiny Perfect Things - Review/Summary (with Spoilers) | The Map of Tiny Perfect Things is an imperfect romance film, which takes almost an hour to differentiate itself and keep you from growing tired of the film's loop. | Mixed (Divisive), Movies | Amazon Prime – Movies, Comedy, Ian Samuels, Kathryn Newton, Kyle Allen, Lev Grossman, PG-13, Romance, Young Adult |
| To All The Boys: Always And Forever - Review/Summary (with Spoilers) | Is it weird to think a movie is way too long yet still be crying when it ends? That's how we feel about To All The Boys: Always and Forever. | Movies | Anna Cathcart, Comedy, Emilija Baranac, Janel Parrish, Katie Lovejoy, Lana Condor, Madeleine Arthur, Michael Fimognari, Netflix Original, Noah Centineo, Romance, Ross Butler, To All The Boys, Trezzo Mahoro, TV-14, Young Adult |
| Little Fish (2021) - Review/Summary (with Spoilers) | Little Fish will leave you wondering why all the best romances are constricted by tragedy. | Indie, Movies, Positive (Worth Seeing), Recommended (Movies) | Chad Hartigan, Digital Release, Drama, Jack O'Connell, Mattson Tomlin, Olivia Cooke, Romance, Unrated, Young Adult |
| Malcolm & Marie - Review/Summary (with Spoilers) | Malcolm & Marie pushes you to understand the complicated middle before a relationship comes to an end. | Movies, Positive (Worth Seeing), Recommended (Movies) | Drama, John David Washington, Netflix Original, Rated R, Romance, Sam Levinson, Young Adult, Zendaya |
| Bambirak - Review/Summary (with Spoilers) | Who of us didn't want to spend more time with our parents, specifically see what they did when we weren't around? That's what Kati gets to do in Bambirak. | Indie, Movies, Positive (Worth Seeing), Short | Family, Film Festival, Kailas Mahadevan, Lara Cengiz, Not Rated, Sundance Film Festival, Zamarin Wahdat |
| White Wedding (2021) - Review/Summary (with Spoilers) | An absent father finds himself working the wedding of the daughter he never got to know. | Indie, Movies, Positive (Worth Seeing), Short | Curtiss Cook, Drama, Family, Film Festival, J. Smith-Cameron, Melody C. Roscher, Nabiyah Be, Not Rated, Sundance Film Festival |
| Bruiser (2021) - Review/Summary (with Spoilers) | When your father is the epitome of masculinity, what does it say about you if you aren't a spitting image of that? | Indie, Movies, Positive (Worth Seeing), Short | Ben Medina, Drama, Film Festival, J.D. Williams, Miles Warren, Noble B. Whitted, Not Rated, Sundance Film Festival, Young Adult |
| Judas And The Black Messiah (2021) - Review/ Summary (with Spoilers) | Like nearly every well-crafted film about Black oppression in America, Judas and the Messiah will enrage you, tire you out, and make you hope J. Edgar Hoover and his enablers, rot in hell. | Indie, Movies, Positive (Worth Seeing), Recommended (Movies) | Action, Biopic, Crime, Daniel Stanfield, Dominique Fishback, Domonique Thorne, Drama, Film Festival, HBO Max, Historical, Horror, Lakeith Stanfield, Martin Sheen, Not Rated, Romance, Shaka King, Sundance Film Festival, Will Berson, Young Adult |
| BJ's Mobile Gift Shop (2021) - Review/ Summary (with Spoilers) | The 16 minutes of Jason Park's BJ's Mobile Gift Shop will leave you demanding a full-length feature film, featuring Johnnyboy Tellem before 2021 is over. | Indie, Movies, Positive (Worth Seeing), Recommended (Movies), Short | Comedy, Drama, Film Festival, Jason Park, Johnnyboy Tellem, Not Rated, Sundance Film Festival, Young Adult |
| Ava From My Class (2021) - Review/Summary (with Spoilers) | Ava From My Class pushes you to wonder where the line between admiration and a crush is for its young lead. | Indie, Movies, Positive (Worth Seeing), Recommended (Movies), Short | Bae Bonalle, Drama, Film Festival, LGBT, Not Rated, Rowan Cooper, Soomin Kang, Sundance Film Festival, Youmin Kang, Young Adult |
| Wiggle Room (2021) - Review/ Summary (with Spoilers) | Dealing with insurance companies can often be hell, but surely if you see the agent face to face, they'll help you right? | Movies | Deanne Gibson, Drama, Film Festival, Julia Baylis, Not Rated, Sam Guest, Sam Stillman, Sundance Film Festival |
| First Date (2021) - Review/Summary (with Spoilers) | If you thought McG's The Babysitter series was over the top and crazy, Manuel Crosby and Darren Knapp respond with "Challenge accepted" with First Date. | Indie, Movies, Positive (Worth Seeing), Recommended (Movies) | Action, Comedy, Crime, Darren Knapp, Film Festival, Manuel Crosby, Nicole Berry, Not Rated, Romance, Shelby Duclos, Sundance Film Festival, Tyson Brown, Young Adult |
| Mayday (2021) - Review/ Summary (with Spoilers) | Mayday touches on the personal war one has within themselves and every single voice or person we see as holding us back – including our own. | Indie, Mixed (Divisive), Movies | Action, Adventure, Drama, Fantasy, Film Festival, Grace Van Patten, Havana Rose Liu, Juliette Lewis, Karen Cinorre, Mia Goth, Not Rated, Soko, Sundance Film Festival, Young Adult |
| Marvelous and the Black Hole - Review/ Summary (with Spoilers) | Marvelous and the Black Hole, while it can come off as an angsty teenage film, it doesn't push its lead to move on or get over it but harness that anger into something good. | Indie, Movies, Positive (Worth Seeing) | Comedy, Drama, Film Festival, Kannon Omachi, Kate Tsang, Leonardo Nam, Miya Cech, Not Rated, Paulina Lule, Rhea Perlman, Sundance Film Festival, Young Adult |
| Passing (2021) - Review/ Summary (with Spoilers) | While the sometimes volatile intimacy between Ruth Negga and Tessa Thompson makes Passing interesting, you may not feel it confronts the subject matter as you want. | Indie, Movies, Positive (Worth Seeing) | Drama, Film Festival, Historical, Rebecca Hall, Ruth Negga, Sundance Film Festiva, Tessa Thompson |
| R#J - Review/Summary (with Spoilers) | We've all seen some version of Romeo and Juliet, but none of them compare to Carey Williams' R#J. | Indie, Movies, Positive (Worth Seeing), Recommended (Movies) | Alex Sobolev, Camaron Engels, Carey Williams, Comedy, Diego Tinoco, Drama, Film Festival, Francesca Noel, Not Rated, Rickie Castaneda, Romance, Siddiq Saunderson, Sundance Film Festival, Young Adult |
| Street Gang: How We Got To Sesame Street - Review/Summary (with Spoilers) | Street Gang: How We Got To Sesame Street is filled with nostalgia and fleshes out your childhood memories with what it took to make you smile and learn. | Indie, Movies, Positive (Worth Seeing), Recommended (Movies) | Caroll Spinney, Comedy, Documentary, Film Festival, Frank Oz, Historical, Jim Henson, Joan Cooney, Joe Raposo, Jon Stone, Marilyn Agrelo, Matt Robinson, Musical, Not Rated, Sonia Manzano, Sundance Film Festival |
| How It Ends (2021) - Review/Summary (with Spoilers) | How It Ends combines a drama about reconciliation before the end of the world and all the eccentric people you'd expect to see getting high before everyone dies. | Indie, Movies, Positive (Worth Seeing) | Adventure, Bobby Lee, Bradley Whitford, Cailee Spaeny, Comedy, Daryl Wein, Drama, Film Festival, Fred Armisen, Helen Hunt, Lamorne Morris, Logan Marshall-Green, Not Rated, Olivia Wilde, Sundance Film Festival, Zoe Lister-Jones |
| Rita Moreno: Just a Girl Who Decided to Go for It - Review/ Summary (with Spoilers) | Rita Moreno: Just A Girl Who Decided To Go For It somehow feels like a thorough exploration of a nearly 70-year career, yet because it is Rita Moreno, you still want more! | Indie, Movies, Positive (Worth Seeing), Recommended (Movies) | Documentary, Eva Longoria, Film Festival, Lin-Manuel Miranda, Mariem Perez Riera, Morgan Freeman, Not Rated, Rita Moreno, Sundance Film Festival, Whoopi Goldberg |
| The Little Things - Review/Summary (with Spoilers) | The Little Things is a tame cop drama in which the sole interesting thing might be Jared Leto getting to play a manipulative suspect. | Mixed (Divisive), Movies | Action, Crime, Denzel Washington, Drama, HBO Max, Jared Leto, John Lee Hancock, Rami Malek, Rated R |
| The Criminals - Review/Summary (with Spoilers) | Many young adults worldwide take advantage of privacy, which isn't legally available to our two leads. But will they risk getting arrested to get it? | Indie, Movies, Positive (Worth Seeing), Recommended (Movies), Short | Deniz Altan, Drama, Film Festival, Lorin Merhart, Non-English, Not Rated, Romance, Serhat Karaaslan, Sundance Film Festival, Young Adult |
| Doublespeak - Review/Summary (with Spoilers) | In Doublespeak, you are sorely reminded how Human Resources is more focused on protecting the company's assets than your dignity or sense of safety. | Indie, Movies, Positive (Worth Seeing), Recommended (Movies), Short | Angela Wong Carbone, Drama, Film Festival, Frank Lewallen, Hazel McKibbin, Not Rated, Sundance Film Festival, Young Adult |
| You Wouldn't Understand - Review/Summary (with Spoilers) | Living up to its title a bit, You Wouldn't Understand presents a story that leaves you wanting to rewatch for you swear you might have missed something. | Indie, Mixed (Divisive), Movies, Short | Anthony Arkin, Comedy, Crime, Film Festival, Jacob A. Ware, Not Rated, Sci-Fi, Sundance Film Festival, Trish Harnetiaux |
| No Strings - Review/Summary (with Spoilers) | Perhaps saving the best for last, No Strings delivers a sense of longing that reminds you how much we're willing to compromise or settle for the sake of company. | Indie, Movies, Positive (Worth Seeing), Recommended (Movies), Short | Aaron Cini, Eoin Maher, LGBT, Richard Hay, The Male Gaze, Young Adult |
| If Only You Were Mine - Review/Summary (with Spoilers) | The seduction of someone older and more mature meets realizing their maturity doesn't mean they are ready for you. | Indie, Movies, Positive (Worth Seeing), Short | David Benedek, Jakub Jablonský, Jakub Spevák, Ján Stiffel, LGBT, Non-English, Peter Martincek, PG-13, Romance, The Male Gaze, Young Adult |
| Stanley - Review/ Summary (with Spoilers) | Stanley buries the lead with sex and ends before you feel it gets to the good part. | Indie, Mixed (Divisive), Movies, Short | Aelson Felinto, Drama, Lais Lacerda, LGBT, Non-English, Paulo Roberto, Rafael Guedes, Rated R, Romance, The Male Gaze, Young Adult |
| The Den - Review/ Summary (with Spoilers) | A man with a secret finds himself in the company of the other person who knows what he lusts for. | Indie, Mixed (Divisive), Movies, Short | Daniele Mariani, Drama, Emanuel Caserio, Fabio Marson, LGBT, Lorenzo Caproni, Non-English, Rated R, The Male Gaze, Young Adult |
| Lolo - Review/ Summary (with Spoilers) | In Lolo, you'll feel like you are watching the childhood years of a group of friends before the time jumps to them as adults. | Movies, Positive (Worth Seeing), Short | Comedy, Leandro Goddinho, LGBT, Paulo Menezes, PG-13, Rhea C Tober, Romance, Sam Atlas, The Male Gaze, Valentin Von Schonburg, Zev Starrett |
| White Lie - Review/ Summary (with Spoilers) | In White Lie, you watch as a con artist desperately tries to maintain their story of having cancer, seemingly by any means necessary. | Indie, Movies, Positive (Worth Seeing) | Amber Anderson, Calvin Thomas, Drama, Kacey Rohl, LGBT, Martin Donovan, Not Rated, Thomas Olajide, Yonah Lewis, Young Adult |
| American Skin - Review/Summary (with Spoilers) | American Skin is a confrontational film. One which confronts your views of police, their victims, and the perspectives the police bring based in fear and a righteous sense of duty. | Movies, Positive (Worth Seeing), Recommended (Movies) | Action, Beau Knapp, Crime, Drama, Nate Parker, Rated R, Ryan Mulkay, Shane Paul McGhie, Theo Russi, Thriller, Tony Espinosa, Wolfgang Bodison |
| Run Hide Fight - Review/Summary (with Spoilers) | You ever think to yourself, "I built up a tolerance to this kind of stuff?" Yeah, "Run Hide Fight" may test that theory. | Movies, Positive (Worth Seeing) | Action, Crime, Eli Brown, Horror, Isabel May, Kyle Rankin, LGBT, Not Rated, Radha Mitchell, Thomas Jane, Thriller, Young Adult |
| The Marksman (2021) - Review/Summary (with Spoilers) | Despite The Marksman's name and Liam Neeson starring, it is perhaps one of his least violent, most talkative movies yet. | Mixed (Divisive), Movies | Action, Adventure, Chris Charles, Crime, Danny Kravitz, Jacob Perez, Katheryn Winnick, Liam Neeson, PG-13, Robert Lorenz, Teresa Ruiz |
| Dr. Bird's Advice for Sad Poets - Review/Summary (with Spoilers) | Dr. Bird's Advice For Sad Poets is draining, beautiful, yet a reminder that there is no instant cure or end to the struggle of making progress. Sometimes just an occasional reprieve. | Indie, Movies, Positive (Worth Seeing) | Adventure, David Arquette, Drama, Jason Isaacs, Lily Donoghue, Lisa Edlstein, Lucas Jade Zumann, Milo Wesley, Odiseas Georgiadis, Rated R, Romance, Taylor Russell, Yaniv Raz, Young Adult |
| If Not Now, When? - Summary/ Review (with Spoilers) | "If Not Now, When?" in exploring the struggle to maintain long relationships, reminds you why all the work is ultimately worth it. | Movies, Positive (Worth Seeing), Recommended (Movies) | Drama, Edwin Hodge, Jon Chaffin, Kyle Schmid, Lexi Underwood, McKinley Freeman, Meagan Good, Meagan Holder, Mekia Cox, Niles Fitch, Not Rated, Romance, Tamara Bass, Valarie Pettiford |
| Pieces of a Woman - Review/Summary (with Spoilers) | Pieces of a Woman is the type of cinema that may benefit from a streaming release as moments come when you need to pause and walk away for a moment. | Movies, Positive (Worth Seeing) | Drama, Ellen Burstyn, Family, Kata Weber, Kornel Mundruczo, Molly Parker, Netflix Original, Rated R, Shia LaBeouf, Vanessa Kirby |
| One Night In Miami - Review/Summary (with Spoilers) | Like Kemp Powers' "Soul," "One Night In Miami" leaves you searching for meaning in past actions and contemplating your path in life going forward. | Movies, Positive (Worth Seeing), Recommended (Movies) | Aaron D. Alexander, Aldis Hodge, Amazon Prime, Drama, Eli Goree, Historical, Jeremy Pope, Kemp Powers, Kingsley Ben-Adir, Leslie Odom Jr., Rated R, Regina King |
| Alaska Is A Drag - Review/ Summary (with Spoilers) | Alaska Is A Drag reminds you how much hope one can have when you have someone in your corner and find people who not just accept but love you. | Movies | Christopher O'Shea, Comedy, Drama, Jason Scott Lee, Kevin Daniels, LGBT, Martin L. Washingston Jr., Matt Dallas, Maya Washington, Netflix, Nia Peeples, Shaz Bennett, TV-MA, Young Adult |
| The Last Shift - Review/Summary (with Spoilers) | The Last Shift taps into a quieter story, minus any grandstanding, to allow two characters to be challenged by one another and learn something despite their differences. | Movies, Positive (Worth Seeing), Recommended (Movies) | Andrew Cohn, Drama, Ed O'Neill, Rated R, Richard Jenkins, Shane Paul McGhie, Young Adult |
| Pinocchio (2020) - Review/ Summary (with Spoilers) | Based on the 1883 Italian The Adventures of Pinocchio, this version of Pinocchio is dark, maybe not the best for kids, but so weird that it's good. | Movies, Positive (Worth Seeing) | Adventure, Alida Baldari Calabria, Comedy, Crime, Drama, Fantasy, Federico Ielapi, Gigi Proietti, Marine Vacth, Massimo Ceccherini, Matteo Garrone, PG-13, Roberto Benigni |
| Wonder Woman 1984 - Review/ Summary (with Spoilers) | Wonder Woman 1984 desires to sidestep what a lot of superhero movies do by focusing more on romance and reminding us the villains aren't truly evil, they're actually disenfranchised. | Mixed (Divisive), Movies | Action, Adventure, Chris Pine, Dave Callaham, Fantasy, Gal Gadot, Geoff Johns, HBO Max, Kristen Wiig, Lynda Carter, Patty Jenkins, Pedro Pascal, PG-13, Romance, Wonder Woman |
| Soul - Review/Summary (with Spoilers) | Like most Pixar films, Soul bridges what is expected from animated films aimed at children and the type of stories that can bring adults to tears. | Movies, Positive (Worth Seeing), Recommended (Movies) | Adventure, Ahmir-Khalib (Questlove) Thompson, Alice Braga, Animation, Comedy, Donnell Rawlings, Drama, Fantasy, Graham Norton, Jamie Foxx, Kemp Powers, Mike Jones, Musical, Pete Doctor, Rated PG, Richard Ayoade, Tina Fey |
| I Remember - Review/Summary (with Spoilers) | I Remember asks you to forgive it's lead tells, as he gets the chance to live out his dream of dating the girl who always seemed out of his league. | Movies, Positive (Worth Seeing) | Angelababy, Comedy, Denny Huang, Drama, Feifei Wang, Hong-Chi Lee, Nan Zhou, Non-English, Not Rated, Romance, Young Adult, Yunhai Zhou |
| Promising Young Woman - Review/ Summary (with Spoilers) | Promising Young Woman challenges the revenge narrative you are used to and pushes you to expect more from future stories in the sub-genre. | Movies, Positive (Worth Seeing), Recommended (Movies) | Alison Brie, Bo Burnham, Carey Mulligan, Chris Lowell, Comedy, Crime, Drama, Emerald Fennell, Max Greenfield, Rated R |
| First Christmas - Review/Summary (with Spoilers) | As with most of OWN's "OWN For The Holidays," First Christmas pushes new narratives beyond the Christmas formula, which might be the best one yet. | Movies, Positive (Worth Seeing) | Comedy, Crystle C. Roberson, Darren Cain, Drama, Family, Holiday, Idara Victor, Lance E. Nichols, LGBT, Mason Beauchamp, Nikki Dixon, OWN, Peyton Jackson, Rasheeda Garner, Reggie Gaskins, Romance, Samantha Smith, Tasha Henderson, Tonea Stewart, TV-PG, Young Adult |
| Ariana Grande's Excuse Me, I Love You - Summary/ Review (with Spoilers) | Ariana Grande's Excuse Me, I Love You may not be a classic concert film, but for those who miss seeing live performances, it'll give you what you need. | Movies, Positive (Worth Seeing) | Ariana Grande, Documentary, Musical, Netflix Original, Paul Dugdale, Story Syndicate, TV-MA |
| Ma Rainey's Black Bottom (Film) - Review/Summary (with Spoilers) | Ma Rainey's Black Bottom gives you what you expect from Viola Davis, and in Chadwick Boseman's final film, he makes it clear he could excel in a role of someone not already an icon. | Movies, Positive (Worth Seeing), Recommended (Movies) | Biopic, Chadwick Boseman, Colman Domingo, Drama, Dusan Brown, George C. Wolfe, Glynn Turman, Historical, Jeremy Shamos, Jonny Coyne, Michael Potts, Musical, Netflix Original, Rated R, Ruben Santiago-Hudson, Viola Davis |
| Monster Hunter - Review/Summary (with Spoilers) | Monster Hunter is mostly action, very little plot, and very little character development. | Mixed (Divisive), Movies | Action, Adventure, Fantasy, Milla Jovovich, Paul W.S. Anderson, PG-13, Ron Perlman, Tony Jaa |
| Fatale - Review/Summary (with Spoilers) | Despite how predictable Fatale may seem, based on its trailer, believe me when I say it just uses the familiar to make you think you know what's going to happen. | Movies, Positive (Worth Seeing) | Action, Crime, Damaris Lewis, David Loughery, Deon Taylor, Drama, Hilary Swank, Horror, Michael Ealy, Mike Colter, Rated R, Thriller |
| Sylvie's Love (2020) - Review/ Summary (with Spoilers) | While the longing looks and stolen moments will entice you, it's hard to move past how Sylvie's Love begins soiled. | Mixed (Divisive), Movies | Alano Miller, Amazon Prime – Movies, Drama, Eugene Ashe, Historical, Musical, Nnamdi Asomugha, PG-13, Romance, Tessa Thompson |
| Cooking Up Christmas - Review/Summary (with Spoilers) | Cooking Up Christmas gives you a nice family movie dealing with coming back together after loss, lies, and setbacks that closes people off from what and who they love. | Mixed (Divisive), Movies | Angela Burt-Murray, Baily H. Tippen, Family, Holiday, Jen Harper, Khamary Grant, L. Warren Young, Lamman Rucker, Lindsey Amani Blackwell, Marquita Tenaya Goings, Meagan Holder, OWN, Roger M. Bobb, Romance, TV-PG |
| The Christmas Lottery - Review/Summary (with Spoilers) | While The Christmas Lottery has many familiar storylines, between a prominently featured lesbian couple and avoiding being as corny as most holiday movies, this is one to see. | Movies, Positive (Worth Seeing) | Angela Burt-Murray, Asia'h Epperson, BET, Brave Williams, Candiace Bassett, Comedy, Drama, Family, Holiday, Kay-Megan Washington, LGBT, Lorenzo "Renny" Cromwell, Phylicia Morgan, Reginald VelJohnson, Romance, Tamika Miller, Terayle, TV-14 |
| Canvas - Review/Summary (with Spoilers) | Within its 9 minute duration, Canvas brings you a touching story that makes you hope this is just a proof of concept for something more. | Movies, Positive (Worth Seeing), Short | Animation, Drama, Family, Frank E. Abney III, Netflix, Rated G |
| Songbird - Review/Summary (with Spoilers) | Songbird ignores whether producing a COVID romance is inappropriate and doesn't even deliver a good enough relationship to never mind its ill-taste. | Mixed (Divisive), Movies | Action, Adam Mason, Adventure, Alexandra Daddario, Bradley Whitford, Craig Robinson, Crime, Horror, KJ Apa, Paul Walter Hauser, Peter Stormare, PG-13, Romance, Simon Boyes, Sofia Carson, Young Adult |
| A Christmas For Mary - Review/Summary (with Spoilers) | A Christmas For Mary makes it clear last year's holiday offerings were a warm-up as clearly OWN wants to make a name for itself in the holiday movie market. | Movies | Alonzo B. Slater, Angela Marie Hutchinson, Comedy, David Decoteau, Holiday, Jackée Harry, Jay Cipriani, Jeffrey Schenck, Leah Briese, Morgan Dixon, Mystery, OWN, Peter Sullivan, Romance, TV-PG, Vivica A. Fox |
| A Christmas Surprise - Review/Summary (with Spoilers) | While absolutely silly, A Christmas Surprise does deliver a fun, overtly dramatic Christmas story. | Mixed (Divisive), Movies | BET, Chad Quinn, Comedy, Family, Holiday, Katelynn Bennett, Keesha Sharp, Mustapha Slack, Romance, Terri J. Vaughn, TV-14, Wendy Raquel Robinson, Will Blagrove, Young Adult |
| All My Life - Review/ Summary (with Spoilers) | "All My Life" avoids any opportunity to develop its characters as it focuses on crafting an enviable romance. | Mixed (Divisive), Movies | Comedy, Drama, Harry Shum Jr., Jessica Rothe, Marc Meyers, PG-13, Romance, Todd Rosenberg, Young Adult |
| Princess of the Row - Review/Summary (with Spoilers) | While the performances and story are strong in Princess of the Row, there is just something about it that tarnishes the viewing experience. | Mixed (Divisive), Movies | A. Shawn Austin, Ana Ortiz, Drama, Edi Gathegi, Family, Jenny Gago, Martin Sheen, Tabitha Brown, Tayler Buck, TV-14, Van Maximilian Carlson, Young Adult |
| Life In A Year - Review/ Summary (with Spoilers) | Life In A Year will make you laugh, make you cry, and will make you reconsider previous opinions on Cara Delevingne and Jaden Smith. | Movies, Positive (Worth Seeing) | Amazon Prime – Movies, Cara Delevingne, Chris D'Elia, Comedy, Cuba Gooding Jr., Drama, Jaden Smith, Jeffrey Addiss, Michelle Giroux, Mitja Okorn, Nia Long, PG-13, Romance, Will Matthews, Young Adult |
| Superintelligence - Review/Summary (with Spoilers) | Superintelligence follows the usual Melissa McCarthy movie formula, so as long as you're a fan of hers, you'll enjoy the film. | Mixed (Divisive), Movies | Adventure, Ben Falcone, Bobby Cannavale, Comedy, HBO Max - Movie, James Corden, Melissa McCarthy, Rated PG, Romance, Sci-Fi, Steve Mallory |
| Happiest Season - Review/Summary (with Spoilers) | While there might be times Happiest Season may make you roll your eyes, its heart and certain characters keep you watching until the end. | Mixed (Divisive), Movies | Alison Brie, Aubrey Plaza, Clea DuVall, Comedy, Dan Levy, Drama, Family, Holiday, Hulu, Kristen Stewart, LGBT, Mackenzie Davis, Mary Holland, Mary Steenburgen, PG-13, Romance, Victor Garber |
| If Anything Happens I Love You - Review/Summary (with Spoilers) | Fully prep to be in tears while watching the 12 minute short If Anything Happens I Love You. | Movies, Positive (Worth Seeing), Recommended (Movies), Short | Drama, Michael Govier, Netflix Original, PG, Will McCormack |
| The Princess Switch: Switched Again - Summary/ Review (With Spoilers) | The Princess Switch: Switched Again, like most holiday movies, is made solely for its audience and doesn't offer a royal invitation to detractors. | Mixed (Divisive), Movies | Comedy, Holiday, Lachlan Nieboer, Mia Lloyd, Mike Rohl, Netflix Original, Nick Sagar, Robin Bernheim, Romance, Sam Palladio, The Princess Switch, TV-G, Vanessa Hudgens |
| Sound of Metal (2020) - Summary/ Review (with Spoilers) | Sound of Metal has the performances needed to make it a stirring, likely Oscar-caliber movie, but after a certain point, it overstays its welcome. | Movies, Positive (Worth Seeing) | Abraham Marder, Amazon Prime, Darius Marder, Derek Cianfrance, Drama, Olivia Cooke, Paul Raci, Rated R, Riz Ahmed, Romance, Young Adult |
| Uncle Frank (2020) - Review/ Summary (with Spoilers) | Uncle Frank, thanks to Paul Bettany and Sophia Lillis, leaves a bit of a heavyweight on your shoulder that can only be relieved with tears. | Mixed (Divisive), Movies | Alan Ball, Amazon Prime – Movies, Drama, Family, LGBT, Paul Bettany, Period Piece, Peter Macdissi, Rated R, Romance, Sophia Lillis, Stephen Root, Young Adult |
| A New York Christmas Wedding (2020) - Review/Summary (with Spoilers) | If you like holiday movies which get your emotional, feature a "What If?" and are a little queer, you will love A New York Christmas Wedding. | Movies, Positive (Worth Seeing), Recommended (Movies) | Adriana DeMeo, Camilla Harden, Cooper Koch, David Anzuelo, Drama, Fantasy, Holiday, LGBT, Natasha Goodman, Nia Fairweather, Otoja Abit, Religious, Romance, TV-MA |
| Freaky (2020) - Review/Summary (with Spoilers) | Similar to Happy Death Day, you'll find Freaky has an unexpectedly good blend of horror and comedy – though it won't do for its leads as we saw for Jessica Rothe. | Mixed (Divisive), Movies | Action, Celeste O'Connor, Christopher Landon, Comedy, Crime, Dana Drori, Horror, Kathryn Newton, Katie Finneran, LGBT, Michael Kennedy, Misha Osherovich, Rated R, Romance, Uriah Shelton, Vince Vaughn, Young Adult |
| Come Away (2020) - Review/ Summary (with Spoilers) | If you came to this film hoping for a Black version of Alice In Wonderland and Peter Pan, prep to be disappointed. | Mixed (Divisive), Movies | Adventure, Angelina Jolie, Anna Chancellor, Brenda Chapman, David Oyelowo, Drama, Family, Fantasy, Jordan A. Nash, Keira Chansa, Marissa Kate Goodhill, PG, Reece Yates |
| True To The Game 2 (2020) - Review/ Summary (with Spoilers) | While a definite improvement over the first movie, True To The Game 2 will have you leave the theater a tad frustrated. | Mixed (Divisive), Movies | Action, Andra Fuller, Columbus Short, Crime, Erica Peeples, Iyana Halley, Jamaar Simon, Jamal Hill, Jeremy Meeks, Niatia 'Lil Mama' Kirkland, Paul Saucido, Preston A. Whitmore II, Rated R, Vivica A. Fox |
| True To The Game (2017) - Review/Summary (with Spoilers) | True To The Game feels like your standard fare gangster movie, with the only exception being who lives and dies. | Mixed (Divisive), Movies | Action, Andra Fuller, Annika Noelle, Columbus Short, Crime, Drama, Erica Peeples, Jamaar Simon, Lisa Renee Pitts, Lorenzo Eduardo, Malcolm David Kelley, Nafessa Williams, Nelsan Ellis, Nia Hill, Paul Saucido, Preston Whitmore, Rated R, Romance, Stanley R Atwater, Starletta DuPois |
| Operation Christmas Drop - Review/Summary (with Spoilers) | Like most holiday movies, "Operation Christmas Drop" isn't going to be the best thing out there. However, it's simple, based on a true military exercise, and family-friendly. | Movies, Positive (Worth Seeing) | Alexander Ludwig, Brian Sawyer, Comedy, Gregg Rossen, Holiday, Kat Graham, Martin Wood, Netflix Original, Romance, TV-G, Virginia Madsen |
| The Craft: Legacy (2020) - Review/Summary (with Spoilers) | "The Craft: Legacy" pushes you to feel it didn't need its predecessor for anything besides name recognition. | Mixed (Divisive), Movies | Cailee Spaeny, David Duchovny, Drama, Fairuza Balk, Fantasy, Gideon Adlon, Lovie Simone, Michelle Monaghan, Nicholas Galitzine, PG-13, Young Adult, Zoe Lister-Jones, Zoey Luna |
| Come Play (2020) - Review/Summary (with Spoilers) | "Come Play" takes an interesting approach to the monster genre by giving it an emotional edge and autistic lead. | Movies, Positive (Worth Seeing), Recommended (Movies) | Azhy Robertson, Drama, Gillian Jacobs, Horror, Jacob Chase, John Gallagher Jr., Winslow Fegley |
| Holidate (2020) - Review/ Summary (wth Spoilers) | For those who like unconventional holiday movies, in this case, with cursing and a dysfunctional family, "Holidate" was made for you. | Mixed (Divisive), Movies | Alex Moffat, Comedy, Cynthy Wu, Emma Roberts, Frances Fisher, Holiday, Jake Manley, Jessica Capshaw, John Whitesell, Kristin Chenoweth, Luke Bracey, Romance, Tiffany Paulsen, TV-MA, Young Adult |
| Gossamer Folds (2020) - Review/Summary (with Spoilers) | Despite its subject matter, there is something surprisingly tame about "Gossamer Folds," which shows how tolerance and acceptance develops over hate. | Indie, Mixed (Divisive), Movies | Alexandra Grey, Bridget Flanery, Comedy, Drama, Film Festival, Franklin Ojeda Smith, Jackson Robert Scott, LGBT, Lisa Donato, NewFest, Not Rated, Shane West, Sprague Grayden, The New York LGBTQ Film Festival, Young Adult |
| Ellie and Abbie (And Ellie's Dead Aunt) (2020) - Review/ Summary (with Spoilers) | Despite a few painfully awkward moments, "Ellie and Abbie (And Ellie's Dead Aunt" does ultimately give you what you need from it. | Indie, Movies, Positive (Worth Seeing) | Comedy, Drama, Film Festival, Julia Billington, LGBT, Marta Dusseldorp, Monica Zanetti, NewFest, Not Rated, Romance, Sophie Hawkshaw, The New York LGBTQ Film Festival, Young Adult, Zoe Terakes |
| Exes Baggage (2020) - Review/Summary (with Spoilers) | Exes Baggage presents your usual will they or won't they drama as you become so invested in the leads' relationship you feel as if they must end up together. | Movies, Positive (Worth Seeing) | Angelica Panganiban, Carlo Aquino, Dan Villegas, Dionne Monsanto, Drama, Dwein Baltazar, Non-English, Romance, TV-MA, Young Adult |
| Tahara (2020) - Review/ Summary (with Spoilers) | In what may feel like a prequel to "Shiva Baby," Rachel Sennott is joined by Madeline Grey DeFreece for another awkward funeral situation. | Indie, Movies, Positive (Worth Seeing) | Animation, Daniel Taveras, Drama, Film Festival, Jess Zeidman, LGBT, Madeline Grey DeFreece, NewFest, Not Rated, Olivia Peace, Rachel Sennott, Romance, Shlomit Azoulay, The New York LGBTQ Film Festival, Young Adult |
| Dating Amber (2020) - Review/ Summary (with Spoilers) | "Dating Amber," set in 1995, reminds you how much has changed in 25 years as we follow two Irish teens dealing with being ostracized for their sexuality. | Indie, Movies, Positive (Worth Seeing) | Comedy, David Freyne, Drama, Film Festival, Fionn O'Shea, Lauryn Canny, LGBT, Lola Petticrew, NewFest, The New York LGBTQ Film Festival, Young Adult |
| The Empty Man (2020) - Review/ Summary (with Spoilers) | A horror movie that is nearly 2 and a half hours – is it worth your time or should you avoid it? | Mixed (Divisive), Movies | Aaron Poole, Action, Crime, David Prior, Drama, Fantasy, Horror, James Badge Dale, Marin Ireland, Mystery, Rated R, Samantha Logan, Sasha Frolova, Thriller |
| Cadaver (2020) - Review/Summary (with Spoilers) | Despite how creepy and seemingly perfect for the season "Cadaver" appears, it fails to live up to what you likely imagined. | Movies | Drama, Gitte Witt, Horror, Jarand Herdal, Mystery, Netflix Original, Non-English, Thomas Gullestad, Thorbjørn Harr, Tuva Olivia Remman, TV-MA |
| Shiva Baby - Review/ Summary (with Spoilers) | Dancing on the tightrope between cringe and funny, "Shiva Baby" presents Rachel Sennott as someone on the cusp of mainstream fame. | Indie, Movies, Positive (Worth Seeing) | Comedy, Danny Deferrari, Drama, Emma Seligman, Film Festival, Fred Melamed, LGBT, Molly Gordon, NewFest, Not Rated, Polly Draper, Rachel Sennott, Religious, Romance, The New York LGBTQ Film Festival, Young Adult |
| Fish Head (2020) - Review/ Summary (with Spoilers) | In this quiet drama, a young girl, on the brink of puberty, wonders what the end result might be. | Indie, Movies, Positive (Worth Seeing), Recommended (Movies), Short | Drama, Film Festival, Grace Tan, Inez Currõ, NewFest, Not Rated, The New York LGBTQ Film Festival, Young Adult |
| Were You Gay In High School (2020) - Review/ Summary (with Spoilers) | "Were You Gay In High School" has the quality and appeal of something you'd think was released on Wong Fu's YouTube channel due to its comedy and heart. | Indie, Movies, Positive (Worth Seeing), Recommended (Movies), Short | Alex Song, Animation, Comedy, Film Festival, Karen Du, Kita Grayson, LGBT, NewFest, Niki Ang, Not Rated, Romance, Sierra Puett, The New York LGBTQ Film Festival, Young Adult |
| Egghead & Twinkie (2020) - Review/ Summary (with Spoilers) | Coming out isn't always a delicate procedure, as shown in "Egghead & Twinkie." | Indie, Mixed (Divisive), Movies, Short | Comedy, Film Festival, LGBT, Louis Tomeo, NewFest, Not Rated, Sarah Holland, Sarina Jie-A-Fa, The New York LGBTQ Film Festival, Young Adult |
| And Then She Kissed Me (2020) - Review/ Summary (with Spoilers) | Set to the song "And Then She Kissed Me" by St. Vincent, the short, sharing the song's name, is a sweet and quick romance made to make you swoon. | Indie, Movies, Positive (Worth Seeing), Recommended (Movies), Short | Alexia Khodanian, Film Festival, LGBT, NewFest, Romance, The New York LGBTQ Film Festival, Young Adult |
| Love and Monsters (2020) - Review/ Summary (with Spoilers) | "Love and Monsters" reminds you Dylan O'Brien is one of this generation's top action stars and will likely be the one people compare others to in the future. | Movies, Positive (Worth Seeing) | Action, Adventure, Ariana Greenblatt, Brian Duffield, Comedy, Dylan O'Brien, Horror, Jessica Henwick, Matthew Robinson, Michael Matthews, Michael Rooker, PG-13, Romance, Sci-Fi, Young Adult |
| 2 Hearts (2020) - Review/ Summary (with Spoilers) | "2 Hearts," at times, may feel like a TV movie that somehow made it to the big screen, but that doesn't mean it won't get you in your feelings. | Mixed (Divisive), Movies | Adan Canto, Drama, Jacob Elordi, Lance Hool, PG-13, Radha Mitchell, Robin U Russin, Romance, Tiera Skovbye, Veronica Hool, Young Adult |
| Honest Thief (2020) - Review/ Summary (with Spoilers) | If you love Liam Neeson movies, he delivers a succinct action film in "Honest Thief." | Movies, Positive (Worth Seeing), Recommended (Movies) | Action, Anthony Ramos, Crime, Jai Courtney, Jeffrey Donovan, Kate Walsh, Liam Neeson, Mark Williams, PG-13, Robert Patrick, Steve Allrich |
| Ms. White Light (2019) - Review/ Summary (with Spoilers) | Like the dying process, "Ms. White Light" has its good moments and bad moments, but ultimately ends with a whisper. | Movies | Carson Meyer, Comedy, Drama, John Ortiz, Judith Light, Not Rated, Paul Shoulberg, Roberta Colindrez, Romance, Zachary Spicer |
| Walk Away From Love - Review/ Summary (with Spoilers) | "Walk Away From Love," strangely, avoids some of the usual tropes you'd expect, but whether that makes it better or not? Well, read on. | Mixed (Divisive), Movies | Brad James, Bridget Williams, Christopher Nolen, Comedy, Noree Victoria, Not Rated, Robert Christopher Riley, Romance |
| Charm City Kings (2020) - Review/Summary (with Spoilers) | "Charm City Kings," like so many urban dramas, shows the many rare paths it could take but ends up on the well-trodden road. | Mixed (Divisive), Movies | Action, Angel Manuel Soto, Chandler DuPont, Chino, Crime, Donielle Tremaine Hansley, Drama, HBO Max, Jahi Di'Allo Winston, Kezii Curtis, Lakeyria "Wheelie Queen" Doughty, Meek Mill, Milan Ray, Rated R, Romance, Sherman Payne, Teyonah PArris, Tyquan Ford, Will Catlett, Young Adult |
| The War With Grandpa (2020) - Review/ Summary (with Spoilers) | For years "The War With Grandpa" has seen its release date changed so, does that mean it's a bad film? Read on. | Mixed (Divisive), Movies | Christopher Walken, Comedy, Family, Isaac Kragten, Laura Marano, Matt Ember, Oakes Fegley, PG, Poppy Gagnon, Robert De Niro, Tim Hill, Tom J. Astle, Uma Thurman |
| Vampires vs. The Bronx (2020) - Review/Summary (with Spoilers) | "Vampires vs. The Bronx" lovingly expands the horror genre, with its charming cast but misses key opportunities to leave a mark. | Mixed (Divisive), Movies | Action, Blaise Hemingway, Clifford "Method Man" Smith, Comedy, Fantasy, Gerald Jones III, Gregory Diaz IV, Horror, Jaden Michael, Netflix Original, Oz Rodriguez, PG-13, Sarah Gadon, The Kid Mero, Young Adult |
| Wheels (2020) - Review/ Summary (with Spoilers) | "Wheels," as it pushes you into feeling nostalgic for a story that isn't your own, creates a pleasing lull as you watch a young man fall in love and pursue being a DJ. | Movies, Positive (Worth Seeing) | Arnstar, Crime, Dorothi Fox, Drama, Ioan Delice, Joshua Boone, Not Rated, Paul Starkman, Romance, Shyrley Rodriguez, Young Adult |
| Hubie Halloween (2020) - Review/Summary (with Spoilers) | As with most of Adam Sandler's Netflix releases, "Hubie Halloween" will be a welcome addition to Sandler's fans, and all others will question why "" got cancelled and this funded? | Mixed (Divisive), Movies | Adam Sandler, Comedy, Holiday, Horror, Julie Bowen, June Squibb, Netflix Original, Noah Schnapp, Paris Berelc, PG-13, Rob Schneider, Steve Brill, Steve Buscemi, Tim Herlihy |
| Jiang Ziya (2020) - Review/Summary (with Spoilers) | Like "Ne Zha," "Jiang Ziya" feels like an epic that can appeal to children but doesn't lose the adults watching in the process. | Movies, Positive (Worth Seeing) | Action, Adventure, Animation, Fantasy, Ji Guanlin, Li Wei, Non-English, PG-13, Teng Cheng, Xie Xiying, Yang Ning, Zheng Xi |
| Spontaneous (2020) - Review/Summary (with Spoilers) | "Spontaneous" is one of the rare films that aims to make you laugh, feel, and connect that, for the most part, succeeds in everything it set out to do. | Movies, Positive (Worth Seeing) | Brian Duffield, Charlie Plummer, Comedy, Drama, Hayley Law, Katherine Langford, Rated R, Romance, Young Adult, Yvonne Orji |
| Cut Throat City (2020) - Review/Summary (with Spoilers) | "Cut Throat City" has noted performances from T.I. and Terrance Howard but, as for the rest of the movie… | Indie, Mixed (Divisive), Movies | Action, Crime, Demetrius Shipp Jr., Denzel Whitaker, Drama, Eiza Gonzalez, Ethan Hawke, Isiah Washington, Kat Graham, Keean Johnson, P.G. Cuschieri, Rated R, RZA, Shameik Moore, T.I., Terrance Howard, Wesley Snipes, Young Adult |
| Secret Society of Second-Born Royals (2020) - Review/ Summary (with Spoilers) | "Secret Society of Second-Born Royals" won't ease your MCU fix, but it's good enough on its own to want to see more. | Mixed (Divisive), Movies | Action, Adventure, Alex Litvak, Andrew Green, Anna Mastro, Ashley Liao, Austin Winsberg, Comedy, Disney Plus, Elodie Yung, Faly Rakotohavana, Fantasy, Greg Bryk, Isabella Blake-Thomas, Niles Fitch, Noah Lomax, Olivia Deeble, Peyton Elizabeth Lee, PG, Sam Page, Young Adult |
| Enola Holmes (2020) - Review/ Summary (with Spoilers) | When it comes to "Enola Holmes," it never escapes its association with Sherlock Holmes, and thus struggles with establishing itself beyond Sherlock's shadow. | Mixed (Divisive), Movies | Action, Adventure, Comedy, Crime, Harry Bradbeer, Helena Bonham Carter, Henry Cavill, Jack Thorne, Louis Partridge, Millie Bobby Brown, Mystery, Netflix Original, PG-13, Sam Claflin, Young Adult |
| The Never List (2020) - Review/Summary (with Spoilers) | While "The Never List" deserves props for not making sex the key to its lead coming of age, it barely presents anything beyond wasted potential. | Movies | Andrew Kai, Anna Grace Barlow, Ariadne Shaffer, Brenna D'Amico, Drama, Film Festival, Fivel Stewart, Indie Street Film Festival, Michelle Mower, Not Rated, Young Adult |
| Whipped (2020) - Review/Summary (with Spoilers) | "Whipped" may feel longer than it needs to be and has an unnecessary twist, but the end result is what you hope for and expect. | Mixed (Divisive), Movies | Andovi Da Lopez, Chandra Liow, Comedy, Jovial Da Lopez, Karina Salim, Kezia Aletheia, Netflix Original, Non-English, Romance, Susan Sameh, Tommy Limmm, TV-14, Widika Sidmore, Young Adult |
| A Long Time Coming (2020) - Review/ Summary (with Spoilers) | "A Long Time Coming" explores the complexities of Asian Americans and an older generation's perspective on the Black Lives Matter protests. | Indie, Movies, Positive (Worth Seeing), Recommended (Movies), Short | Chanelle Wang, Drama, Geo Lee, Jim Lau, Not Rated, Wesley Chan, YouTube |
| The Paramedic (2020) - Review/Summary (with Spoilers) | The Paramedic is a stern reminder of why closure isn't needed, no matter what your ex says. Take what you can, and DON'T LOOK BACK! | Mixed (Divisive), Movies | Carles Torras, Celso Bugallo, Crime, David Desola, Déborah François, Drama, Guillermo Pfening, Hector Hernandez Vicens, Horror, Mario Casas, Netflix Original, Non-English, Thriller, TV-MA |
| Unpregnant (2020) - Review/Summary (with Spoilers) | A film about a young woman trying to get an abortion and keeping it from everyone due to imposed shame – yet it is also a comedy. | Movies, Positive (Worth Seeing) | Adventure, Alex MacNicoll, Barbie Ferreira, Bill Parker, Comedy, Haley Lu Richardson, HBO Max - Movie, Jenni Hendriks, Jennifer Kaytin Robinson, LGBT, PG-13, Rachel Lee Goldenberg, Ted Caplan, Young Adult |
| The Babysitter: Killer Queen (2020) - Review/ Summary (with Spoilers) | The Babysitter: Killer Queen may not have the same pizazz when it comes to kill scenes, but the inclusion of Jenna Ortega does take things up a notch. | Mixed (Divisive), Movies | Action, Andrew Bachelor, Bella Thorne, Brad Morris, Comedy, Dan Lagana, Emily Alyn Lind, Fantasy, Hana Mae Lee, Horror, Jenna Ortega, Jimmy Warden, Judah Lewis, Ken Marino, McG, Netflix Original, Robbie Amell, Romance, Samara Weaving, The Babysitter, TV-MA, Young Adult |
| The Broken Hearts Gallery (2020) - Review/Summary (with Spoilers) | While it does follow the usual romantic comedy conventions, between Viswanathan as lead, and the multiple scene-stealing supporting cast, you'll love The Broken Hearts Gallery. | Movies, Positive (Worth Seeing) | Arturo Castro, Bernadette Peters, Comedy, Dacre Montgomery, Geraldine Viswanathan, Molly Gordon, Natalie Krinsky, Nathan Dales, PG-13, Phillipa Soo, Romance, Young Adult |
| The Owners (2020)- Review/Summary (with Spoilers) | The Owners is strange in so many ways, but not enough to scare you, creep you out, or be notable. | Movies, Negative (Acquired Taste) | Andrew Ellis, Horror, Ian Kenny, Jake Curran, Julius Berg, Maisie Williams, Mathieu Gompel, Mystery, Not Rated, Rita Tushingham, Sylvester McCoy, Thriller |
| #Alive - Review/ Summary (with Spoilers) | #Alive, with its small speaking cast, but high stakes, makes for an awesome, albeit simple, zombie movie. | Movies, Positive (Worth Seeing) | Action, Ah-In Yoo, Fantasy, Horror, Il Cho, Matt Naylor, Netflix Original, Non-English, Shin-Hye Park, Thriller, TV-MA, Young Adult |
| DTF (2020) - Review/ Summary (with Spoilers) | I want you to imagine a documentary in which the subject goes out of their way to go against everything agreed upon and is hellbent on chaos. That's DTF. | Indie, Movies, Positive (Worth Seeing) | Adventure, Al Bailey, Comedy, Crime, Documentary, Drama, Not Rated |
| Words on Bathroom Walls (2020) - Review/ Summary (with Spoilers) | If you don't have a compromised immune system and the people in your community aren't reckless, Words on Bathroom Walls is the perfect reason to head back to theaters. | Movies, Positive (Worth Seeing), Recommended (Movies) | Andy Garcia, AnnaSophia Robb, Charlie Plummer, Devon Bostick, Drama, Lobo Sebastian, Molly Parker, Nick Naveda, PG-13, Romance, Taylor Russell, Thor Freudenthal, Walton Goggins, Young Adult |
| Love, Guaranteed (2020) - Review/ Summary (with Spoilers) | Love, Guaranteed, starring Damon Wayans Jr. and Rachel Leigh Cook, may not become anyone's go-to romantic comedy, but it'll undoubtedly be in Netflix's top 10 for a few weeks. | Mixed (Divisive), Movies | Comedy, Damon Wayans Jr., Elizabeth Hackett, Heather Graham, Hilary Galanoy, Jed Rees, Kandyse McClure, Lisa Durupt, Mark Steven Johnson, Netflix Original, Rachael Leigh Cook, Romance, Sean Amsing, TV-PG |
| Freaks – You're One of Us (2020) - Review/ Summary (with Spoilers) | Freaks – You're One of Us lays the groundwork for a potential superhero franchise, just on a smaller scale than what we often see. | Movies, Positive (Worth Seeing) | Action, Adventure, Cornelia Groschel, Fantasy, Felix Binder, Finnlay Berger, Frederic Linkemann, Marc O. Seng, Netflix Original, Nina Kunzendorf, Non-English, Tim Oliver Schultz, TV-MA, Wotan Wilke Mohring |
| All Roads To Pearla (2020) - Review/ Summary (with Spoilers) | All Roads to Pearla has all the ingredients necessary to have some element of shock to it, but they just don't come together as you need them to. | Indie, Mixed (Divisive), Movies | Addison Timlin, Alex MacNicoll, Dash Mihok, Drama, Nick Chinlund, Not Rated, Van Ditthavong, Young Adult |
| The Argument (2020) - Review/Summary (with Spoilers) | The Argument tries to have it both ways. It wants you to watch it devolve into utter madness yet maintain just enough control to make you laugh as you cringe. | Indie, Mixed (Divisive), Movies | Cleopatra Coleman, Comedy, Dan Fogler, Danny Pudi, Emma Bell, Maggie Q, Robert Schwartzman, Tyler James Williams, Unrated, Zac Stanford |
| All Together Now (2020) - Review/Summary (with Spoilers) | All Together Now will likely cause you to cry, one way or the other. | Movies | Anthony Jacques Jr., Auli'I Cravalho, Brett Haley, Carol Burnett, Comedy, Drama, Judy Reyes, Justina Machado, Marc Basch, Matthew Quick, Netflix Original, Rett Haley, Rhenzy Feliz, Young Adult |
| Tyler Perry's Madea's Farewell Play - Review/Summary (with Spoilers) | In the last play Tyler Perry portrays Madea, we get one final reminder of why, despite some controversy, Madea is a renowned figure. | Movies, Positive (Worth Seeing) | Alexis Hollins, Anthony Lewis, Ashlee B. Gillum, BET Plus, Cassi Davis Patton, Comedy, David Mann, Drama, Jacoby Brown, Kendrick Mays, Kwaylon Rogers, Musical, RaVaughn Brown, Religious, Romance, Stage Play, Tamela Mann, Tyler Perry, Walter Fauntleroy, Young Adult |
| Chemical Hearts (2020) - Review/ Summary | Chemical Hearts is draining, in the best way, as it takes you through the emotional toll of not just healing, but shedding your childhood and expectations. | Movies, Positive (Worth Seeing) | Amazon Prime, Amazon Prime – Movies, Austin Abrams, C.J. Hoff, Chemical Hearts, Coral Peña, Drama, Kara Young, LGBT, Lili Reinhart, Rated R, Richard Tanne, Romance, Sarah Jones, Young Adult |
| The Spring We Never Had (2020) - Review/ Summary (with Spoilers) | The Spring We Never Had is classic Wong Fu which gets you so emotionally invested that when things don't head towards the ideal, you will yell at your screen. | Indie, Movies, Positive (Worth Seeing), Recommended (Movies) | A Potential Classic, Michelle Park, Nathan Ing, Not Rated, Philip Wang, Romance, Young Adult, YouTube |
| Skin: A History of Nudity In The Movies - Review/ Summary | While Skin: A History of Nudity In The Movies is informative, it's utter lack of perspective for people of color, beyond Pam Grier, is a HUGE oversight. | Indie, Mixed (Divisive), Movies | Danny Wolf, Digital, Documentary, Not Rated, Paul Fishbein |
| The Burnt Orange Heresy (2019) - Review/ Summary (with Spoilers) | While the banter and romance between the leads will surely draw you in, the conversations about art, and the male lead's ego, do leave you on a sour note. | Indie, Mixed (Divisive), Movies | Claes Bang, Donald Sutherland, Drama, Elizabeth Debicki, Giuseppe Capotondi, Mick Jagger, Rated R, Scott B. Smith |
| Spree - Review/ Summary (with Spoilers) | You'll either weirdly find Spree funny, disgusting, or something which might make you paranoid about ever using a ridesharing app ever again. | Indie, Mixed (Divisive), Movies | Action, Adventure, Comedy, Crime, David Arquette, Eugene Kotlyarenko, Gene McHugh, Horror, Joe Keery, Not Rated, Sasheer Zamata, Sunny Kim, Thriller, Young Adult |
| Project Power (2020)- Review/Summary (with Spoilers) | Netflix has released a new action movie, with people who can become superheroes! But, is it all big-budget visual effects or something more? | Movies, Positive (Worth Seeing) | Action, Amy Landecker, Ariel Schulman, Courtney B. Vance, Dominique Fishback, Henry Joost, Jamie Foxx, Joseph Gordon-Levitt, Kyanna Simone Simpson, Machine Gun Kelly, Mattsin Tomlin, Netflix Original, Rated R, Rodrigo Santoro, Sci-Fi, Young Adult |
| An Easy Girl (2019) - Review/ Summary (with Spoilers) | Is "An Easy Girl" yet another coming of age film that is formulaic and lacks a standout feature? Read on to find out. | Mixed (Divisive), Movies | An Easy Girl, Benoît Magimel, Clotilde Courau, Drama, Lakdhar Dridi, Loubna Abidar, Mina Farid, Nuno Lopes, Rebecca Zlotowski, Riley' Lakdhar Dridi, TV-MA, Young Adult, Zahia Dehar |
| Chemical Hearts Cast and Character Guide | A guide for the movie "Chemical Hearts." Included are noted cast members, information about their character, and other additional details. | Character Guides, Films (Character Guides) | Austin Abrams, C.J. Hoff, Chemical Hearts, Coral Peña, Kara Young, Lili Reinhart, Richard Tanne, Sarah Jones |
| Project Power Cast and Character Guide | A guide for the Netflix movie "Project Power." Included are noted cast members, information about their character, and other additional details about the film | Character Guides, Films (Character Guides) | Amy Landecker, Ariel Schulman, CHIKA, Colson Baker, Courtney B. Vance, Dominique Fishback, Henry Joost, Jamie Foxx, Joseph Gordon-Levitt, Kyanna Simone Simpson, Machine Gun Kelly, Mattson Tomlin, Netflix Original, Rodrigo Santoro |
| The Tax Collector (2020) - Review/Summary (with Spoilers) | While "The Tax Collector" may give you your fix if you're looking for a violent movie, it doesn't have much else to offer. | Mixed (Divisive), Movies | Action, Bobby Soto, Cheyenne Rae Hernandez, Cinthya Carmona, Conejo, Crime, David Ayer, Digital, Drama, George Lopez, Jimmy Smits, Not Rated, Shia LaBeouf, The Tax Collector |
| The Secret Garden (2020) - Review/Summary (with Spoilers) | Yet another adaptation of "The Secret Garden" has arrived! But, is this one worth watching? | Mixed (Divisive), Movies | Amir Wilson, Colin Firth, Digital, Dixie Egerickx, Drama, Edan Hayhurst, Family, Fantasy, Jack Thorne, Julie Walters, Marc Munden, PG, The Secret Garden |
| Work It (2020) - Review/Summary (with Spoilers) | Liza Koshy & Sabrina Carpenter star in a dance movie that has a few kinks but is it overall enjoyable? | Mixed (Divisive), Movies | Alison Peck, Comedy, Dance, Jordan Fisher, Keiynan Lonsdale, Laura Terruso, Liza Koshy, Michelle Buteau, Romance, Sabrina Carpenter, TV-14, Work It, Young Adult |
| The Sunlit Night (2020) - Review/Summary (with Spoilers) | While Jenny Slate's character finds herself a pleasant and relatable wakeup call, all that happens around her may lead to a raised eyebrow or indifference. | Indie, Mixed (Divisive), Movies | David Wnendt, Digital, Drama, Fridtjov Såheim, Jenny Slate, Not Rated, Rebecca Dinerstein Knight, Zach Galifianakis |
| An American Pickle (2020) - Review/ Summary (with Spoilers) | As with most Seth Rogen movies, it's not about the comedy as much as a person challenging themselves and dealing with what is holding them back. | Mixed (Divisive), Movies | Brandon Frost, Comedy, HBO Max, PG-13, Seth Rogen, Simon Rich |
| Almost Love (2020) - Review/ Summary (with Spoilers) | "Almost Love" is good enough to get you invested into the characters, but not to the point of pushing everyone you know to see it. | Indie, Mixed (Divisive), Movies | Augustus Prew, Brian Marc, Chaz Lamar Shepherd, Christopher Gray, Colin Donnell, Comedy, Drama, Kate Walsh, Michelle Buteau, Mike Doyle, Romance, Scott Evans, TV-MA, Zoe Chao |
| Black Is King (2020) - Review/ Summary | "Black Is King" belongs in the National Museum of African American History and Culture, and is another example of Beyoncé setting hard to follow precedents. | Movies, Positive (Worth Seeing), Recommended (Movies) | Adventure, Andrew Morrow, Beyoncé Knowles-Carter, Blitz Bazawule, Clover Hope, Dafe Oboro, Dikayla Rimmasch, Disney Plus, Emmanuel Adjei, Ibra Ake, Jake Nava, Jenn Nkiru, Julian Klincewicz, Kwasi Fordjour, Musical, Pierre Debusschere, TV-14, Yrsa Daley-Ward |
| The Hater Cast and Character Guide | A guide for the movie "The Hater." Included are noted cast members, information about their character, and other additional details. | Character Guides, Films (Character Guides) | Adam Gradowski, Agata Kulesza, Danuta Stenka, Jacek Koman, Jedrzej Wielecki, Maciej Musialowski, Maciej Stuhr, Vanessa Aleksander |
| Tijuana Jackson: Purpose Over Prison - Review/ Summary with Spoilers | If you ever wanted to hear old head logic, mixed in with some of the best one-lines, "Tijuana Jackson: Purpose Over Prison" has what you need. | Movies, Positive (Worth Seeing), Recommended (Movies) | Alkoya Brunson, Comedy, Lyne Odums, Not Rated, Regina Hall, Romany Malco Jr., Shannon Dang, Tami Roman, Tyler Cassidy |
| The Hater - Review/ Summary with Spoilers | In this over two hour epic, you watch a young man play the long game in ways that will stun you and leave you thinking, "It can't end like this?" | Movies, Positive (Worth Seeing) | Adam Gradowski, Agata Kulesza, Crime, Danuta Stenka, Drama, Horror, Jacek Koman, Jan Komasa, Jedrzej Wielecki, Maciej Musialowski, Maciej Stuhr, Mateusz Pacewicz, Netflix Original, Non-English, Thriller, TV-MA, Vanessa Aleksander, Young Adult |
| Summerland (2020) Cast and Character Guide | A guide for the movie "Summerland." Included are noted cast members, information about their character, and other additional details. | Character Guides, Films (Character Guides) | Dixie Egerickx, Gemma Arterton, Gugu Mbatha-Raw, Lucas Bond, Martina Laird, Penelope Wilton, Toby Osmond |
| Summerland (2020) - Review/ Summary with Spoilers | While the idea of a period drama may lead you to worry about boredom, the often-prickly character Alice keeps things lively in "Summerland." | Indie, Movies, Positive (Worth Seeing) | Dixie Egerickx, Drama, Gemma Arterton, Gugu Mbatha-Raw, Jessica Swale, Lucas Bond, Martina Laird, Penelope Wilton, PG, Summerland, Toby Osmond |
| Yes, God, Yes Cast, and Character Guide | A guide for the movie "Yes, God, Yes." Included are noted cast members, information about their character, and other additional details. | Character Guides, Films (Character Guides) | Alisha Boe, Francesca Reale, Gabriella Garcia, Natalia Dyer, Parker Wierling, Susan Blackwell, Timothy Simons, Wolfgang Novogratz |
| Yes, God, Yes - Review/ Summary (with Spoilers) | "Yes, God, Yes" is not only probably one of the best coming of age films in a long time, but it also is one of the few teen sex comedies that doesn't feel like a rehash. | Indie, Movies, Positive (Worth Seeing), Recommended (Movies) | Alisha Boe, Comedy, Francesca Reale, Gabriella Garcia, Karen Maine, Natalia Dyer, Parker Wierling, Rated R, Religious, Susan Blackwell, Timothy Simons, Wolfgang Novogratz, Young Adult |
| The Kissing Booth 2 (2020) - Review/ Summary (with Spoilers) | While it's two hour time length makes it lag in some parts, by the end of "The Kissing Booth 2," you are left wondering when is the next one? | Mixed (Divisive), Movies | Comedy, Jacob Elordi, Jay Arnold, Joel Courtney, Joey King, Maisie Richardson-Sellers, Meganne Young, Netflix Original, Romance, Taylor Zakhar Perez, The Kissing Booth, TV-14, Vince Marcello, Young Adult |
| Liza, Liza, Skies are Grey - Review/ Summary | Thanks to a series of rather strange events, "Liza, Liza, Skies are Grey" loses its chance to be a cute teen romance. | Indie, Mixed (Divisive), Movies | Adventure, Drama, Mikey Madison, Romance, Sean H. Scully, Terry Sanders, Young Adult |
| A Nice Girl Like You (2020) - Review/Summary (Spoilers) | "A Nice Girl Like You" is a simple, likable rom-com that may not have the most memorable characters, but it's a fun time to spend an hour and half. | Indie, Mixed (Divisive), Movies | Adhir Kalyan, Andrea Marcellus, Chris Riedell, Comedy, Jackie Cruz, Leonidas Gulaptis, Lucy Hale, Mindy Cohn, Nick Riedell, Rated R, Romance, Stephen Friedrich |
| Fatal Affair (2020) - Review/ Summary (Spoilers) | "Fatal Affair" is tame, predictable, and lacks any sort of chemistry between its lead actress and her co-stars. | Movies, Negative (Acquired Taste) | Crime, Drama, Horror, Netflix Original, Nia Long, Omar Epps, Peter Sullivan, Rasheeda Garner, Stephen Bishop, Thriller, TV-14 |
| Boogie's Comedy Slam (2020) - Review | "Boogie's Comedy Slam," produced by DeMarcus Cousins, will even make a stone-faced, hard-sell laugh. | Indie, Movies, Positive (Worth Seeing) | Boogie's Comedy Slam, DeMarcus Cousins, Gary Owen, Karlous Miller, L. Frazier, Mike Epps, Red Grant, Stand Up Comedy, Tony Roberts |
| Palm Springs (2020) - Review/Summary (Spoilers) | While a breeze to watch and with good chemistry from its leads, laughs are few with "Palm Springs." | Mixed (Divisive), Movies | Andy Samberg, Andy Siara, Comedy, Cristin Milioti, Fantasy, Hulu, J.K. Simmons, Max Barbakow, Rated R, Romance |
| The Old Guard (2020) - Review and Summary (Spoilers) | "The Old Guard" gives you the summer blockbuster you'd expect to see in theaters from the comfort of your home. | Movies, Positive (Worth Seeing) | Action, Adventure, Charlize Theron, Chiwetel Ejiofor, Fantasy, Gina Prince-Bythewood, Greg Rucka, Harry Melling, KiKi Layne, Luca Marinelli, Marwan Kenzari, Matthias Schoenaerts, Michael Ward, Netflix Original, Rated R, Sci-Fi, The Old Guard, Van Veronica Ngo |
| Only (2019) - Review/ Summary with Spoilers | "Only" is a sci-fi drama, with a small cast, that is less about entertaining its audience and more about trying to use the sci-fi element for a bait and switch. | Indie, Mixed (Divisive), Movies | Adventure, Drama, Frieda Pinto, Leslie Odom Jr., Romance, Sci-Fi, Takashi Doscher, TV-MA |
| 10 Things We Should Do Before We Break Up (2020) - Review/ Summary with Spoilers | "10 Things We Should Do Before We Break Up" is an odd romantic drama in which a woman mulls an abortion or turning a one night stand into a lifetime commitment. | Indie, Mixed (Divisive), Movies | 10 Things We Should Do Before We Break Up, Christina Ricci, Comedy, Drama, Galt Niederhoffer, Hamish Linklater, Jon Abrahams, Lindsey Broad, Mia Sinclair Jenness, Not Rated, Rady Jenness, Romance, Vision Films |
| Uncle Tom (2020) - Review/ Summary (with Spoilers) | As its name, "Uncle Tom" is divisive when it shows its social conservatism, but in some of its critiques of the Democratic party, among other topics, points are made. | Indie, Movies, Positive (Worth Seeing) | Candace Owens, Documentary, Herman Cain, Jesse Lee Peterson, Justin Malone, Larry Elder, Malone Pictures, Period Piece, Ryder Ansell, Uncle Tom |
| Under The Riccione Sun (2020) - Review/ Summary with Spoilers | "Under the Riccione Sun" will remind you what many may miss thanks to COVID-19, but it gives you the chance to live vicariously. | Mixed (Divisive), Movies | Andrea Roncato, Caterina Salvadori, Ciro Zecca, Claudia Tranchese, Comedy, Cristiano Caccamo, Davide Calgaro, Enrico Vanzina, Fotini Peluso, Giulia Schiavo, Isabella Ferrari, Lorenzo Zurzolo, Luca Ward, Ludovica Martino, Matteo Oscar Giuggioli, Netflix Original, Non-English, Romance, Rosanna Sapia, Saul Nanni, TV-MA, Under The Riccione Sun, Young Adult, Younuts |
| The Old Guard (2020) Cast and Character Guide | A character guide for the Netflix Film "The Old Guard." Included are noted cast members and information about their characters. | Character Guides, Films (Character Guides) | Charlize Theron, Chiwetel Ejiofor, Harry Melling, KiKi Layne, Luca Marinelli, Marwan Kenzari, Matthias Schoenaerts, Van Veronica Ngo |
| Looks That Kill (2020) - Review/ Summary with Spoilers | "Looks That Kill" makes for a lukewarm dark comedy, but has a romance that makes it worth viewing. | Mixed (Divisive), Movies | Annie Mumolo, Brandon Flynn, Comedy, Drama, Gravitas Ventures, Julia Goldani Telles, Kellen Moore, Ki-hong Lee, Monique Kim, Peter Scolari, Priscilla Lopez, Romance, Susan Berger, Young Adult |
| Suzi Q - Review/ Summary | In "Suzi Q," you get a profile of an innovative singer-songwriter-bandleader-multi-instrumentalist and poet: Suzi Quatro. | Indie, Movies, Positive (Worth Seeing) | Biography, Deborah Harry, Documentary, Henry Winkler, Joan Jett, Liam Firmager, Music, Nancy Quatro, Patti Quatro, PG, Suzi Quatro |
| Miss Juneteenth (2020) - Review/ Summary with Spoilers | While "Miss Juneteenth" acts as a timely history lesson, it is the mother/ daughter relationship that is the main draw. | Indie, Movies, Positive (Worth Seeing) | Akron Watson, Alexis Chikaeze, Channing Godfrey Peoples, Drama, Family, Kendrick Sampson, Lori Hayes, Marcus M. Mauldin, Nicole Beharie, Unrated, Vertical Entertainment |
| Disclosure (2020) - Review/ Summary (with Spoilers) | While no film, no matter how many voices, can fully encompass what it means to be part of any community, "Disclosure" makes for an excellent entry point into trans history in media. | Movies, Positive (Worth Seeing), Recommended (Movies) | Alexandra Billings, Angelica Ross, Brian Michael Smith, Documentary, Elliot Fletcher, Jen Richards, Laverne Cox, Lilly Wachowski, Marques Vilson, Mj Rodriguez, Netflix Original, Rain Valdez, Sam Feder, Ser Anzoategui, Susan Stryker, TV-MA, Yance Ford |
| A Whisker Away (2020) - Review/ Summary with Spoilers | If you need a good cry, but not to the point of making an ugly face, "A Whisker Away" is just what you need. | Movies, Positive (Worth Seeing) | Animation, Ayako Kawasumi, Comedy, Fantasy, Jun'ichi Satô, Mari Okada, Minako Kotobuki, Mirai Shida, Natsuki Hanae, Netflix, Non-English, Romance, Sayaka Ôhara, Susumu Chiba, Tomotaka Shibayama, TV-PG, Young Adult |
| 2 Minutes of Fame (2020) - Review/ Summary with Spoilers | In "2 Minutes of Fame," Jay Pharoah presents to you a movie that should have been a series, based on its premise. | Indie, Movies, Positive (Worth Seeing) | Andy Allo, CodeBlack Films, Comedy, Deon Cole, Devon Shepard, Jay Pharoah, Jonny Berryman, Katt Williams, Keke Palmer, Leslie Small, PG-13, RonReaco Lee, Yamara Taylor |
| Infamous (2020) - Review/ Summary with Spoilers | If a fan of Bella Thorne, you'll see she is in her element when it comes to playing Arielle in "Infamous." | Indie, Movies, Positive (Worth Seeing) | Action, Adventure, Amber Riley, Bella Thorne, Crime, Jake Manley, Joshua Caldwell, Rated R, Romance, Vertical Entertainment, Young Adult |
| The King Of Staten Island (2020) - Review/ Summary with Spoilers | Unfortunately, it takes "The King of Staten Island" almost an hour, out of 2, to be all that you expected and hoped it would be. | Mixed (Divisive), Movies | Alexis Rae Forlenza, Bel Powley, Bill Burr, Comedy, Dave Sirus, Drama, Judd Apatow, Luke David Blumm, Marisa Tomei, Maude Apatow, Pete Davidson, Rated R, Steve Buscemi, Universal, Young Adult |
| Hidden Orchard Mysteries: The Case of the Air B&B Robbery (2020) - Review/ Summary with Spoilers | While the central relationship between leads is as cute as can be, the adults who they investigate might be a bit much depending on the family watching. | Movies, Positive (Worth Seeing) | Brian Shackelford, Comedy, Crime, Digital/VOD, Family, Gabriella Pastore, Ja'ness Tate, Joyce Fitzpatrick, Mystery, TV-PG |
| 365 Days (365 DNI) (2020) - Review/ Summary with Spoilers | "365 Days" tries to make Stockholm syndrome sexy and ends up just making a big-budget soft-core porn. | Movies, Negative (Acquired Taste) | Anna-Maria Sieklucka, Barbara Bialowas, Bronislaw Wroclawski, Crime, Drama, Magdalena Laparska, Michele Morrone, Natasza Urbanska, Non-English, Tomasz Klimala, Tomasz Mandes, TV-MA |
| Becky (2020) - Review/ Summary with Spoilers | Mix "Home Alone" with "Hanna" and a little bit of Hit-Girl from "Kick-Ass," and you get the sometimes shockingly violent "Becky." | Indie, Mixed (Divisive), Movies | Action, Amanda Brugel, Cary Murnion, Crime, Joel McHale, Jonathan Milott, Kevin James, Lane Skye, Lulu Wilson, Nick Morris, Rated R, Robert Maillet, Ruckus Skye, Thriller, Young Adult |
| The Healer (2017) - Review/ Summary with Spoilers | While "The Healer" isn't made to withstand scrutiny, it is an entertaining film to watch while in quarantine. | Mixed (Divisive), Movies | Camilla Luddington, Charlie Rhindress, Comedy, Drama, Family, Jonathan Pryce, Kaitlyn Bernard, Oliver Jackson-Cohen, Paco Arango, Religious, TV-PG, Vision Films |
| Our House (2018) - Review/ Summary with Spoilers | If you like your horror slow churning, not reliant on gore, but still may not be the best to watch at night, "Our House" could do the trick. | Movies, Positive (Worth Seeing) | Anthony Scott Burns, Drama, Fantasy, Horror, IFC Midnight, Kate Moyer, Mystery, Nathan Parker, Nicola Peltz, Our House, Percy Hynes White, Robert B. Kennedy, Thomas Mann, Thriller, TV-MA |
| The High Note (2020) - Review/ Summary with Spoilers | On top of making you question why Tracee Ellis Ross isn't a movie star, you'll be SO MAD you likely won't get to see this in theaters. | Movies, Positive (Worth Seeing), Recommended (Movies) | Dakota Johnson, Drama, Eddie Izzard, Flora Greeson, Focus Features, Ice Cube, Kelvin Harrison Jr., Musical, Nisha Ganatra, PG-13, Romance, Tracee Ellis Ross |
| #FriendButMarried (2018) - Review/ Summary with Spoilers | "#FriendButMarried" is a long, arduous movie to watch, that somehow drains anything and everything cute out of its central relationship. | Mixed (Divisive), Movies | Adipati Dolken, Johanna Wattimena, Non-English, Rako Prijanto, Romance, TV-G, Vanesha Prescilla, Young Adult |
| Ne Zha (2019) - Review/ Summary with Spoilers | "Ne Zha" shows why it was a massive hit in China with its top-notch animation, emotional story, and its ambiguity of good and evil. | Movies, Positive (Worth Seeing) | Action, Adventure, Animation, Comedy, Family, Fantasy, Hao Chen, Jiaming Zhang, Joseph, Mo Han, Qi Lü, TV-PG, Wei Yang, Yanting Lü, Yu Yang |
| Inheritance (2020) - Review/ Summary with Spoilers | "Inheritance" may not be a fast-paced thriller, but it will still give you the kind of ending that'll make your eyes blare and jaw drop. | Movies, Positive (Worth Seeing) | Chance Crawford, Connie Nielsen, Crime, Drama, Inheritance, Lily Collins, Matthew Kennedy, Michael Beach, Mystery, Not Rated, Patrick Warburton, Simon Pegg, Thriller, Vaughn Stein |
| The Lovebirds (2020) - Review/ Summary with Spoilers | Issa Rae and Kumail Nanjiani are well paired in "The Lovebird" as their brands of awkward collide and create a chaotic romance. | Mixed (Divisive), Movies | Aaron Abrams, Adventure, Anna Camp, Brendan Gall, Comedy, Crime, Issa Rae, Kumail Nanjiani, Kyle Bornheimer, Michael Showalter, Netflix Original, Paul Sparks, Rated R, Romance, Thriller |
| Body Cam (2020) - Review/ Summary with Spoilers | With the spin of grief manifesting itself, "Body Cam" explores police brutality and the conflicting emotions of a Black female officer. | Indie, Movies, Positive (Worth Seeing) | Anika Noni Rose, Crime, David Warshofsky, David Zaya, Horror, Malik Vitthal, Mary J. Blige, Mason Mackie, Mystery, Nat Wolff, Nicholas McCarthy, Rated R, Richmond Riedel, Thriller |
| Last Moment of Clarity (2020) - Review/ Summary with Spoilers | Taking note of its criminal element, it's ultimately the love we see blossom or renewed, that drives "Last Moment of Clarity." | Indie, Movies, Positive (Worth Seeing) | Action, Alex Fernandez, Carly Chaikin, Colin Krisel, Crime, Drama, James Krisel, Pasha Lynchikov, Rated R, Romance, Samara Weaving, Udo Kier, Zach Avery |
| All For Nikki (2020) - Review/ Summary with Spoilers | "All For Nikki," as it goes from one bad situation to the next, goes on and on until it seemingly runs out of ideas. | Indie, Mixed (Divisive), Movies | Andrew Bowen, Brandon Willer, Comedy, Crime, Gia Mantegna, Grant Harvey, Luke Brandon Field, Michael Milford, Not Rated, Scot Beidelman |
| Scoob! (2020) - Review/ Summary with Spoilers | It's unfortunate "Scoob!" couldn't be seen in theaters, for it might be one of the first Scooby-Doo movies in a while which deserved a theatrical release. | Movies, Positive (Worth Seeing) | Action, Adam Sztykiel, Adventure, Amanda Seyfried, Animation, Billy West, Comedy, Crime, Derek Elliott, Don Messick, Fantasy, Frank Welker, Gina Rodriguez, Jack C. Donaldson, Jason Isaac, Matt Lieberman, PG, Simon Cowell, Tony Cervone, Will Forte, Zac Efron |
| The Wrong Missy (2020) - Review, Summary with Spoilers | How much you may enjoy this movie all depends on whether you like outrageous characters who don't limit themselves for the comfort of others. | Mixed (Divisive), Movies | Chris Pappas, Comedy, David Spade, Geoff Pierson, Jackie Sandler, Kevin Barnett, Lauren Lapkus, Molly Sims, Netflix Original, Romance, Sarah Chalke, TV-MA, Tyler Spindel |
| John Henry (2020) - Review/ Summary (with Spoilers) | Between flinch worthy violence, Terry Crews and Ken Foree, alongside a handful of jokes, there is more good to say about "John Henry" than bad. | Indie, Mixed (Divisive), Movies | Action, Chris Bridges, Comedy, Crime, Daffany Clark, Douglas Skinner, Drama, Jamila Velazquez, John Henry, Joseph J Soria, Ken Foree, Rated R, Terry Crews, Will Forbes |
| Love Is Blind (2019) - Review, Summary with Spoilers | Um, "Love Is Blind," the movie not the TV show, is mid-level "What did I just watch?" Specifically in a, "Am I supposed to find this funny?" kind of way. | Indie, Mixed (Divisive), Movies | Aidan Turner, Andy Delaney, Benjamin Walker, Chloë Sevigny, Drama, Jennifer Schuur, Love Is Blind, Matthew Broderick, Monty Whitebloom, Shannon Tarbet, Young Adult |
| Valley Girl (2020) - Review, Summary with Spoilers | "Valley Girl" is a fun teen movie with 80s flair, music, and a simple, but likable, romance - ruined by bland characters. | Mixed (Divisive), Movies | Alicia Silverstone, Amy Talkington, Camila Morrone, Chloe Bennet, Jessica Rothe, Jessie Ennis, Josh Whitehouse, Mae Whitman, Mario Revolori, Musical, PG-13, Rachel Lee Goldenberg, Romance, Valley Girl, Young Adult |
| 18 Presents - Review/ Summary with Spoilers | "18 Presents" or "18 Regali" is an ode to those who lost their mothers and need an excuse to cry. | Movies, Positive (Worth Seeing) | 18 Presents, 18 Regali, Alessio Vicenzotto, Benedetta Porcaroli, Comedy, Davide Lantieri, Drama, Edoardo Leo, Fantasy, Francesco Amato, Massimo Gaudioso, Netflix Original, TV-MA, Vittoria Puccini, Young Adult |
| Into The Dark: Delivered (2020 - Hulu) - Review/ Summary with Spoilers | "Into The Dark: Delivered" is frustrating as hell to watch, but can be a good time if you know someone who provides funny movie commentary. | Mixed (Divisive), Movies | Dirk Blackman, Emma Tammi, Horror, Hulu, Into the Dark, Into The Dark: Delivered, Micah Joe Parker, Michael Cassidy, Natalie Paul, Tina Majorino, TV-MA |
| Becoming (2020) - Review/ Summary with Spoilers | Alongside present the best argument for reading the book of the same name, "Becoming" reminds and informs you why Michelle Obama broke the mold as First Lady. | Movies, Positive (Worth Seeing) | Becoming, Biopic, Documentary, Michelle Obama, Nadia Hallgren, Netflix Original, PG |
| All Day And A Night (2020) - Review/ Summary with Spoilers | "All Day And A Night" might become a classic considering how it explores the downfall of a young man who lives up to the legacy his father left behind. | Movies, Positive (Worth Seeing) | Action, All Day And A Night, Ashton Sanders, Christopher Meyer, Crime, Drama, Isiah John, Jalyn Emil Hall, Jeffrey Wright, Joe Robert Cole, Kelly Jenrette, Netflix Original, Rated R, Rolanda D. Bell, Shakira Ja'Nai Paye, Stephen Barrington, Yahya Abdul-Mateen II, Young Adult |
| The Half Of It (2020) - Review/ Summary with Spoilers | "The Half of It" brings a positive spin on small-town America, while still pushing how getting out of your comfort zone is necessary to grow. | Movies, Positive (Worth Seeing), Recommended (Movies) | Alexxis Lemire, Alice Wu, Collin Chou, Daniel Diemer, Drama, Leah Lewis, LGBT, Netflix Original, PG-13, Romance, The Half Of It, Wolfgang Novogratz, Young Adult |
| Dangerous Lies (2020) - Review/ Summary with Spoilers | Twist, turns, backstabbings, gunshots and more, all allow "Dangerous Lies" to not be the best film out there, but entertaining. | Mixed (Divisive), Movies | Action, Cam Gigandet, Camila Mendes, Crime, Dangerous Lies, David Golden, Drama, Elliott Gould, Jamie Chung, Jessie T. Usher, Michael M. Scott, Mystery, Netflix Original, Romance, Sasha Alexander, Thriller, TV-14 |
| The Willoughbys (2020 - Netflix) - Review/ Summary (with Spoilers) | "The Willoughbys," in it exploring 4 kids with parents worse than Matilda's, eventually warms your heart and may make you shed a Denzel in "Glory" tear. | Movies, Positive (Worth Seeing) | Adventure, Alessia Cara, Animation, Comedy, Family, Jane Krakowski, Kris Pearn, Mark Stanleigh, Martin Short, Maya Rudolph, Musical, Netflix Original, PG, Rob Lodermeier, Sean Cullen, The Willoughbys, Will Forte |
| The Plagues of Breslau - Review/ Summary (with Spoilers) | Thanks to savvy lawyers, justice has become ambiguous compared to how it used to be. However, someone decides enough is enough, and some people should die. | Mixed (Divisive), Movies | Action, Crime, Daria Widawska, Malgorzata Kozuchowska, Netflix Original, Non-English, Patryk Vega, Sylwia Koperska-Mrozinska, The Plagues of Breslau, Thriller, Tomasz Oswiecinski, TV-MA |
| Why Don't You Just Die! - Review/ Summary (with Spoilers) | For those who like violence, with a touch of comedy, "Why Don't You Just Die" was made for your viewing pleasure | Movies, Positive (Worth Seeing) | Action, Aleksandr Kuznetsov, Comedy, Crime, Elena Shevchenko, Evgeniya Kregzhde, Kirill Sokolov, Non-English, Rated R, Vitaliy Khaev, Why Don't You Just Die! |
| Selah and The Spades - Review/ Summary with Spoilers | "Selah and the Spades" begs for a revival as a series as it tries to cram so much into one experience. | Mixed (Divisive), Movies | Ana Mulvoy-Ten, Celeste O'Connor, Crime, Drama, Gina Torres, Jharrel Jerome, Lovie Simone, Rated R, Tayarisha Poe, Young Adult |
| Straight Up (2019) - Review/ Summary with Spoilers | "Straight Up" explores the difficulty of fitting a sexuality label when the heart wants what it wants. | Movies, Positive (Worth Seeing) | Comedy, Dana Drori, Digital, James Scully, James Sweeney, Katie Findlay, LGBT, Not Rated, Romance, Straight Up, Young Adult |
| She Never Died (2019) - Review/ Summary (with Spoilers) | With more than meets the eye, "She Never Died" moves beyond the violence as it pursues a redemption story. | Movies | Action, Audrey Cummings, Crime, Digital, Fantasy, Horror, Jason Krawczyk, Kiana Madeira, Michelle Nolden, Noah Danby, Oluniké Adeliyi, Peter MacNeill, Religious, She Never Died |
| Code 8 (2019) - Review/ Summary (with Spoilers) | "Code 8" gives a pleasant alternative to what the Marvel/DC brand has saturated the market with when it comes to superpowered humans. | Indie, Movies, Positive (Worth Seeing) | Action, Chris Paré, Code 8, Crime, Drama, Greg Bryk, Jeff Chan, Kari Matchett, Kyla Kane, Robbie Amell, Sci-Fi, Stephen Amell, Sung Kang, TV-MA |
| Tigertail (2020) - Review and Summary, With Spoilers | | Movies, Positive (Worth Seeing) | Alan Yang, Christine Ko, Drama, Fiona Fu, Hai-yin Tsai, Hong-Chi Lee, Joan Chen, Kunjue Li, Netflix Original, Non-English, PG, Romance, Tigertail, Tzi Ma, Yang Kuei-Mei, Yo-Hsing Fang, Zhi-Hao Yang |
| Fleabag (NT Live) - Review and Summary with Spoilers | For those who have watched the first season of "Fleabag," the live rendition is a treat. However, if they haven't, you may wonder what the hype is about. | Mixed (Divisive), Movies | Amazon Prime, Drama, Fleabag, Phoebe Waller-Bridge, Rated R, Stand Up Comedy, Vicky Jones |
| Love Wedding Repeat (2020) - Review/ Summary with Spoilers | Operating on a level of cringe that will make it either hilarious or off=putting, "Love Wedding Repeat" surely isn't for everyone. | Mixed (Divisive), Movies | Aisling Bea, Allan Mustafa, Comedy, Dean Craig, Eleanor Tomlinson, Francesca Rocco, Jack Farthing, Joel Fry, Netflix Original, Olivia Munn, Paolo Mazzarelli, Romance, Sam Claflin, Tim Key, Tiziano Caputo, TV-MA |
| Banana Split - Review and Summary with Spoilers | Outside of a short time gap, "Banana Split" is an exploration of female intimacy in both sisterhood and friendships. | Movies, Positive (Worth Seeing) | Addison Riecke, Banana Split, Benjamin Kasulke, Comedy, Dylan Sprouse, Hannah Marks, Joey Power, Liana Liberato, Luke Spencer Roberts, Rated R, Romance, Worth Revisiting, Young Adult |
| The Ghost Who Walks (2019) - Review and Summary (with Spoilers) | "The Ghost Who Walks" is a potential tear-jerker which, if it doesn't make you cry, at least provides you with a thrill ride. | Indie, Movies, Positive (Worth Seeing) | Action, Alexia Rasmussen, Ben Bostick, Cody Stokes, Crime, Dasha Nekrasova, Dennis Lebby, Destiny Bauer, Drama, Frank Mosley, Garland Scott, Gil Darnell, Linda Kennedy, Peter Mayer, The Ghost Who Walks, TV-MA |
| Coffee and Kareem (2020) - Review/ Summary (with Spoilers) | "Coffee and Kareem" is definitely something mad for those who don't mind kids cursing or being part of, or around, violent, and sexual, situations for laughs. | Mixed (Divisive), Movies | Action, Adventure, Andrew Bachelor, Betty Gilpin, Comedy, Crime, David Alan Grier, Ed Helms, Michael Dowse, Netflix Original, One and Done, Shane Mack, Taraji P. Henson, Terrence Little Gardenhigh, Thriller, TV-MA, William 'Bigsleeps' Stewart |
| Sincerely Louis CK (2020) - Review/ Summary (with Spoilers) | "Sincerely Louis CK" is what comes from feeling you have nothing left to lose, so "F*** It." | Movies, Positive (Worth Seeing), Recommended (Movies) | Louis C.K., Rated R, Stand Up Comedy |
| Freshman Year - Review/ Summary (with Spoilers) | "Freshman Year" avoids being heavy-handed or eye-roll-inducing about faith. Rather, it approaches a young man's faith, and decisions, with a realistic tone. | Indie, Mixed (Divisive), Movies | Benjamin A. Onyango, Diallo Thompson, Drama, Family, Freshman Year, Jude Okwudiafor Johnson, Natalia Dominguez, Religious, Romance, Tony Osborne, TV-PG, Young Adult |
| Intermedium (2019) - Review/ Summary (with Spoilers) | "Intermedium," like most shorts, is an appetizer. And like any appetizer, it leaves you wanting more. | Indie, Mixed (Divisive), Movies, Short | Beau Minniear, Comedy, Drama, Emily Keefe, Erik Bloomquist, Romance, Taylor Turner, Young Adult |
| Pretty Little Stalker - Review/ Summary (with Spoilers) | "Pretty Little Stalker" will keep you engaged throughout its time length, but I can't say it should be high up on your watchlist. | Indie, Mixed (Divisive), Movies | Ashley Rickards, Crime, Drama, Nicky Whelan, Parker Mack, Patrick Robert Young, Pretty Little Stalker, Sam Irvin, Thriller, TV-14 |
| Trixie Mattel: Moving Parts (2019) - Review/ Summary (with Spoilers) | "Trixie Mattel: Moving Parts" will remind you of a time when documentaries gave you the behind the scenes look that social media snatched away. | Movies, Positive (Worth Seeing), Recommended (Movies) | Brian Firkus, Brian McCook, Comedy, Documentary, Drama, Katya, LGBT, Musical, Stand Up Comedy, Trixie Mattel, TV-MA |
| Uncorked (2020) Cast and Character Guide | A character guide for Netflix's Uncorked featuring cast members, character descriptions, and other noteworthy information. | Character Guides, Films (Character Guides) | Courtney B. Vance, Kelly Jenrette, Mamoudou Athie, Netflix, Netflix Original, Niecy Nash, Prentice Penny, Sasha Compere, Uncorked |
| Uncorked (2020) - Summary/ Review (with Spoilers) | "Uncorked," sidesteps the usual dealings caused by poverty and racism to explore its leads' father/son relationship, to sometimes mixed results. | Movies | Courtney B. Vance, Drama, Kelly Jenrette, Mamoudou Athie, Netflix Original, Niecy Nash, Prentice Penny, Sasha Compere, TV-MA, Uncorked |
| Go Back To China (2020) - Review/ Summary (with Spoilers) | While "Go Back To China" may come off as some silly or light-hearted, as it touches upon Chinese culture and family, it goes so deeper than expected. | Indie, Movies, Positive (Worth Seeing), Recommended (Movies) | Anna Akana, Aviva Wang, Comedy, Drama, Emily Ting, Family, Go Back To China, Lynn Chen, Not Rated, Richard Ng, Tiger Ting, Young Adult |
| M.O.M. (Mothers of Monsters) - Review, Summary (with Spoilers) | With "M.O.M. (Mothers of Monsters)" seeking to flesh out the fear of one parent, we're reminded how difficult it might be to stop a catastrophe. | Indie, Movies, Positive (Worth Seeing) | Bailey Edwards, Drama, Horror, M.O.M. (Mothers of Monsters), Melinda Page Hamilton, Rated R, Thriller, Tucia Lyman, Young Adult |
| Stargirl (2020) - Review, Summary (with Spoilers) | "Stargirl" in depicting what happens when you allow yourself to be what others want, brings about one of the best family appropriate live-action films from Disney in ages. | Movies, Positive (Worth Seeing), Recommended (Movies) | Annacheska Brown, Collin Blackford, Comedy, Disney Plus, Drama, Giancarlo Esposito, Grace VanderWaal, Graham Verchere, Jordan Horowitz, Julia Hart, Karan Brar, Kristin Hahn, Musical, PG, Romance, Stargirl, Young Adult |
| Block Z (2020) - Review, Summary (with Spoilers) | If the Coronavirus is making you paranoid, the pandemic in "Block Z" may not be the best thing for your anxiety. | Mixed (Divisive), Movies | Action, Adventure, Block Z, Dimples Romana, Horror, Ian Veneracion, Joshua Garcia, Julia Barretto, Maris Racal, McCoy De Leon, Mikhail Red, Mixkaela Villalon, Non-English, Not Rated, Romance, Young Adult, Yves Flores |
| The Hunt (2020) - Review, Summary (with Spoilers) | While not the best bit of social commentary you may hear, "The Hunt" is comical and has one of the best fight scenes you may have seen in a while. | Movies, Positive (Worth Seeing) | Action, Betty Gilpin, Comedy, Craig Zobel, Damon Lindelof, Hilary Swank, Nick Cuse, Rated R, The Hunt |
| Bloodshot (2020) - Review/ Summary (with Spoilers) | Like the majority of Vin Diesel movies, "Bloodshot" is more so about style than substance. Yet, is still entertaining as hell. | Mixed (Divisive), Movies | Action, Adventure, Bloodshot, Dave Wilson, Eiza Gonzalez, Eric Heisserer, Guy Pearce, Jeff Wadlow, Lamorne Morris, PG-13, Sci-Fi, Vin Diesel |
| I Still Believe (2020) - Review, Summary (With Spoilers) | "I Still Believe" with its tear-inducing story will make it so, even if you aren't a person of faith, you'll get why some hold onto theirs so tightly – despite it all. | Movies, Positive (Worth Seeing), Recommended (Movies) | Abigail Cowen, Andrew Erwin, Britt Robertson, Faith Focused, I Still Believe, Jon Erwin, Jon Gunn, K.J. Apa, Music, Romance, Young Adult |
| All The Bright Places (2020) - Review/ Summary (with Spoilers) | All The Bright Places fulfills your need for butterflies and tears, as most YA novel adaptations do. | Movies, Positive (Worth Seeing), Recommended (Movies) | Adventure, Alexandra Shipp, All The Bright Places, Brett Haley, Comedy, Drama, Elle Fanning, Felix Mallard, Jennifer Niven, Justice Smith, Lamar Johnson, Liz Hannah, Netflix Original, Romance, Virginia Gardner, Young Adult |
| My Spy (2020) - Review, Summary (with Spoilers) | While "My Spy" is not as kid-friendly as it appears, it is likely one of the funniest movies, featuring a juvenile, you've seen in a while. | Movies, Positive (Worth Seeing) | Action, Adventure, Chloe Coleman, Comedy, Crime, Dave Bautista, Devere Rogers, Erich Hoeber, Greg Bryk, Jon Hoeber, Kristen Schaal, My Spy, Noah Dalton Danby, Parisa Fitz-Henley, Peter Segal, Romance |
| The Night Clerk (2020) - Review, Summary (with Spoilers) | Between seemingly exploiting its lead having Asperger's to an uninspiring mystery, "The Night Clerk" struggles. | Indie, Mixed (Divisive), Movies | Ana de Armas, Crime, Drama, Jacque Gray, John Leguizamo, Johnathon Schaech, Michael Cristofer, Mystery, The Night Clerk, Tye Sheridan |
| Goldie (2020) - Review, Summary (with Spoilers) | In this coming of age tale, everything is about that one chance to make it and if things don't come together, the worst happening. | Indie, Movies, Positive (Worth Seeing) | Adventure, Alana Tyler-Tompkins, Crime, Drama, Edwina Findley, Gbenga Akinnagbe, George Sample III, Jazmyn Dorsey, Jose Rodriguez, Marsha Stephanie Blake, Sam De Jong, Shaquila Angela Griszell, Slick Woods, Young Adult |
| Violet Evergarden I: Eternity and the Auto Memory Doll - Review, Summary (with Spoilers) | "Violet Evergarden I: Eternity and the Auto Memory Doll" reminds you no matter how much time has passed, you can still be strongly affected by a well-developed character. | Movies, Positive (Worth Seeing) | Animation, Aoi Yuki, Drama, Haruka Fujita, Kōki Uchiyama, Minako Kotobuki, Non-English, Takaaki Suzuki, Tatsuhiko Urahata, Violet Evergarden, Young Adult, Yui Ishikawa |
| The Thing About Harry (2020) - Review/ Summary (with Spoilers) | "The Thing About Harry" brings us beyond gay couples dealing with trauma and the dramatics of the first time. It's just about the awkwardness of love. | Movies, Positive (Worth Seeing) | Britt Baron, Comedy, FreeForm, Jake Borelli, Josh Senter, LGBT, Niko Terho, Peter Paige, Romance, The Thing About Harry, Young Adult |
| Fantasy Island (2020) - Review/ Summary (with Spoilers) | "Fantasy Island" may surprise you with how it tries to be more than a horror movie and address the trauma of the guests on the island. | Movies, Positive (Worth Seeing) | Adventure, Austin Stowell, Christopher Roach, Evan Evagora, Fantasy, Fantasy Island, Horror, Jeff Wadlow, Jillian Jacobs, Jimmy O. Yang, Lucy Hale, Maggie Q, Michael Peña, Parisa Fitz-Henley, Portia Doubleday, Robbie Jones, Ryan Hansen |
| The Photograph (2020) - Review/ Summary (with Spoilers) | "The Photograph" develops a mother/daughter relationship, a romance, as well as explores one woman's struggle with the concept of love. | Movies, Positive (Worth Seeing) | Chanté Adams, Courtney B. Vance, Drama, Issa Rae, Lakeith Stanfield, Lil' Rel Howery, Rob Morgan, Romance, Stella Meghie, The Photograph, Y'lan Noel |
| To All The Boys: P.S. I Still Love You (2020) - Review/ Summary (with Spoilers) | While a bit longer than it needs to be, "To All The Boys: P.S. I Still Love You" will stir up your emotions just like the first film. | Movies, Positive (Worth Seeing) | Anna Cathcart, Comedy, Emilija Baranac, J. Mills Goodloe, Janel Parrish, John Corbett, Jordan Fisher, Lana Condor, Madeline Arthur, Michael Fimognari, Netflix, Netflix Original, Noah Centineo, Romance, Sofia Aluarez, To All The Boys, To All The Boys: P.S. I Still Love You, Trezzo Mahoro, Young Adult |
| Timmy Failure: Mistakes Were Made (2020) - Review, Summary (with Spoilers) | "Timmy Failure: Mistakes Were Made" is reminiscent of the DCOMs Disney used to produce, but now aimed for a younger generation. | Movies, Positive (Worth Seeing) | Adventure, Ai-Chan Carrier, Chloe Coleman, Comedy, Craig Robinson, Disney Plus, Family, Kei, Kyle Bornheimer, Ophelia Lovibond, Stephan Pastis, Timmy Failure, Tom McCarthy, Wallace Shawn, Winslow Fegley |
| Into The Dark: My Valentine - Review, Summary (with Spoilers) | "Into The Dark: My Valentine" seems like it is inspired by the life of internet/music stars Poppy, Titanic Sinclair, and Mars Argo. | Mixed (Divisive), Movies | Anna Akana, Anna Lore, Benedict Samuel, Britt Baron, Horror, Hulu, Into the Dark, Maggie Levin, Shaun J. Brown, Tiffany Smith |
| Birds of Prey (and the Fantabulous Emancipation of One Harley Quinn) - Review/ Summary (with Spoilers) | "Birds of Prey (and the Fantabulous Emancipation of One Harley Quinn)" is part origin story, part reintroduction, and is of the ilk of Marvel's "Deadpool." | Movies, Positive (Worth Seeing) | Action, Adventure, Birds of Prey, Cathy Yan, Chris Messina, Christina Hodson, Comedy, Crime, Ella Jay Basco, Ewan McGregor, Harley Quinn, Jurnee Smollett-Bell, Margot Robbie, Mary Elizabeth Winstead, Rosie Perez |
| Gretel & Hansel (2020) - Review, Summary (with Spoilers) | "Gretel and Hansel" is a strange PG-13 horror that may have wonderful performances, but also has a divisive story. | Mixed (Divisive), Movies | Alice Krige, Fantasy, Gretel & Hansel, Horror, Jessica De Gouw, Mystery, Oz Perkins, Rob Hayes, Samuel Leakey, Sophia Lillis, Thriller |
| The Rhythm Section (2020) - Review, Summary (with Spoilers) | "The Rhythm Section" desires to be cool, edgy, and give Lively the allowance to be a super spy, but it doesn't get to complete its mission. | Mixed (Divisive), Movies | Blake Lively, Crime, Drama, Jude Law, Mark Burnell, Raza Jaffrey, Reed Morano, Sterling K. Brown, The Rhythm Section, Thriller |
| The Assistant - Review, Summary (with Spoilers) | While "The Assistant" may seem like it wants to play upon the multiple #MeToo scandals, it sidesteps sensationalism in its approach. | Indie, Movies, Positive (Worth Seeing) | Drama, Julia Garner, Kitty Green, The Assistant, Young Adult |
| What Love Looks Like (2020) - Review/ Summary (with Spoilers) | In a film fit for Valentine's Day, "What Love Looks Like" brings us the beauty of love as it begins and the mourning period when it is at its end. | Indie, Movies, Positive (Worth Seeing) | Alex Magaña, Ana Ming Bostwick-Singer, Ashley McKenna, Comedy, Connor Wilkins, Drama, Gabriella Wisdom, Jack Menzies, Jamie Shelnitz, Josh Gilmer, Kate Durocher, Kyle Meck, Nathan Kohnen, Romance, Taylor Alexa Frank, Trevor Sean, What Love Looks Like |
| My Hindu Friend (2020) - Review/ Summary (with Spoilers) | "My Hindu Friend" dances around the viewer's expectations by creating a sexual, emotional, and sometimes utterly weird tale based on Héctor Babenco final year of life. | Indie, Movies, Positive (Worth Seeing) | Biopic, Drama, Guilherme Moraes Guintella, Hector Babenco, Maria Fernanda Candido, My Hindu Friend, Romance, Willem Dafoe |
| The Turning (2020) - Review, Summary (with Spoilers) | "The Turning" may have creepy kids, but the jump scares are weak and the ending… well… | Movies | Barbara Marten, Brooklynn Prince, Carey W. Hayes, Chad Hayes, Denna Thomsen, Finn Wolfhard, Floria Sigismondi, Horror, Mackenzie Davis, Mystery, Niall Greig Fulton, The Turning |
| Troop Zero (2020) - Review/ Summary (with Spoilers) | "Troop Zero" will have you ugly cry in the way Viola Davis is famous for as you follow Christmas Flint's journey to becoming permanent. | Movies, Positive (Worth Seeing), Recommended (Movies) | Amazon Prime, Amazon Prime – Movies, Bella HigginBotham, Bert & Bertie, Charlie Shotwell, Comedy, Family, Jim Gaffigan, Johanna Colon, Lucy Alibar, Mckenna Grace, Milan Ray, Viola Davis |
| A Fall From Grace (2020) - Review, Summary | "A Fall From Grace" will make you wish Netflix had an audio track with comedians giving commentary to substitute a live audience. | Mixed (Divisive), Movies | A Fall From Grace, Bresha Webb, Cicely Tyson, Crime, Crystal Fox, Drama, Matthew Law, Mehcad Brooks, Mystery, Phylicia Rashad, Romance, Thriller, Tyler Perry |
| Jezebel (2019) - Review/ Summary | While you have to appreciate the sense of ownership, value, and advocacy "Jezebel" presents when it comes to Black bodies, it's not the most entertaining thing to watch. | Mixed (Divisive), Movies | Dennis Jaffee, Drama, Jezebel, Numa Perrier, Tiffany Tenille, Young Adult, Zoe Tyson |
| Bad Boys For Live (2020) Review/ Summary | Despite the time gap and this being the third entry into the franchise, "Bad Boys For Life" brings you what you'd want, what you'd expect, but not much more. | Movies, Positive (Worth Seeing) | Adil El Arbi, Alexander Ludwig, Bilall Fallah, Charles Melton, Chris Bremner, Comedy, Crime, Jacob Scipio, Joe Carnahan, Joe Pantoliano, Kate del Castillo, Martin Lawrence, Paola Nuñez, Peter Craig, Thriller, Vanessa Hudgens, Will Smith |
| Weather With You (2020) Review, Summary | "Weathering With You" like "Your Name." plays with your emotions, skips certain details, but is ultimately worth the price to see. | Movies, Positive (Worth Seeing) | Alison Brie, Animation, Ashley Boettcher, Brandon Engman, Comedy, Drama, Emeka Guindo, Fantasy, Lee Pace, Lexie Foley, Makoto Shinkai, Romance, Weather With You, Young Adult |
| Underwater (2020) Review/ Summary with Spoilers | "Underwater" wants to be an emotional and action-packed action film, but it fails too often and its villain is underdeveloped. | Mixed (Divisive), Movies | Adam Cozad, Brian Duffield, Drama, Horror, Jessica Henwick, John Gallagher Jr., Kristen Stewart, Mamoudou Athie, T.J. Miller, Thriller, Vincent Cassel, William Eubank |
| Live Twice, Love Once (2020) - Review/ Summary | Between a man with Alzheimer's trying to see his first love and his granddaughter who keeps the core family together, you will be in your emotions. | Movies, Positive (Worth Seeing) | Comedy, Drama, Family, Inma Cuesta, Isabel Requena, Lucas Cavataio, Mafalda Carbonell, Maria Minguez, Maria Ripoll, Nacho López, Netflix, Netflix Original, Non-English, Oscar Martínez, Romance, Valeria Schoneveld |
| Ana (2020) Review/ Summary with Spoilers | "Ana" is a cute movie that further proves Dafne Keen, of "Logan" and "His Dark Materials" fame, is likely to be first billing for decades to come. | Indie, Mixed (Divisive), Movies | Andy Garcia, Charles McDougall, Comedy, Crime, Cris Cole, Dafne Keen, Jeanne Tripplehorn, Ramon Franco, Video On Demand |
| The Grudge (2020) - Review/ Summary (with Spoilers) | Like "Rings," the "SaW" remake, and so many other horror franchises that reboots were attempted for, "The Grudge" seems like it shouldn't have been made. | Movies, Negative (Acquired Taste) | Andrea Riseborough, Betty Gilpin, David Lawrence Brown, Demian Bichir, Frankie Faison, Horror, John Cho, John J. Hansen, Lin Shaye, Nicolas Pesce, Tara Westwood, The Grudge, Thriller, William Sadler, Zoe Fish |
| Always A Bridesmaid (2019) Review/ Summary | "Always A Bridesmaid" is everything you could want and more from a romance film. | Movies, Positive (Worth Seeing) | Amber Chardae Robinson, Comedy, Jasmin Brown, Javicia Leslie, Jordan Calloway, Michelle Mitchenor, Romance, Tosin Morohunfola, Trey Haley, Yvette Nicole Brown |
| The App (2019) | Review/ Summary | Somehow an hour and 19-minute film feels so much longer by means that is hard to explain, but we're going to try. | Movies, Negative (Acquired Taste) | Drama, Elisa Fuksas, Greta Scarano, Jessica Cressy, Lucio Pellegrini, Maya Sansa, Netflix Original, Non-English, Romeo Pellegrini, Vincenzo Crea, Young Adult |
| Spies In Disguise (2019) | Review/ Summary | Spies In Disguise may come off like a kid's movie, but luckily it remembers who is the person paying for the tickets. | Movies, Positive (Worth Seeing) | Animation, Ben Mendelsohn, Brad Copeland, Comedy, Lloyd Taylor, Nick Bruno, Spies In Disguise, Tom Holland, Troy Quane, Will Smith |
| Holidaze (2019) | Review/ Summary | For those who are fans of the Viziepop demon motif, something a bit more child-friendly is released – if your children are into monsters. | Independent, Positive (Worth Seeing), Short | Animation, Comedy, Gabe Del Valle, Horror, Vivienne Medrano, Viziepop |
| Little Women (2019) Review/ Summary | Greta Gerwig, Saoirse Ronan, and Timothée Chalamet prove themselves to be a formidable trio and a grouping we should expect for decades to come. | Movies, Positive (Worth Seeing), Recommended (Movies) | Drama, Eliza Scanlen, Emma Watson, Florence Pugh, Greta Gerwig, Laura Dern, Meryl Streep, Romance, Saoirse Ronan, Timothée Chalamet, Tracy Letts |
| A Rainy Day In New York (2019) | Review/ Summary | It really is a shame A Rainy Day In New York will struggle to find distribution in the US. For while not Allen's best work, it is still entertaining. | Mixed (Divisive), Movies | Cherry Jones, Comedy, Diego Luna, Elle Fanning, Jude Law, Liev Schreiber, Romance, Selena Gomez, Timothée Chalamet, Woody Allen, Young Adult |
| Star Wars: Episode IX – The Rise of Skywalker - Review, Summary (with Spoilers) | In what is supposed to be the final film of the Skywalker saga, you get something casual fans may enjoy more than the hardcore ones who never liked this trilogy. | Mixed (Divisive), Movies | Action, Adam Driver, Adventure, Carrie Fisher, Chris Terrio, Colin Trevorrow, Daisy Ridley, Derek Connolly, Harrison Ford, Ian McDiarmid, J.J. Abrams, John Boyega, Keri Russell, Mark Hamill, Oscar Isaac, Sci-Fi, Star Wars, Star Wars: Episode IX, Star Wars: Episode IX – The Rise of Skywalker, Star Wars: The Rise of Skywalker |
| Cherry Tobacco - Review, Summary | Cherry Tobacco pursues the rarely trodden path of having a young woman and older man with feelings for each other, without feeling exploitative. | Indie, Movies, Positive (Worth Seeing) | Aap Salumets, Andres Maimik, Gert Raudsep, Getter Meresmaa, Katrin Maimik, Maris Nõlvak, Romance, Young Adult |
| 6 Underground: Cast, Characters & General Information (with Spoilers) | A show/ character guide for Netflix's 6 Underground featuring who plays who, character descriptions, storylines, and general information. | Character Guides, Films (Character Guides) | 6 Underground, Adria Arjona, Ben Hardy, Corey Hawkins, Dave Franco, Lior Raz, Manuel Garcia-Rulfo, Mélanie Laurent, Netflix Original, Payman Maadi, Ryan Reynolds |
| 6 Underground (2019) - Review, Summary (with Spoilers) | Michael Bay's love for explosions and expensive action scenes mixed with Ryan Reynolds' humor is a match made in big-budget heaven. | Movies, Positive (Worth Seeing), Recommended (Movies) | Action, Adria Arjona, Adventure, Ben Hardy, Comedy, Corey Hawkins, Dave Franco, Lior Raz, Manuel Garcia-Rulfo, Mélanie Laurent, Michael Bay, Netflix Original, Paul Wernick, Payman Maadi, Rhett Reese, Ryan Reynolds, Thriller |
| Black Christmas (2019) - Review, Summary (with Spoilers) | Black Christmas works on multiple levels. It operates as a fairly feminist film, and its incel-like villains produce a decent amount of jump scares. | Movies, Positive (Worth Seeing) | Aleyse Shannon, April Wolfe, Brittany O'Grady, Caleb Eberhardt, Cary Elwes, Holiday, Horror, |