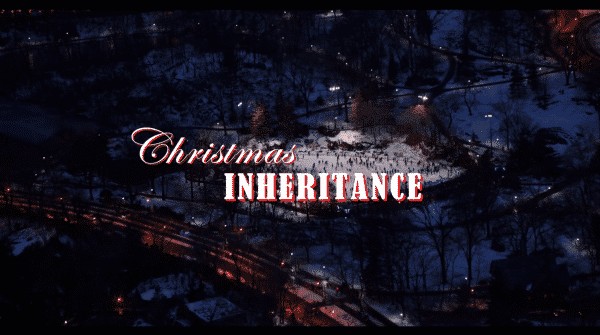 Unlike A Christmas Prince, there isn't anything really to redeem this Christmas movie.
---
Director(s)
Ernie Barbarash
Writer(s)
Dinah Eng
Noted Actors
Ellen
Eliza Taylor
Jim
Neil Crone
Zeke
Anthony Sherwood
Gray
Michael Xavier
Jake
Jake Lacy
Debbie
Andie MacDowell
---
Summary
Ellen, a 20 something who is about to inherit a multi-million dollar company, has one thing standing in the way of that – her partying ways. All of which seeming stems from the fact her mother died (sound familiar?). So, her father, Jim, decides that in order to prove she is ready to take over the company, she has to deliver the annual Christmas letter to co-founder Zeke who still lives in the town where it all started: Snow Falls.
However, there is a twist to this task. She is only given $100 and a round-trip bus ticket. Also, she isn't allowed to reveal who she is. Thus forcing her to live like a normal person and get to know the locals. But, to add a monkey wrench into things, your usual love story gets complicated by Ellen being engaged to Gray, this sort of douche, and yet falling for this local boy named Jake.
Which will she choose, can she win her father's trust and become CEO? Well, this is a Christmas movie… do you really need to ask?
Criticism
The Low-Key Shaming of Ellen, No Matter What She Wears
I get that Jake and Debbie, his aunt, are from a small town, but this weird issue they both have, in the early and mid parts of the movie, with what Ellen wore bug me. Especially since it isn't like Ellen is just all cleavage and legs. You got some collarbone and the other time she was in bed and gets shamed for not wearing enough. Which, granted, maybe I'm understanding things wrong and they meant more so that it was too cold for what she was wearing, but I don't think that's the case.
There is Just So Many Things Which Seem Generic and Wrong Here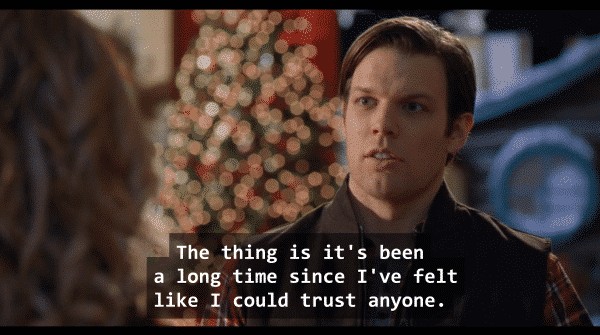 I'm coming to wonder if the majority of Christmas movies, especially non-theatrical ones, are the same? Dead parent, secret identity, falling for someone who doesn't know the real you, some idiot leaking it, the person getting mad, but it being alright in no time. You know why? Well, because it's Christmas. Which for this movie especially raised an eyebrow because Ellen dumps Gray with the quickness, after dancing upon the line which would have been some form of cheating with Jake. On top of that, considering how fast Ellen left Gray, you'd think, considering how Jake got left by his wife, that would raise some red flags.
Think about it. One major fight and then Ellen is gone? What do you think may happen to you, Jake? Much less, she fell for you while things were good, and she was engaged, to someone else. Plus, why is no one mad that Zeke and Jim basically used the whole town to choose their next CEO? I get they both probably put a lot of money back into that community, but come on now.
On The Fence
It Tried To Make Things Interesting, But Then Decided That Required Too Much Effort
Okay, let me note that the letters Ellen were supposed to deliver, they created a bit of a touching moment. Granted, it does make it sound like Jim did more work than Zeke, until maybe he put them on the internet, but let's not go into that. What matters is how touching it was that sometime in the 70s this interracial pair became friends and started a business together.
Now, here comes the part where you wish there was effort: First, us learning how these two became friends; Second, what exactly was Zeke's role and why did he retire early; and then there comes Gray. Being that Gray is Black and we learn Zeke is Black, was it wrong to assume that was his father and this was some, "We grew up together so we just kind of ended up together?" Because that was the vibe I got and yet that wasn't the truth.
However, and maybe this is just my way of thinking, but how better would it have been if that was the truth. The idea that Gray and Ellen were going through the motions due to their dads and Zeke, as sweet as Ellen saw him, really was kind of a flaky dad who was there for the big moments, like gifts, but wasn't much for quality time. I mean, I get that Christmas movies are family friendly and that kind of drama begins to stray away from a G rating, but surely someone out there has an idea for a quality holiday movie that doesn't seem to just swap actors and change a few details.
Overall: Negative (Skip It)
Yeah, I think two Christmas movies are enough for me. Especially if they all sort of morph into the same storyline with a few alterations here and there. But, don't get me wrong, like anything covered on this website, I had hopes when I began this. The problem is, ultimately this movie is another film in which Netflix seems to be more focused on quantity than quality.
Follow Wherever I Look on Twitter or Like us on Facebook.