Beyond airing out his feelings about Will Smith, Chris Rock reminds you why he is one of the most revered comedians in comedy.
Director(s)
Joel Gallen
Screenplay By
Chris Rock
Date Released (Netflix)
March 4, 2023
Genre(s)
Stand Up Comedy
Duration
1 Hour
Content Rating
TV-MA
Noted Cast
Himself
Chris Rock
This content contains pertinent spoilers. Also, images and text in this post may contain affiliate links which, if a purchase is made from those sites, we may earn money or products from the company.
Film Summary
Chris Rock is not a one-trick pony. He is not a man waiting for his next fifteen minutes in the sun, so while the end of the special features his feelings on Will Smith, in which he basically calls him and his wife a b****, that is not all he has to offer. From speaking on selective outrage, such as your favorite companies being against racism but using child labor, to people being pro-Michael Jackson but anti-R. Kelly, he dives into hypocrisy. Alongside that, he talks about America's addiction to attention, victimhood, and abortion.
He brings up fatherhood, specifically spoiling his oldest, but making sure she gets just enough of the Black experience so that she isn't living out here without a clue, getting a wake-up call that is more than embarrassing but could be deadly. Rock also talks about dating and the challenges involved, especially when women have all the power, and for men like him, he has to usually pay for something to get something.
And then he talks about Will Smith. He talks about how he once loved him, rooted for him, and tried to call him after his wife made him look like a b****, and she monetized that for her television show. He explains his side as to why he thinks that happened, mainly due to Will Smith not having the guts to do that to anyone his size he was talking bad about him or his wife. And he leaves the special making it clear why he didn't hit him back – which, amongst the various hits to Will and Jada, the last hit mid-key comes for Will's parents.
Things To Note
Why Is "Chris Rock – Selective Outrage" Rated TV-MA
Dialog: Cursing throughout, and use of the N-word
Violence: N/A
Sexual Content: N/A
Miscellaneous: N/A
Review
---
Community Rating:
---
Our Rating: Positive (Worth Seeing) – Recommended
Notable Performances or Moments
The Will Smith Stuff Was Dessert, Not The Whole Meal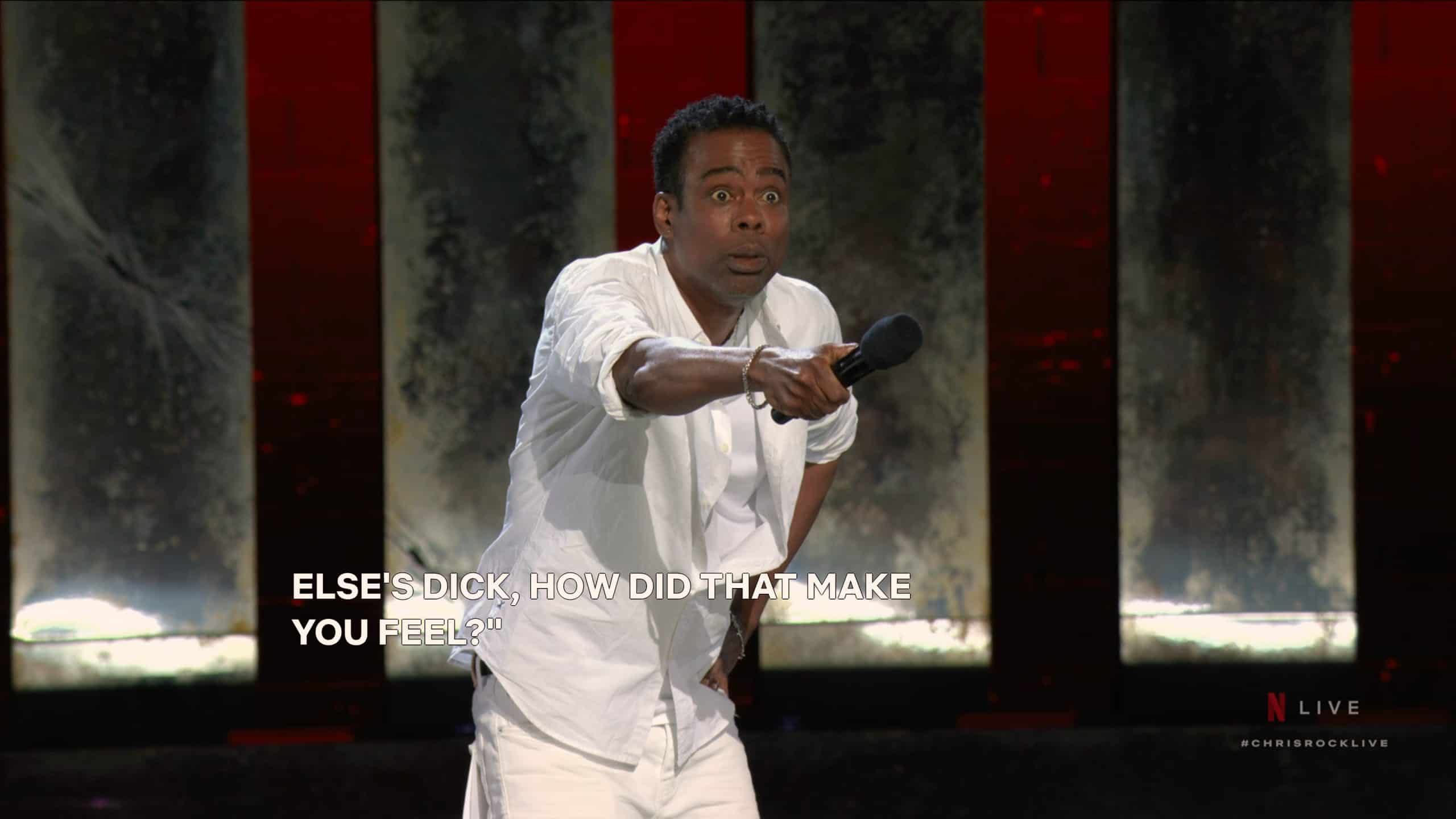 Like many, as much as I know Chris Rock for both his comedy specials as much as his movies, and "Everybody Hates Chris," I would be lying to you if the Will Smith commentary wasn't the biggest draw of this special. But, even with that in mind, and him hinting to what happened throughout the special, talking about how he doesn't want smoke from another rapper, as he comments on Jay-Z, that section is just the mic drop. In terms of delivering classic Chris Rock material, that is everything else.
Chris Rock has long had a penchant of saying the kind of stuff people like Dave Chappelle and others can't say, for as good as they are with words, there is a certain perception of bias that gets them in trouble. Why? Well, maybe because they don't know the line, they aren't able to present a carefree set while not seeming like they are punching down. Chris Rock is different – more often than his peers.
Chris Rock can both crack on the Kardashians, including their acceptance of Caitlin Jenner, yet praise them for being more accepting of messed up Black people than Black people. He can joke about abortion, say people should be able to abort kids up to four years old, and remind people children are mean and wicked without parental involvement. He even uses his oldest daughter, says her name and everything, as an example by noting how she used to bite people. Something neither he nor his ex-wife taught her or prompted her to do.
This is what Chris Rock does. He shows why he is one of the greatest, for he isn't just funny or a good storyteller, but his jokes are timeless, embedded with nuance, and made to stand the test of time. So whether the jokes are discussed now or ten years from now, you can't call Chris trans-averse, sexist, racist, or anything else.
At best, you can say he may not be empathetic, like to Meghan Markle, but it isn't like he didn't explain why he thought her crying on television was ridiculous. She married into a family who profited from racism and took what the Spanish and Portuguese started, took their blueprint, and spread it worldwide!
Now, is this all to say he didn't deserve to be smacked by Will Smith at the Oscars? No. He isn't perfect, certainly is fallible and by holding this special in Jada Pinkett-Smith's hometown, DEFINITELY petty. But while he has a point that Will Smith hitting him, compared to other men who are actually in Will's weight class, can be a b**** move, it's usually the little ones who got the most mouth that need to be reminded they can still get checked. Whether it is supposed to be a "joke" or not.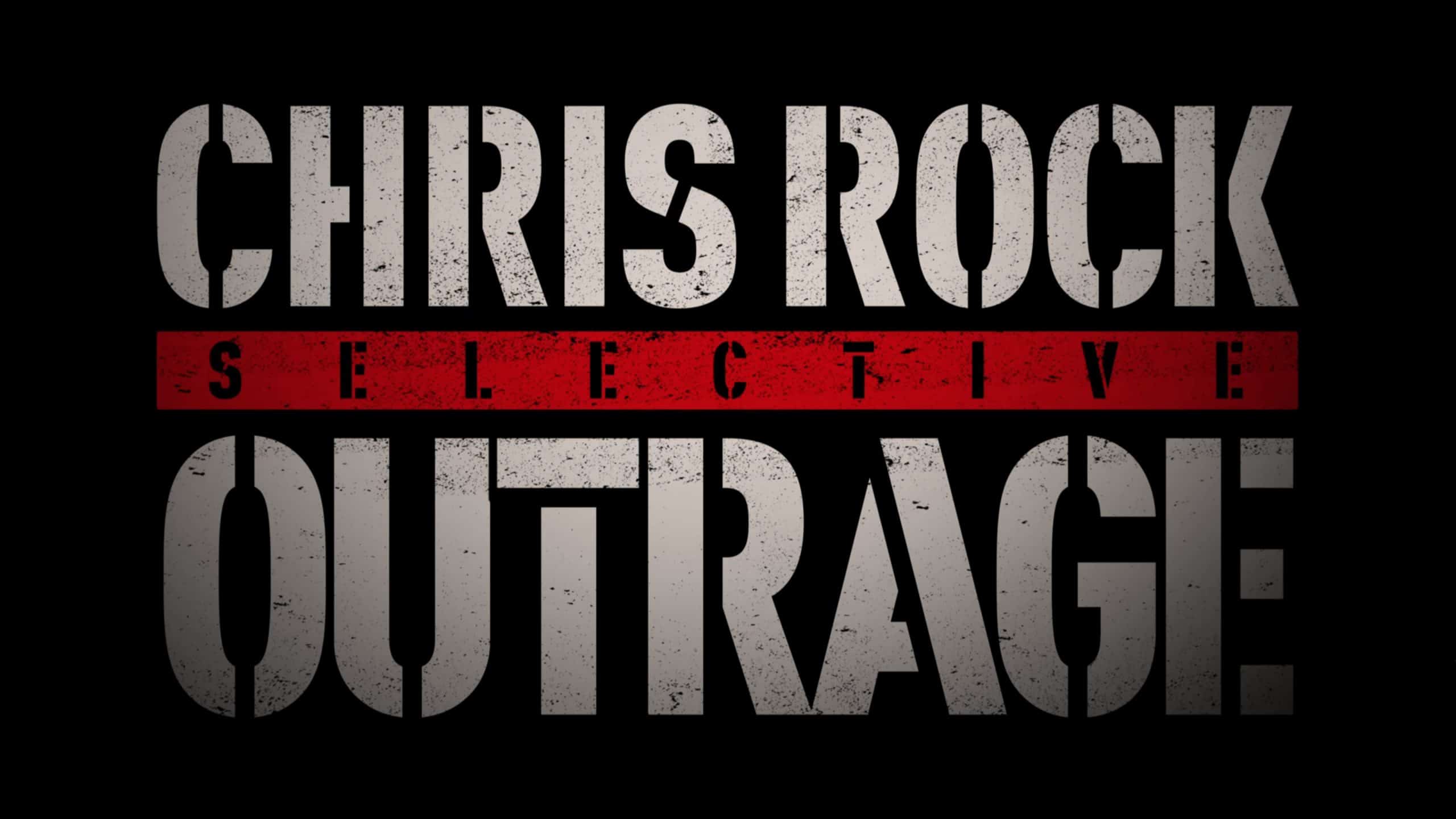 Chris Rock: Selective Outrage (2023) – Review/ Summary
Overall
"Chris Rock: Selective Outrage" makes it clear, Chris Rock is one of the greatest comedians alive and one of the best who participates in social commentary dealing with touchy and controversial issues in a fearless manner.
Highlights
The Will Smith Stuff Was Dessert, Not The Whole Meal