Live In Front of a Studio Audience: "All In The Family" and "Good Times" – Recap, Review (with Spoilers)
With a change in one-half of the shows, and no crossing over, is the newest entry of Live In Front Of A Studio Audience as good as the first?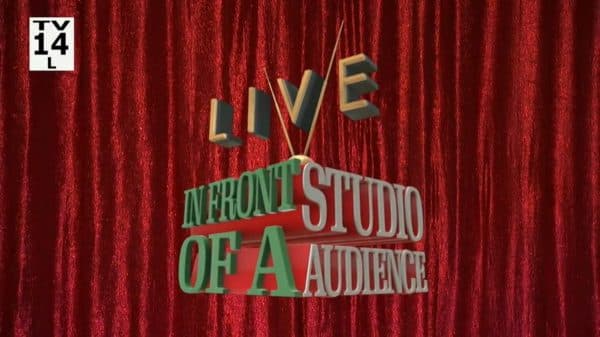 With a change in one-half of the shows, and no crossing over, is the newest entry of Live In Front Of A Studio Audience as good as the first?
---
Network
ABC
Directed By
Pamela Fryman, Andy Fisher
Written By
Norman Paul, Jack Elinson, Jay Moriarty, Mike Milligan
Date Released
12/18/2019
Genre(s)
Comedy
Made For Those Who Like
Old School Sitcoms
Noted Cast
Fred Davis
John Amos
Jimmy Pearson
Jharrel Jerome
James
Andre Braugher
Florida
Viola Davis
Willona
Tiffany Haddish
Michael
Asante Blackk
Thelma
Corinne Foxx
Pinky
Kevin Bacon
David
Jesse Eisenberg
Archie
Woody Harrelson
Edith
Marisa Tomei
Michael
Ike Barinholtz
Gloria
Ellie Kemper
Theresa
Justina Machado
JJ
Jay Pharoah
Plot Summary
For Good Times, the focus is Fred Davis going against Jimmy Pearson in an election that splits the Evans family up. James is for the 20+ year alderman since he got him a job, helped him get the apartment his family is in, and with Jimmy being this 26-year-old who hasn't done much beyond going to school, he just doesn't trust him. However, Florida, Willona, Michael, and Thelma think all Fred has done is collect the perks of being in elected office for a long time. Leading to a major tiff in the family since Florida and Willona go so far as to help with Jimmy's campaign – which fails.
But, it isn't because the kid has bad ideas. One of the issues James personally has is Jimmy doesn't know how to talk to the people. Making it so James feels like he is being talked at than with. A critique Jimmy notes and when the next election comes around, he plans to take note of what was said to win Fred Davis' position.
Switching to All In The Family, it is a holiday episode. One featuring all the cast members we saw last time around, but now we have Pinky and David. Two people who ring in a draft-dodging storyline and you know how Archie feels about the idea of people abandoning their duty to their country. Thus leaving Edith, Michael, Gloria, and the newly introduced Theresa to try to calm things down. This is a bit hard with Archie, especially when Pinky, who lost his son to the war, is asked to speak his opinion.
Review
---
Community Rating:
---
Highlights
Showing How Timeless These Shows Were
Considering how the Good Times episode is about a politician who makes appearances but doesn't do the work and doesn't change much for the people, you are sadly given the opportunity to see how much hasn't changed. That and, unless you are chummy with someone in office, how little you might see done for you.
Alongside that, with All In The Family, you are reminded through Archie that people forever and a day have tried to use other people's pain to prop up their opinion and act as a shield for their ignorance. That is, until they are forced to reckon with someone who knows true pain having more empathy than they are able or willing to muster. Thus leaving them looking stupid and trying to figure out how they can recover and regain some sense of the upper hand they never really had.
On The Fence
It Wasn't As Funny As The Jeffersons & All In The Family Episode
You could say this go-around was a bit heavier than the first outing. There was no Jamie Foxx, who is a big-time ham, to kick the energy up a notch. Instead, we got the folks from All In The Family more in tune with the original portrayal of the characters than ever and as for the Good Times' cast? Well, we're reminded of the issues of when Woody Harrelson and the rest played their characters for the first time. For between doing a campy imitation, as we saw with JJ, or it seeming they were making the character their own, as I'd submit was being done with Florida, you feel forced to recognize this is their first time playing the role and this role is iconic.
Making it so any and all effort has to be appreciated for they are working on something which is bigger than them and has stood the test of time. So, likely similar to Harrelson and the All In The Family cast, hitting it out of the park, the first time out, is not realistic.
Overall
Met Expectations
Honestly no. Jamie Foxx made it so I was expecting to laugh more, and while the portrayal of Edith caused a few chuckles, no one really came out swinging.
Would Watch Again?
I'd continue to watch them remake episodes of classic shows, but I do hope they will let All In The Family go and take advantage of the many others out there. Especially if there are crossover episodes, for I think one of the things which made the first iteration better was the two sides were connected by characters and not just by theme.
For me, the nostalgia has worn off, and now they are milking things a little bit. Which is understandable considering how huge of a hit the first entry was. However, with no actor who has that charisma to just pop, it made it so, after Good Times, the energy was low and while Harrelson and Tomei tried to bring things back up, their subject matter and gags didn't do the special, as a whole, any favors.
[td_block_11 td_ajax_filter_type="td_category_ids_filter" ajax_pagination="next_prev" limit="3″ custom_title="Season Reviews & TV Specials" sort="random_posts" category_id="24988″ td_ajax_filter_ids="47, 1944, 101, 1343″ category_ids="24988, 4042″]
Showing How Timeless These Shows Were - 85%
It Wasn't As Funny As The Jeffersons & All In The Family Episode - 70%
Met Expectations - 69%
Would Watch Again? - 68%
---
Follow, Like, and Subscribe
Community Rating: 0.00% (0) - No Community Ratings Submitted (Add Yours Below)