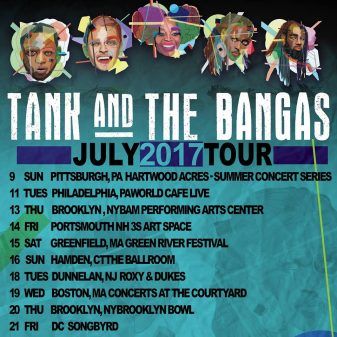 ---
Community Rating: 0.00% (0) - No Community Ratings Submitted.
---
They say all of a person's experience builds off one another. Which, after seeing Tank and the Bangas, I believe is true. For over the last year I've been to a Rock concert, a Hip Hop/ Rap concert, and also one featuring one of the top artists in R&B. And I honestly feel, all the best parts of each artist I saw, I found all in this band which truly defies genres.
Venue
Roxy & Dukes
Venue Address
Dunnelan, NJ
Director(s)
N/A
Writer(s)
N/A
Date
7/18/2017
Genre(s)
R&B, Rock
Good If You Like
Eclectic R&B

Spacey Rock

Total Time
N/A
Noted Performers
Headliner
Tank & The Bangas
Opening Act
Jelly & The Bangas
The Opening Act(s)
Jelly & The Bangas
Due to the Sweet Crude being unable to make it, for reasons not really explained, Jelly ended up with a 4 song set of covers. Really pushing the thought, why don't more headliners just let their backup singers open for them? For, as probably noted on any concert recap in the past, and surely the future, I hate opening acts.
The reason why? I didn't pay for them. Plus, on top of that, 9/10 their style of music doesn't mesh well with the headliner. So while there is anywhere from a 10 – damn near 40-minute gap, between opener and headliner, it is like you got to switch gears with very little oil.
However, with Jelly opening, and the way she handles songs like "Rock Steady" by Aretha Franklin, Bill Withers' "Use Me" and a reggae toned "The Worst" by Jhene Aiko, she sets a good vibe. Not just because she sings and plays off Tank during the headliner set, but she helps you get ready for the journey you are about to go on. One with strange electronic sounds that then take you to a poetry club, which becomes a church, then some hole in the wall where the head bangers unite.
The Headliner
Just thinking back to an hour ago when it was all going down overwhelms me. I mean, I'm used to the banging of drums, the screeches of a guitar, much less the jazzy sounds of a sax. However, while the group is called Tank and The Bangas, what you have to understand is the Bangas don't need Tank. They, on their own, could have done a full instrumental set and I probably wouldn't have complained. So to combine them with her? Alongside Jelly? Oh god, I don't think you can understand the pleasure without seeing them live.
I mean, first things first, despite a disgustingly small stage and the type of heat which probably reminded the group of New Orleans, Tank was as animated as we saw in the Tiny Desk Concert. I'm talking facial expressions, theatrical, one woman show gestures, and of course various vocal inflections. The kind which ranges from a traditional R&B singer, a gospel singer, some weird pop icon, a Def Poetry Jam all-star and even a rock star.
For it is the relationship between Tank, Jelly, and The Bangas which allows her to cross over from genre to genre from song to song. They began with some spacey tune which makes you think Tank is going to rise up from the floor in some type of LaBelle type of outfit but then it transitions. It becomes this sort of Jazz funk which would catch Prince's attention. And while each song shows Tank and The Bangas' range, there is also this banter.
As she notes in the show, Jelly and Tank were college friends and just the love shared between them on stage is something. It reminded me a lot of Lizzo and Sophia Eris' dynamic during Lizzo's Coconut Oil concert. They joke with one another, play off one another during transitions, and you continuously feel that despite Tank being singled out in the group name, she more so treats what she has as a group. One in which every party gets to shine not just to give thanks, but because they are vastly talented. Sort of like a super group comprised of people you may have never heard of.
But, on top of the music and theatrics, Tank was also comical as hell. Mostly through her spoken word which, being that I am not fully versed and know line by line her lyrics, I can't say whether they were made up on the spot or not. All I know is between chuckling and wanting to snap, I felt a certain kind of way.
Thus leading to the type of experience I think I want to relive. Though at a more appropriate venue for Tank, Jelly, and The Bangas' talents. For with her noting the heat in the room was affecting her performance, that means I haven't even seen her at 100 and I'm just trying to imagine what that is like.
Highlights
The Rare Time An Opening Act Was Welcomed
I cannot say this enough, opening acts are the most aggravating part of a show. For while I get, they got to build an audience someway, somehow, the problem is that while they often are the same genre, they aren't the same style. With that, they don't truly act as some sort of warm up act. If anything, it is like an ad before a YouTube video. Just one you can't mute.
Making Jelly being the opening act perfect for while she sang covers, they were in the type of style of the headliner. Add on she is the headliner's backup singer and you get a much smoother transition between the opening act and the main event. Leading me to believe, more singers should give up that opening spot to their backup singers. Be it with covers that can vibe with the style of the headliner or original songs.
Which I know isn't likely, but I can dream.
The Dynamic Between All Parties On Stage
Though used to the singer living off the vibe of a guitar player and all that, there is a very authentic dynamic between this band. As if, off stage, they'd actually hang out. Like they aren't on some Penn & Teller, when we work we together that is the only time we spend time together, type of thing. With the way Jelly and Tank play off one another, you can see why they have been friends since college. Then considering how Tank interacts with the band, even if they aren't friends, you can see the type of chemistry where this isn't just a gig for them. The way they interact goes beyond some, "I'm just here to pay the bills and show off my talent." What we truly get is a cohesive unit.
The Lyrics and Instruments
I'm not even going to pretend I fully understood everything Tank said since, between the instruments and her playful way of speaking, I couldn't understand her at times. However, when I just focused on her lyrics, the same vibration which came from the speakers hit my chest with her words. Especially as she talked about an ex of her's before the storm and how well they knew one another. She, through her poetic storytelling, gave it to you in such a way you had to make an ugly scrunched up face as you appreciated the way she wove things.
Then the band? Oh my god The Bangas! Throughout Jill Scott's concert, she kept boasting about presenting the audience with live music. With The Bangas though, there was no need to say a word. Each and everyone, especially the guitar players and homeboy handling the flute and sax, and that drummer, they killed it. I'm talking, they played damn near every genre style except country really.
To the point, I can fully imagine them doing their own instrumental thing. For, like said, Tank and The Bangas almost seems like a supergroup. All composed of individuals, very talented in their own right, but who have come together under Tank and just, just, I don't have the vocabulary to present the perfect word for the experience.
Criticism
The 40 Minutes Between Jelly's Opening and Tank Headlining
It is understandable, even normal, for the opening act to not smoothly transition into the headliner. After all, the unofficial intermission is supposed to give time to double check mics and instruments. Maybe give people a chance to use the bathroom, buy merchandise, or show up after skipping the opening act. However, why would it take 40 minutes in this case? Alright, 35, but it was a good 3-5 minutes, after getting us warmed up, again, that Tank came on stage.
But what I'm trying to say is, being that The Bangas tested their instruments opening with Jelly, and they didn't have to change any equipment, I didn't get why it took so long between sets. Especially because the venue was tiny as hell so it wasn't like you have to leave a theater, go up or down stairs, or anything like that. The place was so small that I'm pretty sure your high classes were bigger. I mean, if you went to schools like I did, it was barely bigger than a tennis court or, for another point of reference, if your favorite fast food place was rectangular instead of square, it was maybe just a little bigger than that.
I mean, to really put it in perspective, the place was so small that there wasn't a dressing room or anything like that. The area for the band was basically half of the bar separated by a curtain. A place which led directly to the stage.
Like with movie reviews, whenever you hear someone say "It was a life changing experience" or what have you, it sounds like an exaggeration. Hence why I won't describe this concert like that. However, I will say that if this is where Tank and The Bangas are at now, likely with limited financial resources, imagine what will happen in a few years?!
For honestly, there was something about this very spiritual. The thumping of the floor and from the speakers hit me in a way which I felt was more than vibrations of sound. It was like Tank and The Bangas were trying to change the rhythm of my heart beat and join them on their wave. I felt like, Tank wanted us all to experience this joy and love of music she has within the nearly 90-minute set she did. Give or take 10 minutes (the people were calling for an encore when I left because my bed was calling for me).
But, what overall drives me to label this positive, much less recommending it, is because Tank and the Bangas bring that crazed energy and sound of rock, combine it with the soul often associated with R&B, the slicing lyrics of good hip-hop, combined with the playfulness of Pop. Leading you to truly get to see what it means for an artist to be genre defying. Something which, in my handful of experiences seeing live music, I haven't gotten the vibe of. Everyone else was firmly in a genre but Tank and the Bangas ultimately said, "Why should I give you but a slice of what music has to offer when I can give you damn near the whole damn pie?"